May 9, 2018
(Updated February 21, 2020)
By Joey Tyson

Ridiculously reasonable for a capital, Lisbon is a thrifty traveller's dream city – the kind of place where you can order duas cervejas and get change from a fiver.
Besides being cheap, it's not bad on the eye, either. A ramshackle charm runs through its steep neighbourhoods, where tall European-style flats vie for space with buildings of remarkable beauty, and every hill-top summit (of which there are many) seems to give way to a staggering view.
It has a rare cool about it; the sort that's achieved with seemingly little effort, where street art actually is art and bars don't try too hard (or at all, as is more often the case) to impress.
In short, Lisbon is a real treat of a city. Take a couple of days to discover Portugal's capital for yourself with our two-day itinerary.
Day one: Morning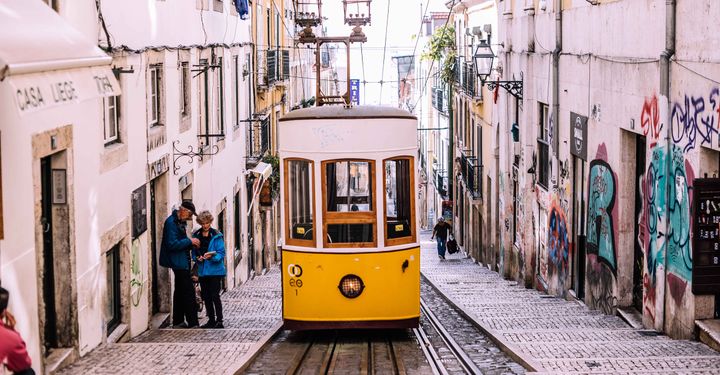 Perched atop seven hills, Lisbon is a city of cracking views, so the best way to start any trip here is at the top looking down. The Miradouro de Santa Luzia viewpoint in the ancient Alfama district offers a classic view out across the city – picture terracotta-tiled roofs and pastel-coloured buildings spilling down into the sparkling waters of the Tagus river.
Served by the rickety old trams which have been running since the 1930s, you can take the 28 line right to the top; a ride on one of these is an adventure in itself and well worth the €3 cost of a one-way ticket.
On the way back down, take your time ambling through Alfama's steep cobbled streets and witness traditional Lisbon waking up – the pace is much slower in the historic heart of the city, so take heed and really stroll. On your leisurely hike, be sure not to miss Lisbon's oldest church, the Lisbon Cathedral (often simply called the Sé) and the baroque Church of Santa Engrácia.
As you reach the bottom of the district you'll meet the Tagus. Walk west along its banks until you see one of Lisbon's most-photographed buildings, the regal-looking Praça do Comerico. This grand square was once the noble entrance to the city, where the crème de la crème of 16th century nobility would be welcomed into Lisbon. Luckily, today it's not just for royalty and you can stroll through the colossal arch, along the pedestrianised Rua Augusta, which is lined with shops, cafes and street artists.

Day one: Afternoon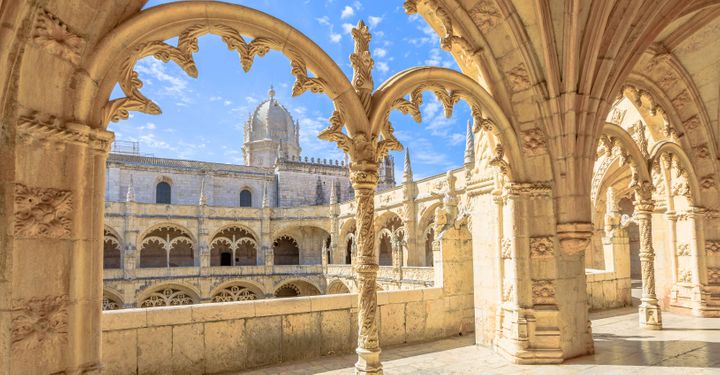 Lisbon is dotted with vintage kiosks serving everything from tobacco to cheap pizza; these tiny open-air areas have been around since the 19th century and are a big part of the city's cafe culture. A short walk on from Praça do Comerico you'll find one of its best: the Ribeira das Naus Quiosque. The perfect river-side pit stop for a cheap lunch, here you can watch ships and people pass by and enjoy the views of the 25 de Abril Bridge, which bears more than a little resemblance to a certain bridge in San Francisco…
From here it's just a short walk to the Corpo Santo bus stop (just off Rua do Arsenal on Largo do Corpo Santo) where you can hop on the 714 over to the Mosteiro dos Jerónimos. A masterpiece of Portuguese Late Gothic Manueline architecture, the UNESCO-listed monastery is one of Lisbon's star attractions.
You can easily spend an hour wandering through the ornate cloisters and soaring vaults of this immense church. You're also only a short walk away from the Tower of Belem, another remarkable example of Portuguese Late Gothic architecture.
Day one: Evening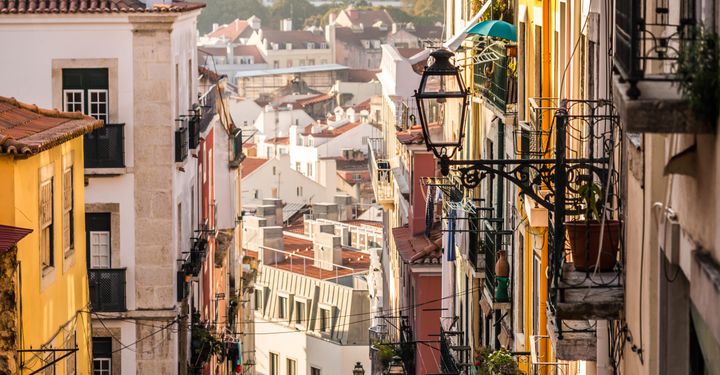 A sleepy labyrinth of sloping cobbled streets and fading facades, Lisbon's Bairro Alto district lies all but dormant by day. Come back past 10pm, however, and it's completely unrecognisable. Bars seemingly burst out of every available doorway, with throngs of people spilling out into the narrow streets sipping potent caipirinhas and cheap bottles of Bock lager.
As the heart of Lisbon's famous party spirit, the night starts and ends here. Fill up at Marisqueira M (Rua do Norte 100), a reasonably-priced seafood place with super cheap beers, before bar-hopping through the crowds till late. With over 200 Portuguese wines on offer, the Old Pharmacy – no prizes for guessing what this bar was in a former life – is a chilled-out night-starter place with subtle class.

Day two: Morning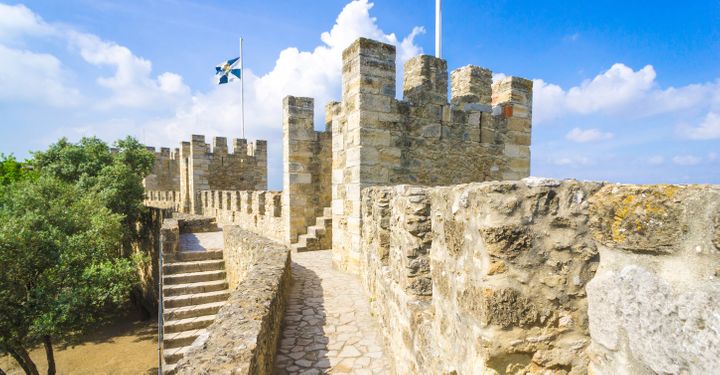 Another day, another vista – this time from São Jorge Castle, an imposing medieval structure that overlooks historic Alfama. Once the seat of power in Portugal, the castle has stood over Lisbon for more than 400 years, and aside from the sweeping views, the castle's impressive battlements make it worth the hike. Entrance costs €10.
Next, trade the heady heights for some melancholic lows at the Museo de Fado (entry €5), the spiritual home of Portugal's mournful folk music. Borne out of the Alfama district in the 1820s, this traditional music is as Portuguese as Port wine, but with a much more bitter-sweet edge.
If you fancy the real deal later on, the Alfama district is dotted with bars dedicated to Fado, with Clube de Fado one of the best venues for it. The songs are inherently sad in nature, often focusing on the cheery themes of poverty, lost love and death – but still, it really is beautiful and immensely moving to hear in person.
Day two: Afternoon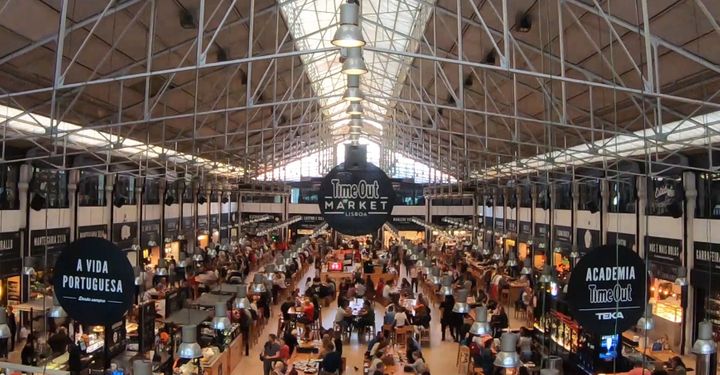 Packed to the rafters with mouth-watering food and drink stalls, Lisbon's Time Out Market is the kind of market other markets aspire to be. From Portuguese classics such as the custard tart and whole-roasted chicken, to fresh oysters and spicy Pad Thai, every last morsel on the menu has been handpicked by experts from the city. Fill up your plate and your glass – it's past midday and you're on holiday, after all – and join the chatter among the market's communal wooden tables.
Once you've had your fill of food, it's time to quench your cultural cravings. Lisbon boasts immense riches in the art department, which given the city's creative reputation isn't too surprising. Spend some time in and among an immense collection of works at the Museu Calouste Gulbenkian – one of Lisbon's undisputed meccas of art.
You'll need a few hours to truly get under the skin of this place, which boasts a huge mix of contemporary art, Portuguese classics and historical relics. Entrance costs €10 – to get there, take the Az line (Reboleira) from Terreiro do Paco (a 15-minute walk from the food market). Alternatively, try Museu Coleção Berardo for contemporary art, while Museu Nacional de Arte Antiga offers more of the classics.
Day two: Evening

Keep dinner cheap and cheerful with gourmet burgers over at A Cultura do Hamburguer (Rua das Salgadeiras), a simple but tasty joint in the Bairro Alto.
Afterwards, there's just room for one last view of Lisbon, this time at sunset. Plant yourself on one of the many sofas at the aptly-named Sky Bar and watch the night engulf this beguiling city with an ice-cold caipirinha. There's no other way to end a trip to Lisbon but on a high – the City of Seven Hills demands it.
Have a comment or question about this article? You can contact us on Twitter or Facebook.