January 15, 2018

By Hannah Frances
Lake Garda boasts some of the most naturally beautiful scenery in Europe. The dramatic mountain backdrop, lakeside vineyards and neat lemon groves have attracted the royal and wealthy for hundreds of years, and its timeless beauty continues to lure tourists from all over the world.
The lake is around 50km long and spans three regions: Lombardy, Veneto, and Trentino-Alto Adige. The terrain vastly differs from north to south and each town along the lake's lush shores has its own unique character and foodie specialities. With so many places to visit and different types of holiday to choose from, it can be hard to know where to stay, so we've put together a guide to the best towns and villages on Lake Garda.


Where to stay in the north
The northern part of the lake is long and skinny with a steep shoreline and high mountain peaks. The muscular cliffs create ideal conditions for sailing, so if you're visiting for water sports, mountain hikes or adventure activities, then this is where you need to be. The food here has a strong Austrian influence and feels much more like northern Europe than elsewhere in the region.
The main towns are Limone, Riva del Garda, Nago-Torbole and Malcesine, and it's easy to hop between them by boat. A ticket from Limone to Riva costs €5.00 and takes 40 minutes; Limone to Malcesine costs €6.50 and takes 20 minutes. Bear in mind that these lakeside towns are the furthest from Verona airport, so transfers are more expensive. There are indirect public transport links which will save you money but the bus and boat timetables are not ideal if you have a late arrival or early departure.
Nago-Torbole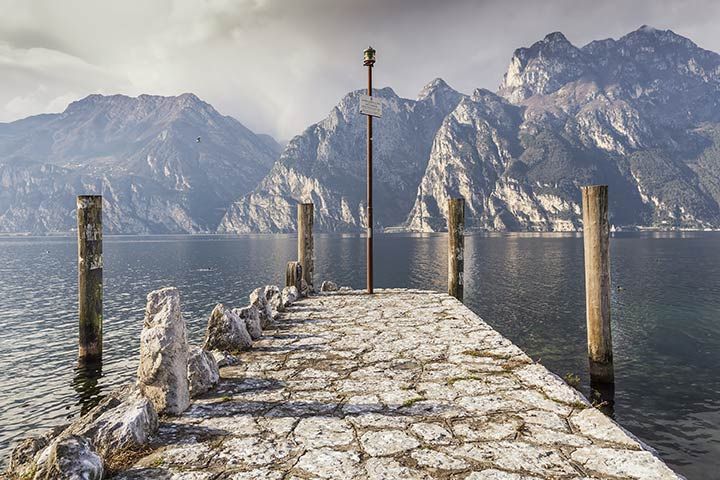 Nago-Torbole is actually two towns: Torbole on the waterfront and Nago in the mountains. It's extremely popular with windsurfers and sailors but there's also plenty to see on land. Explore Monte Baldo park, known as the 'Garden of Europe' for its rich flora and fauna, or follow the walking trail up to the panoramic view point on Monte Altissimo. It's the highest mountain in the area but this particular trail is a gentle climb so it's great for families, and the view across the water is fabulous. The northern tip of the lake is in the Trentino-Alto Adige region which is famous for its alpine scenery and Germanic cuisine, so for regional cooking, book a table at La Terrazza (Via Pasubio 15, Torbole) for its pretty veranda and local dishes at reasonable prices.

Limone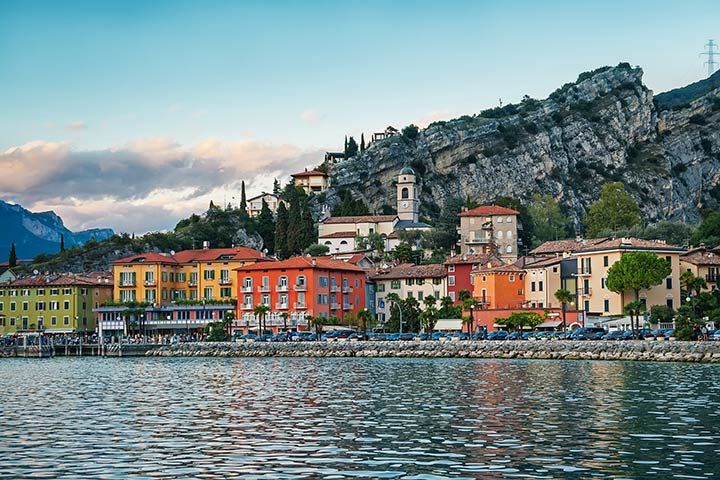 Limone is a charming fishing village and well-loved tourist destination at the foot of the Dosso di Roveri. The mountain bike tours are noteworthy, but people mostly come here for a picturesque and relaxing break. Pastel coloured houses and grand hotels seem to tumble down the rocky cliffs, and the pretty stone streets of the town centre are lined with lively restaurants and cafes. There's a beautiful beach and a market on the first and third Tuesday of every month. Getting here from Verona airport can be tricky if you don't want to hire a car; the easiest but most expensive option is to arrange a private transfer through your hotel or a tour company (approx. 1.5 hours by car), otherwise take a train from the airport to Desenzano on the southern shore, then either a bus or ferry to Limone. The whole journey will take around 3.5 hours.

Malcesine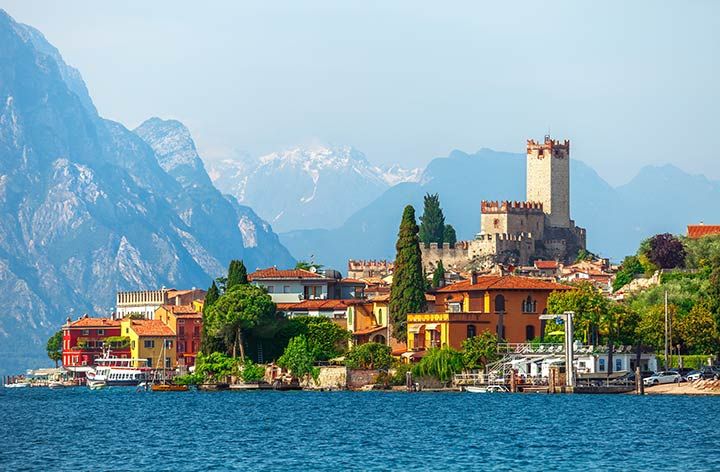 The boxy and colourful town was built around Castello Scaligero and Palazzo dei Capitani against the jaw-dropping backdrop of Monte Baldo. A cable car connects the town to the mountain, and the breathtaking 360-degree views from the top are not to be missed – if you don't stay here, it's worth a visit for this view alone. Home to the lake's most famous sailing club, Malcesine is an excellent base for the more adventurous as it offers a wide range of water sports, paragliding, mountain biking, and skiing during winter. There's a weekly market every Saturday.
Go on a Sunset and Stars Tour and even if you can't tell your Orion from your elbow, you can't fail to be impressed.
Riva del Garda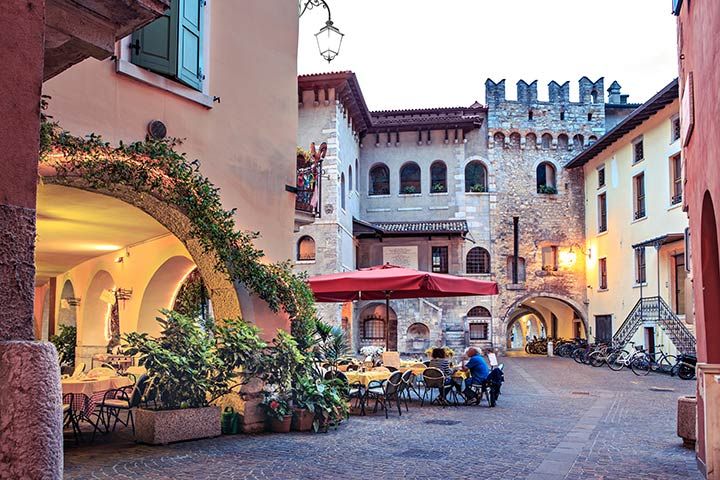 Riva del Garda is the main hub of the northern shore. Sheltered by the Dolomites, the town has a lovely climate with lemon trees and palms that make it feel like an oasis. Here you'll find some of the best bars and restaurants on Lake Garda so if you're here for the food, splash out on a memorable Michelin-starred meal at Il Re della Busa (Viale Giosuè Carducci 10, Riva del Garda). Candle-lit and contemporary, it's achingly romantic and the lake fish dishes are stand-out.


Where to stay in the south
The southern shores sit against gentle hills, farms and lemon trees. Towns here have a warmer, more Mediterranean climate, and there's much more choice for families with the many campsites and farmhouses. The rolling hills to the east of the lake are home to some of the regions best wines (Valpolicella and Bardolini), making it particularly attractive to foodie types, and from the western shore, the small private island of Isola del Garda is popular for the tour of its sumptuous gardens and villa.
On spindly peninsula on the southern-most shore is the lake's most famous and touristy town of Sirmione. It's definitely worth a visit if you decide to stay elsewhere; alternatives include Bardolino, Salò and Torri del Benaco. Nearby Desenzano is the largest lakeside town and serves as an excellent transport hub, with regular connections to Verona airport and city centre.
Torri del Benaco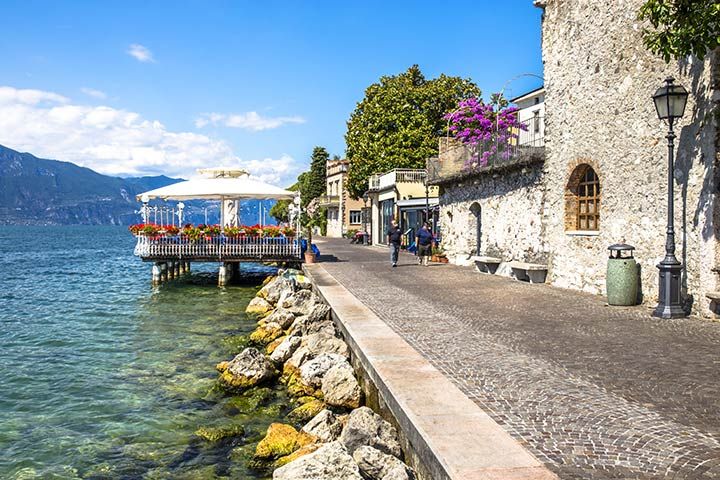 On the eastern shore and in the Veneto region, this is one of the lake's smaller resorts. The medieval town has a quaint fishing harbour and an attractive lakeside promenade with lots of restaurants to choose from. It's peaceful even in high season so perfect for a relaxing holiday. Getting there is relatively simple: it's a 40 minute drive from the airport, or you can take a bus to the town of Garda on the south-eastern corner of the lake then a second bus up to Torri del Benaco, which will take around 2 hours in total.
Salò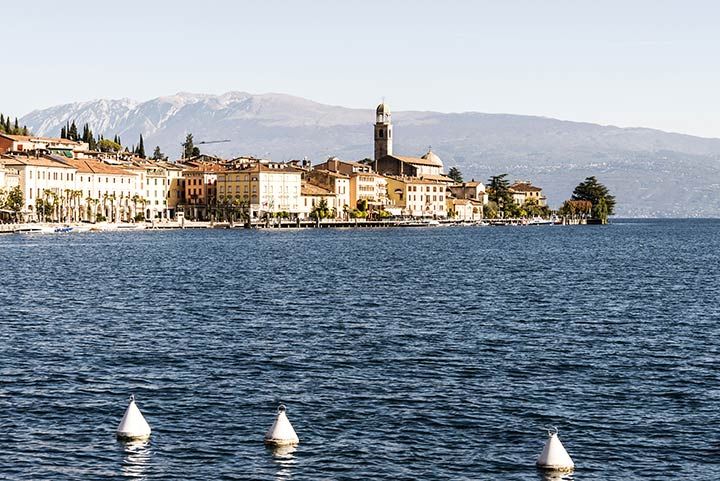 Salò is the largest town on the western shore of the lake. With a jumble of tiny streets and squares, excellent cuisine and an awe-inspiring cathedral, it's a ideal base for those looking for a good mix of culture, history and cuisine. The longest promenade on Lake Garda joins the old town with the beaches and campsites just south of the bay, so also great for families. For a good restaurant on this side of Salò, make a reservation at Piccolo Grill (Via Cesare Battisti 4, Salò) for a fantastic selection of fish and seafood. In town, Al Cantinone (Piazza S. Antonio 19, Salò) is a neighbourhood trattoria popular for it's no-fuss service, checked tablecloths and fabulous menu inspired by the mountains, so perfect for those who don't eat fish
Bardolino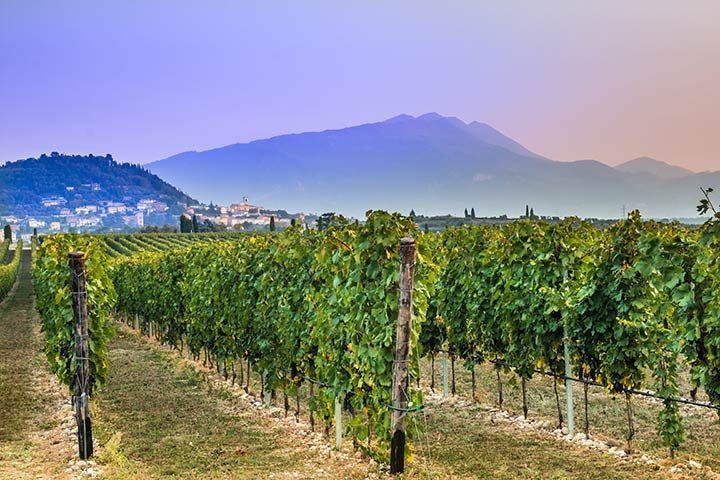 Wine lovers flock to Bardolino, whose hilly landscape is cloaked in vineyards that produce the famous Bardolino red wine. It's an appealing base for food lovers, who will appreciate the Olive Oil Museum and weekly market (Thursday mornings) which celebrates the area's rich produce. There are many events here throughout the year, including food and wine festivals, musical events and summer games. The Romanesque church of San Severo and its traces of original frescoes is also not to be missed. The town is a 25 minute drive from the airport.
Sirmione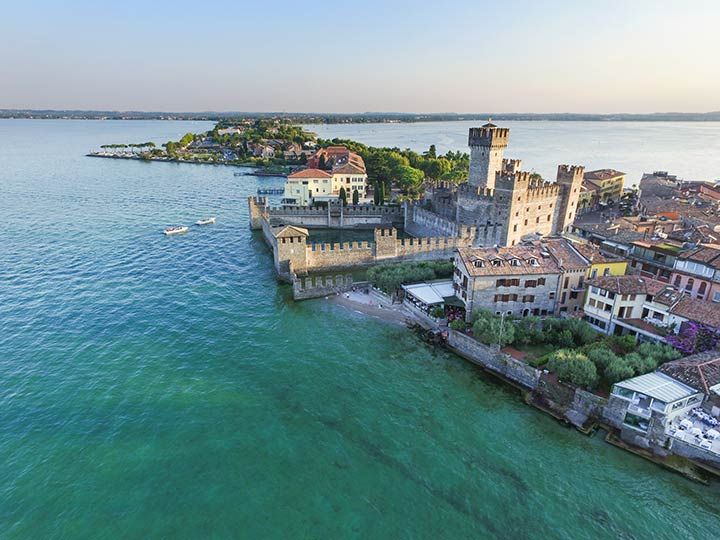 Sirmione is beautiful in its position on a peninsula stretching into the lake. It's the lake's most famous town and also its busiest. As such, if you want to stay here then it's best to visit during the low season. Not to be missed are the Roman ruins at Grotte di Catullo and Scaligero Castle for its thermal baths. Tourist traps abound in Sirmione, so if you're looking for a good, authentic restaurant then head to La Rucola (Via Strentelle 7, Sirmione). It's tiny and rustic but the cooking is fabulous.


Have a comment or question about this article? You can contact us on Twitter or Facebook.