January 23, 2020
"Slovenians worry way more about their quality of life than money," my guide Andrej cheerfully tells me while showing me around the Slovenian capital, Ljubljana. And you'll notice this on a trip to the city in everything from the standard of food and the importance the city places on sustainability, to the laid-back attitude of locals.
You can pack a lot in during a short break in Ljubljana, whether your idea of a good time is museum- or bar-hopping, sipping wine with a knock-out view, or dining al-fresco. Here's why Ljubljana should be on your radar for your next city break.

You'll go home talking about the food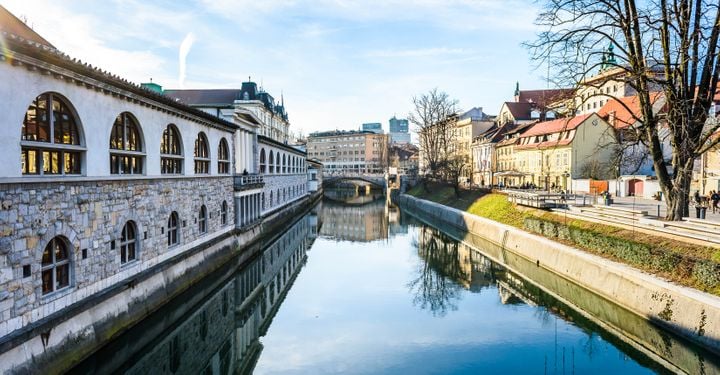 Slovenia's food is starting to gain serious attention – the first Michelin Guide to the country will be unveiled in 2020 and Slovenia is set to be the 2021 European Region of Gastronomy. And, whether you dine in a more formal restaurant in Ljubljana or eat al-fresco at a food market, you'll notice the emphasis on high-quality, local ingredients. "Slovenians are fussy about food and where it's from," Andrej chuckles, explaining that by the age of 30 most locals start growing their own items such as tomatoes at home.
For an introduction to Ljubljana's food scene, book onto an early morning Let's meet at the market tour with Ljubljana Tourism (currently only running on Saturdays). During this you'll be guided around the city's busy Central Market, which runs from Dragon Bridge on the banks of the Ljubljanica river to the Triple Bridge. Weaving among the colourful fruit, veg and flower stalls outside, and fish, cheese and meat counters inside, you can try products such as buckwheat donuts and local cheese, and will hear stories about the market and its stalls before enjoying a traditional breakfast in a local café.
If you don't do the tour, Ek Bistro, near the Grain Bridge, serves fantastic breakfast options including a goats' cheese omelette with carraway seeds, and homemade granola.
On Fridays from mid-March to October there's an Open Kitchen food market held in Ljubljana where locals and visitors can chat to chefs from renowned restaurants and tourist farms from around the country while trying their food. Expect both local and international dishes.
You can walk everywhere – and are encouraged to do so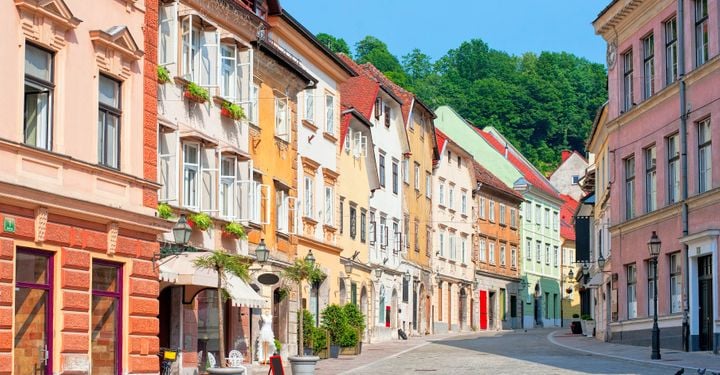 In 2007, work began to make much of Ljubljana's centre car free. The focus was sustainability – Ljubljana was named as European Green Capital 2016 – but also to breathe life back into many of the central areas, with terraces opening to dine in and more events being held in the city's squares.
This, coupled with the centre's compact size, means that you can amble to all of its main attractions by foot, with strolls admiring the sights perhaps punctuated by enormous slabs of cake and coffee al-fresco. If walking isn't your thing, there are also bikes to hire and a fleet of environmentally-friendly electric vehicles called Kavalirs that are free to travel in.
Its castle is fantastic – and there's a new attraction there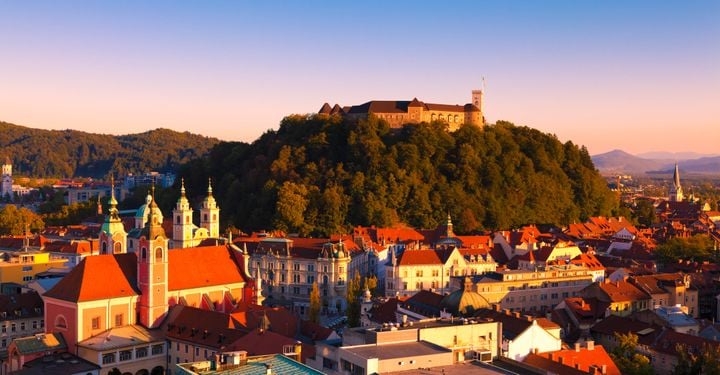 You can't miss Ljubljana's medieval castle as it dominates the city's skyline from the top of Castle Hill. Climb up to it from the centre of town in around 15 minutes or hop onto its dedicated funicular railway and look out over the sprawling streets and pockets of green as you whizz upwards.
Ljubljana's most popular attraction is worth visiting for the view alone – you'll see a sea of red roofs scattered below from viewing points and, on a clear day, you can see all the way to the mountains. There are plenty of other things to do here too including visiting its museum to learn more about Slovenian history, creating a show with the kids in an interesting puppetry museum and even tapping your feet in its jazz club in the evening.
A recent addition at the end of 2019 is a new castle wine bar which has an outdoor terrace with arguably the best view in Ljubljana. It showcases Slovenia's fantastic selection of wines from different regions across the country, offers tastings and serves food too.

You can admire the architecture of the Slovenian Gaudi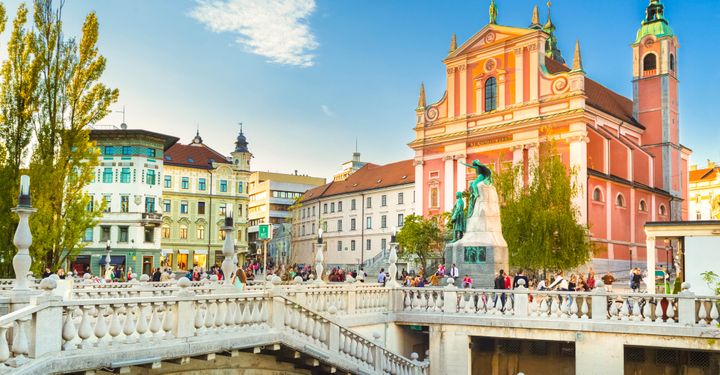 Many of Ljubljana's stand-out buildings and structures were designed by a 20th-century architect called Jože Plečnik who has been likened to Gaudi. The central Triple Bridge across the Ljubljanica River is perhaps the most famous of his works in the city. Here, one larger crossing in the middle has been accompanied by two pedestrian footbridges either side to create a unique white stone structure. The colonnaded Central Market was also designed by Plečnik.
A building worth seeking out by Plečnik is the National and University Library. Enter through a door with the head of Pegasus as handles – the winged horse is meant to symbolise that it's leading visitors to knowledge. Inside, there's a huge dark stairway with black limestone columns either side which could be straight from Ancient Greece. The only natural light comes from the reading room at the top of these stairs, representing the light of knowledge.
The main staircase and entrance hall are open for visitors to look at but the beautiful reading room at the top of the stairs is only open to the public on Saturdays between 2.30pm and 6pm.
Regular Plečnik walking tours are held in the city to find out more about his works.
You can dine, read and party outside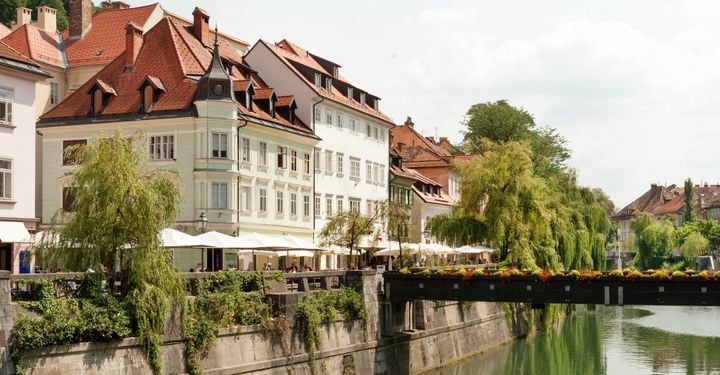 "Slovenians are crazy about eating outside," Andrej laughs as we walk past a group huddling around a table on a cold autumn day with steaming coffees. And there are bars, restaurants and cafes with terraces along both sides of the Ljubljanica river where you can join the locals for a glass of Slovenian wine, craft beer or a meal.
A more unusual way to mingle with locals outdoors is to spend a couple of hours in a deckchair with a book in one of the city's Library under the Treetops. One site is next to the Tivoli Fishpond in Tivoli Park where there's a selection of books to choose from (some in English) in the serenely green surroundings of the city's largest park.
As well as outdoor markets, the city centre pulses with street festivals, concerts and outdoor sporting events throughout the year – so look up what's on before a visit.
You can experience the farm-to-table journey just outside the centre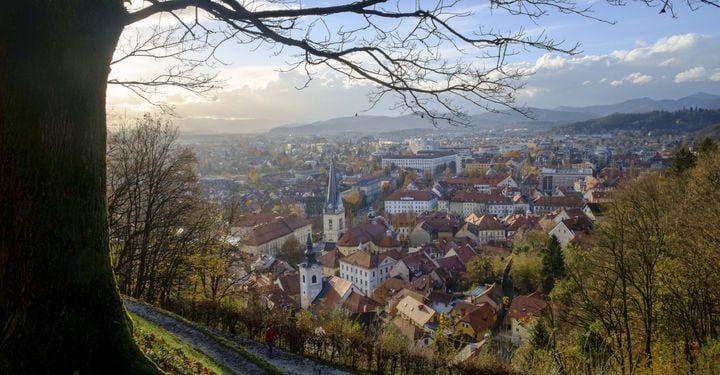 For something a little different on your Ljubljana city break, stroll south down the river, just outside of the pedestrianised centre, to find the quiet area of Krakovo. Here there are a series of city allotments, from tiny plots to larger ones, some of which provide food for the city's restaurants.
This green space is protected and can only be used to grow food – plus owners can't sell these plots, they can only pass them down to family members. Stay in the area for a while to enjoy the village-like atmosphere and eat in a relaxed restaurant.

Have a comment or question about this article? You can contact us on Twitter or Facebook.