February 14, 2020
You'd be forgiven for never having heard of Slovenia's second city, Maribor. In Slovenia's northeast corner – and about an hour and a half from Ljubljana Airport – it's more country town than buzzing city.
But that's all part of Maribor's appeal, where a laid-back vibe, fantastic food and beautiful surroundings will utterly charm you.
Then, there's its piece de resistance. Known as "the wine city", on a visit you can slip into its "wine underworld" (an enormous cellar underneath its centre), see the world's oldest vine, and meander around the surrounding vineyards that neatly tumble down steep slopes.
Here's why you should discover Maribor before everyone else does.

It has some unique wine-related attractions…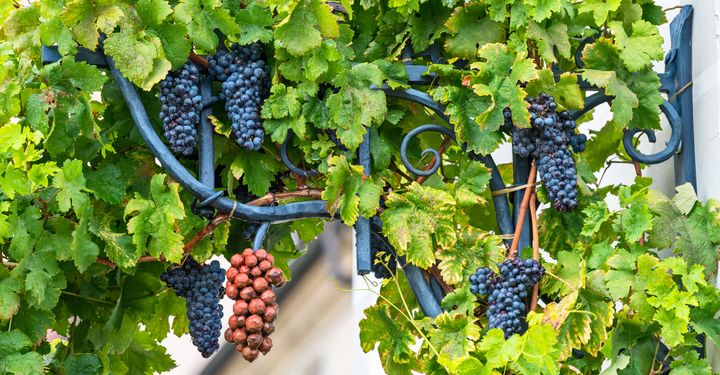 Maribor's most-visited attraction is a more than 450-year-old vine, which has earned itself a place in the Guinness Book of Records as the world's oldest. A true survivor, it's stayed alive through an Ottoman invasion, the devastation of a phylloxera plague (a parasite that eats the roots of vines) and World War II, and still produces grapes.
You can see it outside Old Vine House, snaking along the building's front, then visit its dedicated museum where you can also arrange tastings. However, don't expect to try any wine from the Old Vine itself – only around 100 bottles a year are made from its harvest and these have been given to the likes of the Queen and Bill Clinton.
Also in the city centre is The Vinag Wine Cellar, one of the oldest classical wine cellars in Europe. For just €3 you can explore the 2.1km of passages underneath the city centre with a map or join a guided tour at 3pm daily for €7 (it's closed on Sundays), including a tasting. Look out for its biggest barrel, dated 1862, which used to pump wine to a restaurant above and an enormous resin-lined barrel that you can actually squeeze inside.
…and surrounding vineyards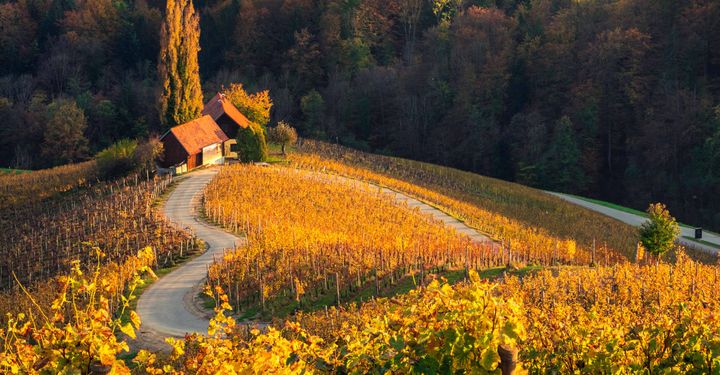 The Styrian wine region is known for its light and aromatic white wines, and most vineyards are boutique, focusing on quality over quantity. The passion of the owners, often family businesses, shines through on visits and you'll be tempted to stuff your suitcase with bottles bought while exploring.
For a quick peek of it all, you can see lush vines from Maribor's city centre on Pyramid Hill. A castle once stood here but now, its main draw is its fantastic view over the city.
If you'd prefer to get out of the city, spend a day exploring local vineyards by bike or on an organised tour – the knowledgeable sommelier, Jernej Lubej, offers excellent full and half-day tours through his company Big Wine Guy's Tours.
It's also worth heading out to the Instagrammable heart-shaped road near the village of Svečina. Named one of the most romantic roads in the world, this unique attraction was accidentally created in the vineyards more than a decade ago when an extra turn was added to the path. Snap a selfie followed by a glass of fizz.
The food is top quality too
Slovenian restauranteurs proudly focus on locally sourced, high-quality food, and you'll notice this both in Maribor's top restaurants and vineyard culinary offerings. The city's fantastic food has influences from neighbours Italy, Croatia and Austria, with Slovenian specialties including the indulgent premurska gibanica (a layered cake filled with cream cheese, poppy seeds, apple and cream), dumplings, pumpkin seed oil and Carniolan sausages.

Some of the most creative dishes in the city can be found in Mak Restaurant. There's no menu and minimal cutlery but enigmatic chef and owner David Vračko will keep you smiling with his dry wit and food – he asked me whether I believed in Father Christmas before serving my next course on antlers.

Other standout options include the family-run restaurant in Gaube Vineyard and Hiša Denk, around a 20-minute drive from Maribor, run by David Vračko's older brother Gregor.

You can take part in outdoor adventures in beautiful surroundings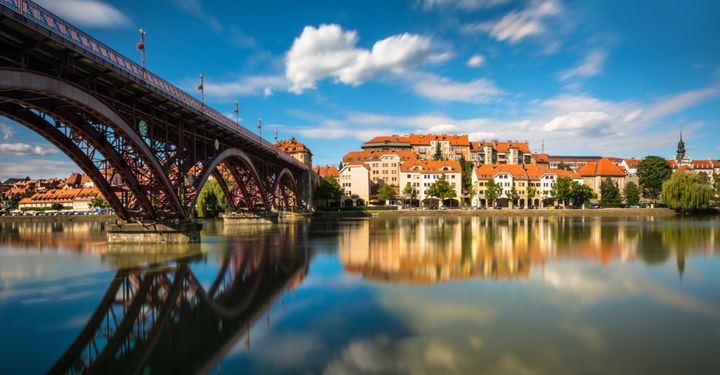 Learn about the oldest part of the city, Lent, on a stand-up paddleboarding tour on the Drava River, or if that sounds like too much effort, travel on a traditional timber raft, and enjoy musical performances and food and drink while on board.
The international, long-distance Drava Cycling Route is also by the river, while for those who love the thrill of speed on two wheels, Maribor is a popular place for downhill cycling. Head to Bike Park Pohorje where there are five trails.
Prefer hurtling down hills on the snow? The Mariborsko Pohorje Ski Resort, Slovenia's largest resort, is around a 15-minute drive from Maribor's centre.
There's some interesting accommodation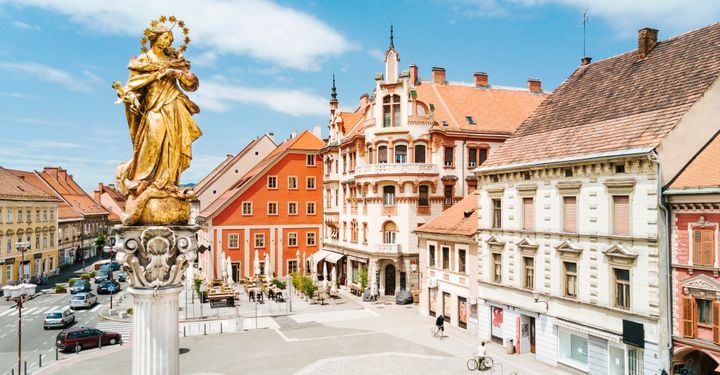 If you'd like to stay centrally on a Maribor break, consider the Hotel City Maribor, a four-star option with a fantastic restaurant, roof terrace and gym. If you're willing to stay a little outside Maribor, there are some unusual options too.
Chocolate Village by the River glamping site is around 5km (3 miles) from Maribor and is the ideal spot for chocoholics. Next door to the Teta Frida chocolate factory, everything is themed around the sweet stuff. Cosmetics are made of chocolate, you can get a chocolate inspired breakfast (chocolate sausages, anyone?) and you can try everything from chocolate massages to a chocolate making lesson.
Chateau Ramšak is another eclectic glamping option, also around 5km outside Maribor. Set among the vineyards of Chateau Ramšak, here indulge in wine-tasting sessions moments from your bed in a treehouse, relax while having a wine massage and see the largest wine press in Europe.
It has a surprising clutch of cultural treasures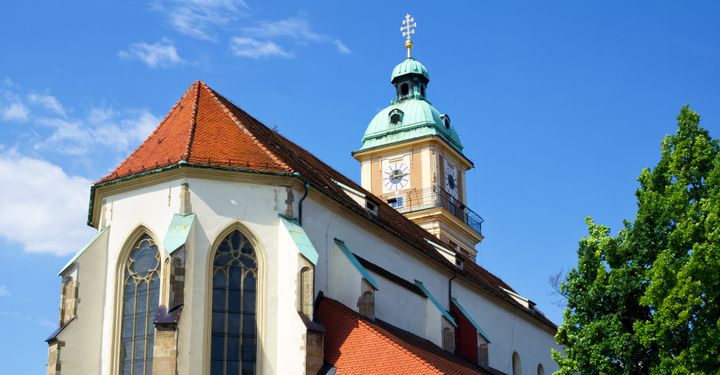 Maribor may be small, but it packs a lot in. Stroll around its old centre, perhaps dipping into its cathedral, parts of which date from the 13th century, or the 15th-century Maribor Castle, which is now the Maribor Regional Museum.
In the Trg Svobode Square, next to the castle, is the unusual dark spherical National Liberation Monument. With images of faces hammered into it, the structure pays tribute to those who were killed during World War II while trying to resist occupation.
Maribor is a creative city, as was shown when it was selected as European capital of culture in 2012. And there are numerous events throughout the year, as well as performances in Slovene National Theatre Maribor.
A standout event is St Martin's Day, or "Styrian New Year" as one local described it to me. On November 11, around 20,000 people gather to celebrate autumn and the new wine vintage. There's music, food, art, folklore, and hundreds of wines to try. There's also a procession with local rafters, harvesters and important wine ambassadors, including wine queens – women with excellent wine knowledge chosen to spread the word about Maribor's wine.

Have a comment or question about this article? You can contact us on Twitter or Facebook.