7 Cities That Come To Life In Spring
In full bloom: 7 stunning cities that come to life in spring
Updated January 31, 2023
Published March 22, 2019
Rows of resplendent tulips, fields of orange poppies, entire forests of delicate cherry blossoms… some cities were just made to be seen in the spring.
From Amsterdam and Florence to Los Angeles and Sapporo, we've scoured the globe for the finest floral destinations coming into bloom this springtime. Your Instagram feed has never looked so good!


1. Amsterdam, The Netherlands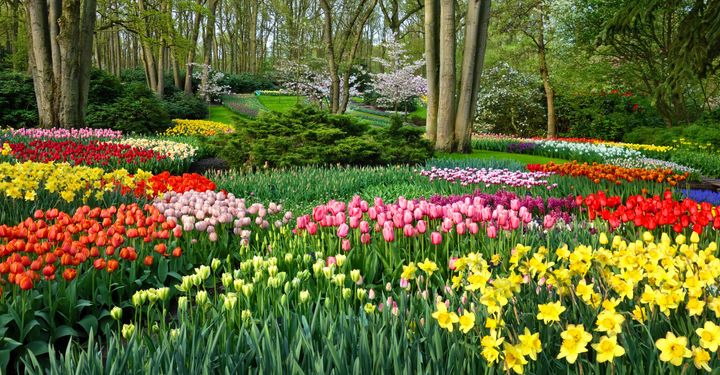 Throughout April, Amsterdam goes into flower-powered overdrive when the Dutch capital holds its annual Tulp Festival. From public spaces and famous attractions to the gardens of private homes, over half a million tulips will bloom over the month, decking out the city in a flurry of colour.
Beyond the city, you'll find the iconic 'Flower Strip': a flat 35km (21 mile) stretch between Haarlem and Leiden, with the Keukenhof Gardens of Lisse in the middle. The route is clearly marked for those willing to tackle the path by bike, though trains run frequently to all three destinations from Amsterdam.
As an added springtime bonus, the Netherlands celebrate King's Day on April 27. In Amsterdam, the streets are shut down for a city-wide party, complete with live music, markets and a whole lot of orange (it's the national colour)!


2. Sapporo, Japan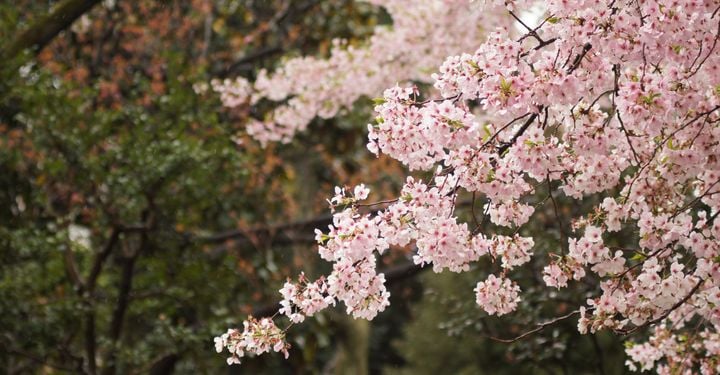 Japan's cherry blossom season is temperamental to say the least – it's hard to predict, tricky to catch without a little planning and is over in the blink of an eye. Though Tokyo's predicted blooming is fast approaching (they're expected on March 30 this year), you'll be able to find the signature pink petals across the country right up until early May.
And Sapporo, on the country's northern Hokkaido island, may be your best bet. A full sakura bloom is expected between May 2 - 5 in 2023, giving you plenty of time to plan a getaway.
As for where to hanami (view cherry blossoms, usually while enjoying a picnic under the trees), Sapporo's Maruyam Park and Hokkaido Shrine are guaranteed to wow.
You can also find a jaw-dropping floral display and hanami experience in Toda Memorial Park. It has a whopping 8,000 cherry blossom trees and, at 70 minutes away from Sapporo, experiences far fewer tourist crowds. Win win!


3. Florence, Italy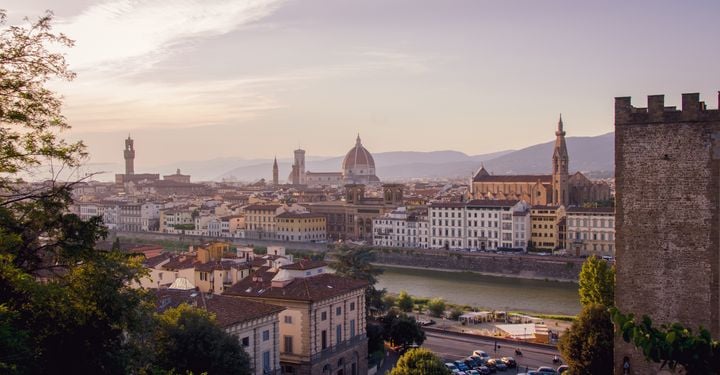 More splendid architecture than shady arbours, Florence might not scream 'spring' at first glance. However, the Tuscan capital is packed with pockets of green bursting with colour at this time of year.
Early on, you'll find magnolia trees blooming in the streets and in mid-April, so-called 'wisteria hysteria' takes over as the Bardini Garden tunnel bursts into colour with vibrant purple flowers. Other spots to see fresh flowers include the Iris Garden (open for just one month between April and May) and the University of Florence's Botanical Garden.
Florence has more than just flowers going for it in spring, though. A revolving door of tourists through the summer months, the Renaissance city is decidedly quieter in April and early May. And the few queues you do encounter won't be half as bothersome to wait in; temperatures are in their low- to mid-20s making for a nice reprieve from the sweltering 30C-plus heat of the summer.


4. Los Angeles, USA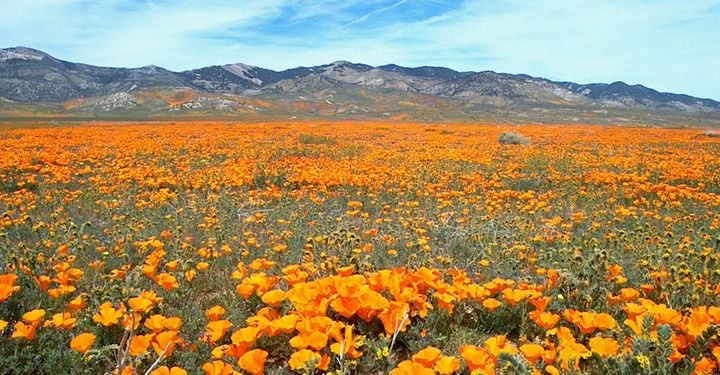 The once-in-a-decade botanical phenomenon of the 'superbloom' is expected to occur in L.A. in 2023, where thousands of fiery orange California poppies bloom across the rolling hills of the Walker Canyon, about an hour's drive from the city.
Spring wildflowers aren't just concentrated here, though. From Malibu to Lancaster, parks and fields across California are springing to life with coreopsis (in Point Dume) and poppies (try the Antelope Valley California Poppy Reserve).
But you won't need a hire car to see some blooms. Los Angeles has plenty of flora around town. A local favourite is the Descanso Gardens, which enjoy a variety of colourful flowers from mid-March to May. You could also try the Los Angeles County Arboretum and Botanical Garden in Arcadia.


5. Paris, France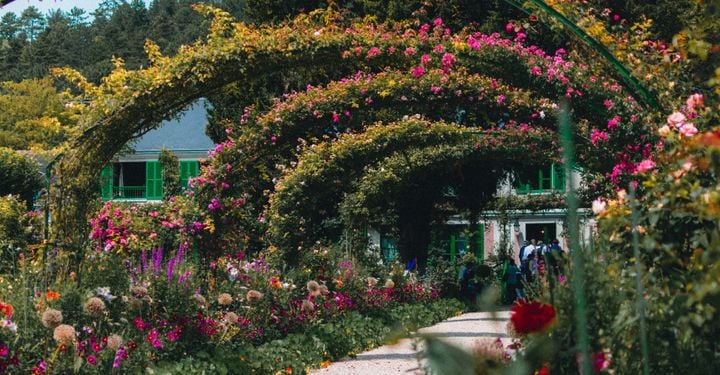 Paris enchants all year round but the City of Light really, well, lights up with colour in spring. It's thanks in part to the city's many green spaces, which explode with flowers throughout April and May.
The city's café culture starts spilling out on to the sidewalks once more and picnickers pop up in the parks. With a sizzling summer around the corner, it's the perfect time to visit. For floral-filled snaps, head to the Luxembourg and Tuileries Gardens (in the sixth and first arrondissements, respectively). Park Monceu, meanwhile, has Paris' very own cherry blossom gardens.
You can also travel a little out of town to Giverny, home to Claude Monet's overflowing gardens. Just a train away from the French capital, this pretty place inspired many a Monet masterpiece, including his larger-than-life murals at L'Orangerie. If you want to see both, plan your trip around May 13, 2023. It's the date of the annual Museum Night, where entry to most Parisian museums is free after 6:30pm. You're welcome.


6. Madrid, Spain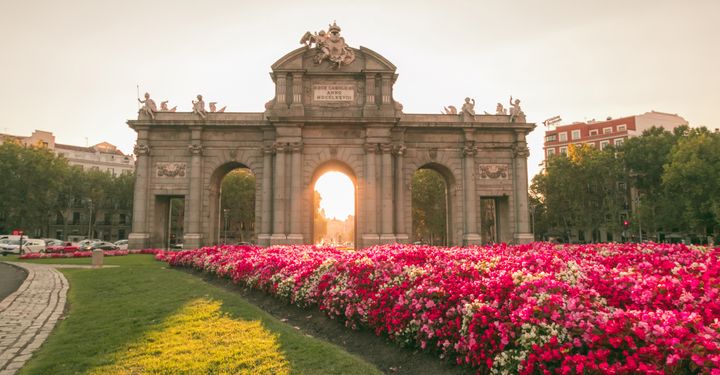 Your mind may jump to Japan when you think of cherry blossoms, but did you know Madrid enjoys its own full bloom of the pink flowers in spring? Yep, cherry blossoms on your doorstep, typically blooming between March and April.
Quinta de los Molinos Park and El Buen Retiro Park are two popular outdoor spaces that are more pink than green this time of year. The restaurant-lined Miguel Servet Street near the city centre, meanwhile, is also perfect when you want a pink-hued view with your café.
If you can't jet off on a last-minute holiday to Madrid for the blooms, never fear; you'll find flowers all throughout spring. For a side of tradition with your spring snaps, time your trip with the capital's Fiestas de San Isidro. Running between May 11 and 15 in 2023, you can expect parades, performances and plenty of florals for this traditional citywide celebration.


7. Marrakech, Morocco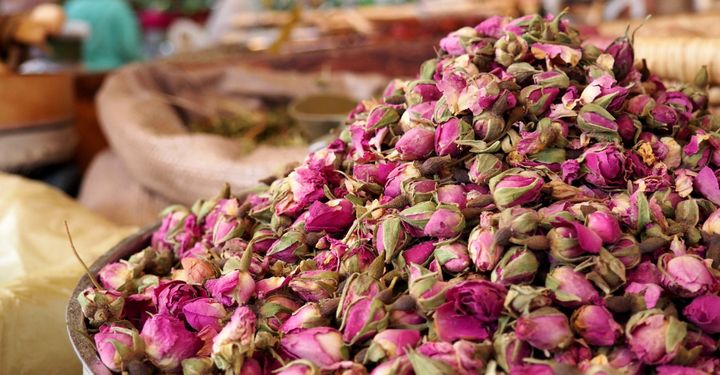 Spring appears in unlikely ways in Marrakech. Public gardens get a touch of colour as flowering shrubs and cacti start to bloom, orange trees blossom in March, and April and May herald the arrival of roses, which adorn window sills and overtake souks with their heady scent.
Head to La Mamounia and Jardin Majorelle, two paid-for-but-worth-it gardens to see the city in bloom. Towards the end of spring, try the Nectarome for fields of lavender.
However, the best of spring in Morocco is a small six-hour jaunt out of Marrakech and into to the Valley of Roses in El-Kelaa M'Gouna. In May, a river of pink roses run between the barren mountains. It's a unique sight to behold and for the locals, provides a flow of steady income – the dried petals are sold to French perfume houses. The harvest is celebrated with a three-day festival during May, where traditional music, dances and feasts accompany the crowing of a Rose Queen.

Have a comment or question about this article? You can contact us on Twitter or Facebook.