Why Cancun should be your next long-haul beach holiday
October 26, 2019
By Joey Tyson
Cancun has become one of Mexico's flagship destinations, and for a good reason. A purpose-built holiday mecca, complete with picture-perfect beaches, over 250 days of sun and an incredible range of hotels, it ticks pretty much every box on the beach break wish list.

It also happens to be excellent value for money, no matter your budget. Whether you're after five-star luxury or a cheap and cheerful room-only holiday, you'll likely find it on Mexico's Yucatán Peninsula.
For a long-haul, tropical destination, here's why it's hard to look past a Cancun holiday.


How does Cancun compare to other similar destinations?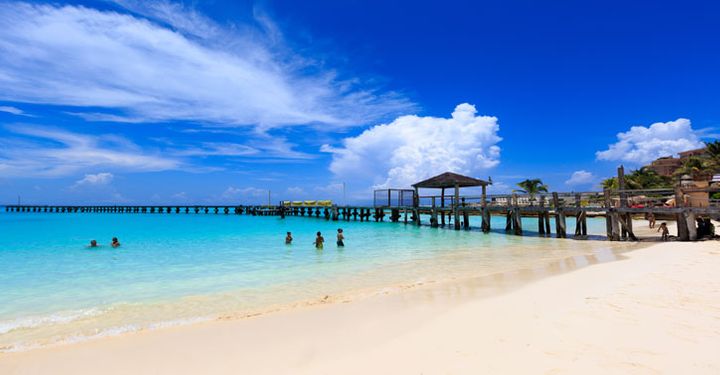 In terms of weather, activities and beaches, Cancun holidays offer a similar experience to popular Indian Ocean destinations, but at a lower cost. We compared the prices of a five-star all-inclusive holiday across three destinations at different times of the year (see table), and Cancun came up cheaper every time.
But it's not just about the price; the service you get in Cancun at four- or five-star hotels – top shelf drinks, the finish of the rooms and quality of the restaurants – compared to the likes of the Maldives or Mauritius, is very high. Basically, you get more for your money in Mexico.
Of course, when it comes to culture and history, these locations are poles apart. However, for an all-inclusive break where your hotel is probably the most important part of your holiday, Cancun makes a great value alternative.
And sure, Cancun is predominantly an all-inclusive destination but that's not to say you can't find excellent room-only and half-board options (there are plenty of great deals to be had). However, if you're after a bit of luxury at a lower price tag, all-inclusive is definitely your best bet.
NOVEMBER 2019*

Cancun

Maldives

Mauritius

£1,606pp

£3,634pp

£2,339pp

FEBRUARY 2020*

Cancun

Maldives

Mauritius

£1,392pp

£3,783pp

£2,385pp

JUNE 2020*

Cancun

Maldives

Mauritius

£1,216pp

£2,313pp

£1,816pp
Beyond excellent value, holidays to Cancun offer plenty more to keep you happy over two weeks. Here's what you can expect.
*All deal pricing above is accurate as of October 26, 2019. Prices are subject to change. Deals are subject to the partners' T&Cs.


It has incredible beaches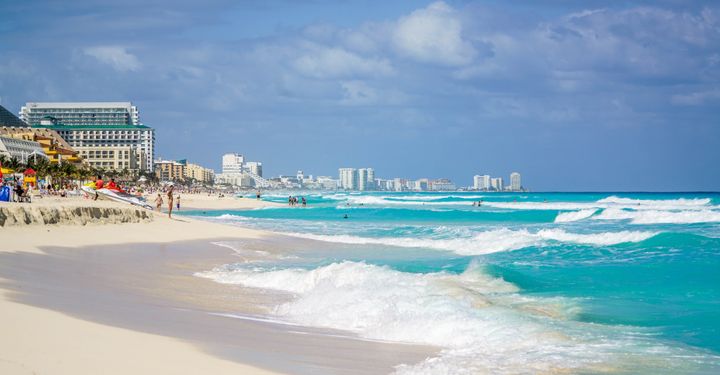 Cancun's Zona Hotelera is home to 14 miles of prime beaches. We're talking seemingly endless white-sand, lapped at by the stupidly turquoise waters of the Caribbean Sea, the sort of beach conjured by your mind's eye on a miserable Monday morning while you're researching your next holiday, pretending to work.
Each hotel has its own private stretch, but generally, you can lay your towel wherever you fancy. Away from the main drag, there are a couple of quieter beaches, such as Playa Tortugas, which you'll find on the northern spit of land that connects the hotel zone to Cancun Centro. The water here can be calmer if you're looking for a gentle swim.
Further north beyond Centro, you've got Playa Blanca, a quiet stretch of beach favoured by locals. Venture further north still and you'll hit Isla Blanca, a thin ribbon of land jutting out into the sea. Hotels up here tend to be low-rise and more secluded, so the beaches are a bit more relaxed. All the beaches in this part of Mexico have one crucial factor in common: They will look fantastic on your Instagram feed.


There's ancient Mayan culture to discover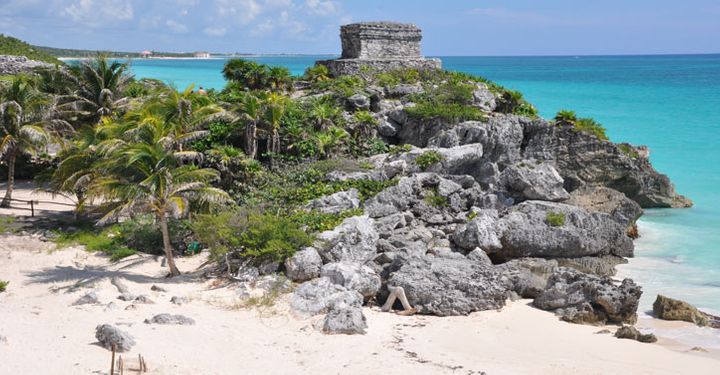 The Yucatán Peninsula is dotted with epic ruins and relics; these important archaeological sites tell the story of the region's ancient Mayan history and culture.
The closest ruins to Cancun can be found at El Rey, a small but well-preserved site near the southern tip of the Zona Hotelera. Close by, you'll also find the Museo Maya de Cancun, home to around 400 Mayan artefacts and San Miguelito, a compact archeological site connected to the museum.
If size matters to you, then venture further south towards Tulum. Here, you'll find some of the biggest and best-preserved examples of Mayan civilization.
At Coba, around two hours away from Cancun, you'll find Ixmoja. It's a 138-ft pyramid that you can still climb (a rarity for Mexico) and the views out over the surrounding jungle are well worth the thigh-burning effort. The pyramid itself is part of a larger complex notable for its sacbe (elevated stone walkways), lakes and large ceremonial stone tablets.
Tulum might just be the pick of the bunch, though. Dating back to the 13th century, the site's dramatic location, perched atop cliffs overlooking the ocean, has made it one of the most popular archeological attractions in the Quintana Roo region. It has been incredibly well preserved, with a number of temples still fully intact. Better yet, there are a couple of idyllic beaches set among the ruins, too – so don't forget your swimming gear.
Both the ruins of Tulum and the pyramid of Coba can be done as a day trip from Cancun.


Snorkelling, scuba diving and sinkholes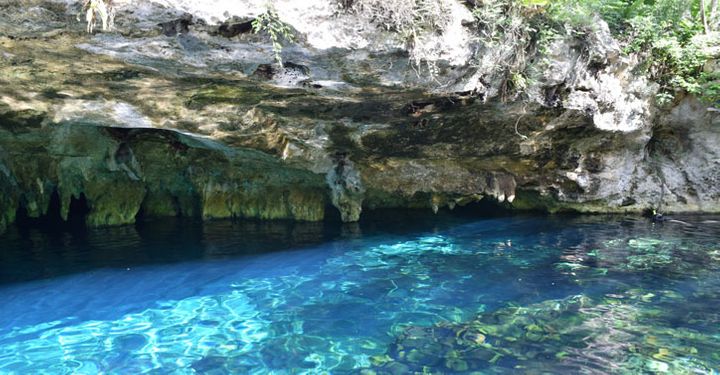 Isla Mujeres, just to the north of Cancun, is renowned for its clear waters and impeccable snorkelling conditions. The dusty pink corals here attract a dazzling array of marine life and lots of the dive shops – such as Guadalupana Tours and the Cooperativa Isla Mujeres – on the island provide snorkelling tours. Alternatively, you can rent equipment at the Garrafón Reef Park, a natural marine park that offers a wide range of activities, including kayaking and zip-lining.
If you fancy something a bit wilder, the island is one of the best places in the world to dive with whale sharks. As you might have guessed by the name, these things are absolutely enormous. Don't worry though, they're very placid and only eat plankton.
You can take the ferry over from Cancun or arrange an excursion through your hotel. Besides Isla Mujeres, most hotels in Cancun offer catamaran snorkelling excursions and some also have their own dive schools.
Another "must-do" in Cancun is the cenotes (pronounces se-no-tays), natural sinkholes that puncture the Yucatán Peninsula. These otherworldly caves played an important role in Mayan culture, both as water sources and sacred sites – thousands of them dot the area. Today, it's possible to snorkel, swim and even scuba dive in the cenotes. Once again, excursions can be arranged through most hotels.


When is the best time to visit Cancun?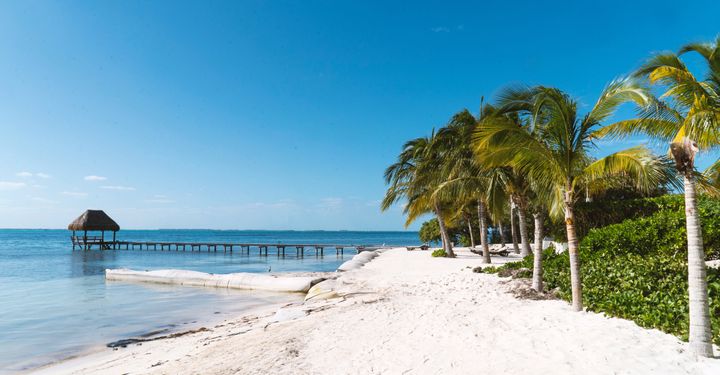 Cancun's peak period runs from November to April. This is when you can expect the best weather, low humidity and minimal rain. Temperatures hover between the high 20s and low 30s – ideal for the beach.
If you're willing to risk the off-season you'll find some really good deals. June and July are both good options during this period: It's hotter and more humid, but rain showers don't tend to last for very long.
For the best balance of weather and price, the best time to go to Cancun is either early autumn or late spring.


Have a comment or question about this article? You can contact us on Twitter or Facebook.