11 wonderful wintry breaks to embrace the cold
December 2, 2022
By Anna Hardy
When the weather takes a turn for the worst and temperatures drop to the single digits, it's all too tempting to escape to somewhere sunny. But with magical snowy scenes, seasonal celebrations, steaming cups of mulled wine and unforgettable activities, it's a spectacular time of year to embrace the cold weather abroad.
From reindeer sleighs in Finland to snow-dusted Christmas markets in Estonia, here's 11 destinations that come to life when the rest of us are getting ready to hibernate.
1. Finland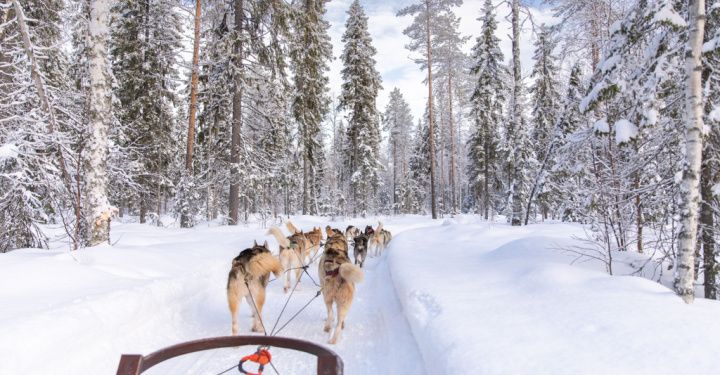 Finland is transformed into a snow-covered wonderland come winter. Stay in Finnish Lapland for husky safaris through breathtaking icy wilderness and spend a night in a glass igloo to fall asleep under snowfall and stars – you may even catch the glow of the Northern Lights. In the highly likely event you need warming up (temperatures here can average a shivering -16C in the depths of winter), seek refuge in a traditional smoke sauna. Known as savusauna, these chimney-less wood-fired saunas are an important part of Finnish heritage.
Your winter getaway wouldn't be complete without visiting Rovaniemi, Santa's famous hometown. Meet the big man himself at Santa Claus Village before gliding off into the snow on a reindeer-pulled sleigh ride, jingle bells ringing as you go.
2. Austria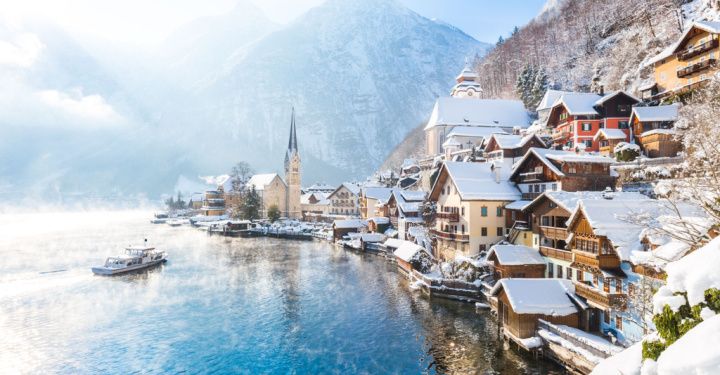 Austria provides plenty of opportunity for gloriously chilly getaways in winter. Take fairytale Hallstatt, for example. This lakeside village becomes even more enchanting when frost crystallises the lake and snow covers the surrounding Salzkammergut mountains. Skiing and snowshoe hiking are popular activities here, as are horse-drawn carriage rides around the village's cobbled streets and surrounding countryside.
Want to get your adrenaline pumping? Head to Innsbruck for winter sports such as tobogganing or ice-climbing in the nearby Sellrain Valley. Visit in December to combine thrill-a-minute days with festive nights, where you can sip Glühwein (mulled wine) at the Old Town Christmas market and see the heart-warming Christkind Parade (December 18, 2022).
Elsewhere, Salzburg is city break perfection with its snow-dusted palaces and fortresses, or you can cosy up in a lakeside lodge in Zell Am See for a real sense of peace and quiet.
3. Estonia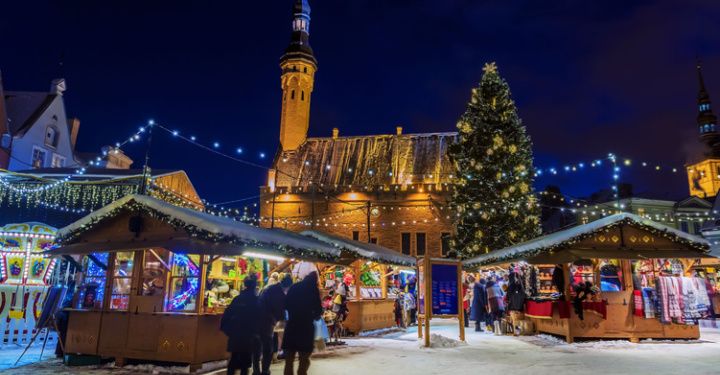 Even with the absolutely Baltic weather, a winter city break in Estonia's capital is worth it – Tallinn comes alive at Christmastime and you can expect to see its quaint medieval churches, pretty turreted buildings and twinkling Christmas market stalls under a blanket of snow.
When you need to warm up, seek out hõõgwein. This Estonian mulled wine is served with fruits and nuts and you'll find it in any cafe with a lit candle by its door.
For a little adventure, head to the great outdoors. Join a kick-sledge hike or husky sleigh ride in the country's national parks to admire frosted forests and frozen waterfalls. Or, try your hand at traditional ice fishing on Lake Peipus before taking a safari across its frozen surface – made possible by custom 'karakat' vehicles built by local Peipsi fishermen.
4. Canada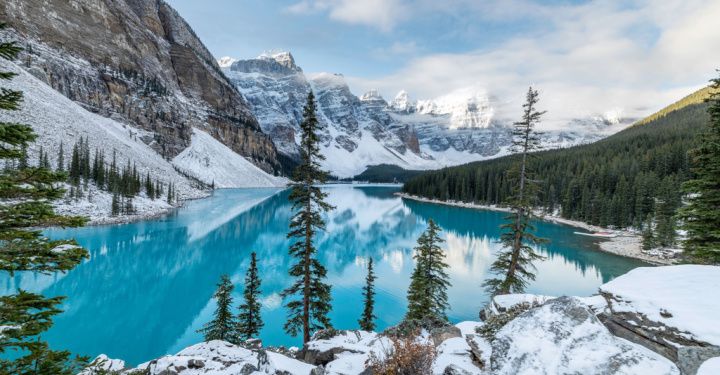 Winter doesn't get much more scenic than in Canada. Banff National Park transforms into a glistening ice-scape and its snow-capped mountains are a mesmerising backdrop for wintry walks and outdoor activities. The Johnston Canyon icewalk is a popular choice, as is snowshoeing amongst the pine tree paths.
Visit Moraine Lake to see its famous topaz waters fringed with ice (in the depths of winter, its surface disappears beneath snow) or get your skates on to glide across the frozen Lake Louise. To see the park in all its snow-filled glory, take a helicopter tour of the Canadian Rockies.
Elsewhere, hit up the Vernon Winter Carnival (February 3-12, 2023) in British Columbia, soak up the heat of the Miette Hot Springs in Alberta, go dog sledding in the valleys of Yukon or travel to the tiny village of Churchill for a chance to spot polar bears.
5. Norway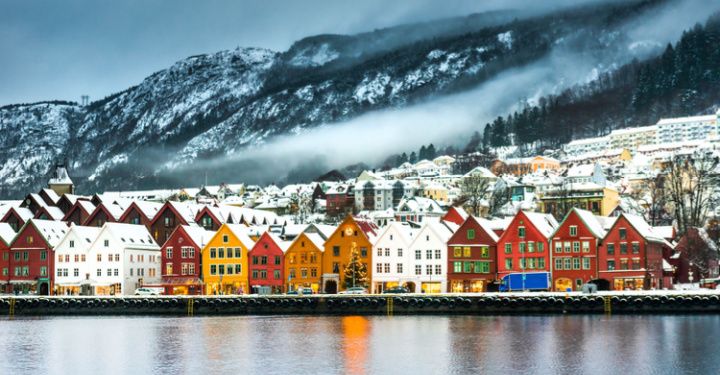 From festive city stays in the capital of Oslo to adventures under the glow of the Northern Lights, Norway's winters are beyond special.
Holidaying here between November and February is your best chance to spot the aurora borealis. The city of Tromsø, which sits in the centre of the 'Northern Lights Belt', is a great place to base yourself for this bucket list experience. Known as the 'Gateway to the Arctic', Tromsø is also a top pick for snowmobiling, snowkiting and reindeer spotting.
For coastal town cuteness, look no further than Bergen. Colourful waterfront buildings and cobbled streets are nestled beneath pine covered peaks. Hop aboard the Fløibanen funicular for mountain views or visit in November to catch the annual 'Bergen Lights' festival.
Winter is also a fantastic time to see humpback and killer whales, so head out on a whale-watching safari or just cruise the stunning glacial waters of the Norwegian fjords.
6. Sweden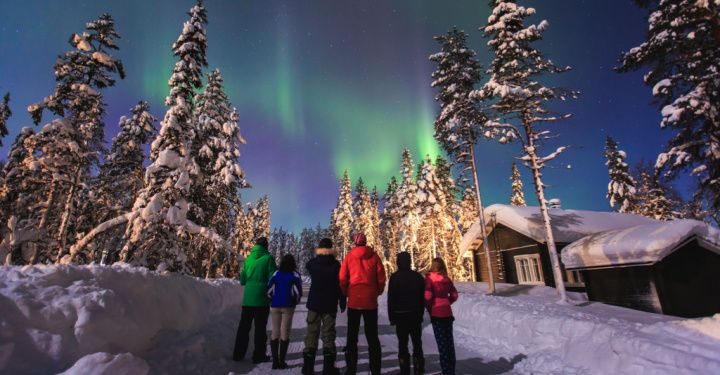 Sweden is a snowy spectacle during winter and another Northern Lights hotspot – the Abisko Aurora Sky Station in Swedish Lapland was specifically designed for uninterrupted views of this incredible natural phenomenon.
For a taste of Swedish culture, join a candlelit church service for a traditional Lucia (St Lucy's Day; December 13) celebration, try fika – a coffee break shared with friends – or learn about the nomadic lifestyle of the indigenous Sami people.
Want to embrace the cold even more? Sweden's iconic Icehotel is made entirely out of ice. Each winter, a one-of-a-kind version of the hotel is built in the town of Jukkasjäarvi and left to melt away come spring. This awe-inspiring experience is worth the teeth-chattering -5C temperatures.
7. Switzerland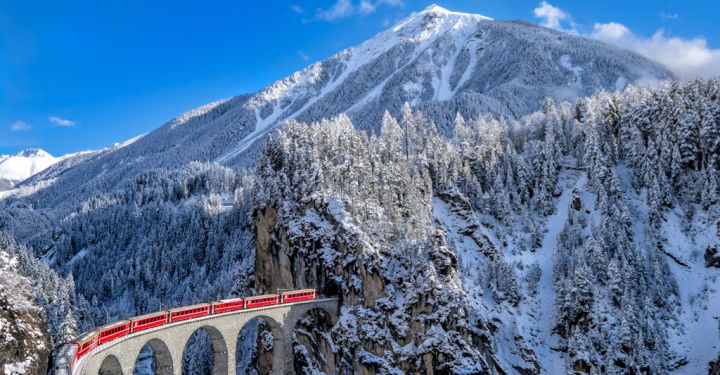 Swap the Icehotel for cosy wood cabins and ski chalets in the Swiss Alps. The resort town of Zermatt is the go-to for serious skiers, having access to some of the Alps' tallest peaks including Switzerland's famous Matterhorn.
Not a skier? Interlaken has outdoor activities ranging from gentle valley walks to extreme glacier climbing. Or simply enjoy taking a spin around natural ice rinks and relaxing in thermal baths.
If you've got a head for heights, the Titlis Cliff Walk is the highest suspension bridge in Europe at over 3,000m (9,842ft) above sea level. Jungfraujoch, meanwhile, is home to the highest railway station in Europe – take the Jungfrau Railway to the top for a winter spectacle complete with ice sculptures and an ice tunnel.
To admire the Swiss snow without the chill, ride the Glacier Express, which runs through the Swiss Alps from Zermatt to St Moritz.
8. Iceland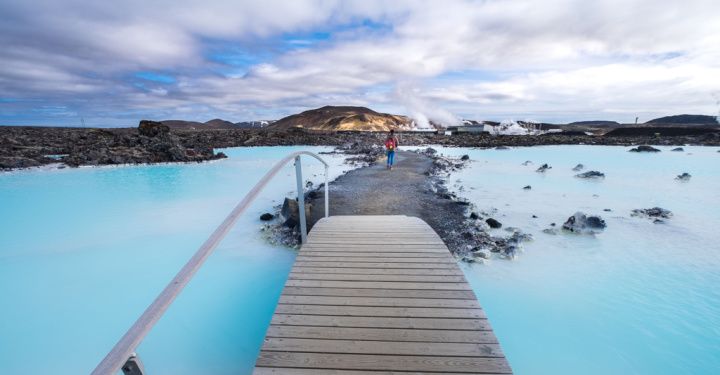 While you can embrace the chill in Iceland all year round, the combination of icy volcanic peaks, Northern Lights and annual festivities makes visiting in winter extra magical.
If you're holidaying over Christmas, base yourself in Reykjavik for Jólin – Iceland's festive season. Look out for the Yule Lads around the city centre, warm up around a community bonfire and welcome the New Year with the locals beneath a dazzling firework display. The capital city also hosts the mesmerising 'Winter Lights Festival' every February.
A trip to the Blue Lagoon is the best way to keep the chills at bay. Bathe in the luxurious 38C geothermal pools, gaze out at the lava field landscape, and try some warming Icelandic schnapps to finish the day.
For a quaint winter escape, stay in Húsavík. This quiet fishing town is the oldest settlement in Iceland and known as the country's whale-watching capital.
9. Japan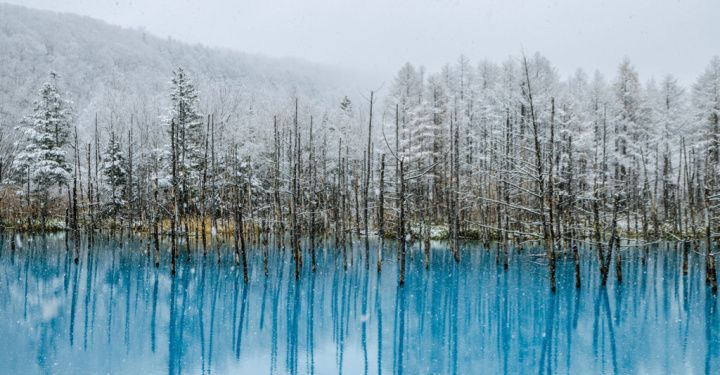 Forget the golden leaves of fall and the cherry blossoms of spring! Winter in Japan has its own wonderful allure with frozen forests, cultural festivals and generous glugs of warm sake (traditional rice wine).
Hokkaido is the home of stunning landscapes and spirited celebrations. The beauty of the ethereal Blue Pond is only enhanced come winter, when its snow-covered trees seem to float atop the icy azure waters.
And, the 'Sapporo Snow Festival' (February 4-11, 2023) is certain to keep that festive spirit alive – expect ice bars, snow slides and remarkable ice sculptures. Plus, you can sample traditional wintertime cuisine such as oden (slow cooked broth) and nabe (stews).
On Japan's main island of Honshu, you can visit the preserved traditional village of Shirakawago to see its gingerbread-esque thatched farmhouses blanketed in snow or join the famous bathing snow monkeys keeping warm in the hot springs of Jigokudani Park.
10. Slovenia
The cold weather is easy to embrace when winters look as magical as they do in Slovenia. Castles and baroque architecture are beautifully dusted with flurries of snow and seasonal events rally local spirits.
The underrated capital of Ljubljana is a picturesque place for a city break come Christmas. The old town is set aglow with illuminations and light-fringed market stalls fill the cobbled streets. For further festivities, the annual Slovenian carnival of 'Kurentovanje' (February 11-21, 2023) is a unique experience to behold.
Elsewhere, Lake Bled is a showstopper in the winter season. Its shimmering crystal waters are surrounded by the snowy Julian Alps and the iconic island church sits stoically among frosted pines. If the lake hasn't frozen over, you can visit the island on a pletna – a traditional wooden boat.
If you're seeking an adventure-filled getaway, why not climb the almighty frozen Kozjak Waterfall in Triglav National Park? Gently does it…
11. Denmark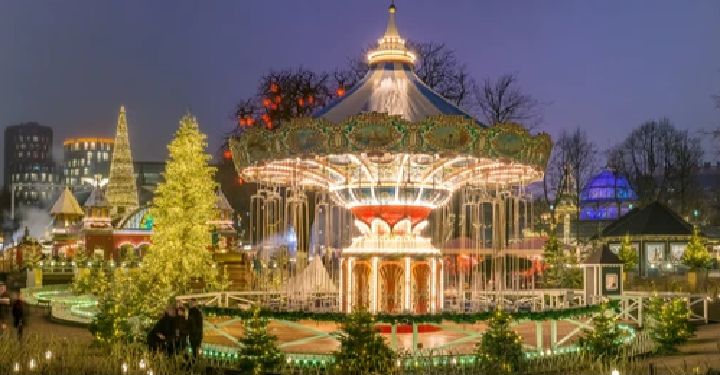 Embracing winter comes naturally in Denmark thanks to hygge – a heartwarming custom that's all about cosiness and contentment with loved ones. Hunker down in a cafe and enjoy a fastelavnsbolle (a seasonal cream-filled bun) or join in the Danish cheer at local Christmas markets – Tivoli Gardens hosts one of the best.
Hot tubs and saunas have long been part of Nordic culture but why not experience them in a different way? A floating hot tub or sauna ride in Copenhagen harbour certainly adds another dimension to sightseeing.
If you're up for celebrating winter like the Danes, you'll have to swap the steaming sauna for the icy sea – Skagen holds an 'Ice Swimmers Festival' on the last weekend of January. A rush of endorphins and a sense of rejuvenation is the reward.
Have a comment or question about this article? You can contact us on Twitter or Facebook.