10 Things To Do In Paphos
10 things to do in Paphos

October 20, 2018

If Goldilocks had to pick one place in the world to go on holiday, she'd probably choose Paphos, writes Katie McGonagle. This Cypriot town is hot but not too hot, lively after dark without attracting a rowdy 18-to-30s crowd, and is the sort of place where you can do as much or as little as you like.
Fancy a week at an all-inclusive resort, lying on a sun-lounger with a cocktail in hand? Go ahead. Prefer getting back to nature? The hiking trails of the Akamas Peninsula are on your doorstep. Or if you'd rather a taste of local life, Paphos is the beating heart of a network of tiny villages which show a side of Cyprus that tourists rarely see.
Having benefited from the investment that goes with being European Capital of Culture for 2017, now's the time to see what's new in this old favourite.
Take a sunset stroll towards a medieval castle
Set on the southwest coast of Cyprus, Paphos is blessed with spectacular sunsets, and where better to admire them than from its gorgeous beachfront boardwalk? This 5km coastal walk is a great spot for an early morning run, but it's even more fun to stroll along as the sun dips behind Paphos Castle, finishing with drinks and dinner at the harbour just as the buzz gets going.
The castle itself has an interesting story to tell about the history of this tiny island: it was first a Byzantine fort, rebuilt by the Lusignans, taken down by the Venetians and built once again by the Ottomans, and it's open until 7.30pm in summer (5pm in winter) for a bargain €2.50 if you want a history lesson to go with the view.
Splash around at a family water park
Kids aren't just tolerated in Cyprus, they're positively welcomed – after all, local culture is centred around family, and that attitude extends to holidaymakers as well – so there's no chance of getting bored with the number of family attractions within easy reach of Paphos.
If it's hot, head to Aphrodite Water Park, home to a long lazy river – perfect for mooching along on sunny summer days – plus a wave pool, water slides and tots' water play area. Family day passes start at €95 for two adults and three children, and there's a free car park outside.
Eat seafood with a sea view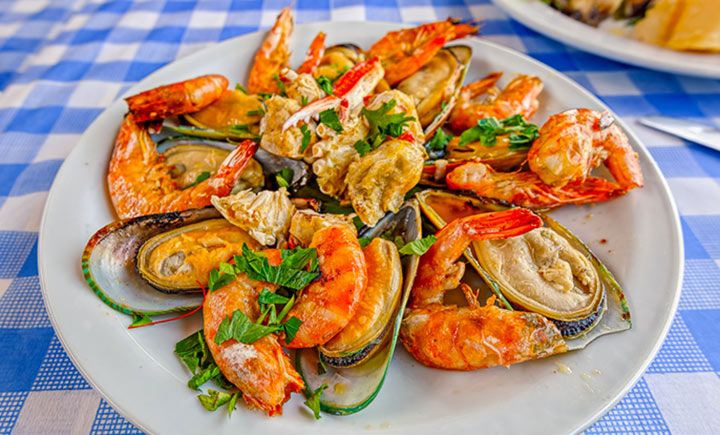 Nothing says 'summer holiday' more than sitting by the sea with a glass of vino, a platter of mezze and nowhere to rush off to, so set aside at least one afternoon for a lazy lunch at Paphos Harbour.
Theo's Fish Restaurant is very reasonably priced given its prime location, with a gentle sea breeze and much-needed shade to go with a menu strong on fish and seafood plus Cypriot classics like lamb kleftiko and sheftalia (sausages). Most restaurants display their catch of the day though, so see which spot takes your fancy, grab a seat by the sea, and enjoy.
See where the goddess of love was born
The name 'Aphrodite' crops up a lot in Cyprus, and for good reason. Greek mythology would have you believe the goddess of love emerged from the waves just offshore at Petra tou Romiou (Rock of the Greek), also known as Aphrodite's Rock.
Whether you believe the myth or not, Aphrodite's Rock is a beauty spot not to be missed, especially if you catch it as the sun goes down behind it. It's only a 20-minute drive east along the coast from the town centre, and it's a great spot if you're killing time before a flight home as it's a stone's throw from Paphos International Airport.
Visit the Tomb of the Kings
It would be easy to spend a week in Paphos and not give a second thought to its history, so skip this one if it sounds too much like hard work, but for anyone with a flicker of interest in the ancient world, Paphos is a treasure trove of Greek and Roman ruins.
The best-known site is the Tomb of the Kings, a burial place for high officials (though not actual royalty) from the fourth century BC. If stone tombs seem a little dry, head for the Archaeological Park instead, where you'll find a fantastic collection of mosaics from the villas of well-to-do Romans, depicting all manner of mythical figures. It's a great option for kids who are studying the ancient world at school to bring their learning to life. Entry is €2.50 or €4.50 respectively.
Say 'cheers' on a vineyard visit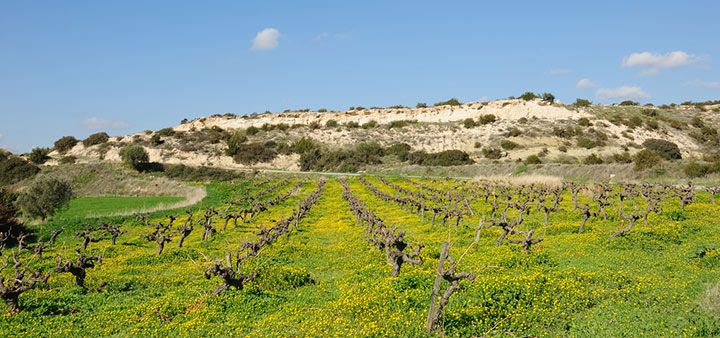 Cyprus isn't known for its wine, but with a wine-making industry that stretches back thousands of years, it should be. Many of its vineyards are small, family-run affairs producing just a few thousand bottles a year.
One of the best is Vouni Panayia Winery, a 45-minute drive inland from Paphos proper, which has 25 hectares of hilly vineyards overlooked by a modern restaurant and bar, so chances are you'll stop for a tasting and end up spending the afternoon. The medieval Chrysorroyiatissa Monastery is nearby, and worth a stop on the way home.
Explore local villages
Venture beyond the tourist resorts to find a smattering of tiny villages spread across the Paphos region, where the same families have been living for generations. While one village might be famed for its basket-weaving (a true Cypriot tradition), another might be better-known for lace-making, and yet another for producing pure olive oil, so the only way to get a true taste of local life is to hire a car, set off and see where you end up.
Aim northwards for Ineia to visit the basket-weaving museum, which is more creative than it sounds – time it right and the locals might even give you an impromptu lesson – or book a cooking lesson in Letymbou to bake olive-infused bread in an outdoor oven and make halloumi cheese the old-fashioned way.
Spend a night on Bar Street
Paphos draws a fun-loving, lively crowd so you can be sure of a good night out, but don't expect the all-night partying of places like Ayia Napa or Zante.
Embrace the atmosphere along Bar Street – better known to locals as Agiou Antoniou, and running parallel to Poseidonos Avenue – where you'll find plenty of pubs and clubs offering cheap drinks and a good-natured vibe. Head to Boogie's for karaoke, Robin Hood for kitsch medieval decor and a good happy hour, or to Amnesia Club for late-night tunes.
Relax in a soothing spa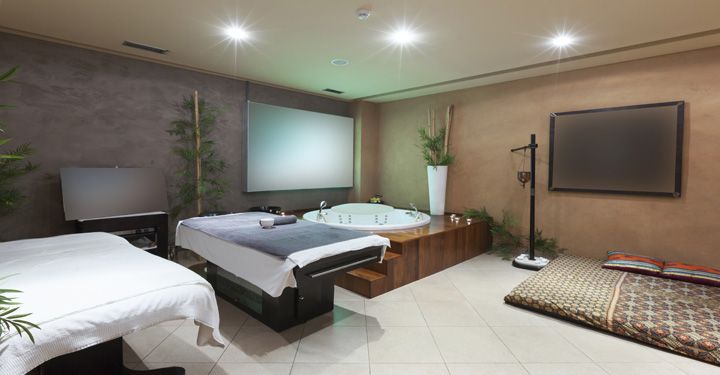 If holidays are the only time you get to spoil yourself, make the most of it by booking a spa treatment at one of Cyprus's luxury hotels so you can soak up the atmosphere without forking out for a room. The sea views at the award-winning Almyra are worth every penny, and since the spa is adult-only, you won't have to worry about kids disturbing your quest for inner peace.
If you'd rather a quiet getaway in the hills, the mountain views from the relaxation room at Ayii Anargyri Natural Healing Spa Resort are just as impressive. It's a converted monastery set on a natural hot spring with a list of spa therapies as long as your arm, so relaxation is pretty much guaranteed.
Soak up some sunshine at the beach
No holiday to Paphos would be complete without a bit of beach time, so be sure to pack a swimsuit or trunks. If your hotel doesn't have direct beach access, there's the municipal beach and ever-popular Alykes Beach at Kato Paphos, which are both sandy but very busy in peak periods.
There are a few other Blue Flag-worthy stretches around the town, but if you've got a rental car, it's worth driving up to Coral Bay, one of the prettiest sandy beaches in the region, where there's a mix of sun-loungers for lazy days or watersports providers for those who want a bit more action.
The facts you need
How to get there
There are direct flights from London, Manchester, Edinburgh, Bristol, Newcastle, Leeds Bradford and East Midlands to Paphos International Airport, though the frequency varies depending on the time of year.
Alternatively, fly to Larnaca International Airport and hire a car, then it's a one-and-a-half-hour drive to the west coast. Airlines that fly direct from the UK include easyJet, Ryanair, Blue Air, TUI and Jet2.com. Flight time is four and a half to five hours depending on your departure point.
Getting around
Paphos is quite compact and has local bus services around the town and to some of the villages, for €1.50 each way or €5 for a day pass. That said, it's worth hiring a car if you want to get out and explore the area, as buses to the villages might only be once or twice a day. Driving is on the left and roads are generally very well signposted.
Eating and drinking
Cypriot food and drink is generally good quality, especially if you avoid the egg-and-chips tourist traps and opt for local tavernas and family-run restaurants.
Three-course meal for two in a mid-range restaurant: €45
Domestic beer: 2.50
Cappucino: €2.75
Source: numbeo.com
Currency: Euro
Have a comment or question about this article? You can contact us on Twitter or Facebook.