10 all-inclusive Caribbean holiday deals for all budgets
Updated October 14, 2022
Published August 17, 2021
By Tamara Hinson
All-inclusive pretty much comes as standard in the Caribbean. With easy access to fantastic facilities, brilliant dining options and the bliss of knowing that everything – from food to watersports – is included, this dreamy part of the world is ideal for a hassle-free holiday.
To help put this paradisiacal part of the world within reach, we've rounded up the best all-inclusive deals for the region's most popular destinations. So, whether you're after a family-friendly adventure in the Dominican Republic or fancy indulging in a luxury winter sun escape to Antigua, we've got the perfect package holiday for you.


1. Barbados: Crystal Cove by Elegant Hotels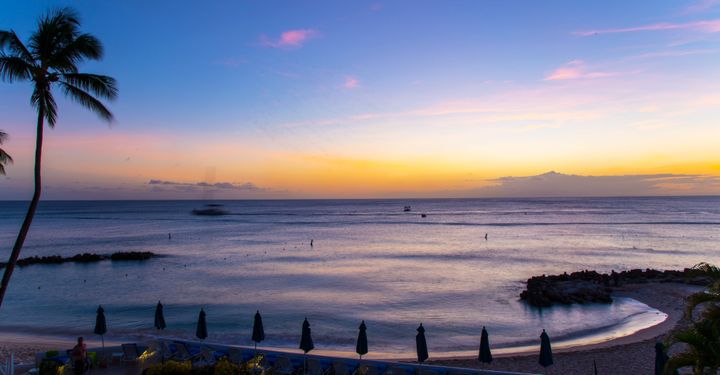 Holidays to Barbados are all about power soft, sun-drenched beaches, fringed by gently swaying coconut palms. To make the most of the tranquil tropical waters, base your stay at Crystal Cove – a family-friendly paradise in St James, on the island's west coast and one of the best resorts in Barbados for watersports.
Children can join in the action with the brilliant kids club, where complimentary activities include water-skiing and sailing. If waves aren't your style, you can cool off in one of the resort's three large pools or take a wander through the beautiful surrounding gardens – perfect for romantic sunset strolls.
There are plenty of dining options and gorgeous bars too. Try the Beach Bar for delicious cocktails in a spectacular setting, or dive under the resort's waterfall to enter the swim-up Cave Bar.


2. Dominican Republic: Riu Palace Punta Cana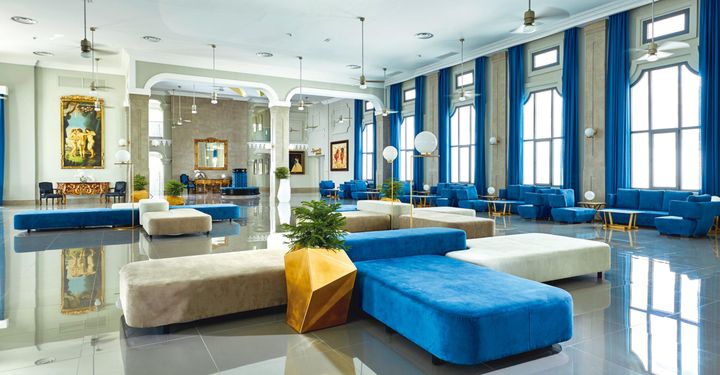 From windsurfing to waterfalls, pearly white sands to pretty parakeets, the Dominican Republic finds its way to the top of many tropical wishlists.
Located in the heart of Punta Cana, the spacious Riu Palace resort offers luxury and an amazing array of activities right on its doorstep. You're spoilt for choice with four magnificent pools including a dedicated kids pool, or grab your beach towel and enjoy direct access to one of Punta Cana's best beaches.
Entry to nearby Splash Water World and discounted access to the exquisite Punta Blanca Golf Club are included in your stay and you'll find restaurants specialising in everything from Japanese cuisine to Spanish delicacies.


3. Grenada: Spice Island Beach Resort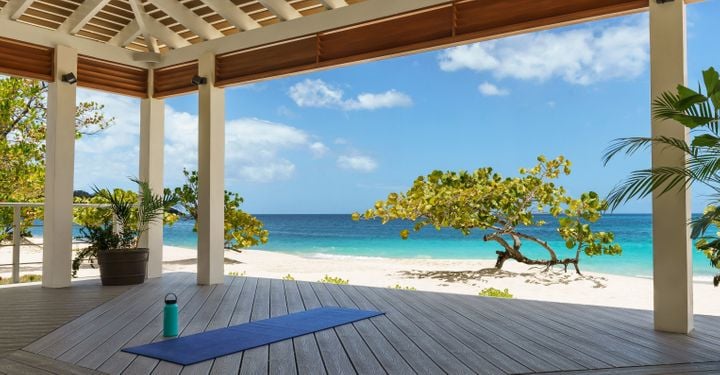 Known for its undeveloped stretches of sublime white-sand beaches and exclusive hotels offering the very best in Caribbean hospitality, holidays in Grenada might just be as perfect as it gets. Plus, this often overlooked island benefits from smaller crowds so you won't struggle finding your own quiet sandy spot.
For a luxurious getaway, the Spice Island Beach Resort is perhaps one of the best on the island. Nestled on Grenada's spectacular Grand Anse beach, the resort has 64 beachfront suites tucked between clusters of lemon, almond and sea-grape trees.
Spend lazy days sunbathing on the sugar-soft sands or indulge in a chocolate body wrap from the on-site spa. There's two restaurants renowned for their opulent dishes and a beachfront yoga pavilion for those after complete serenity.


4. Barbados: Waves Hotel and Spa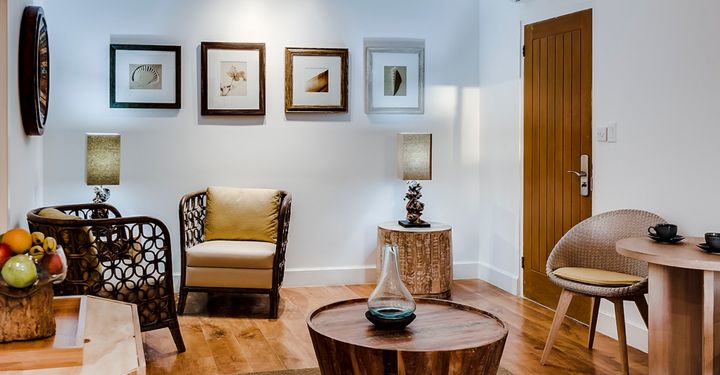 Laidback Waves Hotel and Spa resort in St James embodies the tropical tranquillity you'd expect from this corner of the Caribbean, with just 70 sophisticated and secluded guestrooms set amidst lush, landscaped gardens.
It's an idyllic choice for couples seeking a romantic getaway – a large section of the resort is dedicated to adults only – though you'll want to pry yourself away from a palm-shaded daybed to try your hand at the impressive selection of activities available. Mixology masterclass, art lesson and snorkelling sessions will fill your days here.
Your all-inclusive stay also comes with guest access to the wellness spa and a complimentary treatment. Try an island-inspired couples massage or invigorating facial.


5. St Lucia: Coconut Bay Beach Resort and Spa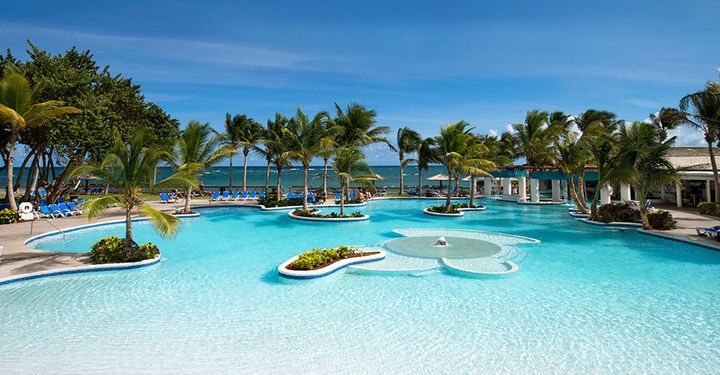 In Saint Lucia, forest-cloaked peaks soar above sandy beaches and clear, warm waters lap the coast year round – it's no wonder it's been dubbed 'the queen of the Caribbean'. As for your holiday base, find some four-star luxury at Coconut Bay Beach Resort and Spa, nestled on the island's south coast.
The facilities are fantastic: there are nine restaurants, seven bars, five pools, a fitness centre, tennis and basketball courts and the largest waterpark in St Lucia.
If you're a thrill-seeker, you're also in luck. The resort is on one of St Lucia's best kitesurfing spots and lessons and equipment can be booked at the Surf Shack, Coconut Bay's on-site water sports centre.


6. Antigua: Curtain Bluff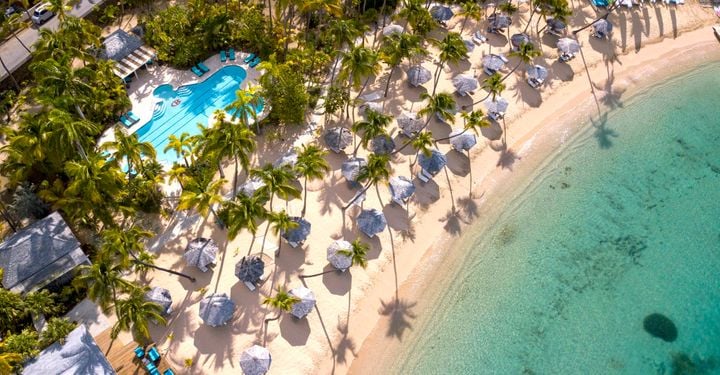 Antigua may be small in size but it has more than its fair share of golden sands – its perimeter packs in some 365 picture-perfect beaches and coves. With fresh seafood and arguably the world's best rum, this dazzling Caribbean island is ideal for a relaxing escape.
Regarded as one of Antigua's finest all-inclusive resorts, Curtain Bluff is the holiday spot of dreams. It has 72 lavish suites and rooms, all of which offer spectacular views and an exclusive feel.
Although there are just two restaurants and one bar, the resort is famous for its fantastic food: Antiguan-Italian cuisine at Sea Grape, delicious seafood and enormous steaks at Tamarind, and a choice of more than 4,000 wines at the Wine Cellar (make sure you request one of the tours of the cellar itself).


7. Tobago: Magdalena Grand Beach and Golf Resort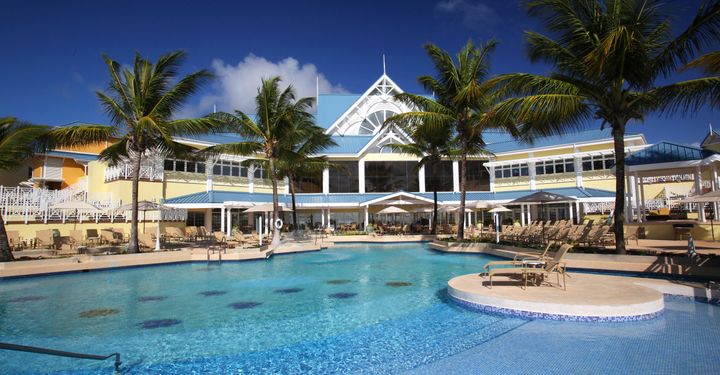 From the moment you set foot on Tobago's impossibly perfect beaches, you'll realise this crowd-free paradise is different from its neighbours. It's all about quality, not quantity here, with the island's resorts and hotels being some of the best in the Caribbean.
Get a taste for island life at the beachfront Magdalena Grand Beach and Golf Resort, part of a huge estate, which includes nature trails, a virgin mangrove forest, and an 18-hole PGA designed golf course. There are eight bars and restaurants, and an array of watersports on offer including kayaking, water-skiing and wakeboarding.
You'll also have the opportunity to experience Tobago's wonderful landscape and local wildlife at the nearby Bon Accord wetlands and Corbin Local Wildlife Reserve – home to some of the island's 470 bird species.


8. Jamaica: Beaches Ocho Rios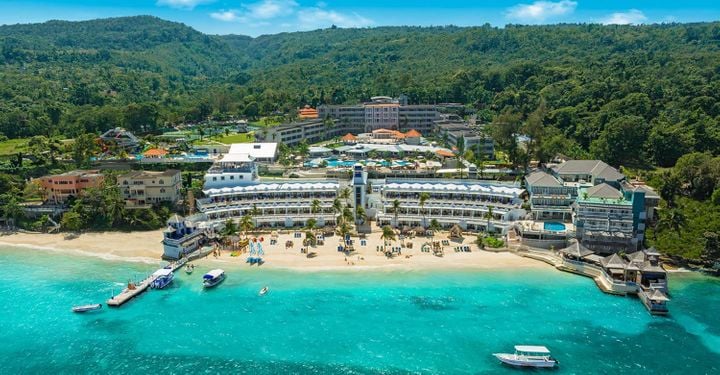 All swaying palms, pristine sands and crystal-clear waters, Jamaica is the Caribbean of postcards. Off-the-beaten-track destinations are just waiting to be discovered here, as are snorkel-worthy coral reefs and the island's unmistakable reggae beats.
A good spot to experience it all is the family-friendly Beaches Ocho Rios resort. Deserving of its five-stars, the resort perfectly blends luxury living with fun-filled adventure. Its twenty-two acres contain five swimming pools, seven restaurants, a golf course (there's even a dedicated golf programme just for kids) and one of the best water parks in Jamaica.
In addition to the sports (choose from kayaking, scuba diving, aqua trikes and paddleboarding), there's plenty of land-based fun, including shuffleboard, croquet, tennis and lawn chess.


9. St Lucia: Windjammer Landing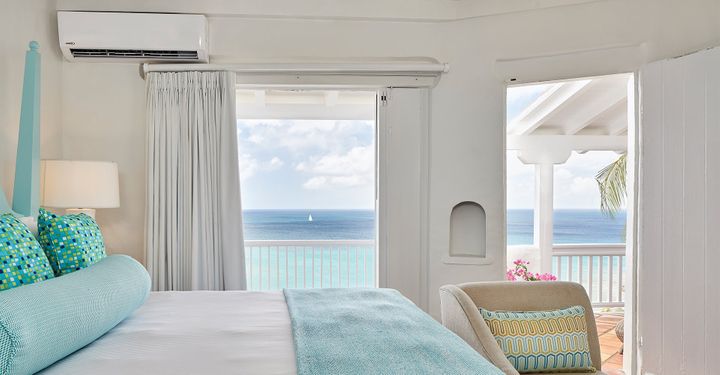 A beautiful resort tucked into a cove on St Lucia's northwest coast, Windjammer Landing's sheltered position has made it especially popular with families – the water's wonderfully calm, and the accommodation options include secluded elegant villas with fully-equipped kitchens.
The resort itself is packed with amenities: you'll find six swimming pools, tennis courts and a huge spa, as well as five restaurants and four bars.
Spend your days lazing in a beach hammock, learn new moves in a dance lesson or try your luck at coconut bowling. Whatever style of holiday you're after, this Caribbean wonderland ticks all the boxes.


10. Barbados: Sandals Royal Barbados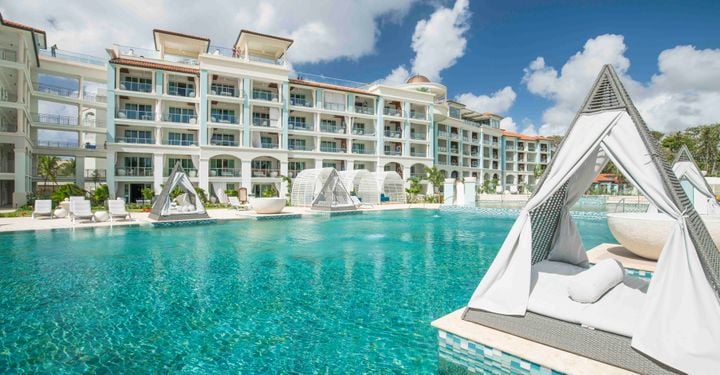 If you're planning to treat yourself on a Caribbean holiday, let it be at the Sandals Royal Barbados in the spirited Saint Lawrence Gap neighbourhood. This Bajan gem sets the standards high for all future holidays with spectacular perks including balcony hot tubs, butler service and the island's largest pool.
Taking all-inclusive to the next level, there are ten restaurants serving world-class international cuisine and a rooftop pool complete with its own bar. The activities on offer are equally as impressive including shopping, bowling and watersports included as standard.
If you're after a simple peaceful getaway, the resort caters for that too at the luxurious Red Lane Spa.


Have a comment or question about this article? You can contact us on Twitter or Facebook.