9 of the best day trips from Amsterdam
September 16, 2019
As much as we love our favourite Dutch city, it's easy to forget that it's surrounded by some of the Netherlands' top tourist attractions.
From world-class museums and historic villages to Europe's biggest cheese market (and yes, you did read that correctly), here are nine wonderful places within easy reach of Amsterdam.
1. Utrecht: for a different city vibe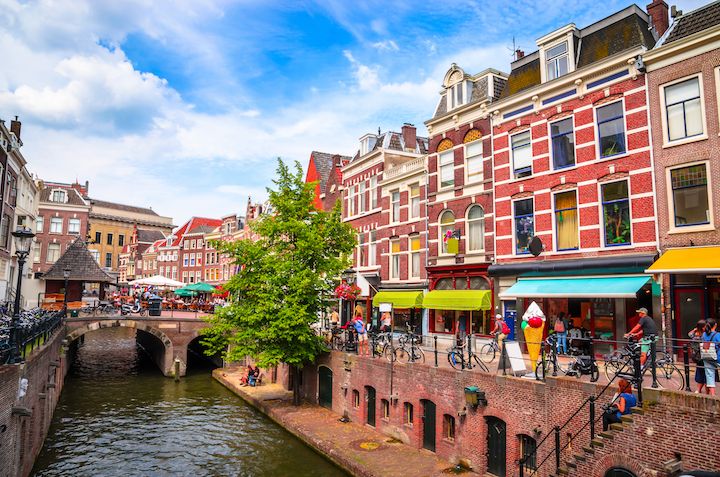 YA smaller, older and prettier version of the Dutch capital, getting from Amsterdam to Utrecht is simple – it's just a 40-minute train ride. At Utrecht's heart is the beautiful fifteenth-century Domtoren (the Netherlands' tallest church), surrounded by a meandering ring of canals.
The main difference between the ones in Amsterdam and Utrecht? Here, the canal-side warehouses – which are now bars, restaurants and cafés – are level with the water, meaning plenty of waterside seating during warmer weather.
Our top tip? Hop on a bike and pedal your way to the stunning Rietveld Schröder House, just outside the city centre, for a tour of this UNESCO-listed property, designed by legendary architect Gerrit Thomas Rietveld.
2. Haarlem: for authentic Dutch charm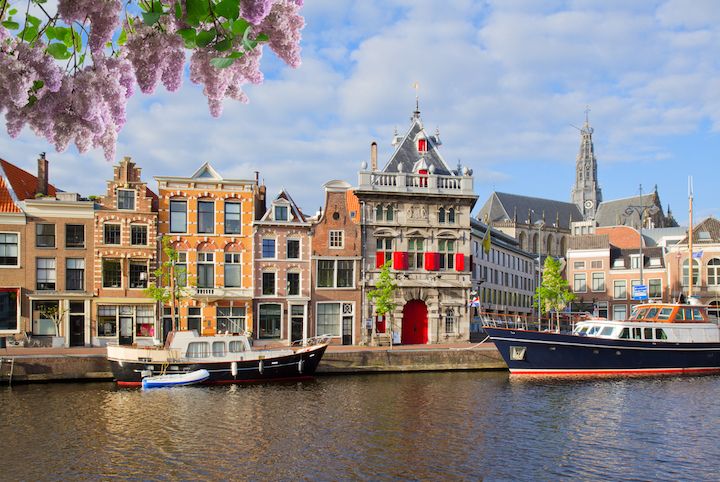 Getting from Haarlem to Amsterdam requires a short, 15-minute train journey, but this tiny city, with its cobbled streets, gothic churches and squat windmills, feels a million miles away.
We'd suggest starting with a visit to de Gouden Straatjes (meaning "streets of gold"), an area known for its quaint boutiques and plant-filled cafés.
For a history fix, head to the Frans Hals Museum to learn about the Haarlem-born artist, regarded as the finest Dutch Golden Age painter. For a different take on the city, sign up for a boat tour – if you're feeling brave, various places (including Club Spaarne near the Catharijnebrug bridge) allow you to rent your own. Rates start from around £30 per hour.
3. The Hague: for politics and culture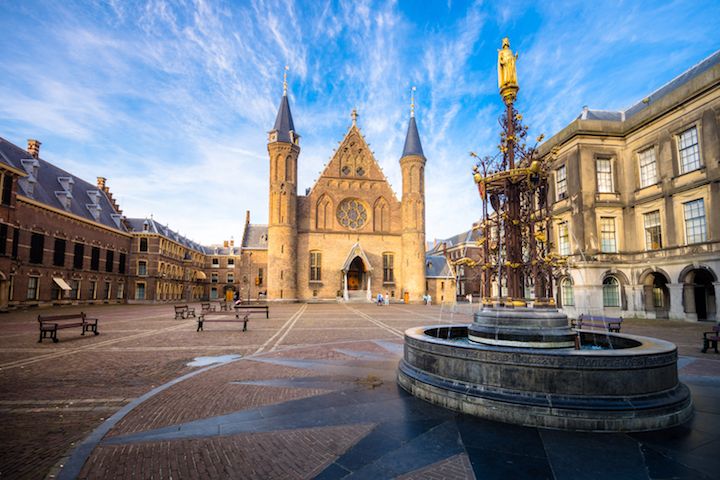 It's a misconception that The Hague is a city stuffed to the brim with bureaucrats and businesspeople – a myth relating to the presence of the International Court of Justice and the Dutch government, despite the fact that Amsterdam is the country's capital.
The Mauritshuis Museum and Nederlands Dans Theater are great places for a culture fix, while a guided tour of the Peace Palace, which houses the International Court of Justice, provides an unbeatable insight into The Hague's history.
Meanwhile, the Noordeinde area, known for its art deco buildings and galleries, is a foodie's paradise – one of our favourite spots is Lola Bikes & Coffee, where you'll find bikes and brews under the same roof. From Amsterdam, the Hague is approximately 45 minutes away by train.
4. Muiderslot Castle: for history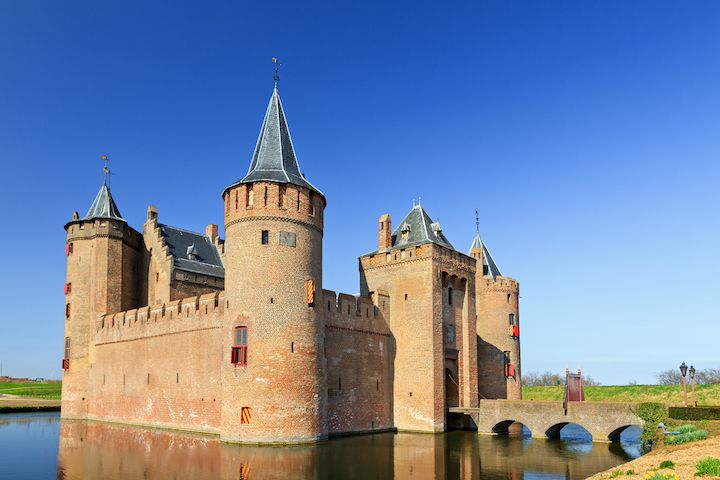 This is everything a castle should be – a turreted, brick masterpiece surrounded by beautiful gardens, built in the thirteenth century at a strategic spot at the mouth of the river Vecht.
Its caretakers have done an excellent job restoring the rooms to their seventeenth-century state; throughout you'll find displays of original thirteenth-century weapons, armour and paintings. You'll find this stunning castle 16 kilometres south of Amsterdam (around an hour away on public transport).
5. Alkmaar cheese market: for cheese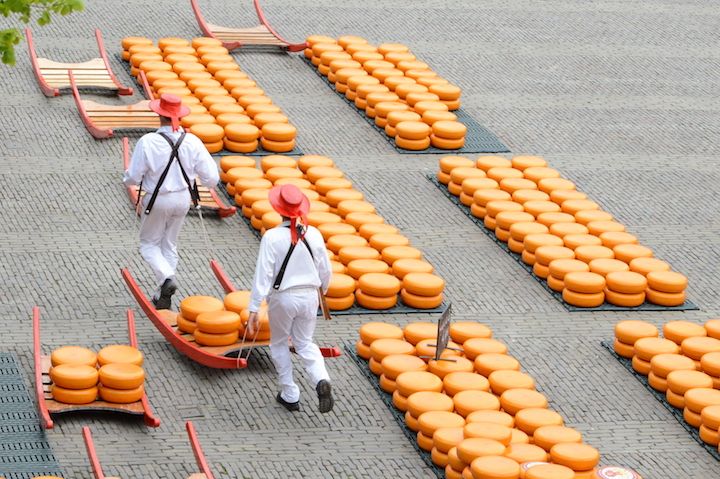 Alkmaar cheese market is a fascinating hive of activity – since 1365 kaasdragers (cheese porters), zetters (loaders) and waagmeesters (weighers) have been coming here to help sell a staggering amount of cheeses in Akmaar's Waagplein.
There are regular guided tours of Alkmaar cheese market (open every Tuesday and Friday between March and September), although we also recommend exploring other parts of this historic city, too.
Highlights include Stedelijk Museum Alkmaar, where you'll find priceless Dutch masterpieces, and Alkmaar's many hofjes (courtyards). Our favourites include Hofje Van Splinter, constructed in 1646, and the sixteenth-century Hofje van Paling en Van Foreest – the city's oldest.
6. Zaanse Schans: for a glimpse into the past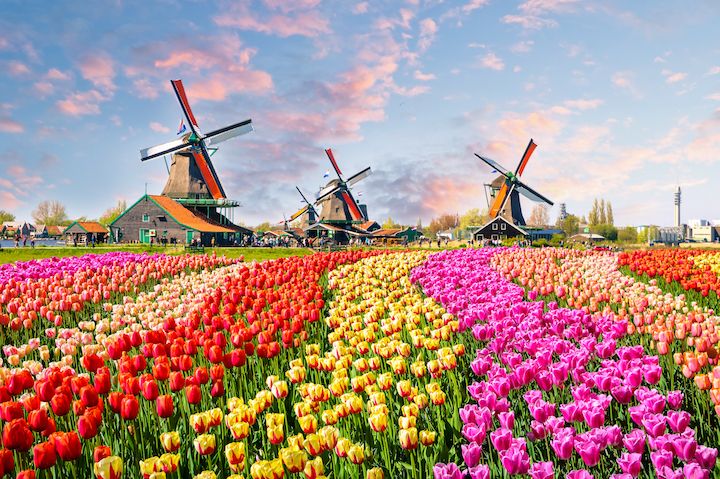 Visit Zaanse Schans – a living museum just a 15-minute train ride from Amsterdam's Central Station – and you'll experience an original, eighteenth-century Dutch village, complete with its original windmills.
In the eighteenth and nineteenth century, these windmills helped transform Zaanse Schans into an industrial hub, known for its large-scale manufacture of everything from linseed oil and paint to snuff and mustard.
Today, several windmills are open to the public. Most of the buildings are original, and many of the former workers' houses have been turned into gift shops, museums and cafés.
7. Gouda: for stroopwafels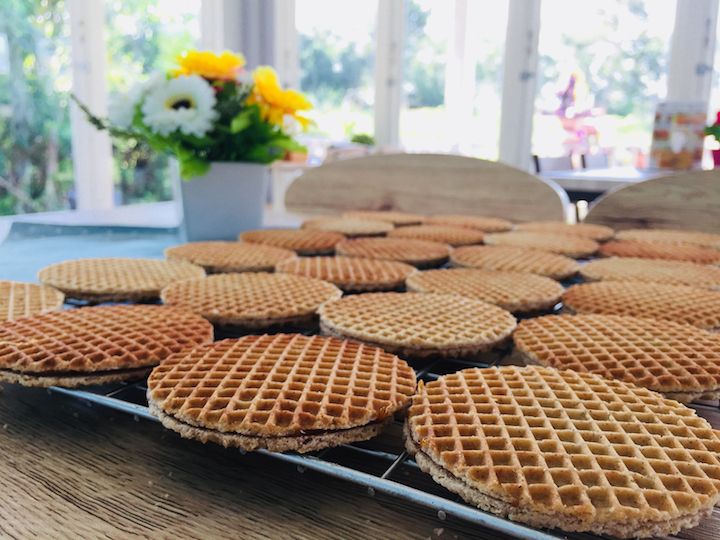 There's more cheese at this famous city – an hour's drive from Amsterdam – although that's not the only reason to visit Gouda. The city's connections with stroopwafels, a syrup-filled biscuit beloved by the Dutch and first made here, are just as legendary (visit the Punselie Cookie Company to get your fix),
You'll also find some of the region's most beautiful buildings, including the Sint Janskerk church, famous for its breathtaking stained glass and its status as the country's longest church, and the fifteenth-century City Hall – get lucky and you'll see its mechanical dolls pop out of the carillon on its right side (this happens every half hour).
Oh, and don't forget to grab some gouda at the cheese market which takes place every Thursday between April and August, in front of the City Hall. Gouda is a round 50 minutes away from Amsterdam by train.
8. Delft: for pottery and painters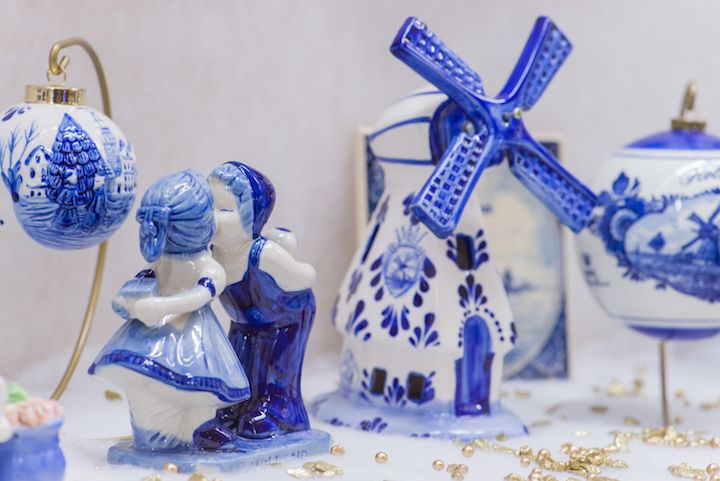 Hello beautiful homeware! A compact, pretty city built on its connections with Delft Blue earthenware and Johannes Vermeer (the artist behind Girl with a Pearl Earring), Delft is 68 kilometres from Amsterdam, and easily reachable via car or public transport.
There are plenty of opportunities to learn more about the famous pottery, whether it's with a visit to the Royal Delft Experience or a tour of the De Delftse Pauw factory. Other landmarks worth checking out include the Renaissance-style Delft City Hall (don't miss the medieval prison in its basement) and the Vermeer Centre, where you can learn about one of the Netherlands' most famous artists.
9. Amsterdam Noord: for a different side to the city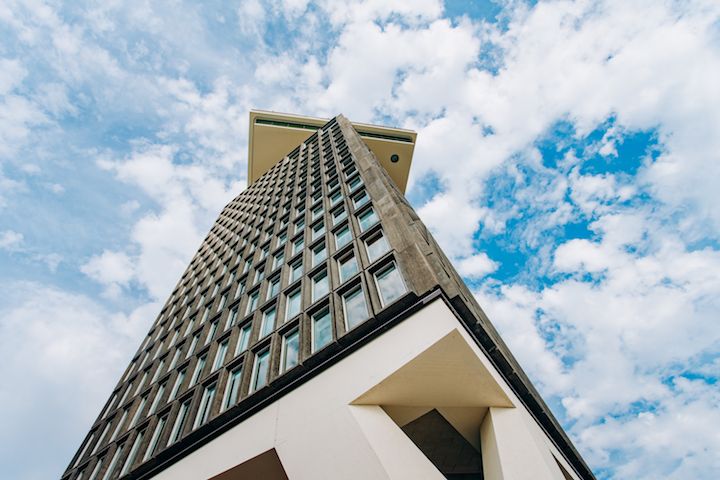 First of all, we're aware that Noord is part of Amsterdam, but its location, just outside the city centre, means it's a neighbourhood few make time for. Despite this, it's easily accessible – a free ferry (another reminder that Amsterdam is one of best cities for travellers on a budget) whisks you across the water from Central Station to Noord in five minutes.
A former industrial area which has been totally transformed in recent years, Noord is shaping up to be the city's hippest 'hood.
Its most striking building is the A'DAM Tower, with its giant, rooftop swing and observation deck, although we recommend NDSM, a former shipping yard now filled with fantastic restaurants (try Pllek, tucked inside a stack of shipping containers) and the greenhouse-like Noorderlicht Café). IJ-Hallen, a converted warehouse, hosts Europe's largest flea market once a month (see here for exact dates).
Have a comment or question about this article? You can contact us on Twitter or Facebook.