September 13, 2018
There are plenty of cheap city breaks in Europe but unfortunately, Amsterdam is rarely one of them. With the famous Rijksmuseum, Van Gogh museum and Heineken tour charging upwards of €15 a pop, exploring Amsterdam on a budget can seem like an impossible task.
However, giving the biggest attractions a miss won't leave you feeling disappointed with the Dutch capital. From wandering the canals and getting lost in the tulip markets to discovering free concerts held across the city, you can easily have an authentic Amsterdam experience without breaking the bank.


Free attractions in Amsterdam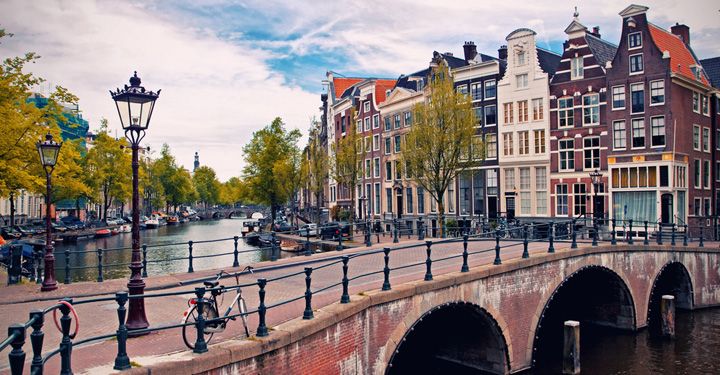 For many travellers, Amsterdam is synonymous with three main things: canals, 'coffeeshops' and the Red Light District – and you can experience two of them for free.
The neon signs of the Red Light District (or De Wallen as the locals call it) switch on from 11pm and the concentric circles of Amsterdam's four main canals – the UNESCO Heritage-listed Grachtengordel – are perfect to explore throughout the day.
While wandering the canals, be on the lookout for the city's aptly-named 'Skinny Bridge' (Magere Brug, 1017 AK) that crosses the Amstel and the eye-catching 'Bridge of 15 Bridges' at the intersection of the Reguliersgracht and Herengracht canals. Strings of lights run under the arches of the bridges making for the perfect photo-op in the evening.
Speaking of Amsterdam icons, you'll also want take a selfie with the infamous 'I Amsterdam' sign (Hobbemastraat 19, 1071 XZ), snap the narrowest (Singel 7, 1012 NA) and smallest (Oude Hoogstraat 22, 1012 CE) houses in Europe and visit the Houses of Seven Countries (Roemer Visscherstraat 20-30, 1054 EZ), a colourful set of dwellings inspired by the architecture of Germany, France, Spain, Italy, Russia, The Netherlands and England.


Free museums and galleries in Amsterdam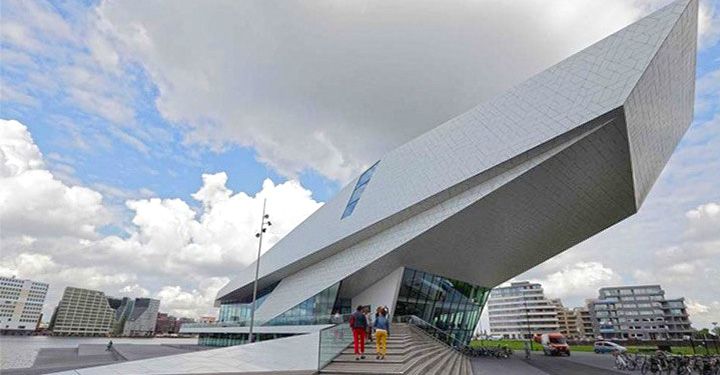 Amsterdam's most famous museums will cost you a pretty penny, but the city's culture doesn't start and end at the Rijksmuseum.
Amsterdam's City Archives (Vijzelstraat 32, 1017 HL), for example, offers a fascinating deep-dive into the history of the capital, and it sometimes have surprising artefacts on display. In the past, visitors have discovered a 1942 police report documenting the theft of Anne Frank's bicycle, photos of John Lennon and even the 1669 burial register of Dutch artist, Rembrandt.
Exploring the city's history from a different angle is the Cannabis College (Oudezijds Achterburgwal 124, 1012 DT). It offers free advice, details the uses of the plant and takes visitors on tours of their verdant cannabis garden.
If art is more your forte, Amsterdam Museum (Kalverstraat 92, 1012 PH) has a fascinating, albeit small, gallery of 15 portraits of voluntary civic guards from the 17th century. Entry to the remainder of the museum, however, is €13.50.
Independent art galleries, Galerie Fons Welters (Bloemstraat 140-C, 1016 LJ) and Kochxbos (Eerste Anjeliersdwarsstraat 36, 1015 NR) are also worth a look in, and if you like street art and sculptures, head to NDSM-Werf in Amsterdam-Noord (NDSM-Plein 28, 1033 WB).


Free outdoor spaces in Amsterdam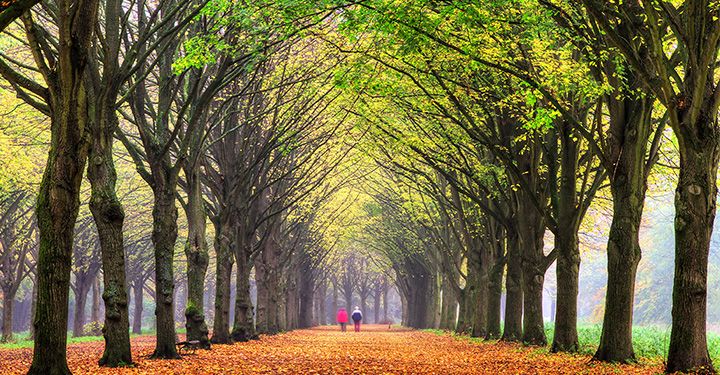 Join the locals on a morning run, summer stroll or evening cycle at Vondelpark. It's the city's most popular green space, and its winding waterways mean you can always have a waterfront view for your picnics. Keep an eye out for Picasso 'The Fish' sculpture – it is free to view!
For something more urban, seek out the Begijnhof courtyard in the inner ring of the city. This quite space dates back to the 14th century and was originally a haven for an order of Beguine women. You are free to visit the space and check out one of Amsterdam's oldest wooden houses, but remember to be respectful, as the houses still act as private residences for women.
If you want to go further afield, Amsterdam Bos will keep you occupied for the day. The name translates to 'Amsterdam forest' but the sprawling space is far from it. It features a river, walking trails and other outdoor activities, cafes and a petting zoo for the kids.
You can find another petting zoo – this one even has kangaroos – over at Amstelpark. It's closer to the city if you're looking for a shorter day out, and it has ten unique gardens to explore in addition to the range of activities for kids.
Amstelpark's gardens whet your appetite for florals? Get snap happy at the Instagrammable VU Botanic Gardens (Van der Boechorststraat 8, 1081 BT). It's part of the university grounds but is free to explore. Check out the gorgeous tropical and succulent greenhouses, and the outdoor gardens.
In the warmer months, Amsterdam's free urban beaches come to life. There's many scattered across the city but Blijburg (Pampuslaan 501,1087), Pllek (T.T. Neveritaweg 59, 1033 WB) and StrandZuid (Europaplein 22, 1078 GZ) are some of the more popular options.


Free concerts in Amsterdam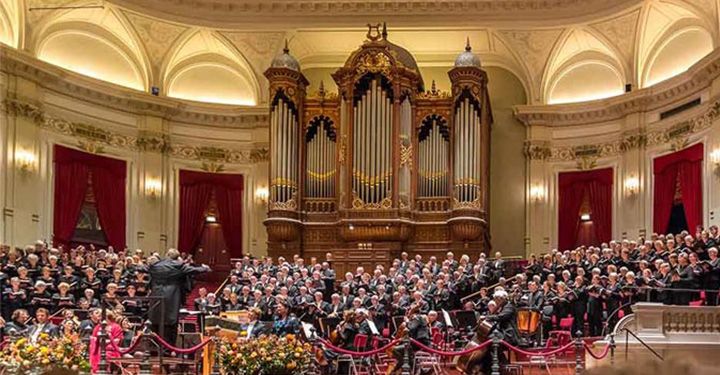 Tuesday is music day in Amsterdam. Start the day to the sound of the Westerkerk carillon bells, which ring regularly from 12pm on Tuesdays, then end with a spot of jazz at the Bimhuis. From 10pm, visitors are invited to sit in on a jam session at the café.
You can also catch a free concert on Wednesdays at The Royal Concertgebouw. These are either rehearsal sessions by the orchestra or chamber music performances by new artists and are held at lunchtime from September to June.
Street music is also common in the city. Keep an ear out for the charming tunes of Amsterdam's street organs (your best bets are at Kalverstraat or Dam Square) and for the happy music boat floating down the canals.


Other free things to do in Amsterdam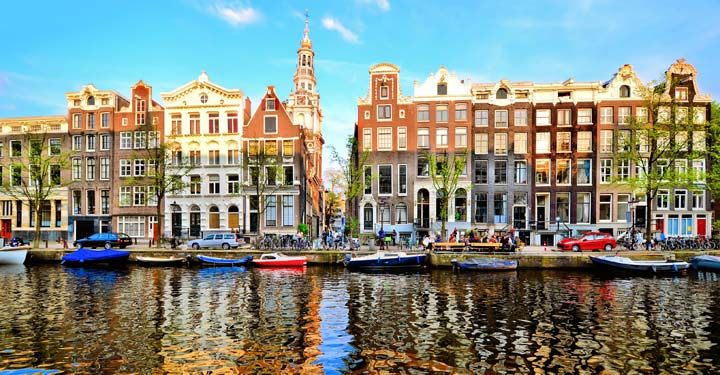 For stunning views of the city, visit the NEMO Science Museum's (Oosterdok 2, 1011 VX) free-to-enter roof terrace and café or take the ferry across the River IJ (there are three piers are located behind Amsterdam central station) to see the city from sea level.
You can also visit – or at least see the façade of – Anne Frank's other house (Merwedeplein 37-II, 1078 DB). She lived here for nine years before going into hiding.
To see a different side of the city, take Gassan's free diamond factory tour. It's something you probably don't associate with the Dutch capital but they claim Amsterdam has been known as the 'City of Diamonds' for over 425 years, and the tour explains how a rough diamond is turned into a dazzling gem.
Animal lovers, meanwhile, will be delighted by Amsterdam's famed Catboat (Singel 38G, 1015 AB), and it is exactly what you'd imagine – a houseboat full of cats! It's been offering refuge to stray and unwanted cats since the 60s and they're open to visitors for two hours each day.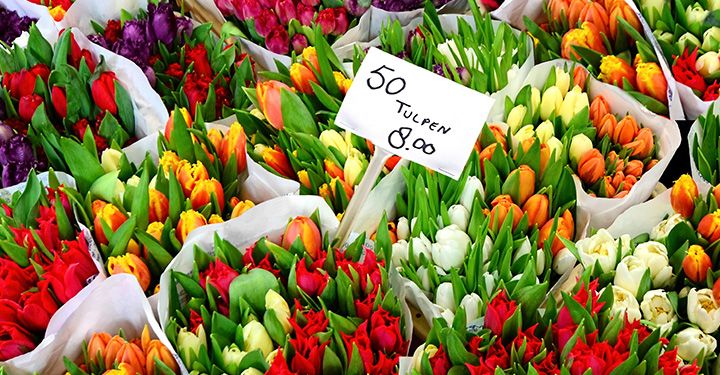 If window-shopping is more your thing, why not hit up one of Amsterdam's many markets? Dig through a plethora of antique and vintage items, books and clothing at Waterlooplein, the city's largest flea market or celebrate tulip season at the floating flower market, Bloemenmarkt (Singel 630 to 600, 1017 AZ). Here, you can also pick up a range of adorable Dutch souvenirs.
You'll find everything from fresh produce and trinkets to clothing and flowers at the Albert Cuyp market (Albert Cuypstraat, 1073 BD) , which runs Monday through Saturday, while the Sunday market is perfect for fashion fiends and art aficionados. They're all free to visit…if you can resist the bargains.
Finally, tick some of Amsterdam's most-loved icons off your bucket list with a self-guided tour of the seven of the city's windmills. De Bloem (Haarlemmerweg 465, 1055 PK), De Otter (Gillis van Ledenberchstraat 78, 1052 VK) and De Gooyer (Funenkade 5, 1018 AL) can be easily reached from the city centre by foot, or hop on the free ferry to Amsterdam Noord to spot D'Admiraal (Noordhollandschkanaaldijk 21, 1034 ZL).
Further out of the city (you may want to cycle) are the windmills Van Sloten (Akersluis 10, 1066 EZ), De 1200 Roe (Willem Molengraaffstraat 8M, 1063 LG) and De Riekermolen (De Borcht 10, 1083 AC).
Please note: All information was correct as of the time of writing. Always check with the attraction regarding terms of admission.


Think we've missed something? You can contact us on Twitter or Facebook and let us know!