When someone mentions island-hopping, your first thoughts might be of the Greek islands in the azure Aegean Sea.
However, not all odysseys start and finish in Greece - there's plenty alternative island journeys, from the Balearics to Turkey.


Boat around the Balearics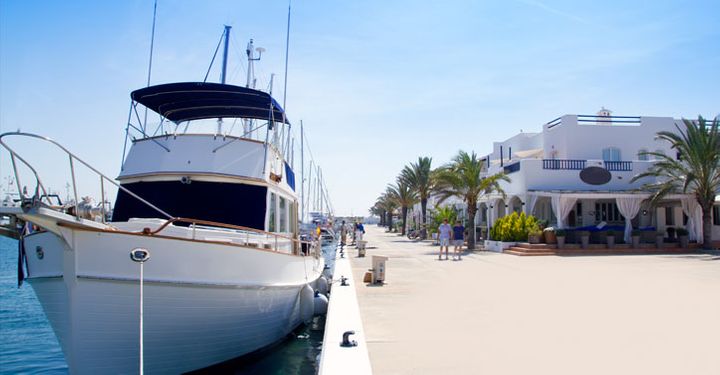 This trip combines peaceful Menorca, lively Mallorca, Ibiza with its legendary party scene, and the hippy-chic vibes of tiny Formentera.
Start in Menorca, where a vast natural harbour attracted the British, who seized the island in 1708. They stayed until 1756, endowing Mahón, Menorca's capital, with Georgian architecture and an elegant town hall. Ciutadella, Menorca's second town, feels altogether more Hispanic.
From Mahón or Ciutadella, take the 90-minute sailing trip to Alcudia, near the northern tip of Mallorca, then hop on a bus to Palma, which takes about 55 minutes. There's enough here to keep you busy for at least a day or two, including a stunning Gothic cathedral, La Seu. There's fab food here too – try Forn de Sant Joan for sophisticated tapas like warm oyster with pickled orange, or king crab in sea urchin béarnaise.
Next stop: Ibiza. The fastest crossing from Palma de Mallorca takes about two hours. If you're looking for sophisticated hotels, restaurants and pavement cafés, stay in Ibiza Town. San Antonio and Playa d'en Bossa are the most raucous and buzzing parts of the island, while there are plenty of more sedate retreats to be found outside the party areas.
After knocking yourself out in Ibiza, you'll deserve some recovery time – happily, Formentera is only 30 minutes away. With its groovy sunset cafés and nude beaches, the baby of the Balearics is so laid-back it's beyond horizontal. When can tear yourself away, hop back to Ibiza for your flight home.
Getting there and back: Fly to Menorca, sail to Mallorca, sail to Ibiza, sail to Formentera, then sail back to Ibiza for your flight to the UK.

Go west in the Canaries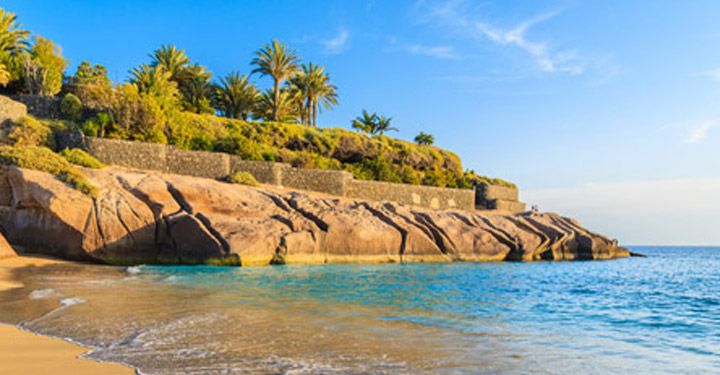 This four-hop circular route starts and finishes in Tenerife, with stops in mountainous La Palma, fertile La Gomera and remote El Hierro.
Southern Tenerife's port, Los Cristianos, is minutes from Tenerife South airport, so you can plan to go straight from the plane to the ferry – you'll have time for fun in Tenerife at the end of this trip. The crossing to Santa Cruz de La Palma takes around three hours.
It's nice to spend a few days in pretty Santa Cruz. It's an elegant, historic town, packed with old blue, pink and yellow houses on cobbled streets and 16th century churches. Take time to visit La Caldera de Taburiente, the vast mountain crater that dominates La Palma's forested interior, and the Roque de Los Muchachos observatory near its highest point, almost 2,400 metres above sea level.
Your next hop, a sailing trip between La Palma to La Gomera, takes a little under two hours. From the sea, La Gomera looks rugged, with deep rocky valleys running down to a rocky coast. But from its little port, San Sebastian, you can head inland to discover valleys covered with vineyard terraces and subtropical rain forests in the Parque Nacional de Garajonay. Playa de Santiago has a beach of black sand and pebbles, while Vallehermoso, with its palms and colonial architecture, feels like a miniature Havana.
La Gomera feels a world away from the bigger, busier Canaries, but its tinier neighbour, only 90 minutes away, is even more tranquil. El Hierro is ringed with black volcanic cliffs, yet it can claim to be the greenest place on Earth – it's the first island to meet all its own energy needs from sustainable sources.
From the viewpoint at La Pena, 700 metres above sea level, you can look out over a landscape of black and red stone, green fields and vineyards, and bright blue water. If you stay for a few days, you can take the plunge into those blue depths to explore a dozen world-class scuba sites in the La Restinga marine reserve, just offshore.
With your batteries recharged by El Hierro's green power, it's time to head back to the real world. The boat trip back to Los Cristianos takes under three hours, and you can choose to stay on for a few days partying in Tenerife or head back home.
Getting there and back: Fly to Tenerife South, sail to La Palma, sail to La Gomera, sail to El Hierro, then sail back to Tenerife for you flight to the UK.
Turkish delights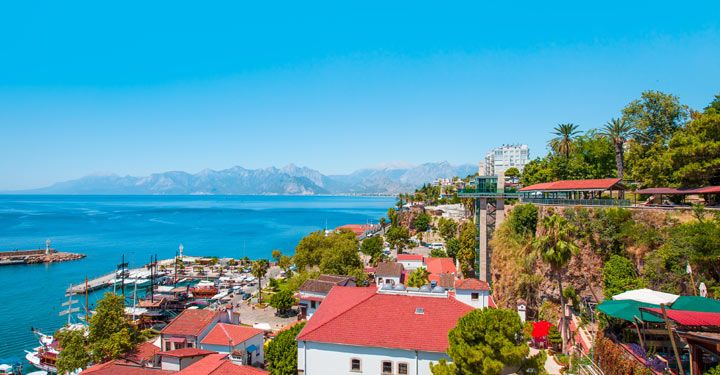 Join the locals on a ferry trip from Istanbul's Sirkeci, Bostanci or Kabataş quaysides for a culinary journey to the 'Princes' Islands', just off the coast of Istanbul, and beyond.
There's a fine view of the domes and minarets of Topkapi, Aya Sofya and the Blue Mosque as you steam down the Sea of Marmara towards your first stop, about 50 minutes from Istanbul – from the deck of an old-fashioned Şehir Hatları ferry you may even see dolphins.
Büyükada – 'Big Island' – isn't all that big. You can cycle around it or trot in an open horse-drawn faytonin under an hour. However, it is the largest of the Adalar, as this group of nine tiny isles is known. They're only 12km (nine miles) south of Istanbul, but with their car-free roads and old wooden mansions surrounded by roses and purple bougainvillea, they're a step back in time.
In Byzantine and Ottoman times they were places of exile for pretenders to the throne, hence their name, while a more recent exile was Leon Trotsky, who lived here from 1929 and 1933 after being forced to leave Russia by his rival Stalin.
Pricey restaurants on the waterfront lure customers with displays of fresh-caught fish and lobster, but you can eat more cheaply at grill restaurants in the village centre, like SofrAda where Buyukada's fayton drivers tuck into zucchini fritters, kofte keba and aubergine stuffed with minced lamb. It doesn't get any more authentic than this!
Burguzada, our next port of call, is only 15 minutes from its big sister, and is even more lush and flower-filled. Water-taxis whisk you to pebbly beaches around its wooded shores, but many trippers from Istanbul prefer the Olympic-sized swimming pool next to the ferry pier.
Visit Sait Faik Evi, summer home of a famous 19th century poet and author, for a glimpse inside an old island mansion, You also shouldn't miss a barbecue dinner by the sea at Kalpazankaya, an old-school meyhane restaurant with tables beneath pine trees, where the signature dish is kuyuda tandır kebab (tandoor kebab) and the sunset view is spectacular.
It's another short 15-minute hop to Heybeliada, the second-largest of the islands. Out of season it's a sleepy place, but in summer its population more than triples as thousands of city-dwellers descend on holiday homes and the brass band from the Turkish Navy college lays on open-air concerts, reaching a patriotic crescendo on Independence Day, when immaculate cadets parade around the island.
There's more patriotism on display at the former home of Ismet Inonu, Turkey's second president, and a former Orthodox monastery, now a bit run-down, is a reminder of the island's hidden Byzantine history.
From Heybeliada, the smart way home is by high-speed ferry to Istanbul's Yenikapi ferry terminal – from here, shuttle buses whisk you to the airport in less than 30 minutes.
Getting there and back: Fly to Istanbul, sail to Büyükada, sail to Burguzada, sail to Heybeliada, then sail back to Istanbul for your flight to the UK.
Maltese crossing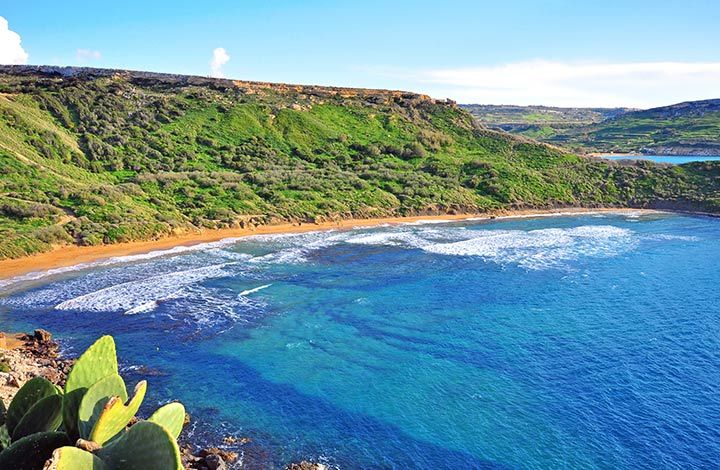 Malta and its neighbours, Comino and Gozo, are made to measure for wanna-be island hoppers who don't fancy long sea voyages. None of the crossings on this trip take more than half an hour, and the shortest hop – between Comino and tiny, uninhabited Cominotto – is only 100 metres.
Valletta, Malta's capital, is one of the most picturesque ports in the Med. Sailing out of its Grand Harbour, you have a superb view of the fortifications built by the Knights of St John, the military order which ruled Malta for almost three centuries.
Only 25 minutes away, Gozo is altogether quieter than its larger neighbour, with a coastline of rugged limestone cliffs and a hinterland dotted with baroque churches made of honey-coloured stone. At its heart is the mysterious prehistoric temple site, Ggantija, a relic of an ancient culture about which little is known.
It's another short hop to Comino, where the big attraction is the luminous Blue Lagoon with its calm, warm turquoise water. It's a favourite anchorage for yachts, and just beyond lies tiny, uninhabited Cominetto – a genuine Mediterranean desert island, and a perfect conclusion to your Maltese island journey.
Getting there and back: Fly to Valletta, sail to Gozo, sail to Comino, sail to Cominotto, sail back to Valletta for your flight to the UK.
Have a comment or question about this article? You can contact us on Twitter or Facebook.