November 19, 2018
A few days in Lille will certainly get you in the mood for winter – thanks in part to its pretty Christmas market which runs for nearly six weeks.
If you're exploring this part of France, you'll discover that Lille is a more affordable option than its Belgian counterpart Bruges, yet it has the same delightful architecture but with a fraction of the tourists.
Hop on the Eurostar or take the ferry and enjoy some of the best beer, chocolate and cheese in northern France.


Day one: Markets, museums and meringues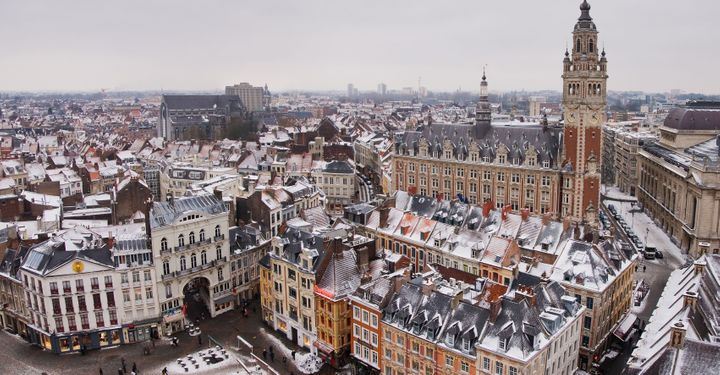 Most people at some point gravitate towards Grand'Place, Lille's central square and home to one of the city's finest buildings.
The Vieille Bourse, a 17th-century former stock exchange, is actually 24 identical buildings that form a square around a courtyard. If you pop into the Vieille Bourse after 1pm, you can browse the stalls of a second-hand book market that's held from Tuesday to Sunday. Summertime visitors get to witness the sultry spectacle of tango dancers practising every Sunday evening. During the Christmas market, the square turns into a winter wonderland of grottoes, decorated chalets and a giant wheel.
You can get a great view of it all from the first floor of Café Méo, where you can order a wallet-friendly (if calorific) café gourmand. Along with your shot of espresso you'll get a trio of les merveilleux de Lille – cone-shaped meringue cakes covered in gorgeous toppings.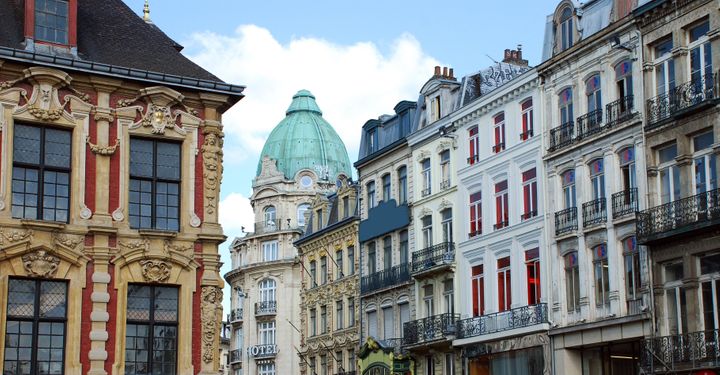 From the Vieille Bourse you can plunge into the maze of cobbled streets that makes up Vieux Lille. Lose yourself among the old town's mainly 17th-century buildings, which house a bewildering number of shops, cafés, bars and restaurants. One of the most attractive streets is Rue de la Monnaie, which, like its neighbours, will be sparkling with Christmas lights at this time of year.
Look out for little Rue de Pétérinck, which leads to Place des Oignons (yes, it literally translates as Onions Square) and one of Vieux Lille's cosiest restaurants. Au Vieux de la Vieille is a typical estaminet, a type of Lille restaurant serving regional specialities in a setting crammed with bric-a-brac and vintage oddities covering the walls and ceiling. This is the place to try the local version of Welsh rarebit (just called Welsh) made with wonderfully pungent Maroilles cheese.
As the restaurant is a tiny place, book a table for dinner and head back to the centre for lunch in the pedestrianised shopping zone south of Grand' Place. Sit down for generous-sized pizzas at IT Trattoria on Rue de Béthune. Just across the street is Canard Street, where you can get a hefty duck burger and potato wedges cooked in duck fat (for extra decadence).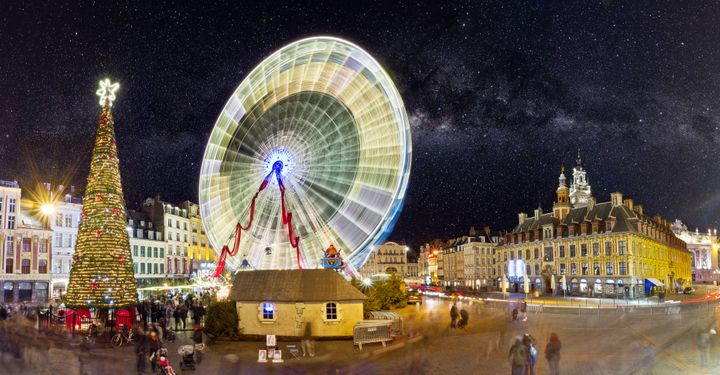 Most of what you'll want to see in Lille is within walking distance, so you won't have to worry about public transport. An exception, however, is the 20-minute tram ride (€1.65 each way) to the suburb of Roubaix, home to one of the most fascinating museums in France. Set in a converted Art Deco swimming baths, La Piscine is a fabulous setting for paintings, sculptures, fashion and ceramics, all overlooking the shimmering water of the old swimming pool and vivid sunburst stained-glass windows. It's definitely worth the €9 entry, and it's free on the first Sunday of every month.
Once you're back in the city, the lights will have come on and the Christmas market in Place Rihour near Grand'Place will be in full swing. Wander from stall to stall, where the smells of mulled wine, giant bratwurst sausages, large sweet waffles called gaufres and sugary doughnuts known as beignets will tempt you to snack as you stroll. This year's market runs from 23 November to 30 December.
If you're up for a late night, check out the long string of bars along Rue Royale, where you're certain to bump into some of Lille's 100,000 students.


Day two: food markets, fine art and Flemish waffles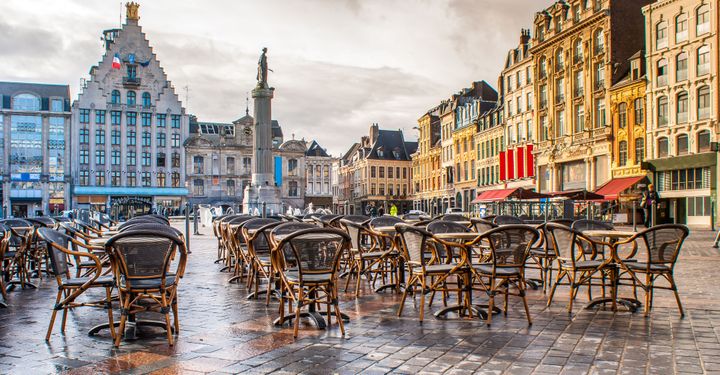 The biggest food market in Lille is a 20-minute walk south to the Wazemmes district, and it's a colourful sight that shouldn't be missed. Stall after stall offer a delectable selection of local produce and exotic flavours, as well as clothes, fabrics, household goods and flowers. Step inside the huge Halles de Wazemmes for even more mouthwatering food. The outdoor market runs Tuesday, Thursday and Sunday from 7am to 2pm, but the covered market has much more extended opening hours – from Tuesday to Sunday, 8am to 8pm.
If you're in need of a cultural fix, then set aside time for the Palais des Beaux-Arts, one of France's biggest fine arts museums. Its vast collection spans several millennia, from prehistory to Picasso. Head to the basement where you can you get a lot of art for your €7 entrance fee.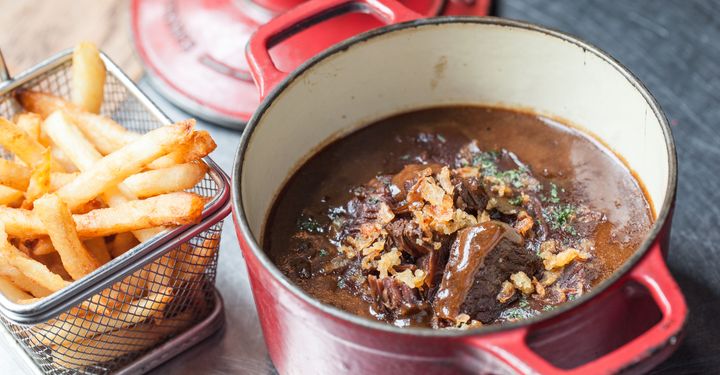 For lunch, head back to Vieux Lille and Rue de Gand, a cobbled street with a dizzying number of restaurants and cafés. Here you can take you pick from sushi bars and Turkish takeaways to traditional estaminets including Chez la Vieille (the sister restaurant to Au Vieux de la Vieille). Afterwards, indulge in a typically Flemish snack of sweet waffles smothered in chocolate sauce from Lacquemant de Lille in Rue de Béthune.
If you're still hungry in the evening, look out for cute little Les Compagnons de la Grappe, the first of two restaurants you'll come across down a little alleyway off Rue Lepelletier in Vieux Lille. Warm up with a dish of carbonnade flamande, a succulent Flemish beef stew that's been cooked slowly in beer.


Where to stay in Lille
Cute little Hotel Kanaï is right in the shopping district and only a minute's walk from where the Christmas market is held in Place Rihour. Compact double rooms start at €95 a night.
If you want to be in the heart of Vieux Lille and can afford to pay a little extra, then try the Hotel de la Treille right next to Rue de la Monnaie. Its stylish doubles start at €125 a night.


Have a comment or question about this article? You can contact us on Twitter or Facebook.