September 22, 2020
"The Scottish Borders are steeped in history and are so beautiful," says painter Patricia Sadler, who lives in Selkirk, in the heart of this land of rolling uplands and fertile valleys, silvery rivers and windswept coastline.
Too many visitors to Scotland drive non-stop on their way north to better-known parts of the country or glimpse the region's coastline and countryside only from an Edinburgh-bound train or plane. They're missing so much, from a local menu that embraces artisan ales, organic Borders lamb, salmon from the River Tweed and fresh seafood from local harbours to centuries of hidden histories and an array of outdoor activities.
"This is my country. I was born here," Patricia says. "The colours of the changing seasons, pools of sunlight on distant fields and hills are never-ending sources of inspiration.
"It is a landscape made up of patterns like a patchwork quilt, with sudden dark shapes of spruce woods. The iconic landforms of the Eildon Hills, Rubers Law, and the Black Hill, and the beautiful River Tweed twisting and turning from its source high in the hills all the way to Berwick upon Tweed, define the border land."
And amid the patchwork hills, wooded valleys and windswept shores of the Scottish Borders, literature buffs, hikers, bikers, and fans of hidden histories and fine food will find something to enjoy.


Discover hidden histories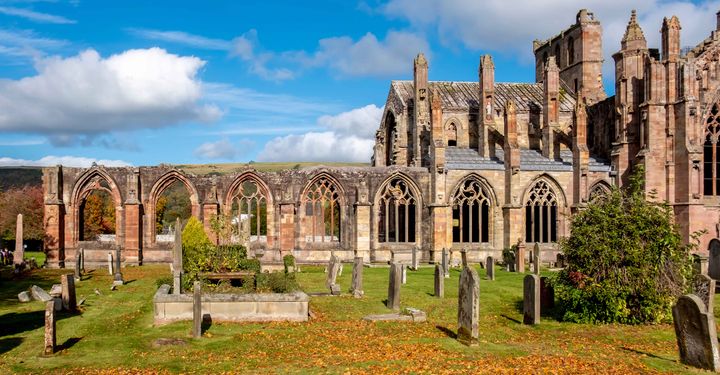 The Borders are defined by a turbulent history. Above the tidy little town of Melrose, on the banks of the River Tweed, stand the remains of the greatest Roman fortress in Scotland. Trimontium was built around the end of the 1st century AD. Not much more than 100 years later, the Romans gave up trying to quell the natives and beat a sensible retreat to the ramparts of Hadrian's Wall.
After that, the tides of battle rolled back and forth over the Borders for centuries, pitting the local Gododdin – a Celtic tribe - against Scots, Picts and Saxons, then Scots kings against Anglo-Normans.
In the 12th century, there was a brief spell of tranquillity. The Scots King David I took advantage of it to found a quarter of great abbeys at Melrose, Kelso, Dryburgh and Jedburgh. They were wrecked in the English wars and the violent Protestant Reformation of the 16th century, but even their ruined shells, with their soaring arches, give a hint of their glorious heyday.


Learn about legends of literature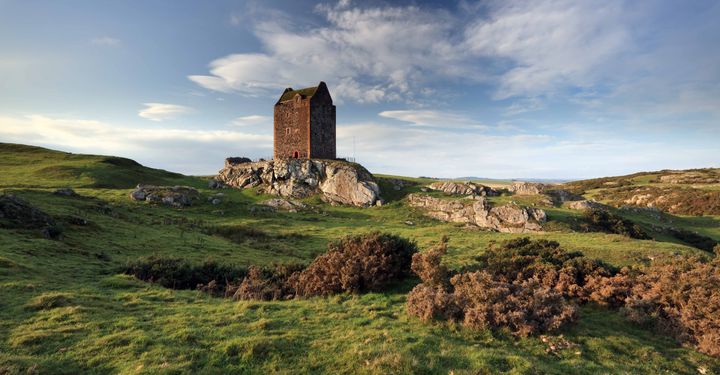 This, too, was the land of the steel-helmeted Border reivers, who spread terror both sides of the Anglo-Scottish border. They gave us the words 'blackmail' – meaning 'protection money' – and 'gangster', which gives you some idea what they were like, as well as the 'riding surnames'. Nixons, Armstrongs, Irvines and many more defied the Scots and English March Wardens, law officers who strove to keep the peace along the frontier.
When Scotland and England united in 1603, the reivers were finally quelled, but you can still imagine their lawless era at hilltop towers like Smailholm, a tiny but formidable stronghold that inspired Sir Walter Scott, the man who did most to keep the old Border tales legends alive.
He banged out more than 50 romances and histories between Waverley in 1814 and his death in 1832, and used the proceeds of his prodigious literary output to build Abbotsford, a fairytale fake-baronial pile on the banks of the Tweed.
Surrounded by stunning gardens, Abbotsford is crammed with Scott's collection of arms, armour and royal relics, including a lock of Bonnie Prince Charlie's hair and a claymore once wielded by Rob Roy, the famous outlaw and hero of Scott's most famous novel.


Marvel at grand mansions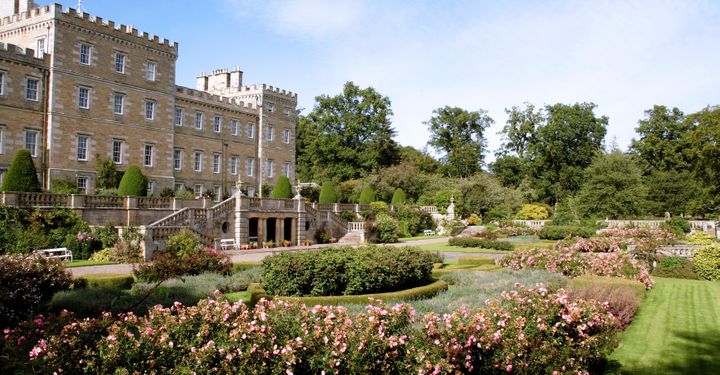 Abbotsford has its rivals, for the Borders is dotted with grand mansions. Near Peebles, Traquair claims to be the oldest continuously inhabited house in Scotland. Like Abbotsford, it has links with the Stuart monarchs. Its grand gates have remained closed since Bonnie Prince Charlie left in 1745 and, following a vow by Traquair's staunchly Jacobite laird, they will remain so until a Stuart returns to the Scottish throne. Enter through the side gate, and don't forget to sample Traquair's famous ales, which are still aged in their original 200-year-old barrels.
Near genteel Kelso, Floors Castle puts most other stately Scottish homes to shame with its fairytale Gothic exterior and grand salons filled with tapestries, paintings and fine porcelain. Mellerstain, home of the Earls of Haddington, is mainly the work of father-and-son duo William and Robert Adam, great 18th-century Scots architects who endowed it with elegant salons and delicate stucco interiors.


Hike (or bike) the region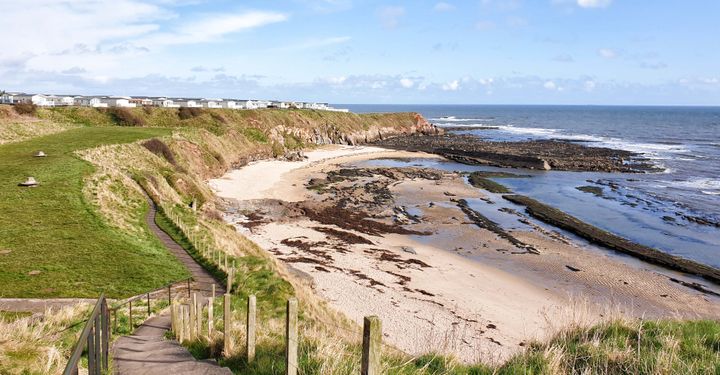 Discovering the history and grand architecture of the Borders will keep you entertained on a rainy day. When the weather is fine, though, outdoor experiences and activities beckon.
Heart-pounding mountain bike trails carve their way through rugged forests around Glentress and Innerleithen, and long-distance walkers can tackle the Southern Upland Way, a 210-mile coast-to-coast route that cuts across the Borders from Cockburnspath on the North Sea to Portpatrick on the Atlantic.
For shorter strolls, the John Buchan Way, named after the Borders-born author of The Thirty-Nine Steps, stretches 13 miles from his native Peebles through moorland pastures to Broughton, and for brisk sea breezes, you can follow the Berwickshire Coastal Path for almost 30 miles to Berwick-upon-Tweed and the English border.

Get closer to nature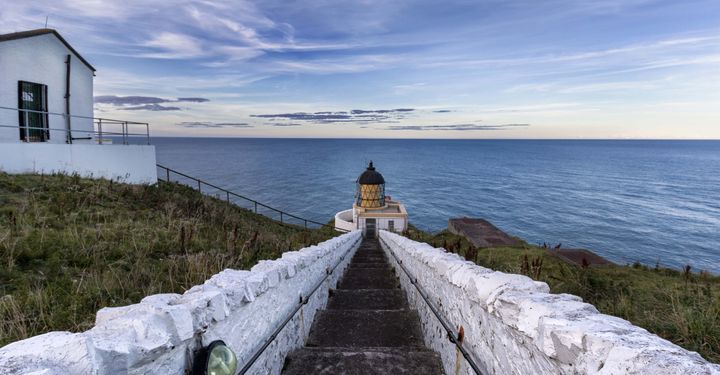 On a clear day, it seems like you can see halfway to Denmark from St Abb's Head, a 300ft crag above the North Sea. In early summer, tens of thousands of kittiwakes, guillemots, razorbills and puffins nest on these cliffs and squeal and wheel in the sky above.
Below, St Abbs is a postcard-pretty harbour village, as is nearby Eyemouth, where you can hop aboard a RIB for a thrill ride along the rugged coastline, spot dolphins and (with luck) minke whales. You'll need a drysuit to go scuba diving around the reefs and wrecks off Eyemouth, but a sturdy wetsuit is enough to make the most of the waves at Coldingham Bay, rated one of Scotland's best winter surf spots.


When is the best time to go to the Borders?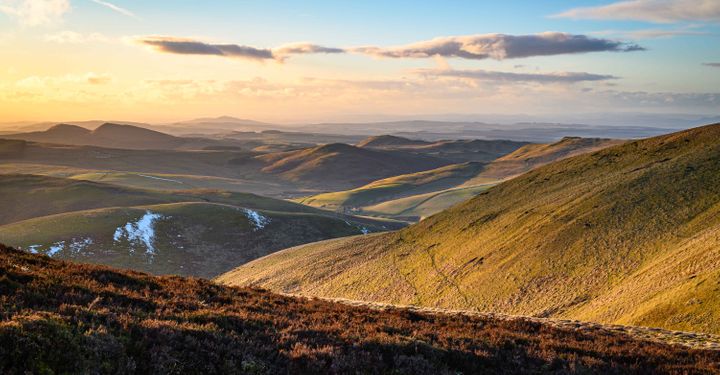 Hikers, bikers and sightseers will prefer early summer through to late autumn (Easter to September). You'll see snow on higher ground any time from October until April, and rainy days are on the cards all year round.
Accommodation is priciest at weekends and during Scottish Easter, summer and autumn school holidays, so if you're child-free try May to June and September for decent weather and reasonable rates. This is Scotland's rugby heartland, and rooms in and around Melrose are hard to find during the annual Rugby Sevens. Book early if planning to go to this legendary fixture, the world's oldest sevens event.
Selkirk, Jedburgh, Kelso and other communities celebrate their equestrian heritage from June to August with the 'Common Ridings' when costumed riders lead their retinues around towns and villages. Visit Eyemouth in mid-July for the Eyemouth Herring Queen Festival, a weeklong village party that was first held to welcome the end of World War I.
For anglers, the River Tweed has the UK's longest salmon season, from February 1 until November 30.


How do I get to the Scottish Borders?
Exploring the Borders is easiest by car; fly to Edinburgh (to the north) and Newcastle (south across the border with England) and pick up a rental. Both airports are within an hour's drive, depending on which part of the Borders you're heading for.
Trains from London stop at Berwick upon Tweed (the last stop before you cross into Scotland) and Dunbar; the Borders Railway runs from Edinburgh to Galashiels and Tweedbank (a 10-minute walk from Abbotsford).


Have a comment or question about this article? You can contact us on Twitter or Facebook.