Secret Provence: 9 villages that are still off the radar
Updated August 13, 2021
(Published June 3, 2019)
It's hard to believe that it's been more than 30 years since Peter Mayle published A Year in Provence and inadvertently opened up this delightful patch of southern France to millions of readers around the world. They've since been arriving in their droves, turning formerly sleepy villages into tourist hot spots.
But while villages such as Ménerbes (Mayle's former home), Bonnieux and Gordes have become regular stops on tours of Provence, there are still places that haven't appeared on everyone's radar. Take a slow road through the hills, olive groves and vineyards – on foot or, better still, on an e-bike – and get to know the quieter side of Provence through these nine villages.


1. Goult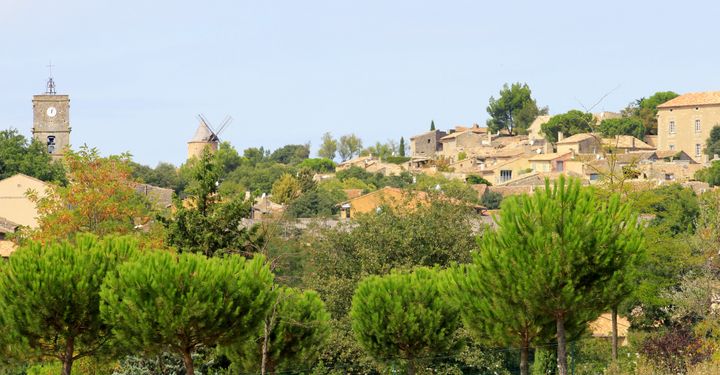 Although Goult is in the midst of the Petit Luberon national park, it tends to get overshadowed by better-known neighbours Lacoste and Ménerbes. Sitting loftily on a hill – like so many Provençal villages – Goult has a shaded main square with a friendly café and a Thursday food market.
Wander along cobbled lanes past stones houses and the gothic church before following the signposted path along the restored agricultural terraces that ring the village. Be sure to check out the museum in the 17th-century restored Jerusalem mill and soak up sweeping views of the Luberon.


2. Venasque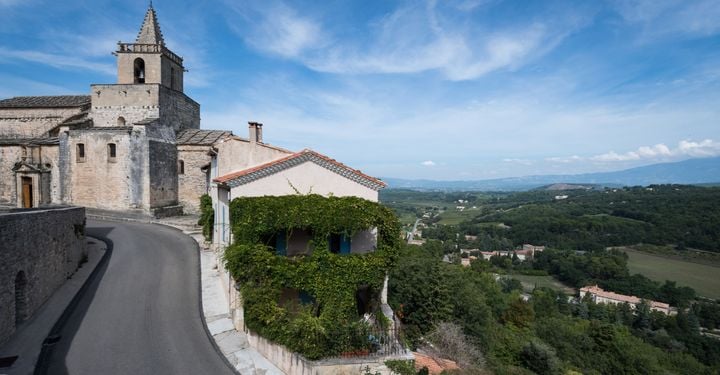 Officially designated as one of the most beautiful villages in France, Venasque sits on a perch of limestone cliff at the heart of the Vaucluse. Once you've had a look at the Romanesque church and 13th-century baptistery, wander round to the Esplanade for fabulous views of Mont Ventoux and the Monts de Vaucluse.
Pull up a café chair near the adorable stone fountain in the centre of the village and browse some of the galleries run by local artists. You can also grab a coffee in one of the many stow away cafés that hide down Venasque's narrow streets – be sure to pick one with a terrace that looks out over the surrounding pine-clad limestone hills.


3. Séguret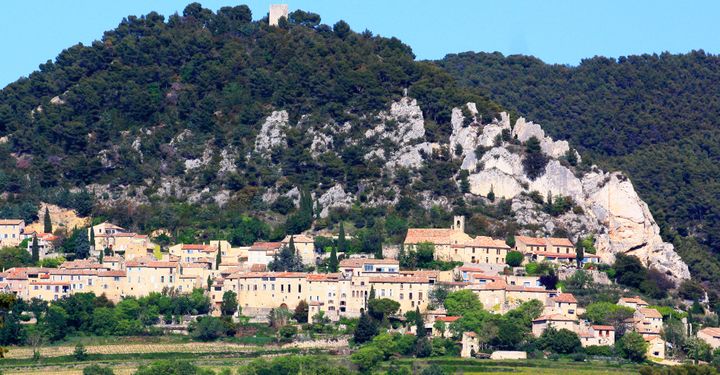 Clinging to the bottom half of a broad hill – rather than perching on top as so many other villages in Provence do – Séguret is all medieval alleyways and honey-coloured stone houses.
Climb to the top of the hill and you'll find ruins of an ancient castle as well as wide-ranging views of the Vaucluse countryside and the vineyards below. Look out for the 17th-century Mascarons fountain – an official historic monument – as well as gorgeous little restaurants whose terraces open up on to the hillsides.


4. Méthamis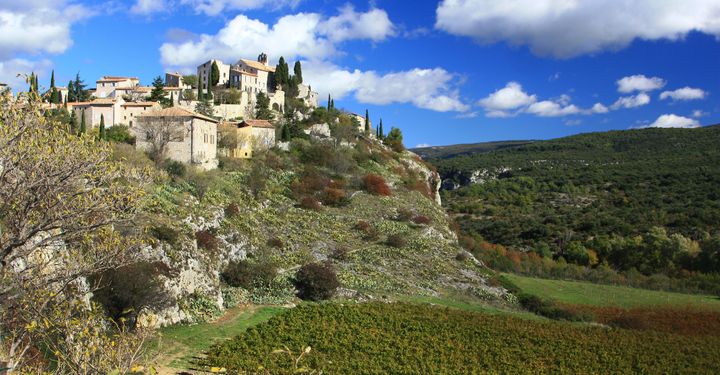 Overlooking the Nesque gorge from a rocky promontory more than 300m high, Méthamis is a handy base if you're into hiking or cycling. Stroll along cobbled paths past the ruins of an old chateau as you wind your way to the top of the village. Remarkable views of surrounding Provence await. You'll also spot a part of the Mur de la Peste – the stone wall built in 1720 in an attempt to stop the plague from spreading.


5. Ansouis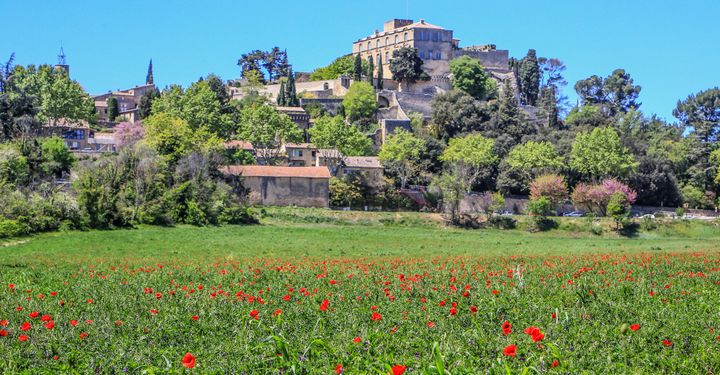 In the southern part of the Luberon – not far from Peter Mayle's final home in Lourmarin – you'll find another officially designed Most Beautiful Village in France. Ansouis's star attraction is the medieval and utterly beautiful Chateau d'Ansouis and its surrounding gardens, which, although privately owned, can be visited on guided tours.
The village's other main sight, Musée Extraordinaire, lives up to its name – a weird and wonderful museum showing marine life in all its artistic forms. Created by diver and painter Georges Mazoyer, it's great for families.


6. Entrechaux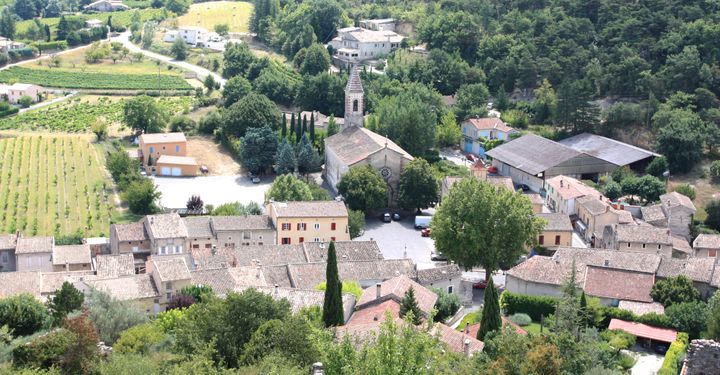 Nudging Provence's northern border with Drôme, Entrechaux soars up to 365m above an idyllic landscape of sweeping French countryside. Surrounded by vineyards producing dry Côtes du Ventoux, the village is topped with ruins of a medieval castle – definitely the place for panoramic views.
Wooded trails and quiet D-roads make it a magnet for hikers and cyclists, but if you're feeling less energetic, just go on a lazy tour of the wineries. History lovers can discover the village's trio of chapels, which date from the 9th, 11th and 12th centuries. Come in September if you want to join the fun during the wine harvest festival.


7. Maubec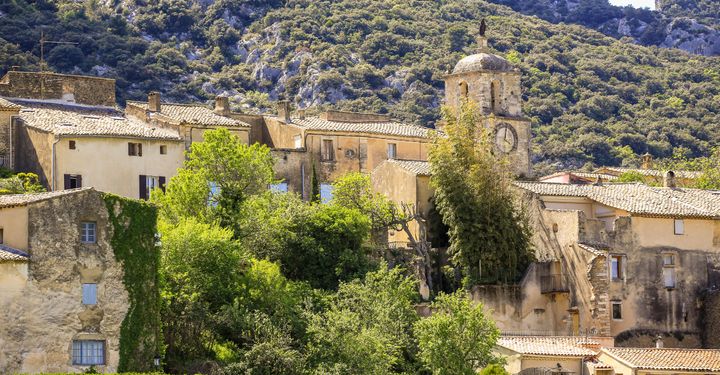 Kick back in chilled-out Maubec and enjoy rambles through cobbled lanes past pale stone houses with blue shutters. Make your way uphill – yes, it's another hilltop village – past the 18th-century clock tower and enjoy the views of the Luberon and the vineyards down below producing Côtes du Luberon.
You'll also see the restored castle which, even though it's private, is still the spot to catch more views. If you're not around for the Wednesday night market in the summer, don't miss the Sunday morning food market that takes over the village. Just down the road from Maubec in the Petit Luberon are the honeypot villages of Oppède – where film director Ridley Scott has a vineyard – and Ménerbes.


8. Crestet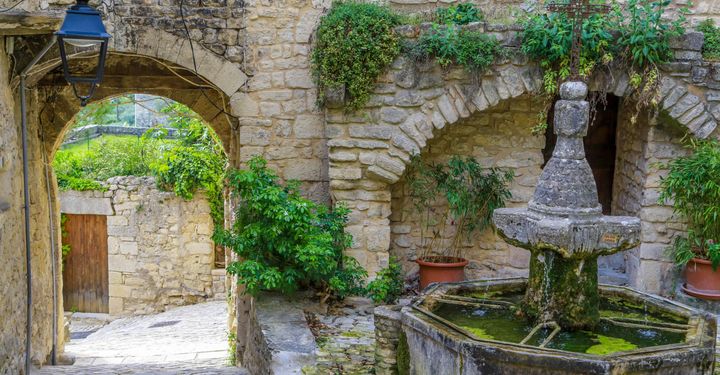 If you're driving along the D938 to Vaison-la-Romaine, you might just spot Crestet clinging to the crest of the Dentelles de Montmirail. Wander past the olive groves at the foot to reach the jumble of cobbled alleyways, stone houses and the Romanesque Saint Sauveur church at its heart, along with the exquisite 19th-century village fountain.
Once you're at the top, you should see the barren peak of Mont Ventoux as well as a restored medieval castle – closed to the public, but still lovely to look at. This tiny village is also home to Stahly Foundation, a modern sculpture exhibition set inside and among the surrounding woodland.


9. Gigondas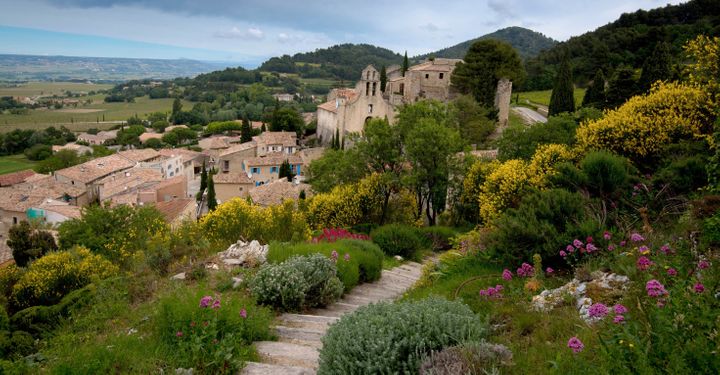 If you love wine, you'll want to make the trek to Gigondas, a charming town set among the jagged peaks of the Dentelles de Montmirail mountains. At its foot is a wide sea of vineyards producing excellent Côtes-du-Rhône Villages red and rosé wine. Make your way up the hill – yep, it's another one – you'll pass one winery after another.
While you'll find the obligatory pretty Provençal stone houses and cobbled lanes, as well as the 11th-century Sainte Catherine church, you'll also come across a series of 21 monumental sculptures that show off the village's arty side. The sculptures are a part of the Hospices, which were rescued from total ruin in 1982 – the buildings have since become home to wine cellars where you can do wine tastings, and there's also an exhibition space for contemporary art.


Have a comment or question about this article? You can contact us on Twitter or Facebook.