October 22, 2022
Athens is the oldest city in Europe, but in many ways it's one of the most youthful, too. Over 2,000 years ago, it was the epicentre of civilisation, but just 200 years ago – when Greece first became an independent nation – it was little more than a village huddled beneath the central crag of the Acropolis.
Since then, its population has grown to almost four million and now, it's a city that buzzes into the small hours. It's also a patchwork of village-like neighbourhoods where you'll find little leafy squares where old-school cafes and tavernas sit next to hipster bars and artisan coffee shops.


Why go to Athens now?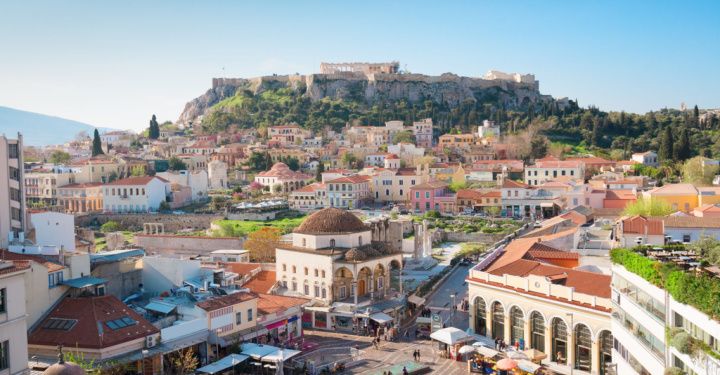 Athens is a fabulous, year-round destination – and according to the Post Office's latest City Costs Barometer, it's Europe's most affordable city break. Two nights accommodation, a range of drinks, dinner for two and sightseeing and city transport comes in at just £207 and a three course meal for two, with wine, costs just under £40.


Get your bearings: Athens' best neighbourhoods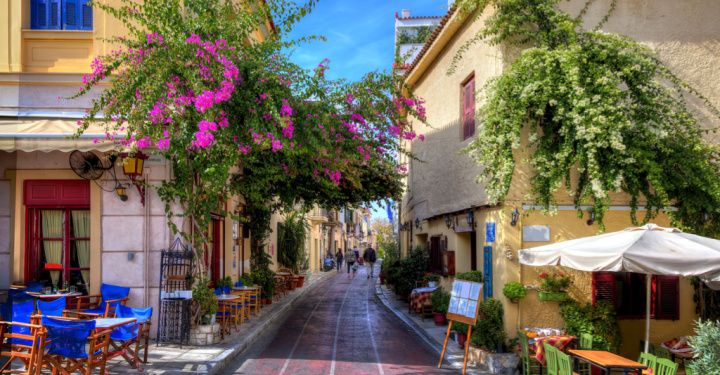 Tree-filled Syntagma Square, dominated by Greece's parliament building and by the city's grandest hotels, is the city's central hub. The pretty Plaka district, huddled between Syntagma and the slopes of the Acropolis, is tourist territory, filled with bars, shops and restaurants.
Go a little beyond to find edgier neighbourhoods that Athenians love but most visitors never reach.
South of Plaka and the Acropolis, Koukaki is a mainly traffic-free residential neighbourhood with a scattering of trendy boutique hotels, small cafés, local restaurants and street-food joints.
From Syntagma, you can stroll down Ermou, a bustling shopping street, to Monastiraki, where a restaurant-filled square is the heart of one of the city's oldest neighbourhoods. It's the go-to location for some of the best grilled lamb, chicken, and pork in Athens. It's also the gateway to the legendary Flea Market, where streets and alleys are crammed with shops selling everything from genuine antiques and curios to general bric-a-brac.
Cross Ermou from the square and walk north to Plateia Iroon, the hub of boho Psyrri, a buzzy neighbourhood with a bustling after-dark scene. West of Psyrri, Gazi is a post-industrial district where a 19th-century gasworks has become the vast Technopolis arts and exhibition complex. The streets surrounding it are foodie heaven, with dozens of restaurants where some of the most creative chefs in Athens cook up menus that combine influences from all over the world.
Exarchia, the gritty, graffiti-splashed neighbourhood favoured by punks, students and anarchists since the 1980s, isn't for everyone (keep your hand on your wallet) but you'll find some authentically Athenian nightlife here.


Best places to stay in Athens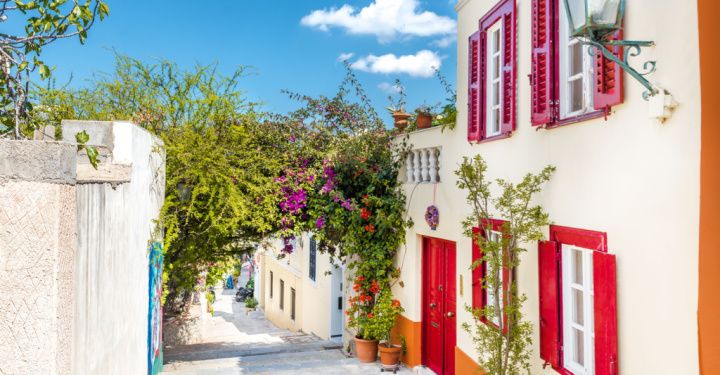 Athens has a huge choice of places to stay, from big-brand city centre hotels to boutique hideaways in newly trendy neighbourhoods and luxury seaside resorts along the blossoming 'Athens Riviera'.

Affordable options (from around €60-€75) include the Areos Hotel, a hip city hotel within walking distance of the National Archaeological Museum; Athens Mansion Luxury Suites, a romantic mansion on the fringes of Psyrri; Athens Center Square, in Monastiraki and within walking distance of the major sights, and Acropolis Stay, a stylish apart-hotel.
For a couple of days of pampering by the sea, try The Alex. This 34-room boutique hotel in the port of Piraeus is a 15-minute drive from Athens city centre and has an acclaimed rooftop restaurant.


Best things to see in Athens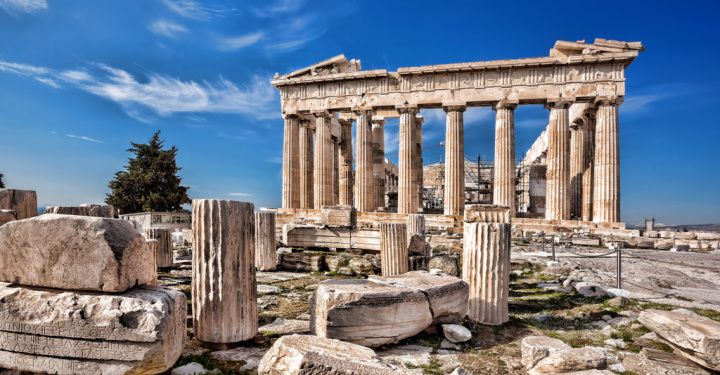 Whether you want to step back in time or party the night away, Athens is choc-a-bloc with sights and experiences.
Visit ancient sites
Plunge deep into the past – and get a vast panoramic view of the city – atop the Acropolis, crowned by the ancient columns of the Parthenon. Then, add the Acropolis to your skyline photos on Philopappos Hill, where more ancient sites and city views await.
North of the Acropolis, via the narrow streets of the Plaka, are the ruins of the Roman Forum, once the bustling heart of the ancient city.
Delve further into the past
Discover more about the city's classical era in the outstanding Acropolis Museum. One day, Greeks hope it will house the stolen Parthenon Marbles, now in the British Museum.
Then, head to the National Archaeological Museum to view treasures recovered from ancient sites all over Greece. You could spend a whole day here, marvelling at bronze statues, the golden death masks of Mycenaean monarchs, intricately decorated pottery and colourful 3,500-year-old frescoes. It's also a great refuge on a rainy winter day.
Make time for less well-known collections
The Museum of Cycladic Art may not make it onto many must-see lists, but it should. Here, you can marvel at startlingly modernist-seeming marble figurines from the heyday of the enigmatic Cycladic culture that flourished in the Aegean isles from around 2800 BC.
A visit to the Byzantine and Christian Museum is also an eye-opener - most non-Greeks know nothing of the Byzantine Empire that dominated the Greek world for more than 1,000 years. Expect glowing icons, fabulous frescoes and mosaics and elaborate embroideries.
And at the Benaki Museum of Greek Culture and the Benaki Museum of Islamic Art, you'll find arts and crafts from the 17th to 20th centuries.
Gear up for a night out
Hit one of the city's rebetiko spots, like Aggelos or Kavoras. Rebetiko is Greece's answer to the blues, born of the hard years of the 1920s, when more than a million Greeks were driven from their ancestral homes in Turkey into exile in the slums of Athens.
The all-acoustic line-up features one or two bouzoukia, guitar, violin, contrabass and accordion. Exarchia, the gritty neighbourhood around the university, is the epicentre.


Best places to eat and drink in Athens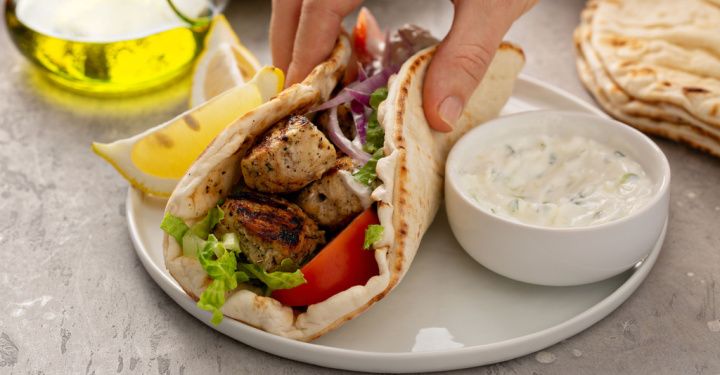 From old-school grill-houses to Michelin-starred fine dining restaurants (nine of them at last count), Athens is a glutton's paradise.
What to eat in Athens
The signature dish is, of course, souvlaki, Greece's most popular street food. Souvlatzidika (souvlaki joints) serve up the skewered meat, grilled over charcoal and wrapped in pita bread with sliced tomatoes. You'll also find kebab (in Greece, sausage-shaped patties of minced lamb and beef), doner-like gyros, and burger-like bifteki on many menus. Best of all is kontosouvli, a marinated meat, onion, tomato and pepper dish slow-roasted over charcoal. Find all these and more at Bairaktaris Tavern. It's been an anchor of the Monastiraki food scene since 1879, with a traditional menu that hasn't changed much since then.
Half a dozen blocks from Syntagma is the Dimotiki Agora (Municipal Market), a curious foodie's paradise. It's surrounded by authentic eateries like Ta Karamanlidika, where you can sample fiery sausages, salty anchovies, pungent cheeses and homemade pastrami at marble-topped tables.
For a special occasion, head to Varoulko Seaside, where chef Lefteris Lazarou earned his Michelin star with signature seafood dishes such as grouper with Tinos artichokes, peas, egg yolk and lemon in stonefish broth.
Custard-filled bougatsa pastries really come from Greece's second city, Thessaloniki, but they have caught on in a big way in Athens too. Watch them being prepared by hand in the open kitchen at Bougatsadiko Psyrri on Psyrri's central square.
What to drink in Athens
Greek winemakers take advantage of hugely varied terroirs and uniquely Greek vine varieties to create world-class reds and whites that are hard to find outside Greece. Sip some at By the Glass, a stylish wine bar and restaurant that is an education for any connoisseur, with more than 500 wines to sample.
Raki, the Greek version of grappa, is no longer just a simple raw grape spirit but is now offered in a range of mellow versions for sipping not gulping. Cocktails are on the up too, with sophisticated lounges such as The Clumsies.


When to go to Athens
Visit Athens from October onward when there are plenty of excellent hotel deals to be found and daytime temperatures can reach as high as 24C. Late October in Athens is plenty warm enough for al fresco lunching, and even a quick dip – this is the only European capital with its own sandy beaches just a short tram ride from the city centre.
It gets a bit chilly from December to February, when there may even be snow on the Acropolis – but there are still heaps of indoor, all-weather attractions and cosy tavernas to discover. Further ahead, spring arrives early, and March is a lovely time to explore archaeological sites scattered with spring wildflowers.


How to get around Athens
Metro line 3 connects the airport with Syntagma and other downtown points. Trains run every 30 minutes, take around 40 minutes and cost €9 one way. A taxi costs a fixed €40. Much of the old city centre has been pedestrianised, and three new metro stations opened in Piraeus in October, giving it a direct metro link to the airport (55 minutes).


Have a comment or question about this article? You can contact us on Twitter or Facebook.