May 12, 2022
Little La Gomera may be small, but it's also incredibly diverse, with beautiful black sand beaches, lush national parks and towering volcanic peaks. There are also several small resorts to choose from on this, one of the most untouched Canary Islands. Want to go hiking? Head for Hermigua. Beaches your thing? You'll love Valle Gran Rey or Playa Santiago.
For more island inspiration, take a look at our rundown of where to stay on your La Gomera holiday.


1. Valle Gran Rey
Best for families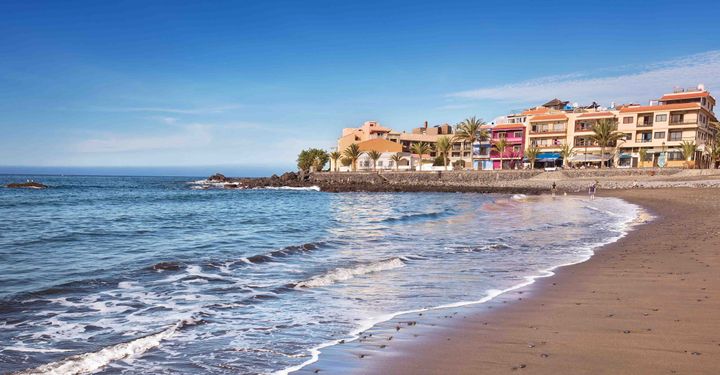 The biggest and most popular beach resort in La Gomera, Valle Gran Ray is a great place to stay if you're travelling with tots. Valle Gran Ray's biggest draw is its beautiful, kilometre-long (0.6 miles) beach, Playa de la Calera. The fine black sand here meets a calm, blue sea that's safe for swimming and splashing on the shore. There are also showers, bars and restaurants along the beachfront, to make sure you're fully catered for.
In the wider resort, the atmosphere is sedate and sun-kissed, with enough holidaymakers to create an evening buzz, but no rowdiness. There's a selection of restaurants serving local and international cuisine and you can watch boats bob in and out of the port of Vueltas while you dine. If the kids are old enough to enjoy some hiking, the stunning Garajonay National Park – one of La Gomera's top attractions – is just a 30-minute drive away, too.


2. Playa Santiago
Best for sun-seeking couples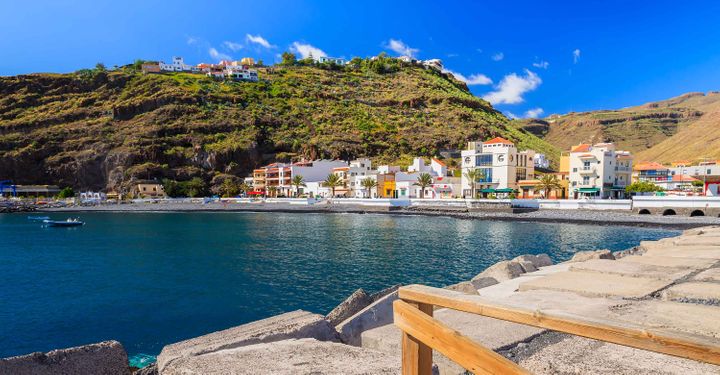 There's nothing like a week by the sea for a romantic break, and Playa Santiago's sunny shores provide just that. In the far south of the island, the resort is a tranquil spot with a good choice of upmarket hotels. Plus, it boasts one of La Gomera's best beaches, Playa de Santiago. Backed by colourful houses and lapped by clear blue water, the beach also happens to be a hotspot for exotic marine life, so don't forget to pack your snorkels.
Playa Santiago is also dolphin-spotting territory. Take a sunset boat tour (complete with drinks) to round up a truly special experience. In the resort itself, there are lots of restaurants and bars with lovely sea views for dinner dates, especially along the Avenida Marítima.


3. Hermigua
Best for those looking to go hiking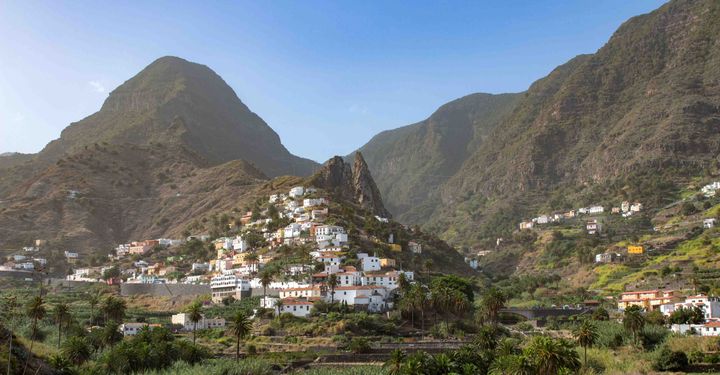 To make the most of La Gomera's unbelievably beautiful scenery and countless hiking trails, stay close to the main walking routes in Hermigua. This quiet, hillside town is spread down the length of one main road, which takes you from fertile mountain valleys, past tropical banana plantations and finally to the east coast and Playa Hermigua. Wherever you stay, beautiful views come as standard.
Undoubtedly the biggest attraction of Hermigua is the proximity (a 15-minute drive) to the prehistoric forest and epic volcanic scenery of Garajonay National Park. And with Majona Natural Park also nearby, as well as El Cedro Forest and Agulo's Mirador de Abrante viewpoint, you'll never run out of terrain to trek. There are also a couple of good restaurants and bars in town, as well as supermarkets and places to stock up on hiking essentials.


4. San Sebastián de La Gomera
Best for culture lovers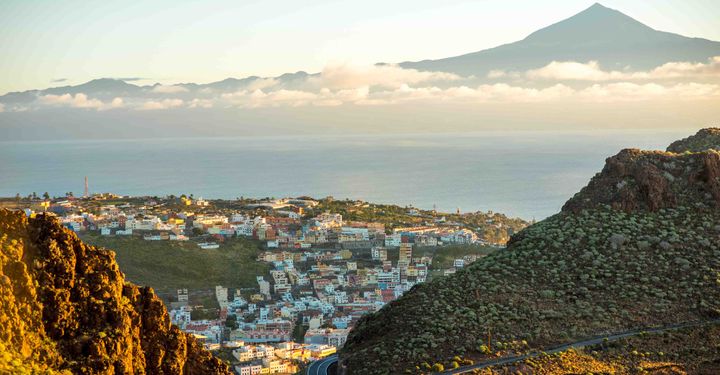 La Gomera's capital, San Sebastián de La Gomera, is the cultural and social hub of the island, albeit with a relaxed seaside vibe. Wander along the streets admiring the traditional Canarian architecture of colourful houses built into the hillsides, stop for a drink at the marina, or catch some rays on San Sebastián or La Cueva beaches.
San Sebastian prides itself on its link to Christopher Columbus, as this was the place he stayed just before his epic voyage to the Americas. Learn more about that historic visit, as well as about La Gomera's colonial and aboriginal past, with a visit to the Archaeological Museum of La Gomera.
To really get under the skin of the place, make sure you also get your fill of traditional local cuisine in the many cafes, bars and restaurants across the city. For a tasty vegetarian treat, try almogrote – a puree made from goats' cheese, spicy peppers, tomatoes and garlic.


5. Vallehermoso
Best for those looking for rural peace and quiet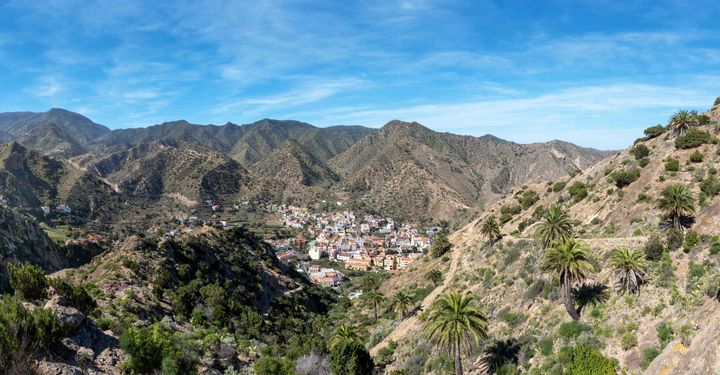 Vallehermoso (the "beautiful valley") is one of La Gomera's prettiest towns. Surrounded by lush valleys and sweeping mountain vistas, this is the place to stay if you're looking for the very best views in La Gomera. Being in the north of the island also means Vallehermoso is just a 15-minute drive to Garajonay National Park, which has some of best hiking and wildlife spotting opportunities on the island.
In the town centre, stop and enjoy a meal in the central square, where water features, pretty buildings and gently swaying palms create a sleepy ambience for post hike dinners. If you tire of walking and eating, there is plenty more to see and do nearby. Head for the north coast and take a boat trip to see the spectacular Los Organos Natural Monument or go swimming in the seaside pools at Playa de Vallehermoso.


6. Agulo
Best for authentic La Gomera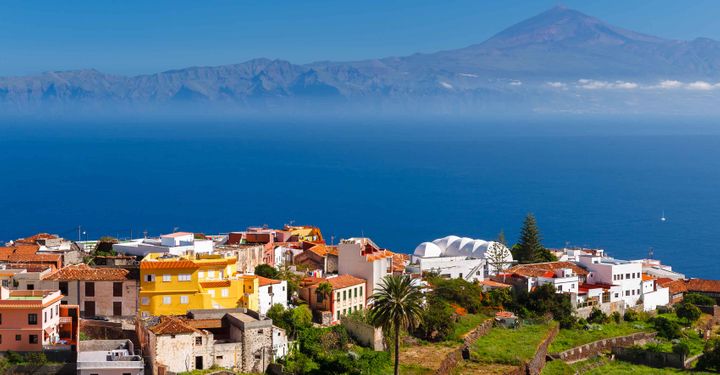 Whitewashed buildings and sloping terracotta roofs define the charming town of Agulo, La Gomera's most picturesque places to stay. As one of the oldest settlements on the island, the architecture here dates back to the colonial period, with winding streets and gracefully crumbling churches. You could happily get lost wandering around – though given the town's size, it won't take long to find your way again.
If you want to take a swim in the sea, head to Playa de Agulo, a totally unspoilt stretch of black pebbles and moody blue water. If you have your own wheels, be sure to drive (or walk, if you like a hike) up to the Mirador de Abrante viewpoint, which sits at 620m (2,034ft) above sea level. Expect spectacular views down the valley, across the Atlantic Ocean and even to Tenerife on clear days.


Have a comment or question about this article? You can contact us on Twitter or Facebook.