Our maroon train chugged through the sun-drenched Sri Lankan countryside, past palm trees, forests filled with firs, and wooden huts with bonfires crackling outside, writes Caroline Howley.
We hung out of the open door, enjoying the warm breeze and watching the endless greenery sail past, before quickly withdrawing into the carriage as the train entered a stone tunnel. These same trains had once been used to transport colonial-era Brits up to the cooler climes of the tea plantations, and riding in the antiquated carriages was very evocative of this long-ago time.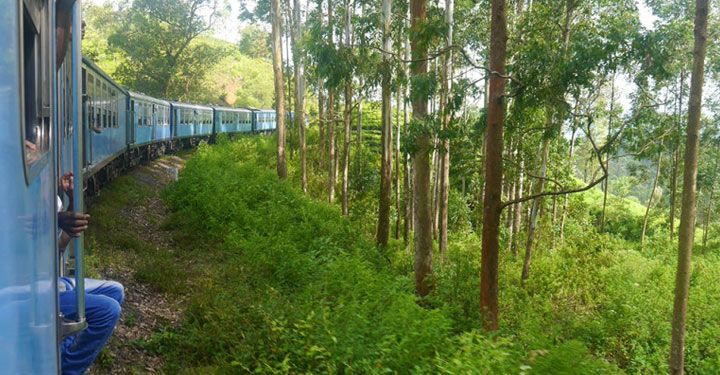 After one night in the Sri Lankan capital of Colombo we'd boarded the train to Kandy, but had abandoned our air conditioned first class compartment to ride the train in the local tradition.
Not only is the train an exhilarating and beautiful way to travel through Sri Lanka's hill country, but it's also incredibly cheap. Booked online ahead of time, our first-class tickets had only cost £10 each for a three-hour journey. Later in our travels, we'd purchase two third-class tickets for the famously beautiful Kandy-to-Ella route, which takes six hours, for just £3.
The holy city of Kandy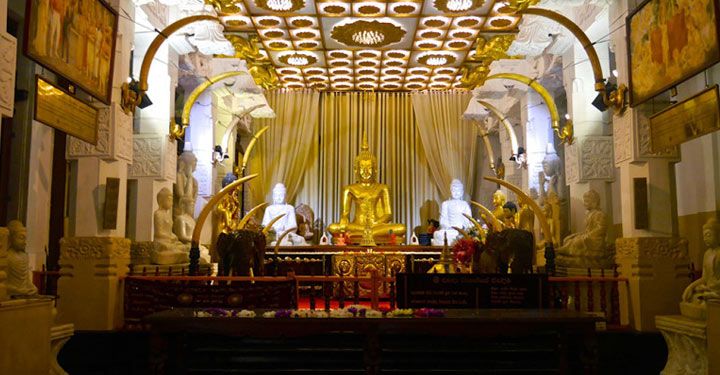 Kandy – a UNESCO world heritage site – was once the country's capital, and it remains a major city in Sri Lanka. The city's hectic pace and tuk tuk-filled roads contrast sharply with its intensely spiritual nature and luscious mountain surrounds.
Any tourist in Kandy will have the Temple of the Sacred Tooth Relic firmly at the top of their itinerary. This incredible building is one of the most sacred Buddhist sites in the world, and is said to house the relic of the tooth of Buddha. Inside you'll find gilded decoration, ivory tusks and golden Buddhas, while monkeys scamper up and down the wooden pillars and colourful Buddhist flags are strung from the rafters.
The entry fee is 2,000 LKR (around £12), but there are a few ways to avoid having to pay extra. Firstly, both men and women should ensure they are well-covered, or you'll be forced to buy an expensive sarong on arrival. Furthermore, the Temple of the Tooth is not an attraction that requires a guide, so say a firm "no thank you" to the people offering to show you around can help you avoid busting your budget.
After the temple, it was time for a tuk tuk tour to a tea factory and spice garden – there's a bit of a tourist trap feeling to these tours, but they're still definitely worth doing to see the old fashioned machines clanking away to produce Sri Lankan tea, and to learn about the natural remedies for common ailments.
We wandered through the peaceful gardens as aloe vera, tea and tiny pineapples were pointed out to us, then sped around Kandy in a red tuk tuk which, like most of the vehicles in Sri Lanka, was inexplicably decorated with Pirates of the Caribbean merchandise. These tours can be done on a shoestring budget – it's all about not cracking under the pressure to buy heaps of tea or herbal remedies while you're there.
Sigiriya Rock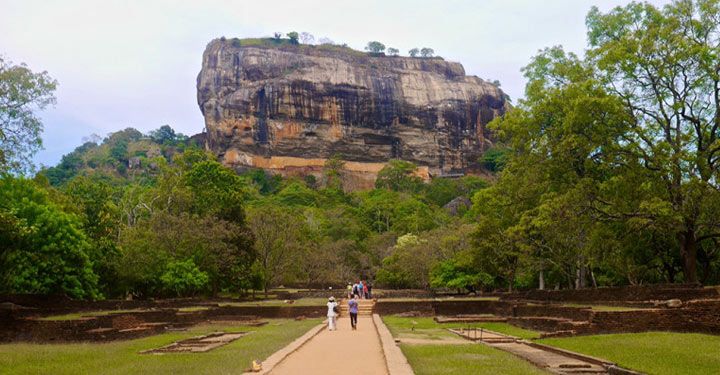 The next day an off-road jeep picked us up for our day trip to Sigiriya Rock, one of the most iconic and historic sites in Sri Lanka. Transport cost around £30, and the entrance fee to the ancient city of Sigiriya was approximately £25 each, making for one of the priciest days on our trip. However, it was definitely worth it.
The dramatic rock is streaked with black and orange, and rises up in the midst of a luscious landscape of water gardens, lily pads, and endless greenery. Climbing the seemingly-endless steps wasn't easy in the midday sun, but the incredible views along the way took our minds off the hard slog.
As you climb you'll pass ancient frescos carved into the rock face, and the famous mirror wall where generations have graffitied their thoughts about the women depicted in the artworks. Then it was up to the lion's paws: a grandiose gateway to the peak, built in the fifth century under the orders of King Kasyapa who ruled his subjects from the top of the rock.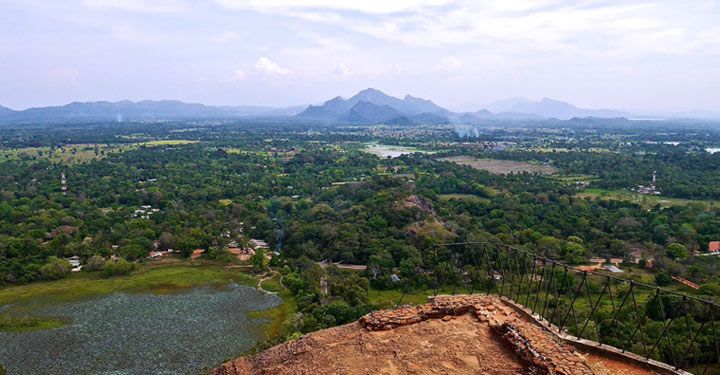 We walked up the final metal steps to the top of the rock, past alarming signs warning not to disturb the wasps' nests, as monkeys ran up and down the rock with ease. On top of Sigiriya Rock itself are the last remnants of the ancient kingdom, with ancient bricked outlines of old buildings, and some of the gleaming water gardens still intact.
Sat in the shade of a tree, we surveyed the spectacular view. Trees blanketed the landscape as far as we could see, punctuated only by huge circular ponds filled with lily pads and the blue mountains in the distance.
Trekking in breathtaking Ella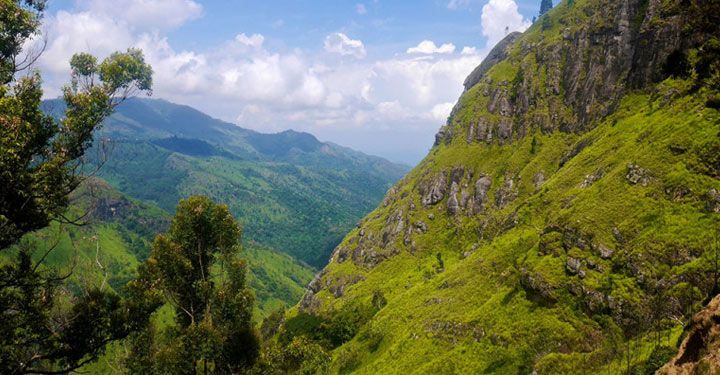 The next day we boarded the pale blue train to Ella for a stunningly beautiful journey deeper into Sri Lanka's hill country. We were apprehensive about travelling third class (the lowest possible), but it turned out to be much more fun than our first-class experience.
Our travelling companions were a Sri Lankan family, and the eldest man was very enthusiastic about pointing out the best sights on the route so we could snap some images. Unlike in first class, food sellers jump on at every stop to sell a myriad of tasty – and completely unrecognisable to us – bites to eat, and we shared these snacks with those sat close to us.
As he departed the train, our friend said goodbye and gave us a classic Sri Lankan head wobble. This gesture – a sign of friendship – is unique to Sri Lanka, and although it can be a bit alarming the first time you see it, by the end of our trip we were watching out for them!
Ella is a village high up in the hill country, nestled among tea plantations, and it's a dream destination for hikers, as well as travellers on a budget. There are two main walks: Ella Rock and Little Adam's Peak.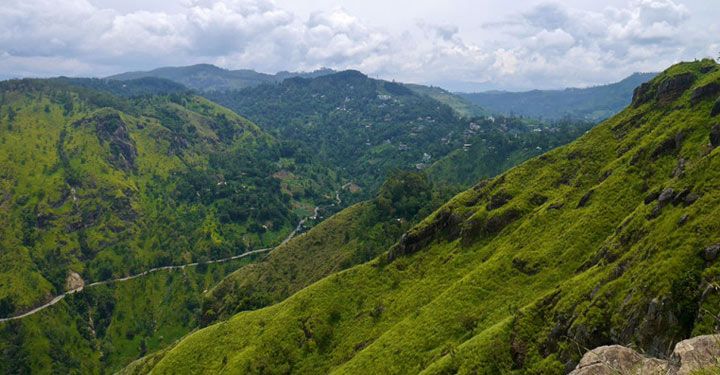 Little Adam's Peak is a simple climb from Ella town, and not very strenuous at all. There's absolutely no need to pay for a guide to take you on this trek – simply follow the steps upward and be rewarded at the top by a stunning panoramic view of Ella Rock.
Ella Rock, meanwhile, is a little tricker to find, but it's still very possible to do without a guide using the plethora of online instructions. This is a much more difficult trek, and, after setting out walking along the railway lines from Ella, you need to put aside at least half a day to get up to the peak and back again. Back in Ella, however, you'll be greatly rewarded for your hard day's trek by a selection of vibrant bars and restaurants.
While in other parts of the country alcohol can be hard to come by, this isn't an issue in tourist-friendly Ella. In fact, it's the perfect place to sit back, kick off your walking boots and toast to a great holiday in a breathtakingly beautiful country.
Have a comment or question about this article? You can contact us on Twitter or Facebook.