How to do Cyprus on a budget
The sunny European island of Cyprus has a well-earned reputation for hot summers and winter warmth. Temperatures can top 35C in July and August and rarely go below 15C, even in January and December – at sea level at least.
But it's a different story in the Troodos Mountains. Rising to almost 2,000 metres above sea level, their highest slopes are snowy from January to March. You'll even find cheap skiing on the slopes of Mount Olympus, Cyprus' highest summit.
Cyprus is Brit-friendly, too. English is spoken everywhere, and they even drive on the left.
The island has plenty of hotels that offer luxury at a price, with frills like fluffy robes and designer toiletries in your room, but do your homework and you'll find lots of places to stay, eat and play in Cyprus that won't bust your budget.
Where to stay on a budget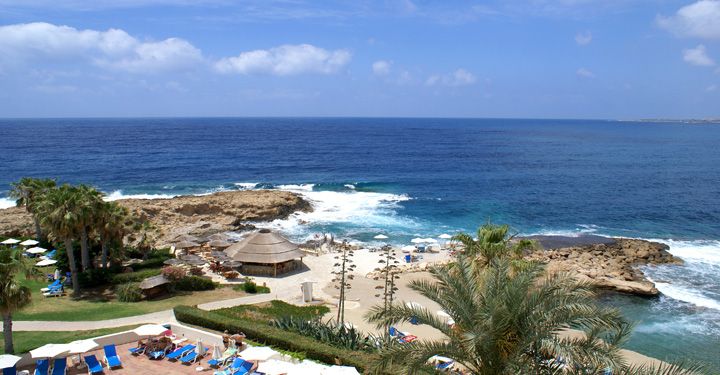 You can save money by staying in a self-catering apartment even if you don't intend to do much cooking. Having your own fridge means you can stock up on soft drinks, beer and wine from the nearest market instead of paying hotel prices – and because there are so many expat Brits living in Cyprus, you'll easily find familiar food and drink brands in local supermarkets.
A double room with kitchenette at the Sea N Lake View Apartments in Larnaca starts at around £31 a night.
All over Cyprus, you'll pay a premium for a hotel right on the beach. For budget deals, look for places with pools on the outskirts of Paphos, where you can pick up a double room at properties with pools and leisure facilities for as little as £20 – £30 a night.

What to eat on a budget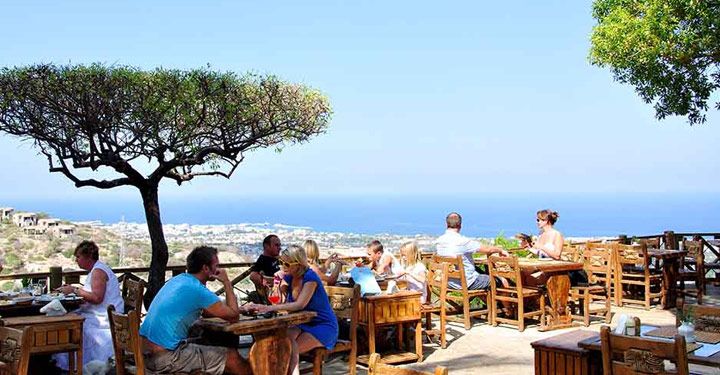 Eat like a local. Meaty snacks such as souvlaki and sheftalia, served up in pitta bread with onions, tomato and salad, hit the spot.
Don't be talked into ordering the full meze platter in restaurants – instead, do what Cypriots do: order dish by dish.
And, tempting as it is, seafood such as red mullet and lobster comes with a hefty price tag. Opt for squid and whitebait instead – you'll pay around €10 for a generous plateful. Even cheaper are savoury pastries such as tahinopitta (tahini pie), tiropitta (cheese pie) and eliopitta (olive pie) from local bakeries. They cost around €2.
What to do on a budget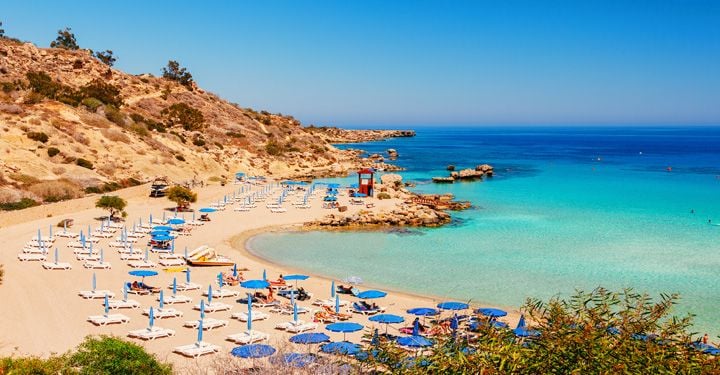 It's the beaches that draw most people to Cyprus. You'll find the best (but most crowded) sandy beaches around Ayia Napa and Protaras, at the west end of the island. Access to all beaches is free – but you'll pay at least €2.50 a day for a lounger and the same again for an umbrella. You'll find long, empty stretches of sand unsullied by sunbeds at Lara, on the Akamas peninsula. The catch is that you'll need your own transport to get there.
Look beyond the beaches, and you'll find lots of things to do on a budget in Cyprus. Most major museums and archaeological sites cost upwards from €5.00.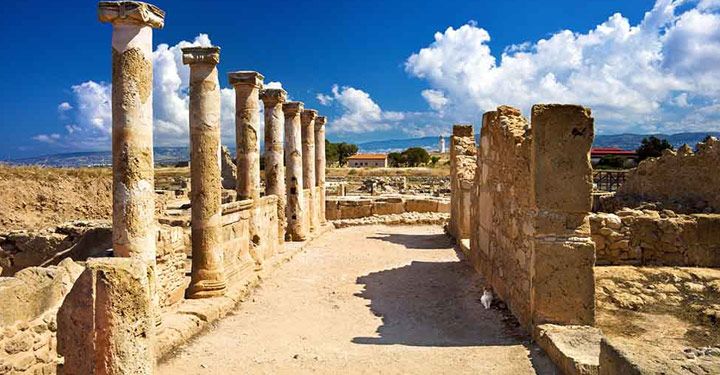 You'll find more spectacular ruins at ancient Kourion, about 10 miles west of popular Limassol. The view from its huge Roman amphitheatre is breath-taking.
You won't pay a cent to get into the famous "painted churches" of the Troodos Mountains, with their dazzlingly colourful 12th-century frescoes. The most accessible are inside the walls of ancient Agios Ioannis Lampadistis monastery, near Kalapanagiotis village.
You'll also find quirky little village museums full of embroidered costumes, jewellery, old photographs, embroidery and ceramics in villages such as Fiti, Fasoula and Kato Akourdalia.
There's more free art at the Open Air Sculpture Park, on Limassol's sea front promenade.
How to get around on a budget
The cheapest way to get from Paphos and Larnaca airports to resorts is by bus. Local buses, including airport buses cost a flat €1.50 within the municipal boundaries of Paphos, Limassol, Larnaca and Nicosia, or €5 for a one-day ticket.
Car hire can be a bargain in Cyprus, with rates as low as £7 a day if booked online in the UK this September. Look for rental companies that offer 'fair fuel' policies – if the fuel gauge reads the same when you return the car as it did when you rented it, you won't be charged extra.
My insider tips
Stay in a hotel where a buffet breakfast is included and you're on to a good thing – Cyprus buffets are lavish, all-you-can-eat affairs that combine the best of British with local treats like Cypriot sausages, cheeses, cold meats, olives and lots of fruit.
The Cyprus Tourism Organisation (CTO) offers free guided walks around Paphos, Larnaca, Limassol and Nicosia on Monday and Thursday mornings. Feeling more energetic? Follow one of the island's many waymarked walking trails – you can pick up free maps and guides at CTO offices in Nicosia, Limassol, Larnaca, Paphos and Ayia Napa.
Make the most of Limassol's festivals. There's unlimited free wine at the Limassol Wine Festival, where for a small entrance fee you can drink as much as you like courtesy of Limassol Muncipality and half a dozen local wineries. It lasts for 10 days in early September (August 28-September 6, 2015). For 10 days before Lent (March 3-13, 2016) you can enjoy free parades, concerts and dances, and local wine and food tastings at Limassol's colourful Carnival.
Please note: All prices were correct and sourced on May, 2018 and are subject to change
Have a comment or question about this article? You can contact us on Twitter or Facebook.