April 23, 2019
By Caroline Howley
The central Vietnamese city of Hoi An isn't the first destination that springs to mind when booking a Southeast Asian holiday. When you've only got a short annual leave window to soak up Asia's myriad charms, a fly-and-flop break to a sandy Thai island like Phuket or Koh Tao can seem like a more attractive option.
But while Vietnam is perhaps better known as a backpacker destination – travellers tend to move around, soaking up the rich culture through its beaches, cities and sights – there is a way to enjoy this wonderful country with just two weeks to play with.
Hoi An is an enchanting gateway to Vietnam. Its lantern-dotted ancient town is brimming with culture, and a combination of high-end western and local restaurants line its river. Yet traditional Vietnam is within easy reach – as are some of the nation's most iconic attractions. And you won't miss out on that beach life either – most of Hoi An's resorts include stretches of private coastline.
On top of all that, the cost of living, eating, and drinking in Vietnam is even more budget-friendly than in other parts of Southeast Asia.

Hoi An Ancient Town and riverfront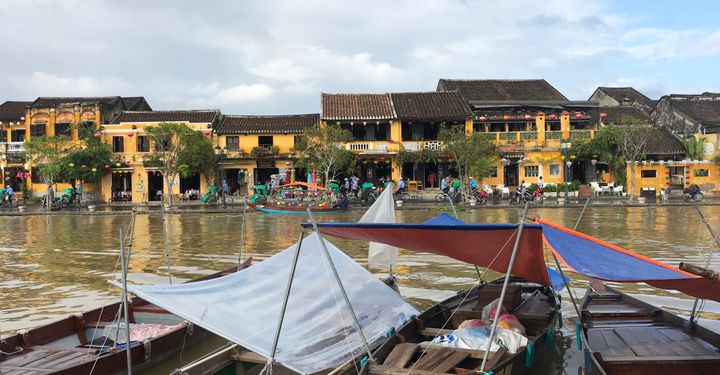 Hoi An's fused heritage is clear to see in its Ancient Town. Brilliant Chinese and Japanese temples sit alongside European colonial architecture to charming effect; multi-coloured lanterns dangle between buildings you might expect to see in France or Italy. This enchanting UNESCO World Heritage site is a beautifully preserved trading port, dating back to the 15th century.
Hoi An Ancient Town comprises more than 1,000 timber-framed buildings, most of which are painted canary yellow. Here you'll find international restaurants, high-end coffee houses, and shops selling silk garments, leather goods, and – of course – handmade lanterns. Hoi An is famed for its cheap but high-quality tailoring: simply pop into one of the many tailor shops in the old town, and your perfectly-fitting suit or dress will be ready for you within 24 hours.
The riverfront is the undisputed highlight of the Ancient Town, however. After sundown, the waterway becomes crammed with wooden, fairy light-bedecked boats that offer tourists rides on the river. Young girls and women mingle with the crowds, selling colourful paper lanterns and candles to light and float along the inky black river. You can watch the compelling scene from one of the many rooftop restaurants, a table at a Vietnamese joint, or join the fray at the buzzing night market. For the best value, eat local for a meal and beer at less than £2.
Hoi An's brilliant beaches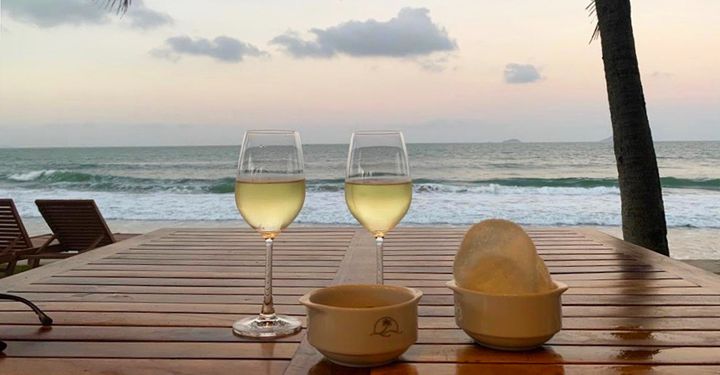 The Ancient Town may be spellbinding, but it's unlikely you came all the way to Vietnam just for a city break. Fortunately, Hoi An is also home to a large stretch of golden coastline.
As well as a number of small guest houses close to the Ancient Town, there are plenty of four- and five-star Hoi An hotels along the coast. Each luxury resort claims its own stretch of beach. What's more, the vast majority of these hotels come with a relatively economical price tag – you'll get luxury here for roughly the same price you'd pay for a budget chain hotel room back home.
There's also the pristine Cua Dai Beach, which is open to the public. Its powdery white sand and crystal clear waves make it popular among travellers, but it's managed to remain relatively unspoilt.
For diving, snorkelling and more secluded beaches, head to the Cham Islands, which sit 18 km off Hoi An's sandy shoreline. Across these eight diminutive islands live 135 coral species, 202 different types of fish and five species of lobsters – it's recognised by UNESCO as part of the World Biosphere Reserve. Most travellers visit on day trips, but if you're keen to enjoy the islands without the boat-loads of tourists, it is possible to stay overnight in a homestay or camp on the beach. The best time to visit is between June and August – no trips run in the rainy season at all.
Authentic Vietnam is just a boat ride away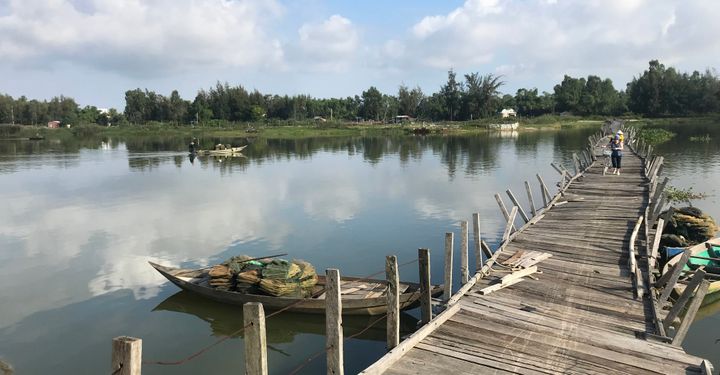 While Hoi An boasts all the Western amenities you could wish for and is rich in colonial history, it's still possible to get a glimpse of traditional Vietnam on the city's doorstep.
A short way along the river are a number of islands where residents continue to live a traditional existence, weaving sleeping mats, farming, and communing with their ancestors by way of coin toss. There are plenty of cycle day trips to these tropical islands. Expect scenes of rice fields, buffalos and lush vegetation.
Here you can learn about traditional industries such as boatmaking, rice wine brewing, and mother of pearl decoration, try your hand at rowing one of the iconic basket boats, and visit a traditional Vietnamese house.
Some of Vietnam's most famous sights are nearby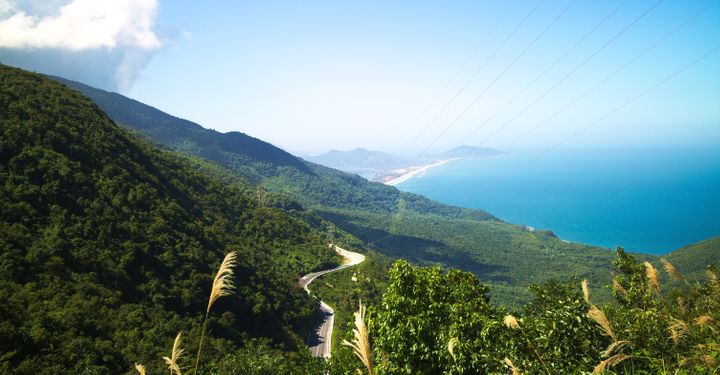 While there's plenty of things to do in Hoi An itself, two of Vietnam's most iconic attractions are within easy driving distance.
Da Nang – home to Vietnam's otherworldly Marble Mountains – is just a 40-minute taxi ride away. Take the lift to the middle of the mountain to discover ancient caves where Buddhists have worshipped for centuries, as well as picturesque pagodas and stunning views across Da Nang's pastel-hued cityscape.
The Hai Van Pass (also known as the 'Top Gear Road') is a 1.5-hour drive from Hoi An – and the best way to enjoy this journey is on two wheels. Nervous bikers can hire a guide with a motorbike, hop on the pillion seat, and enjoy sweeping coastal views from the winding mountain roads.
When is the best time to go to Hoi An?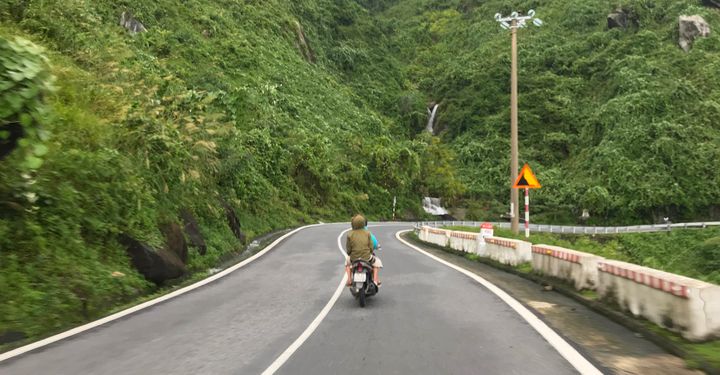 When it rains in Vietnam, it rains heavily, and Hoi An experiences flooding most years. The best time to visit is in the dry season – between February and July. In the early dry season, temperatures are comfortable, with the mercury topping out in the high 20s or low 30s.
If you love hot weather, wait until the later months of the dry season when the temperature hits the mid-30s. While the climate is warm year-round – January's lows are still 19C – you can expect to see at least some rain if you visit between September and January, with October and November being the wettest months.
When is the cheapest time to go to Hoi An?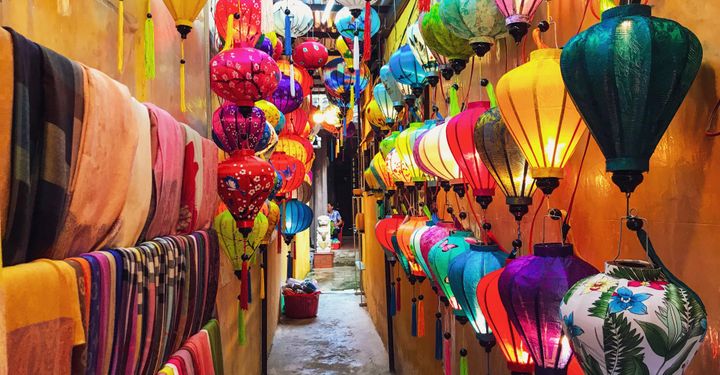 Luckily, Hoi An's high and low seasons don't exactly correspond with wet and dry season, meaning there are bargains to be had even when the sun is shining.
Low season starts in the dry, hot months - around May - and continues until September. During this period, hotel prices are much more competitive, and bars and restaurants tend to lower their prices too.
Have a comment or question about this article? You can contact us on Twitter or Facebook.