9 of the best road trips in Britain and Ireland
July 28, 2021
By Joey Tyson
The UK and Ireland are jam-packed with jaw-dropping scenery that's just waiting to be explored. And one of the best ways to experience it? A good old-fashioned road trip, of course! Whether you only want to make a day of it, or are planning an epic two-week drive, here are some ideas to get you started.


1. Swaledale to Wensleydale
Length: Around 7 miles | Drive time: Approx. 21 minutes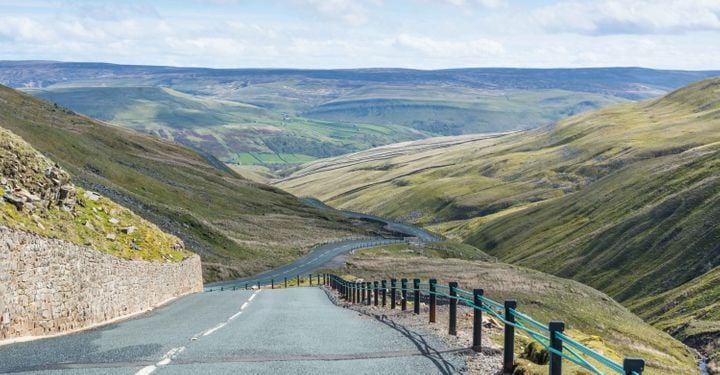 Regularly referred to as "God's own country" by its residents, Yorkshire is packed full alluring landscapes and charming little villages. There's no shortage of incredible drives in this part of the world, but if you have to pick just one, make it the route between Swaledale and Wensleydale – a truly stand out drive, even by Yorkshire's lofty standards.
Although only around 7 miles long, this section of the A684 cuts through the heart of the famous Dales, taking in the rolling, green hills of Yorkshire and the Buttertubs Pass highroad. At points, you're surrounded by nothing but wide-open space, so make sure to pack your camera.
If you want to stay the night, where better to pull up than a hotel once dubbed as the most romantic in the UK? The Yorebridge House Hotel near Bainbridge is a gem, set in the middle of all North Yorkshire's unspoiled glory.


2. St Ives to St Just
Length: 13 miles | Drive time: Approx. 32 minutes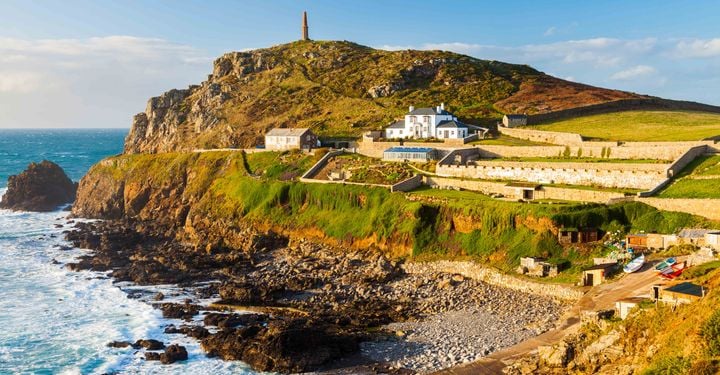 Nothing quite matches the freedom of the open road like the vast mystery of the open sea. From winding clifftop roads, gaze out over some of the best coastal views in the south of Britain as you make your way up from the wonderfully quaint seaside town of St Ives to the end-of-world town St Just. The road, which cuts through some of Cornwall's best moorland scenery, is not for the faint of heart at points, with more than a few hair-raising twists to navigate along the way.
With the weather in this part of the UK usually a little warmer, this is definitely one of those places where having a convertible in England is actually acceptable – come on, you've been waiting for this opportunity your whole life.
As for where to stay, you'll find a little corner of peace at Blue Sky Bed & Breakfast, tucked away on a quiet street in St Ives. Spend the night and soak up the sleepy seaside vibe of this Cornish favourite before heading off on your road trip.


3. Cheddar Gorge
Length: 15 miles | Drive time: Approx. 30 minutes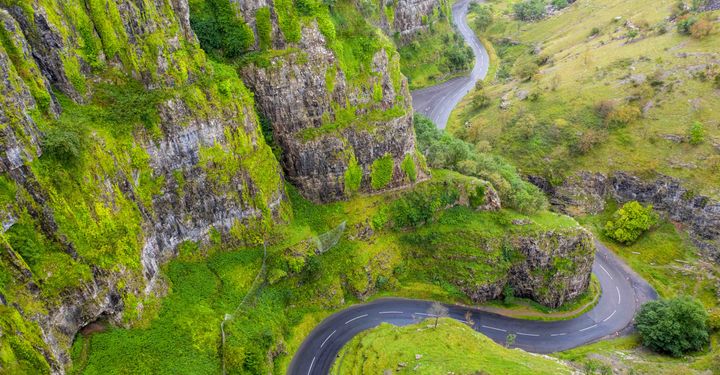 Rugged, dramatic and moody, Cheddar Gorge has that raw beauty you can't express with mere words. It's remarkable to look at and more than just a little imposing, and after you witness it from behind the wheel, park your car and make the 3-mile hike to the top for a whole new experience.
Go from feeling almost insignificant at the foot of this mighty natural wonder to a giant as you preside over the stunning panoramas of the West Country.
The Gorge itself is only 3 miles long, but the amount of drama and beauty packed into this short drive makes it more than worthy of a place on this list. Make sure to pack a picnic for a little alfresco dining in remarkable surroundings.


4. Tremadog to Pen-y-Pass
Length: 15.2 miles | Drive time: Approx. 29 minutes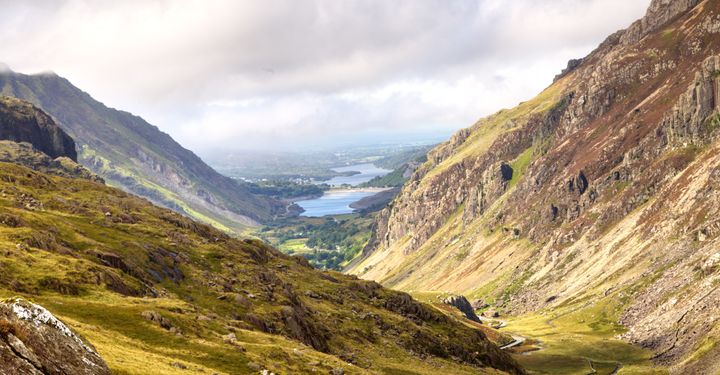 From quiet, placid lakes to huge, snow-capped peaks, Wales is home to some of the most picturesque scenery in the entire UK. And the best way to discover it to drive right through it.
As you drive between Tremadog and Pen-y-Pass, it's hard not to get caught up in the perfect scenery that surrounds you at every turn. One minute you'll be passing through the narrow Aberglaslyn Pass and the next you'll be pulling up for a cosy pub lunch in Beddgelert, one of Snowdonia's loveliest villages.
The drive finishes at the foot of the mighty Mount Snowdon, which you can admire from the base, or brave the hike for some truly incredible vistas of the UK.
Extend your trip with a stay at the Bryn Eglwys Country House Hotel, located right in the middle of Snowdonia National Park. This renovated Georgian farmhouse sits amid the park's verdant scenery almost in the middle of nowhere – perfect for the ultimate retreat.


5. The Keswick Loop
Length: 23 miles | Drive time: At least 3 days (an hour direct)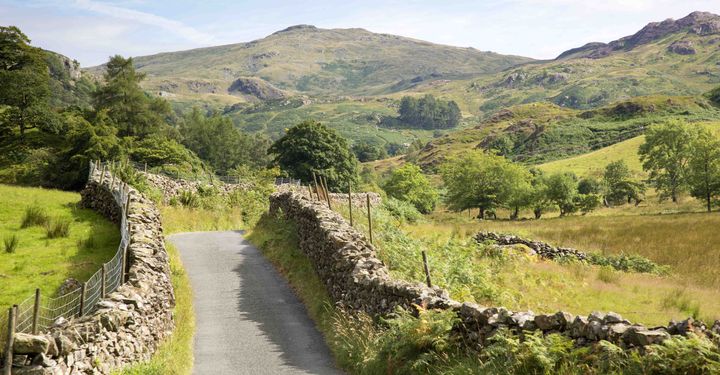 A wonderful loop route that passes through some of the Lake District's most scenic spots, this quick and scenic drive is the perfect road trip if you're short on time.
From the pretty town of Keswick, head into the steep green hills of the Newlands Valley to Buttermere, a beautiful lake surrounded by imposing fells. If you've got time, it's worth walking around Buttermere lake (between two and three hours) – it's particularly pretty in autumn, when the surrounding forest is ablaze in reds and golds. Next, climb the 1,000ft-plus ascent up to the Honister Pass before driving on to the Borrowdale Valley and back to Keswick.
If you're not short on time, there are plenty of amazing places for a Lake District staycation. Choose to spend a few nights at Keswick and Buttermere in a holiday cottage or keep it simple in one of the campsites along the route.


6. The Cotswolds – Cirencester to Stratford-upon-Avon
Length: 40 miles | Drive time: Approx. one hour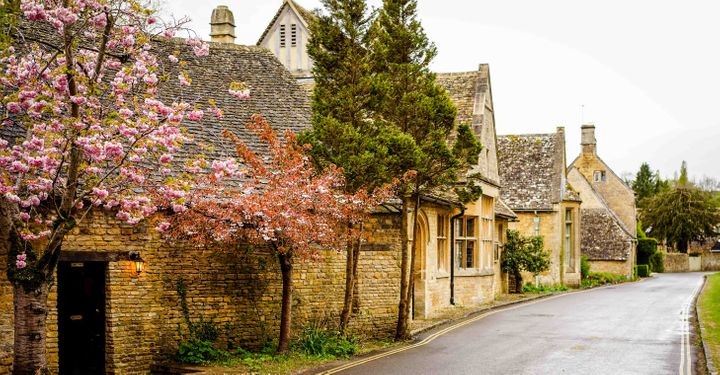 Bucolic England at its quaintest, the rolling hills and green fields of the Cotswolds make for a beautiful road trip – whether you've got a few hours or a few days.
The whole area covers almost 800 square miles, crossed with quiet country roads begging to be explored. Spend a few days slowly driving from village to village, hiking among the "wolds" (hills). Pretty villages, all golden stone and thatched roofs, are the norm in this part of the world, so make sure to plan a route that ticks off a few. Streamside Lower Slaughter and its Upper counterpart, along with low-stone bridges of Bourton on Water and hilltop Painswick offer a taste of the Cotswolds at its most laidback and scenic.
Driving up from the elegant market town Cirencester to pay the Bard a visit in Stratford-upon-Avon takes you through the centre of the Cotswolds with plenty of opportunities for detours and lazy deviations.


7. The Causeway Coastal Route
Length: 130 miles | Drive time: At least 4 days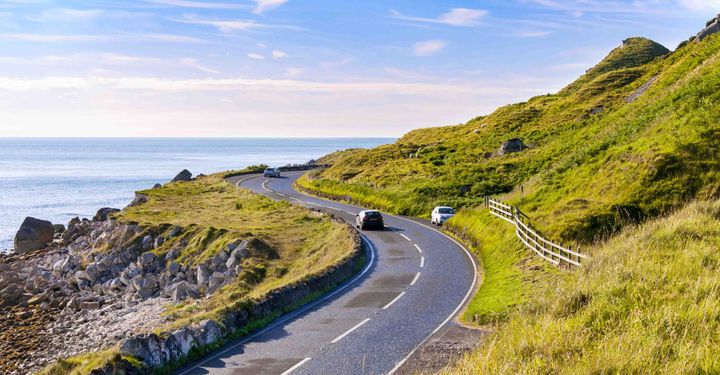 A spectacular coastal path hugging the rugged Atlantic shore between Belfast and Derry, the Causeway Coastal Route is Northern Ireland's answer to the North Coast 500. While the absolute highlight is the Giant's Causeway, a UNESCO site of towering basalt columns, the route takes in many of the best day trips from Belfast, including castles, coves and cracking sea views.
Game of Thrones fans will want to make time for the Dark Hedges, the entrance to stately home Gracehill House, which appeared as the Kingsroad in the series. Other must-sees include Dunluce Castle, dramatically perched on a rocky cliff edge, and Carrick-a-Rede, a tiny islet home to only one building – an old fisherman's cottage.
Along the route, you'll find lots of options for accommodation, including hotels, B&Bs and hostels. For something a bit more special, book a night at the Ballygally Castle, a 17th-century castle with beautiful sea views and quite possibly the greatest name for a hotel in the UK.


8. The North Coast 500
Length: 516 miles | Drive time: At least a week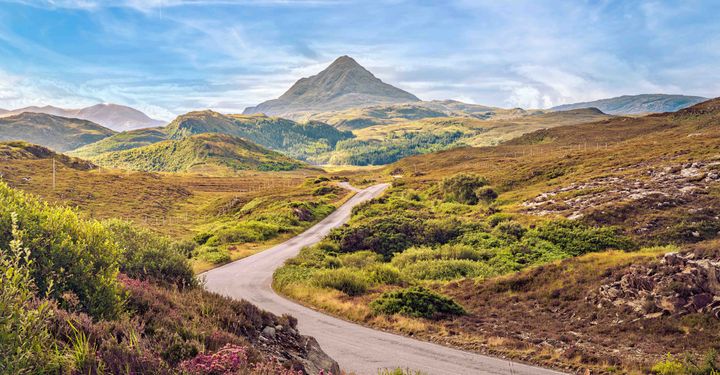 Probably the most epic of all Britain's road trips, The North Coast 500 shows off Scotland's staggering beauty in all its glory. The route begins in Inverness before looping up towards Ullapool, meandering along serene coastal roads, before dropping back down along Scotland's northeast coast into mile after mile of unspoiled nature.
A true Highland highlight reel, every stop will have you shaking your head in awe. Don't miss Loch Torridon and the chance for a hike in its surrounding mountains; a stop in Lochinver to see the mighty Old Man of Stoer sea stack; Cape Wrath, Scotland's most north-westerly point; and John O'Groats, the most northern settlement in mainland Britain.
You'll want at least eight days to do this road trip justice but how long you take really just depends on your schedule – you're driving, after all. For accommodation, there are loads of great campsites and caravan parks along the route, which you can check here, plus loads of lovely Scottish holiday cottages and hotels.


9. The Wild Atlantic Way
Length: 1,600 miles | Drive time: At least 14 days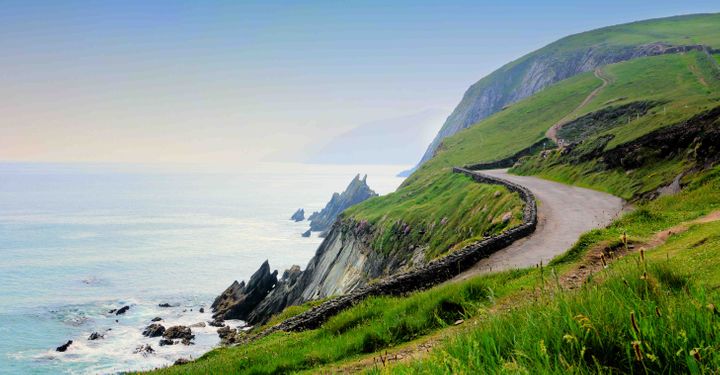 In its entirety, the Wild Atlantic Way stretches for 1,600 miles from Derry in the north, right the way along Ireland's jagged spine, finishing in Cork at the southern tip of Ireland. Epic is the only word.
Officially, the route is split up into 14 stages, making it easier to dip in and out if you don't have time for the whole trip. And while it's pretty much impossible to call out a "best bit" given the route's all-encompassing beauty, Galway to Kilkee does have an ace up its sleeve: the Cliffs of Moher. A truly awesome sight, Ireland's iconic towering sea cliffs are a must if you've only got a few days to drive.
Be sure to stay a couple of nights in Galway, famed for its colourful harbour and traditional live music scene. If you're doing a shorter version of the route, it's possible to fly direct to Galway and rent a car from there.
*All drive times and distances accurate according to Google Maps.


Have a comment or question about this article? You can contact us on Twitter or Facebook.