Albania: The cheap Mediterranean beach destination that needs to be on your radar
June 2, 2023
Dubbed the 'Pearl of the Med' and even the 'Maldives of Europe' because of its unspoilt charms, Albania, on Europe's Balkan Peninsula, might be a tiny country sandwiched between the Adriatic and Ionian coastlines, but it punches well above its weight when it comes to beautiful beaches.
Add its sumptuous food specialities and the fact that the Albanian lek gives you a lot more bang for your buck (a pint in coastal Vlorë costs just £1.57 compared to £3.47 in Corfu just a few hours' south in Greece*), and you'll understand why swapping the usual summer Mediterranean suspects for Albania is a no brainer.
For the best strips of sea and sand, make a beeline for the Albanian Riviera – known locally as Bregu. This 120km-long (about 75 miles) section of sand-swept, sparkling coastline stretches from the 6th century BCE city of Vlorë on the Ionian Sea to the Ksamil archipelago, a cluster of islands just a stone's throw from the Greek border.
Whether you love well-equipped beaches with cocktail bars and sunbeds or prefer off-the-beaten-track strips of sand where you'll need to bring your own supplies, here's our expert pick of beach resorts for a budget break in Albania.


Dhërmi
Best for party animals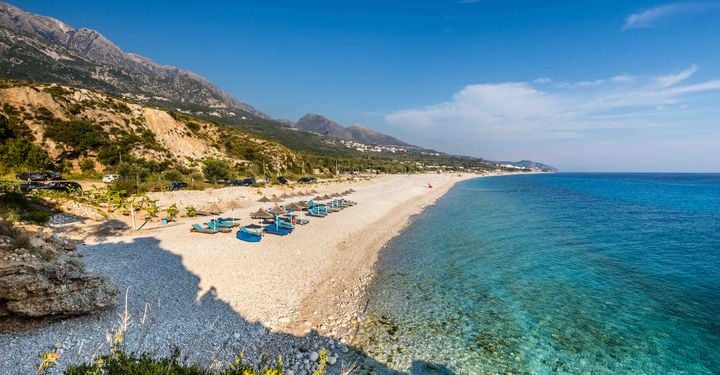 A spectacular-but-scary hour's drive from Vlorë, Dhërmi is one of the Riviera's most popular beaches: once you've seen that snow-white expanse of pebbles backed by high cliffs and lapped by mirror clear waters, you'll understand why.
A big hit with Victorian literatis, including Lord Byron whose time here inspired one of his most famous poems, these days dazzling Dhërmi is a magnet for party animals who come here to stay in a string of chic hotels, eat in ritzy beachfront taverns and hang out at one of the many live music festivals that are held here each year.
Dhërmi is also one of the Riviera's longest beaches – if you prefer peace and quiet you'll find plenty of hidden coves further along the coast.


Drimadhë
Best for snorkelling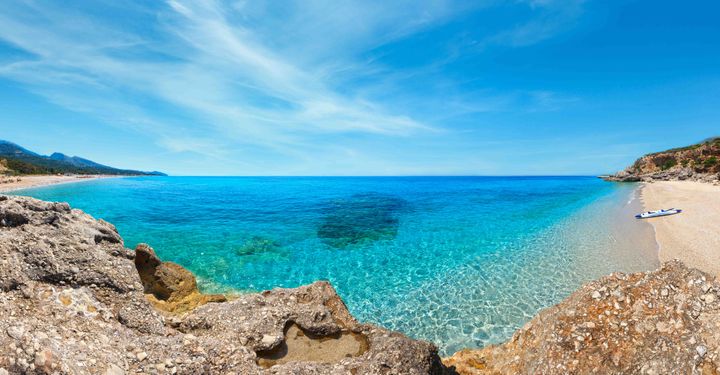 Reached via snaking mountain roads, Drimadhë has not one, but two pebble-studded sand-strewn beaches linked by an arched doorway in a crumbled stone wall.
A chilled haven for off-the-beaten-track sunseekers on a budget, this tiny seaside town has a handful of great-value boutique hotels and campsites, along with a string of family-run local taverns serving traditional lamb and yoghurt tava e kosit, oven-baked fish tave peshky and other traditional dishes for pennies.
Make sure to bring flippers and a snorkel – the pristine, fish-filled waters here are perfect for snorkellers – and don't miss its spectacular sunset over the inky-blue Adriatic Sea.


Himarë
Best for families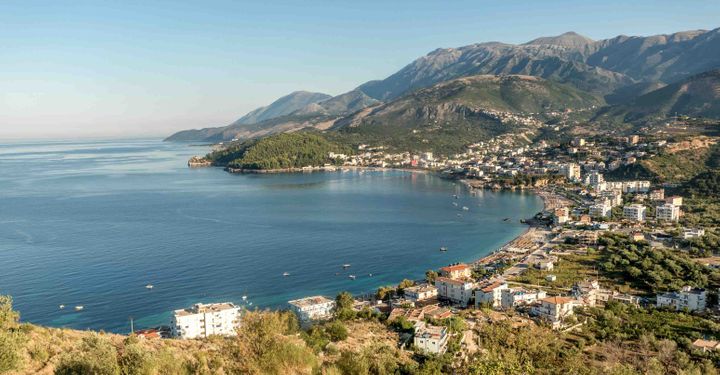 Tucked in a fold of the dramatic Llogara Pass, handsome Himarë has the largest Greek community in Albania, so it's hardly surprising that some of that Hellenic charm has lingered here.
Known as 'the heart of the Albanian Riviera', this lovely city coiled around an old town also gazes out over some of the region's best beaches. From sleek beauties with balmy waters and sugar-white sands perfect for toddlers, to secluded pebble coves backed by silvered olive groves where older children will love to snorkel, Himarë is a paradise for families.
With accommodation ranging from backpacker's hostels to bijou seafront hotels, there's also something for every budget. It's worth noting that Himarë's beaches tend to get crowded in high season – instead, stroll along the seafront to Livadi's pebble beach fringed with dazzling turquoise waters where you can splash about in peace.


Ksamil
Best for an off-the-beaten-track adventure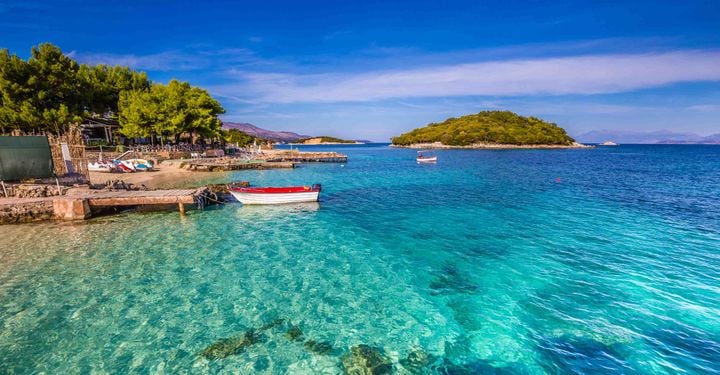 A pebble's throw from the Greek border (so close that you can see the purple hump of Corfu just opposite), Ksamil town's seafront is lined with bustling tavernas and busy beaches.
If you want to laze on sands that wouldn't look out of place in Pirates of the Caribbean, however, hop on a boat (or hire a pedalo) and explore the bone-white beaches and shimmering fish-filled waters of Ksamil's four uninhabited islands.
After your sun-soaked day as a castaway, head back to civilisation – aka Ksamil's seafront – to sip cocktails and enjoy the lively nightlife vibe. Or, go out of season in June or September to have those beaches (almost) all to yourself.


Borsh
Best for wilderness fans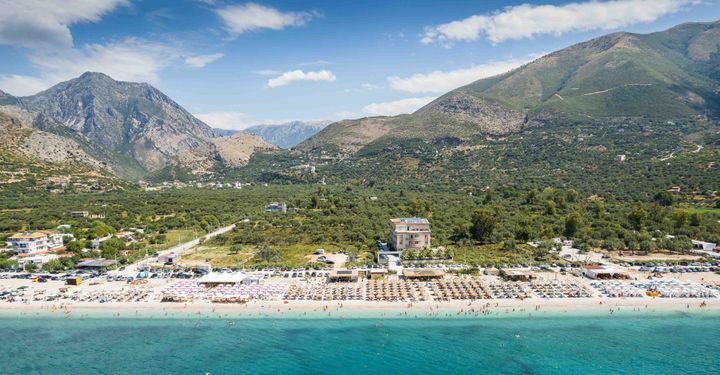 Framed by the ruins of its spectacular medieval castle and famed for its mineral-rich olive oil, beautiful Borsh is reached via a picturesque coastal road that's guaranteed to inspire instant FOMO on your instafeed.
Despite being Albania's longest beach, this 7km (4.3 miles) stretch of pebble-strewn seashore backed by forested hills and silvered olive groves is still well off most travellers' radars. Don't expect much in the way of shops here either: apart from a handful of hotels and taverns along the beach, the mosques and minarets of Borsh village sits several kilometres back from the seafront.
With an increasing number of international music festivals – including the three-day South Outdoor festival – held here in summer, this resort is becoming increasingly popular. Go now before everyone else does.


Gjipe
Best for a budget break without the crowds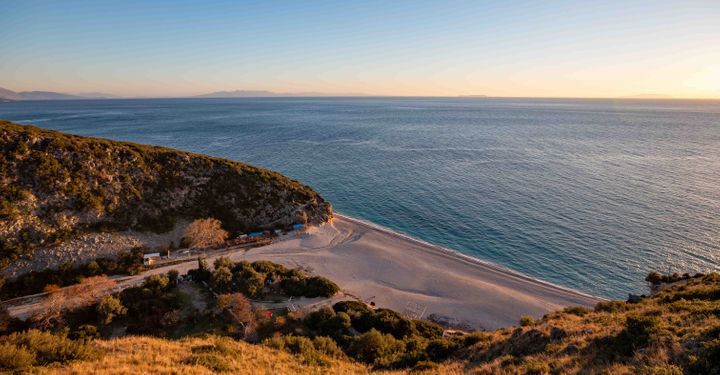 Spilling in a slew of golden sand from the narrow gap in a tree-furred gorge, Gjipe's dreamy beach is a stiff hour's trek from the nearest road, but it's well worth the effort to reach this glorious scenic plazh, which is one of the Riviera's finest.
Apart from a few food shacks selling drinks, brine-fresh seafood and snacks, there's little in the way of sustenance here, so if you plan to spend the night – as most people do – make sure to bring your own food and water.
If you don't have your own tent, there's a small (very cheap) campsite inside the gorge where you can hire a hammock or a pre-pitched tent.


Good to know
Albanians are proud of their ancient code of honour, known as besa. For travellers, besa means that, as long as you respect local ways, you can expect to be treated with immense kindness wherever you go.


How to get to the Albanian Riviera
You can reach Vlorë, the gateway to the Albanian Riviera, in around three hours by bus from Tirana International Airport. Single fares cost 1,000 lek (around £8). Wizz Air, British Airways, easyJet, Albawings and Air Albania all run direct summertime flights to Tirana from London airports. Flights take approximately three hours.
A number of ferry companies (including Finikas Lines and Ionian Seaways) also link Corfu with the seaside Albanian town of Saranda, close to Ksamil. Journeys take between 30 minutes and an hour and can cost as little as £35pp one way in summer.
*Prices taken from numbeo.com on June 2, 2023 and were accurate at time of writing.


Have a comment or question about this article? You can contact us on Twitter or Facebook.