October 11, 2021
Ibiza's underrated little sister, the small island of Formentera remains blissfully unspoiled, with beaches so beautiful they rival anything you'll find in the Caribbean.
From uninhabited islets ringed with powder-white sand to peaceful pine-baked bays lapped by impossibly clear waters, the diversity and natural beauty on offer makes a holiday in Formentera worth the ferry ride. To give you a little taster of what to expect, we've rounded up the best beaches on the island.


1. Ses Illetes: Best all-rounder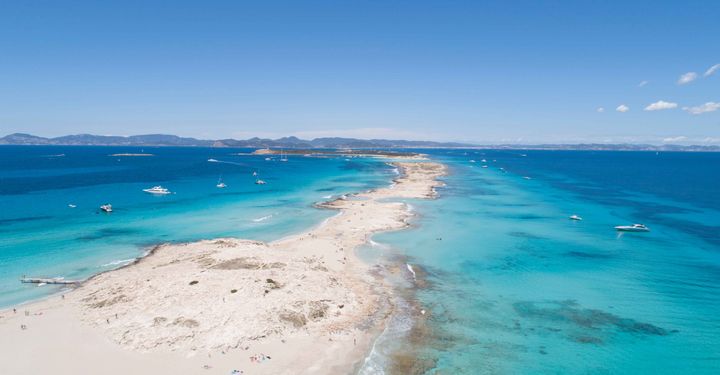 No list of Formentera beaches would be complete without Ses Illetes. Consistently ranking among the best beaches in Europe, these white sandy shores really do live up to their reputation.
A 1.5km-long (0.9 miles) peninsula which stretches out to sea, with brilliant aquamarine water either side, the beach definitely feels more Caribbean than Iberian. You won't find much in the way of facilities here, but that's part of the charm, and there are still a few beach-shack style restaurants where you can grab some lunch.


2. Playa de Llevant: Best for sunbathing as nature intended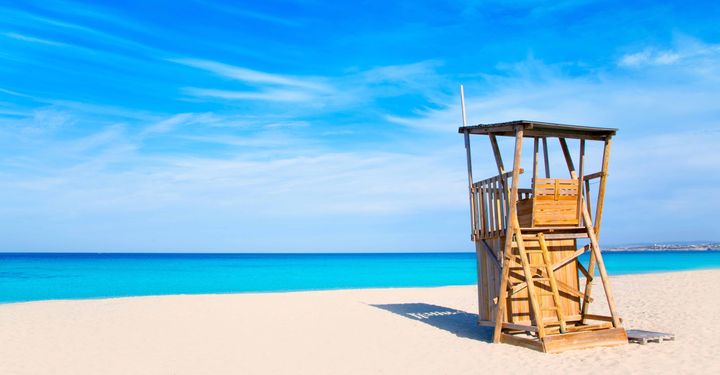 Just across the dunes from Ses Illetes, you'll find the wilder, but no less wonderful, Playa de Llevant. Because of the beach's remote location (far out on the Trucador Peninsula), the winds can be pretty strong here, creating great waves for surfing and a much quieter vibe compared to others on the island.
The sand is soft and white and, if you're not fazed by a little wind (and the odd nudist), it's one of the most unspoiled and picturesque beaches in Formentera. Well worth a visit.


3. Espalmador Island: Best for tranquillity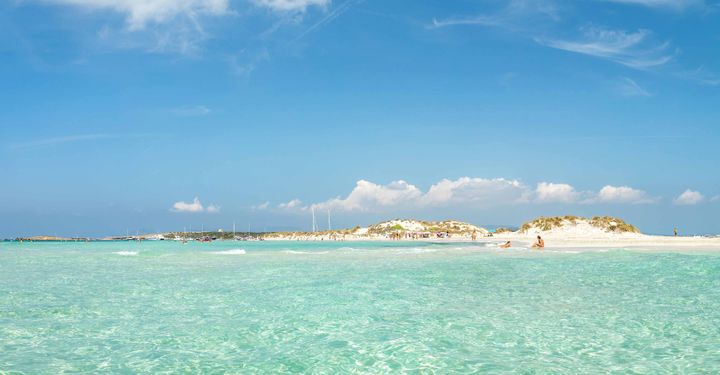 The tiny, uninhabited Espalmador Island lies just off the north coast of Formentera and is arguably one of the most serene and magical beach spots in Europe. There are actually several beaches fringing the island (which can only be reached by boat), so set off early and there's a good chance you'll find a spot all to yourself – at least for a few hours, anyway.
Given Espalmador's remote location there are no shops or restaurants, so make sure you take sun cream and a picnic, then settle in to watch boats moor up in the bay as others join you on the island's pristine shores.


4. Playa de Migjorn: Best for long beach walks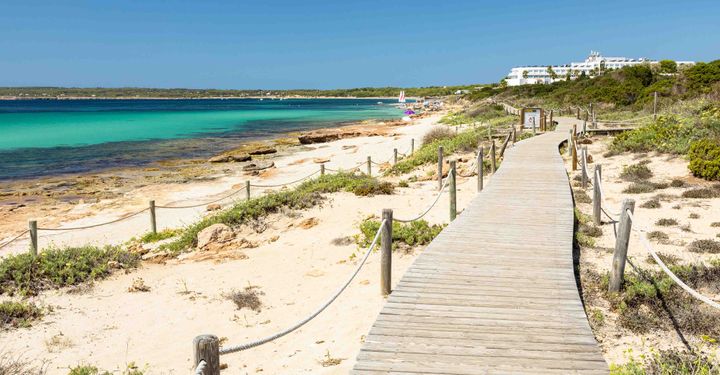 Skirting along the south coast of Formentera, the 5 sandy kilometres (3 miles) of Playa Migjorn beach are some of the best on the island.
Compared to some of the more remote beaches on the island there's a handful of beach bars and restaurants, while Migjorn town is also nearby. Plus, access is quick and easy, and thanks to the beach's sheer size, it never feels overcrowded, even in the height of summer.


5. Es Pujols: Best for easy access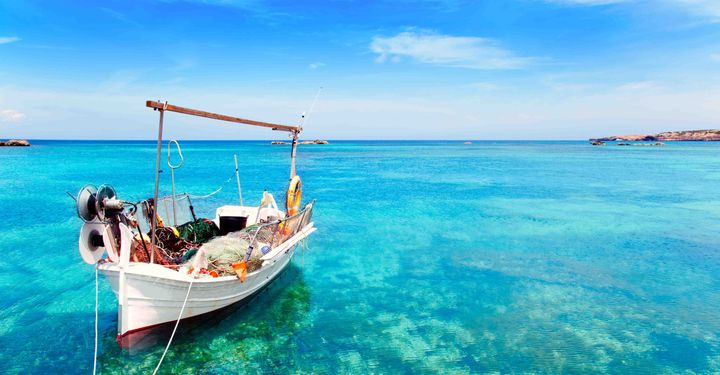 If you're looking for a beach with a little more of an atmosphere and plenty of facilities, Es Pujols is a great choice. As the only real tourist resort on the island, Es Pujols is full of restaurants, bars and a few hotels. But, given you're in Formentera, it's all still pretty low key.
The beach itself is surrounded by little fishing boats, with white sandy shores, clear water and a laidback village vibe – albeit with plenty of people bustling around.


6. Caló des Mort: Best for romance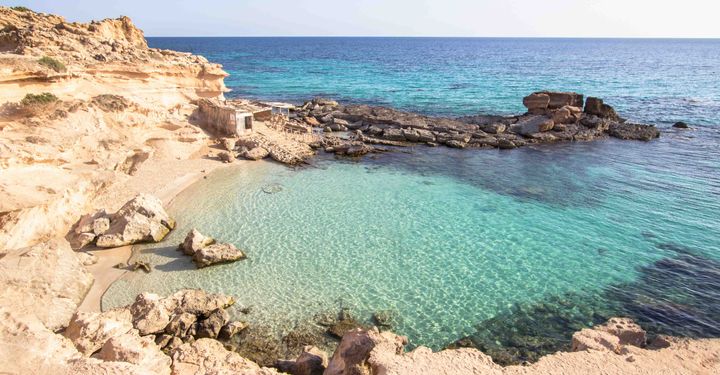 More of a cute cove than a proper beach, Caló des Mort offers something a little different to the other Formentera beaches. Found in the south of the island, the cove is part of Migjorn Bay, where the coastline is particularly dramatic, with rugged rocky outcrops and steep cliffs towering over the sea.
If you're willing to forgo the comfort of a sandy spot to lay your beach towel, you'll be rewarded with stunning views and crystal-clear waters – so make sure you bring your snorkel and a camera.


7. Cala Saona: Best for families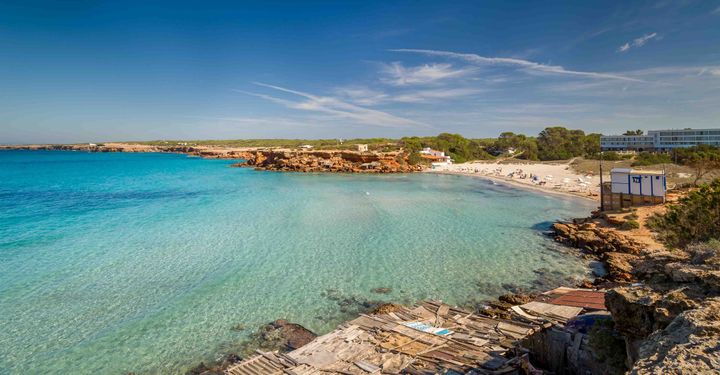 The number one beach choice for families in Formentera, Cala Saona is blessed with warm shallow waters and soft sand aplenty. As well as being quite safe for those travelling with younger children, the beach also happens to be pretty beautiful – with rust-red cliffs contrasting the turquoise water and a swathe of lush pine backing the beach. There is a lively local beach bar serving drinks and snacks, and a nearby hotel, which is popular with families, too.


8. Es Cavall d'en Borras: Best for sunsets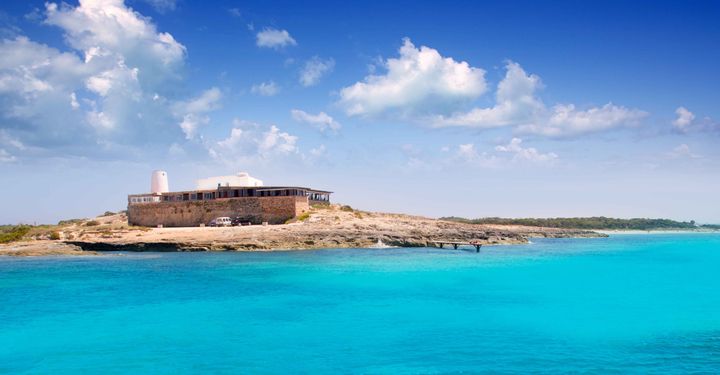 The closest beach to Formentera's La Savina Harbour, Es Cavall d'en Borras is one of the busier beaches – especially at sunset, when it enjoys the best views on the island.
From the powder-white shore, you can admire views across the Mediterranean over the small uninhabited islands of Es Vedrà and Es Vedranell – with a smattering of small boats framing the view in the foreground. In the heat of the day there are plenty of pine trees to shade underneath and as the light fades, two popular local beach bars kick off the livelier atmosphere in time for sunset.


9. Ses Platgetes: Best for snorkelling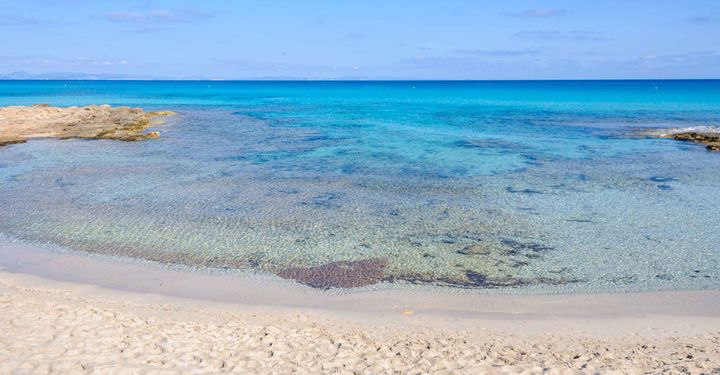 Along the untamed north coast of the island, near to the small port village of Es Caló, you'll find three small beaches separated by rocks and dunes – these are known as Ses Platgetes.
For snorkellers, the area is widely known as one of the best spots in Formentera, thanks to the sheltered rocky inlets and coves that are home to all manner of colourful Mediterranean fish.
There are no bars or restaurants right on the beach, but a series of wooden walkways lead up to Es Caló village, where there is parking, some particularly good seafood restaurants and a few little shops.


Have a comment or question about this article? You can contact us on Twitter or Facebook.