9 of the best beaches in Ibiza
October 11, 2021
Famed for its spectacular nightlife, clifftop views and glamorous hotels, there's no doubt that Ibiza has plenty to get excited about. Throw in the island's many beautiful beaches, and you've got all the ingredients for an unforgettable holiday.
From rocky sheltered bays to long sandy stretches, we've rounded up some of the best places to lay your towel.


1. Benirrás: Best for sunsets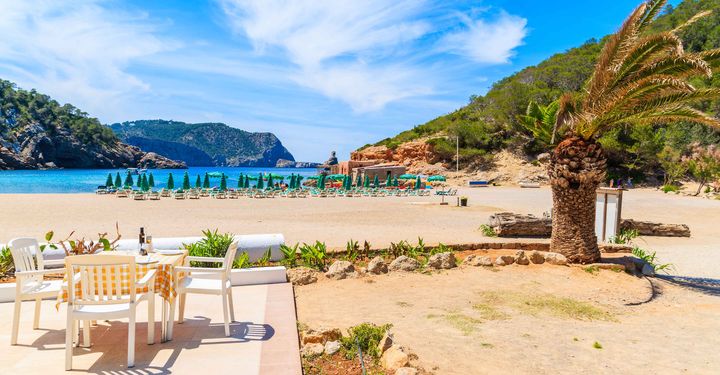 Chilled bohemian vibes and unspoiled setting make this small cove a top choice for a taste of the alternative Ibiza. Stay for sunset on a Sunday and experience the special weekly ritual, where bongo drummers, locals, and tourists gather to watch the sun drop below the rock of Cap Bernat.
During the day, you can stretch out on the white sand and admire the contrast between the fragrant pine trees lining the cliffs and the warm turquoise water lapping the shore.


2. Cala Bassa: Best all-rounder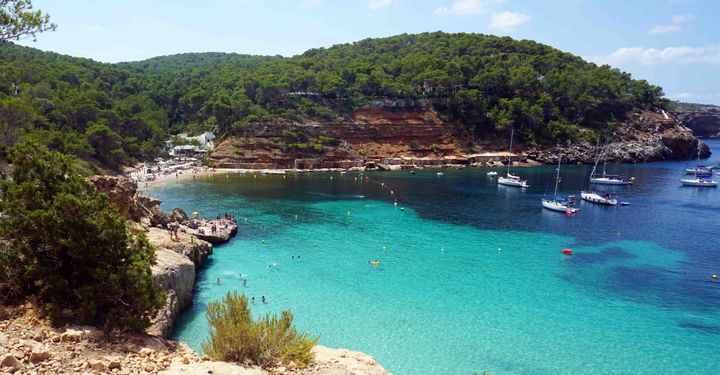 Cala Bassa is one of those beaches that really has it all. Not only are there several watersports to try, but there is also a beach club that offers just about anything you could need – with boutique shops, boho bars, four restaurants, a snack bar, and even beach massages, Cala Bassa Beach Club is your one-stop destination for an epic day at the beach.
This is also one of the few beaches on Ibiza with easy access – wooden walkways line the sand, making it possible for prams or wheelchairs to get close to the shore.


3. Ses Salines: Best for partygoers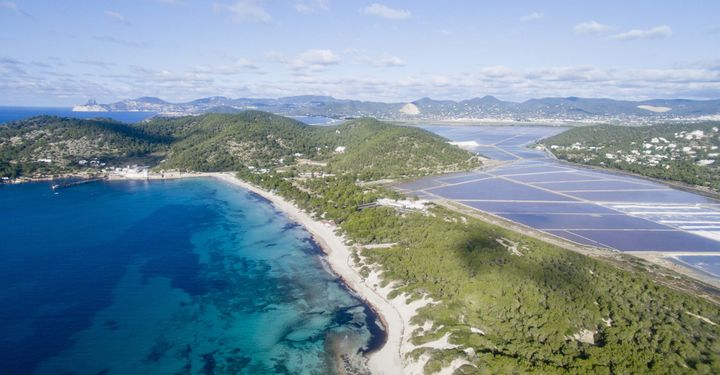 As part of a nature reserve, the long sandy shores of Ses Salines remain blissfully unhindered by development, but that doesn't mean they don't get busy. In fact, this is one of Ibiza's most popular beaches and it has become something of a pre-party destination thanks to the cool beach bars nearby.
A pine-backed beach of gently rolling sand dunes, and soft golden sand, it's also one of the prettiest. No surprise then, that Ses Salines is the go-to Ibiza beach choice for so many.


4. Talamanca: Best for activities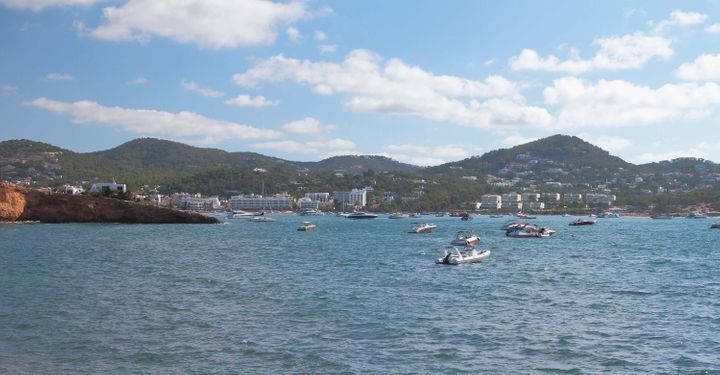 Just outside of Ibiza Town and right next to the cruise ship port, Talamanca is in prime position for easy beach access, and you'll find both locals and tourists catching rays on the sand.
The long, wide beach curves 900m (around half a mile) around the coast and is backed by bars, restaurants and shops – so you can be sure you'll have everything you need within easy reach. Even better, if you like to stay active on holiday, this is the beach for you, as there is a full range of watersports and several beach volleyball courts.


5. Cala Xuclá: Best for snorkelling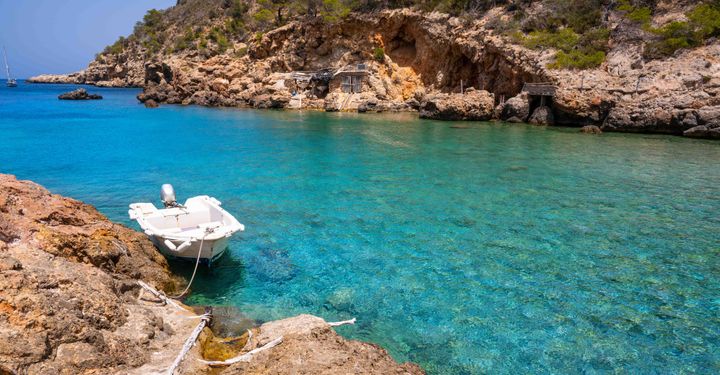 Truly unspoiled and a welcome escape from the party atmosphere you'll find on several of Ibiza's other beaches, Cala Xuclá is a tiny horseshoe shaped bay surrounded by pine trees and old fishing huts.
Bring your snorkelling gear as the rocky shore and deep, crystal-clear water make this one of the best spots on the island to spot colourful fish, crabs, stingrays, lobsters and more.
Like the untamed underwater world, the beach is left as nature intended, so make sure you come prepared with water, snacks and sun cream, as the secluded location means there are no shops or restaurants nearby.


6. Cala Jondal: Best for a special occasion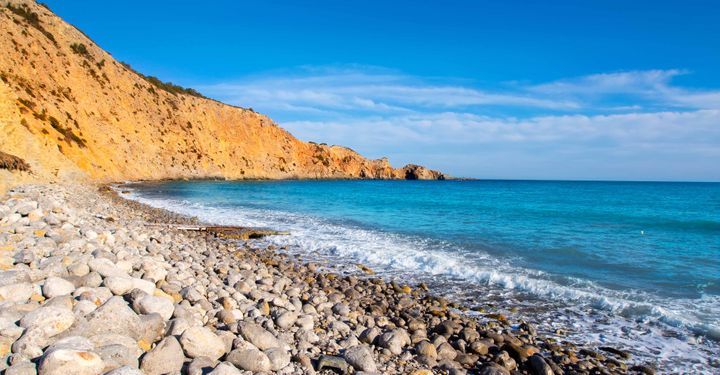 If you're hoping to spot a celebrity on your Ibiza holiday, Cala Jondal is the beach for you. This small cove is made up of huge sea-polished pebbles and is backed by dramatic rocky cliffs, giving it a wild and mystical feel that, along with the famous Blue Marlin beach club, attracts the rich and famous all summer long.
If you're looking to splurge for a special occasion, bag a white-leather beach bed and kick back with a cool cocktail as you watch super yachts pull up to the shore. Then, when the heat of the day gets too much, choose one of the upmarket beach restaurants for lunch of fresh fish and champagne, eaten overlooking the turquoise sea.


7. Cala d'Hort: Best for photographers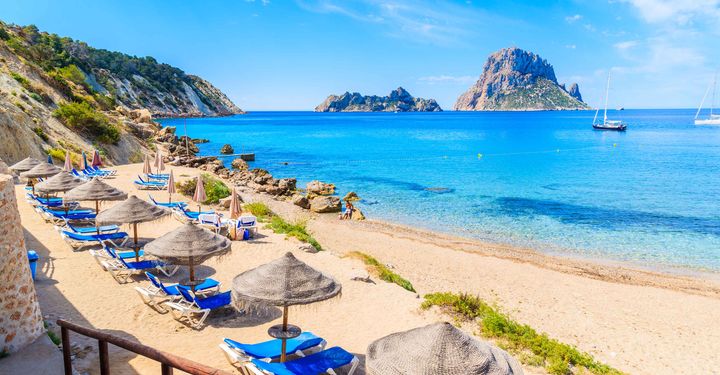 Ibiza sights don't come more iconic than the 400m-tall (1,312ft) Es Vedrà rock island that watches over Cala d'Hort beach. Legend has it the rock has spiritual powers, and it has become a must-see sight on the White Isle.
As well as being the best spot to see Es Vedrà, Cala d'Hort beach happens to be pretty lovely, too. Dive into its clear waters for awesome snorkelling, sink your toes into its soft golden sand and stop for dinner at nearby seafood restaurant, Es Boldado, for a clifftop meal with a view.


8. S'Arenal Gros at Portinatx: Best for families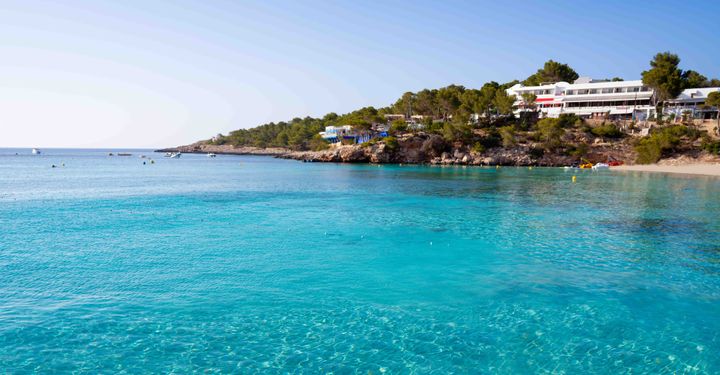 The laidback resort of Portinatx, on Ibiza's north coast, is one of the best places for family holidays on the island, in part for the quieter atmosphere, but also because of the three tranquil beaches.
S'Arenal Gros is the largest of the three, with flat white sand, a few restaurants and beach umbrellas. Alternatively, S'Arenal Petit is a smaller version but without the facilities, while Playa Porto cove shares its waters with charming little fishing boats and is overlooked by a scenic lighthouse.


9. Ses Figueretes: Best for easy fun in the sun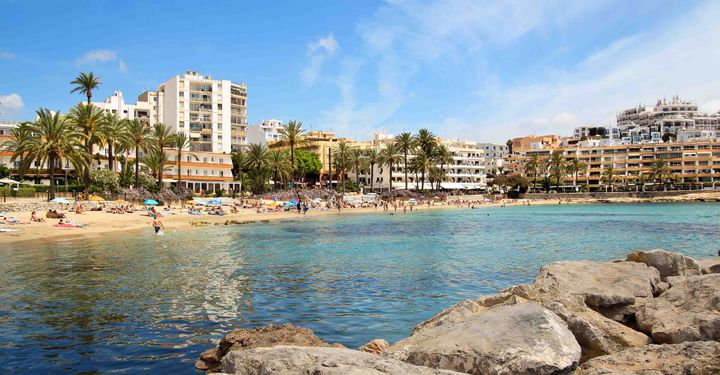 Just a 20-minute walk from Ibiza Town port and old town, Ses Figueretes is the go-to beach base for tourists and locals in the capital. Long, wide and bordered by a promenade that comes to life at night, the beach here is a world away from the smaller coves and bays elsewhere on the island.
If you're looking to escape the hustle and bustle of Ibiza Town, you can't go wrong with a day on the sand in Ses Figueretes – ideally spent paddling in the warm shallow waters, eating at one of the many restaurants, and strolling along the promenade with an ice cream in hand.


Have a comment or question about this article? You can contact us on Twitter or Facebook.