Where to stay in Ibiza for all types of travellers

September 11, 2018
By Elly Earls
It might be the super clubs, the private yachts and the expensive villas that tend to hit the headlines, but a holiday to Ibiza doesn't have to involve either splashing a huge wad of cash or partying every night until dawn.
While the island's spectacular scenery and magical sunsets make it an ideal destination for romantic getaways, its ubiquitous beaches and water sports mean families are never short of activities either.
There are also many quiet resorts hidden away in the mountains and on off-the-beaten track parts of the coast, as well as a wide range of affordable hostels and hotels for travellers on a shoestring budget. Of course, if you're heading to Ibiza for the clubs, there's no shortage of options either, as we explain in this handy guide on where to stay in Ibiza for all types of traveller.

Where to stay in Ibiza for families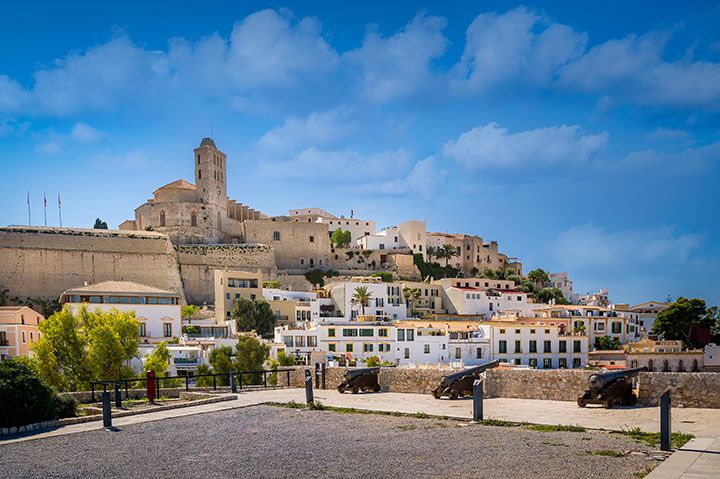 It might not be the first destination that comes to mind for a family holiday, but Ibiza is surprisingly kid-friendly, with resorts like Santa Eulalia on the East Coast, Portinatx in the north and Santa Gertrudis smack bang in the middle set up particularly well for families.
While Portinatx is all about the beaches and water sports, you'll feel almost like a local in Santa G, where yummy mummies and their sprogs spend their days in pretty playgrounds or sitting in one of the many al fresco cafes that line the town's charming central square.
Meanwhile, Santa Eulalia has it all – its long stretch of sand is teeming with kids' activity options, its squares double as play areas and it's just a stone's throw from Es Canar and Cala Llonga, both of which are also great for children with their beaches, playgrounds, amusement parks and family-friendly restaurants and hotels.
Where to stay in Ibiza for couples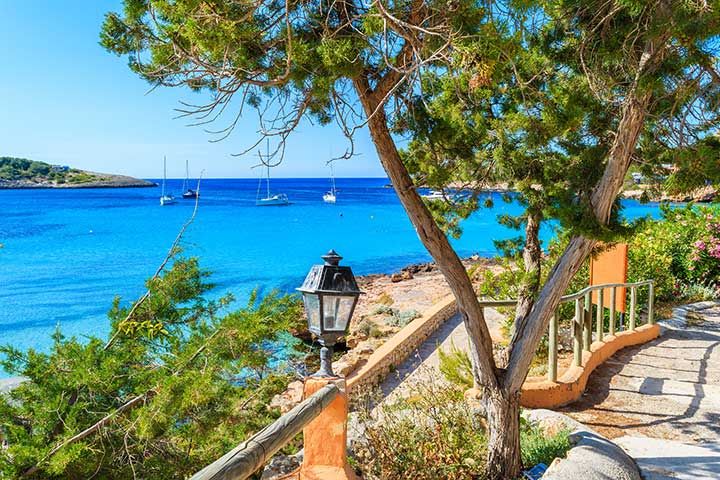 Spectacular sunsets, beautiful scenery and an excellent selection of restaurants and bars make Ibiza the perfect destination for a romantic getaway.
For those who want to be near the action, both the Gran Hotel Montesol in the centre of Ibiza Town and Nobu Hotel Ibiza Bay on neighbouring Talamanca beach are great for couples.
While Montesol is an elegant mix of art deco and colonial style and feels more like New York than Ibiza, Nobu is beach chic personified, with its comfy poolside beds, light, bright, contemporary rooms and selection of beachfront dining options, including Nobu Matsuhisa's signature Japanese fusion restaurant, with an Ibizan twist.
More peaceful but equally romantic options include Atzaro, a rustic luxury agro-turismo and spa surrounded by orangeries and known for its organic homegrown cuisine and calmer-than-calm ambiance, and Hacienda Na Xamena, which is cut into a cliff in the north west corner of the island and is best known for its Cascades spa, a series of heated outdoor thalassotherapy pools linked by waterfalls, and its spectacular ocean views.
Where to party in Ibiza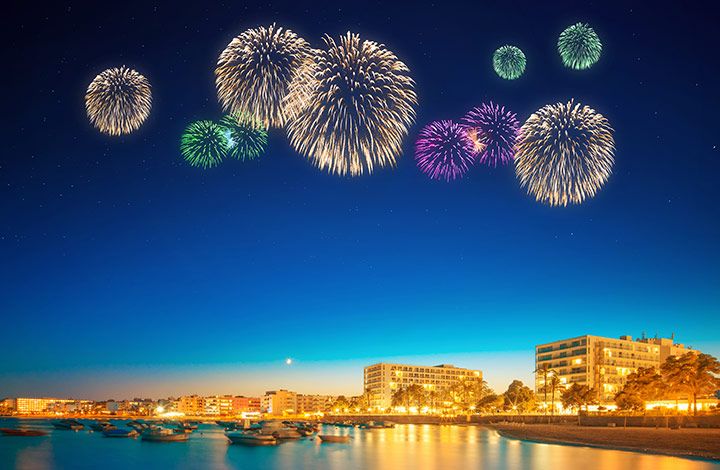 Ibiza's legendary clubs are scattered all over the island, but the greatest concentrations are in the San Antonio, Ibiza Town and Playa d'en Bossa areas.
Both Hard Rock Hotel and Ushuaia Ibiza Beach Hotel in Playa d'en Bossa host their own parties and are close to Hi (previously Space), where popular nights include Glitterbox – think uplifting house and flamboyant performers – and Cream Ibiza, one of the island's longest running events.
Meanwhile, the big clubs in San Antonio are Es Paradis and Eden, as well as open-air pool party venues Ocean Beach Ibiza and Ibiza Rocks. And just a short drive out into the countryside is the legendary Pikes Hotel, a 500-year-old converted farmhouse, where anything goes and famous guests have included George Michael, Grace Jones and Freddie Mercury.
Popular parties at Ibiza's original club Pacha are F*** Me I'm Famous, Flower Power and Solomun, while a newer addition to the clubbing scene – HEART Ibiza – fuses electronic music nights with Michelin standard cuisine from the Adria brothers and Cirque du Soleil performances. Destino Pacha Resort, which is just off the beaten track in Talamanca, is a laidback luxury resort, which also plays host to big name DJ events.
Quiet resorts in Ibiza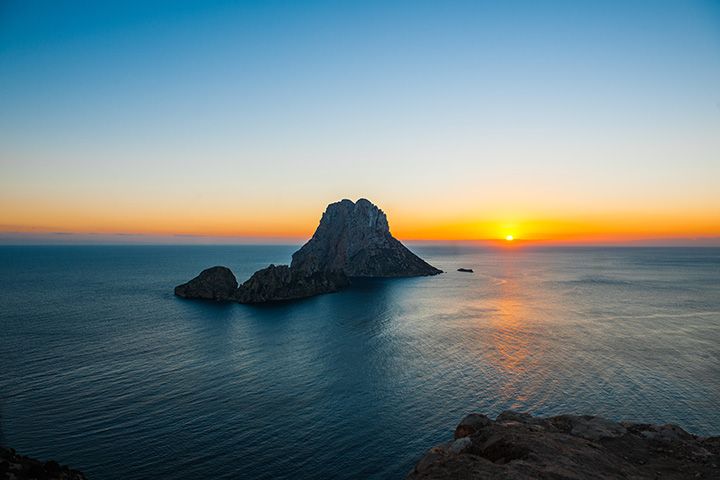 There are no shortage of options for peace-seekers in Ibiza, many of them within spitting distance of the island's busiest towns.
Just 3km outside San Antonio lies luxury hideaway Hostal La Torre, which boasts some of Ibiza's most magical sunset views, best taken in from its terrace restaurant with a cava sangria in hand and a tapas platter on order.
Seven Pines Resort Ibiza, a new addition to Ibiza's hotel portfolio, is even more tranquil. Set on a cliff top surrounded by pine forests, it offers truly spectacular views of Ibiza's famous Es Vedra island, which is said to be the third most magnetic place on earth, after the North Pole and the Bermuda Triangle. The hotel's spa is also excellent – and there's a cocktail bar designed after a Pershing Yacht and complete with an outdoor fire pit.
Cheap resorts in Ibiza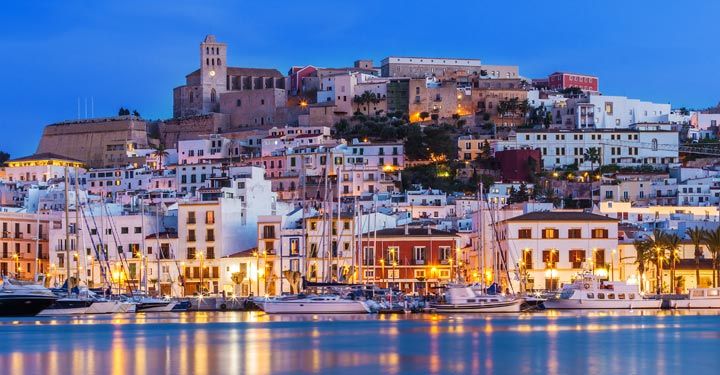 A holiday to Ibiza doesn't have to break the bank. As well as the many five-star luxury properties on the island are a wide range of much cheaper hostels and hotels.
With more than 30 hotels all over the island – from San Antonio to Playa d'en Bossa and Ibiza Town - the Playasol group has the affordable end of the chain hotel market pretty much covered.
Or for a more authentic Ibiza experience, there are hostals and affordable family-run hotels scattered all over. In Santa Eulalia, try charming C'as Catala, an adults-only hotel just a few moments from the centre of town, or in Ibiza Town, Hostal Parque occupies a prime position in one of the town's most popular squares, Plaza del Parque, and offers modern rooms as well as three rooftop aticos with private decked terraces.
Food-wise, the traditional pintxos bars in Ibiza Town, Can Terra and El Zaguan, serve great quality wine and Spanish snacks for next to nothing and the Menu Del Dia app will point you in the right direction for cheap lunches island-wide.
Have a comment or question about this article? You can contact us on Twitter or Facebook.