December 27, 2019
By Esme Fox
The Costa Brava is one of the most picturesque regions of Catalonia and quite possibly, the whole of Spain. It's a wild and rugged coastline, punctuated by quaint whitewashed villages which tumble down towards the sea, cute little sandy coves and secluded pebbly bays. It runs from the border with France all the way down to the town of Blanes, stretching for around 125 miles.
While the whole of the coastline is gorgeous, each town and village has its own personality and charm. Here's our pick of the best places in the Costa Brava for every type of traveller.


Cadaqués: Best for art lovers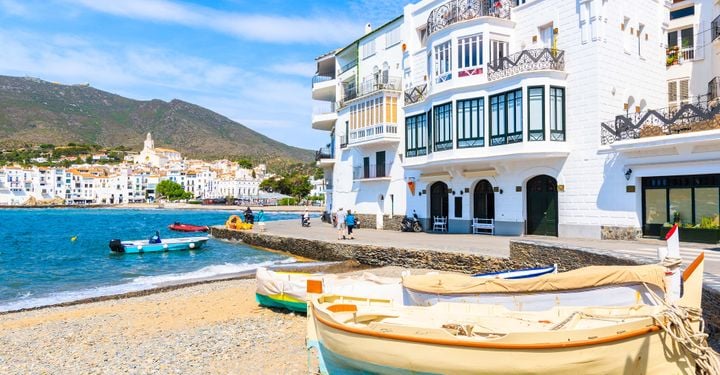 One of the most attractive towns in the whole of the Costa Brava, Cadaqués is in the very north of the country, close to the border with France.
A perfect picture-postcard place of whitewashed houses clinging to the sides of a curved bay, it's easy to see why Salvador Dalí fell in love with the area and built his summer house here. Visitors can see his quirky home in nearby Portlligat, which today is a small museum, as well as discover the Cap de Creus Natural Park that inspired much of his work.
Throughout the years, many other artists have also made Cadaqués their home and today, many small independent galleries and craft stores have set up shop here.


Roses: Best for foodies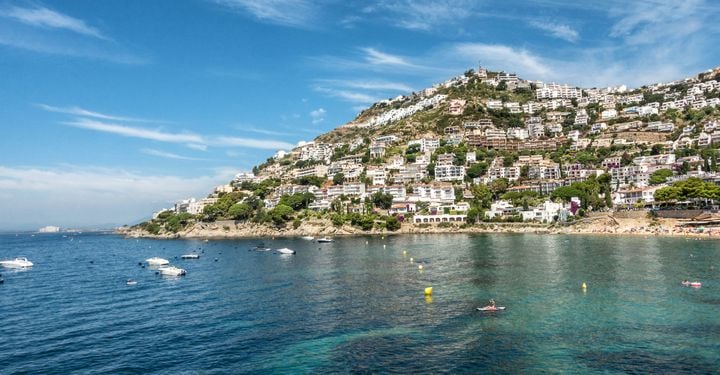 Just south of Cadaqués lies the town of Roses, the former home of five-time winner of World's Best Restaurant, El Bulli.
There's more than one reason why chefs Ferran and Albert Adrià chose this Costa Brava location. Firstly, because the waters around the coast of Roses is so deep, it's great for fresh seafood, particularly shrimps, lobster, langoustines and squid. Secondly, it's located within the Empordà wine region, producing rich full-bodied reds, fragrant whites and excellent sweet dessert wines.
El Bulli may be no more, but there are still at least six different restaurants in this small town that serve fresh catches delivered each morning.


L'Estartit: Best for divers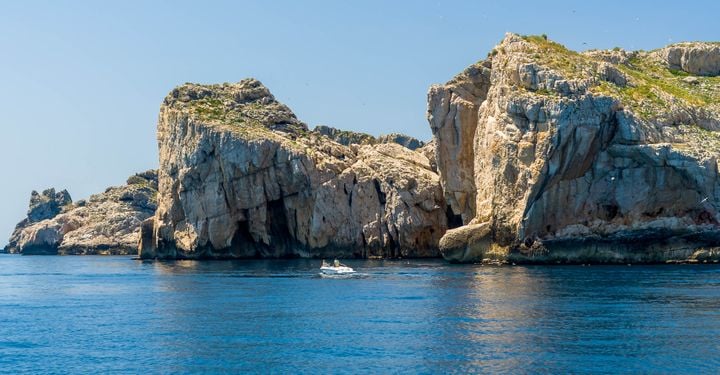 The Costa Brava is great for snorkelling and diving, but by far one of the best spots is the Illes Medes.
These small, uninhabited islets sit just opposite the resort town of L'Estartit and are home to a large array of marine life, from giant groupers and graceful eagle rays to schools of barracudas.
The town itself features a wide sandy beach, a range of accommodation options, a large marina, and many different dive centres.


Begur: Best for architecture lovers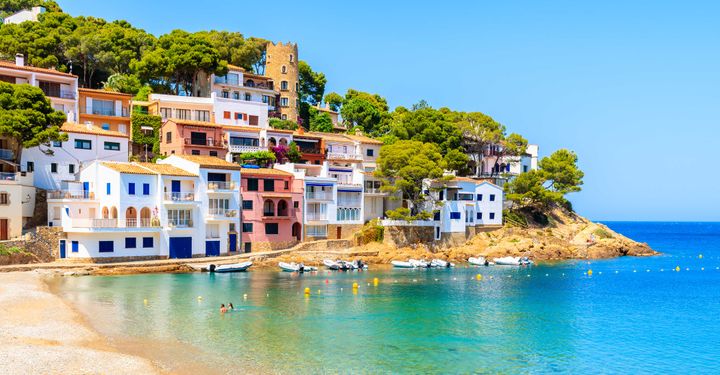 The town of Begur may not be located right on the coast, but it more than makes up for it in style and charm.
Sitting on a hilltop, topped by the ruins of an old castle, Begur is filled with grand architecture in ochre yellows, candy pinks, russet reds and sky blues. Its style borrows much from Cuba, where many locals fled to in the 19th century during a time of economic downturn. When they returned, fortunes made, they brought back Cuban styles and built many elegant mansions throughout the town.
But if castles, architecture and Cuban charm aren't quite enough for you, you'll also find the two stunning beaches of Sa Tuna and Aiguafreda nearby.


Tamariu: Best for nature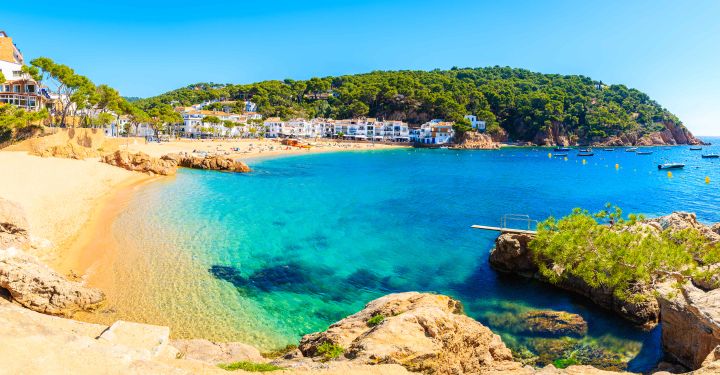 Further down the coastline, you'll find Tamariu, hemmed in by many small inlets, coves and rocky bays. The village itself offers a pretty crescent of golden sand, backed by whitewashed houses and the lush forest-covered clifftops above.
While the whole of the Costa Brava can be accessed by the Cami de Ronda hiking trail, the part around Tamariu is particularly spectacular. Take the path south and you'll reach the ancient Iron Age village of Sant Sebastia de la Guarda, as well as the Sant Sebastia lighthouse.
Hiking is not the only way to explore the area, however; there's also kayak rental from the beach, allowing you to explore the coves only accessible by water.


Llafranc and Calella de Palafrugell: Best for couples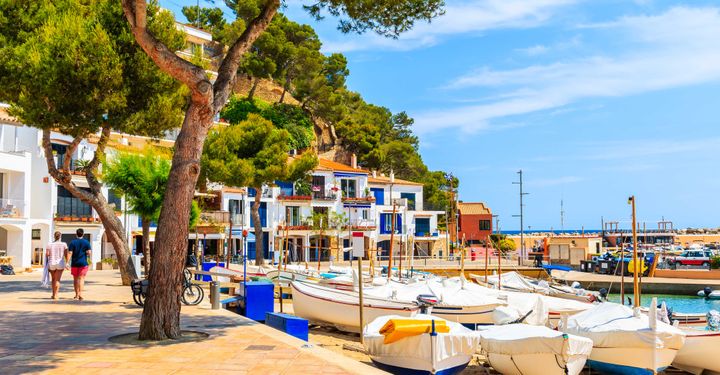 Just south of Tamariu lie the villages of Llafranc and Calella de Palafrugell. Elegant and scenic, they both offer chic boutiques hotels and gorgeous rental apartments, as well as waterfront restaurants for candle-lit dining.
Llafranc is built around a pretty sweep of sand, while Calella de Palafrugell offers four small separate beaches, hidden around coves. You can easily walk between the two towns in around 20 minutes along the beautiful Cami de Ronda coastal path, offering spectacular views.


Palamós: Best for facilities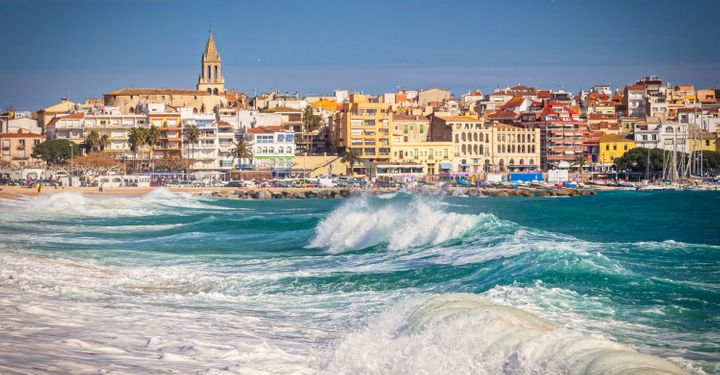 Palamós is a relatively large coastal town compared to many on the Costa Brava, meaning it offers a wide variety of affordable accommodation options and restaurants. There's also a campsite right near the centre of town. A long wide beach with lots of facilities is its main draw, but you'll also find fishing, cork and sculpture museums.
If you want to explore further afield, hire a car to drive to the nearby hidden beaches of Platja la Fosca and Platja de Castell.


Platja d'Aro: Best for families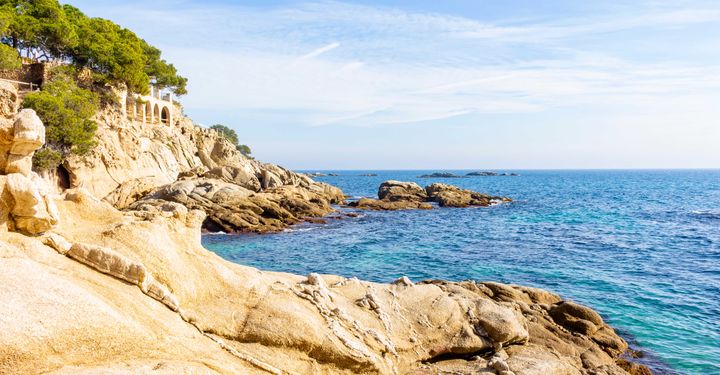 Platja d'Aro is a large and thriving resort town within a big urban area, and offers loads to keep everyone entertained. The town features an attractive old medieval centre, surrounded by modern high rises and hotels. It's fronted by Platja Gran, a vast sandy beach stretching for some two kilometres.
Besides the beach, there are two waterparks (try Aquadiver), a mini golf course, two adventure parks (Everest Costa Brava and Platja d'Aro Adventure Park), and there are ruins of four different castles nearby.


Tossa de Mar: Best all-rounder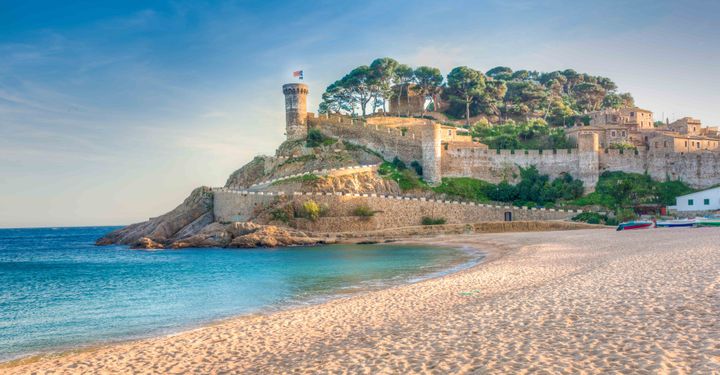 In the 1930s, French painter Marc Chagall dubbed Tossa de Mar a 'Blue Paradise'; today, Tossa still has all the makings of holiday heaven. There's a quaint old town with narrow winding cobbled streets, a modern quarter with large resorts and hotels and horseshoe pebble bay lined with bars and restaurants. A classic turreted castle, which remains almost entirely intact, completes the postcard.
The town was also a favourite with Hollywood glam girl Ava Gardner during the 1950s. Ava liked the town so much that today, her statue overlooks the bay.


Lloret de Mar: Best for nightlife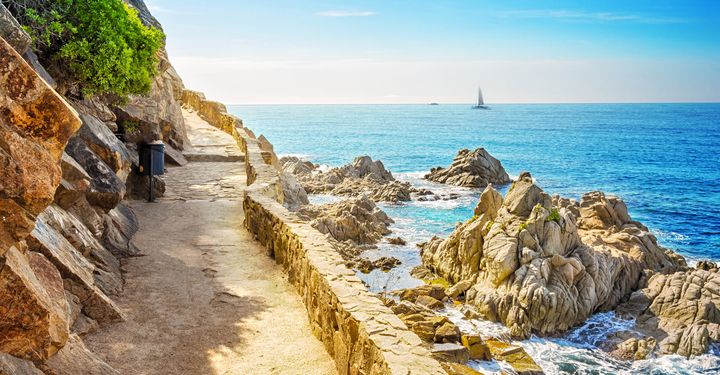 If sunbathing by day and partying by night sounds like your kind of holiday, consider Lloret de Mar.
Despite being one of the most built up resorts on the Costa Brava, Lloret de Mar doesn't want for natural assets – the town centre features a vast swathe of sandy beach on its doorstep. Further west are several smaller coves, including a nudist beach, and further still, you'll come to the more natural-looking beach of Santa Cristina, backed by forest.
When the sun goes down there's array of places to choose, from pumping discotheques and lively bars to elegant cocktail lounges and laidback pubs.

Have a comment or question about this article? You can contact us on Twitter or Facebook.