Covid-19 advice:
Where you can go on holiday | Check FCDO updates before you travel
Find out more
Free attractions, things to do and landmarks in New York

May 14, 2019
By Joey Tyson
Iconic skyscrapers, contemporary jazz, Chandler Bing… New York City is famous for a lot of things, but being cheap isn't one of them.
Luckily, the "city that never sleeps" is packed full of exciting free things to do. From marvellous art museums and stunning outdoor attractions to beautiful public buildings and instantly recognisable landmarks, New York City has plenty going on for the budget-conscious traveller.
So, take a bite out of the Big Apple without it taking one out of your bank balance with our round-up of free things to do in New York.

Free museums and galleries in New York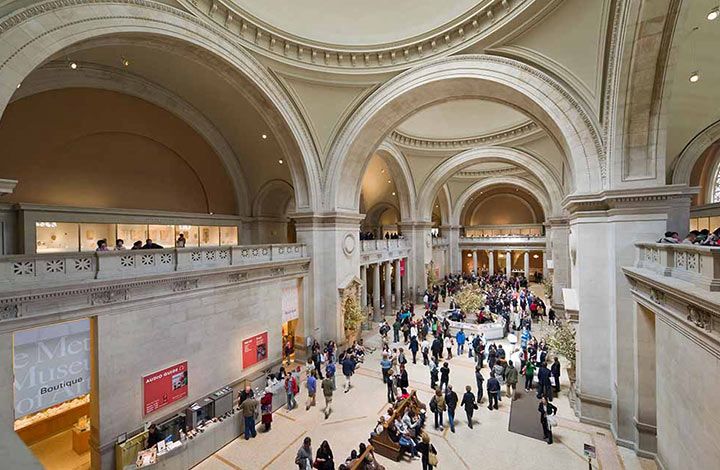 A hotbed of culture and art, New York has some of the best museums in the world at its finger tips. The Metropolitan Museum of Art (1000 5th Ave; 00 1 212-731-1498), and American Museum of National History (Central Park West & 79th St; 00 1 212-769-5100) are both officially free to enter – although many visitors pay the suggested ticket price, you can effectively pay what you can afford. Meanwhile, The Museum of Modern Art (11 West 53 Street; 00 1 212-708-9400) has free entry between 4pm and 8pm on Fridays – get there early, as it gets very busy around this time.
After free art? Trendy Chelsea has a high concentration of independent galleries dotted around. To find your way around, the handy Chelsea Gallery app shows you where the best ones are located.
Alternatively, the Brooklyn Museum (200 Eastern Parkway; 00 1 718-638-5000), a diverse collection of cultural and contemporary art, is free every first Saturday of the month between 5pm and 11pm.
Other interesting museums include The National Museum of the American Indian (Alexander Hamilton U.S. Custom House, 1 Bowling Green; 00 1 212-514-3700) and the American Folk Art Museum (2 Lincoln Square; 00 1 212-595-9533) – both are free to enter at any time.
Free outdoor spaces in New York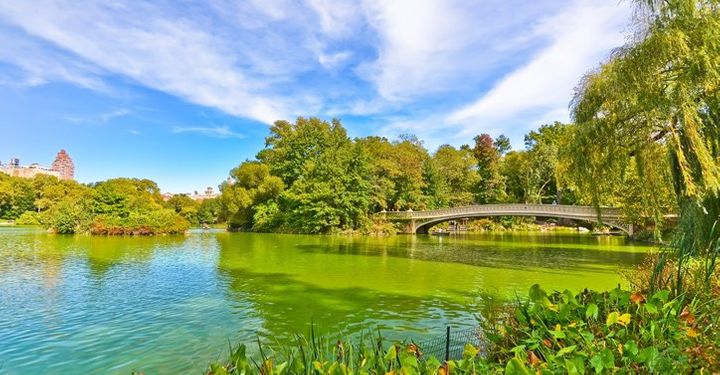 In any densely-populated city, green, outdoor spaces are crucial, as much for the sanity of its inhabitants, as for anything else. New York gets this and, with some of the best urban outdoor spaces in the world, it doesn't disappoint.
The Highline, loved by locals and tourists alike, is one of the city's greatest free attractions. An old, disused rail line turned gallery, park and creative space, it stretches 1.45 miles along Manhattan's west side, offering a unique perspective of New York.
Of course, no trip to New York is complete without a visit to the iconic Central Park, the city's sprawling lung. Much more than a tourist attraction, the park is heavily used by New Yorkers, desperate to escape the city. It's so vast (the whole park covers a whopping 843 acres), you could easily spend a whole day strolling around and still not even see half of it.
Central Park attractions include Cleopatra's Needle, Strawberry Fields and the Jacqueline Kennedy Onassis Reservoir, while during summer, there's even free theatre with Shakespeare in the Park. Local ball games take place regularly at the communal baseball fields too.
Another iconic New York attraction, the Brooklyn Bridge is a three-fold treat for thrifty New York tourists. Not only do you get a cracking view of the Manhattan skyline, the bridge itself – a marvel of engineering and one of the oldest roadway bridges in America – is a worthy spectacle in its own right. Finally, by walking from Manhattan to the Brooklyn side, you'll end up at the Brooklyn Bridge Park, a quiet urban stretch of green than offers yet more stunning views of the Big Apple.
The city also has a massive section of botanical gardens to choose from, with free admission at different times of the week. Brooklyn Botanic Garden (990 Washington Ave, Brooklyn; 00 1 718-623-7200) is free every Tuesday (and is always free for kids). New York Botanical Garden (2900 Southern Blvd, Bronx; 00 1 718-817-8700), is free every Wednesday and from 9am to 10am on Saturdays. Finally, Queens Botanical Gardens (43-50 Main Street, Flushing; 00 1 718-886-3800) is free on Sundays between 9am and 11am from April to October.
Another outdoor gem, the Socrates Sculpture Park (32-01 Vernon Boulevard, Long Island City, NY), is always free. Once an abandoned riverside landfill, the park was transformed into one of NYC's best free art attractions by a dedicated community group. If you're lucky, some days you can even get tours of the park from local artists.
Free landmarks in New York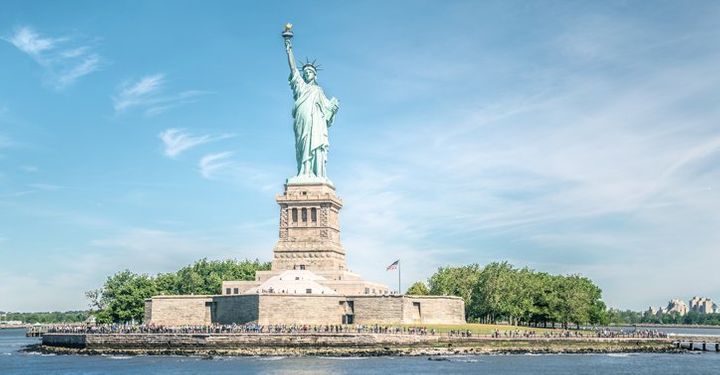 The Staten Island Ferry (Manhattan Terminal: 4 Whitehall Street) has been transporting New Yorkers to work and back for more than a hundred years. So what's so special about this commuter ferry? Well, it just so happens to go straight past the Statue of Liberty, giving passengers an incredible view of Lady Liberty for the princely sum of absolutely nothing. The view departing and coming back into New York isn't bad, either. The journey takes 25 minutes, departing every half an hour – but avoid rush hour.
Walls and walls of leather-bound books, huge stone lions guarding the entrance and a dazzling series of rooftop murals depicting a heaven-like sky – the New York Public Library (476 5th Ave; 00 1 917-275-6975) is not your average library. Only a few rooms are open to the public, so it doesn't take long to look around. One thing you'll notice is that the library is incredibly well used – be careful not to disturb those using its facilities when you visit.
A sombre reminder of a terrible atrocity, the Ground Zero 911 Memorial (180 Greenwich Street) is at once powerful and moving. The names of the fallen trace the edges of the Twin Towers' original foundations, while a never-ending fountain flows at the centre of each site. You might notice a red rose placed in some of the names – in an act of touching remembrance, this marks the victim's birthday. Be respectful, this is still very much a place of mourning for many.
Grandiose and elaborate, the zodiac ceiling of Grand Central Terminal's (89 East 42nd Street) cavernous main concourse has been welcoming travellers to NYC for over 100 years. It depicts 12 constellations, painted in gold leaf and LED lit, and, along with the famed opal clock and the Information Booth, it's the centrepiece of this magnificent station – well worth a visit even if you're not catching the train!
A vibrant community and foodie hotspot, China Town is a fascinating place to spend the afternoon. Every inch authentic, it's also home to the largest native Chinese population outside of Asia. And, in a city where steep eats often outnumber cheap eats, it's also an excellent place to get some grub on a budget.
While you can't go into the Flat Iron Building (175 5th Ave), its bizarre design has made it one of New York's most popular buildings. Its triangular design was considered a ground-breaking feat at the time of its construction in 1902.
Whether you're a history buff, an architecture geek or a bit of both, New York's City Hall makes for an interesting way to spend the morning. A lot of great names, from Einstein to Lincoln, have graced these halls with their presence, and you can add yourself to that list for free.
Times Square, New York's neon mass of advertising, is free to visit. It's worth a quick look just to see how many people converge in a place where there is actually very little to do.
Other free things to do in New York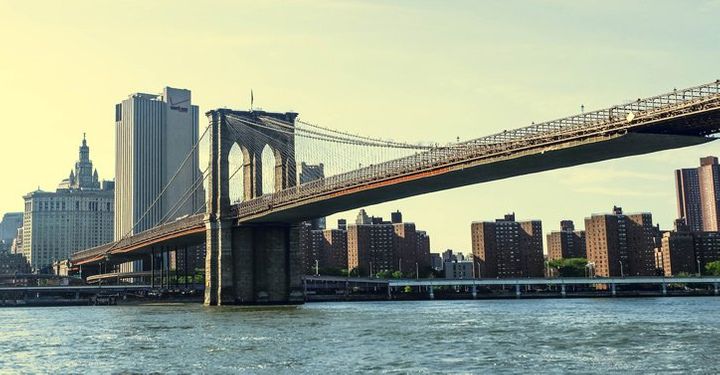 A great one for the little ones, Staten Island Zoo (614 Broadway, Staten Island; 00 1 718-442-3100), is free after 2pm on Wednesdays. Take the ferry over and see Lady Liberty while you're at it.
Not so good for little ones (unless they really appreciate the finer points of beer making) Brooklyn Brewery tours (79 N 11th St, Brooklyn; 00 1 718-486-7422) runs free tours of the brewery on weekends – although you'll have to pay a little if you want to taste the beer.
Fancy some urban kayaking? Well, you've come to the right city! BBP Boathouse (Brooklyn Bridge Park Greenway, Brooklyn) runs free kayaking sessions in full view of the Brooklyn Bridge, while the Down Town Boathouse (Hudson River Greenway) offers the use of free kayaks in the protected Hudson River embayments. Both are summer activities though – falling in the Hudson isn't too pleasant in the dead of winter.
Coney Island is New York's answer to Brighton, or some other classic British seaside town. Every summer, New Yorkers flock here to escape the heat, have a go on the rollercoasters and sample its famous hot dogs. Sure, the theme parks and rides cost, but strolling along the boardwalk is completely free.
Please note: All information was correct as of the time of writing. Always check with the attraction regarding terms of admission.
Think we've missed something? You can contact us on Twitter or Facebook and let us know!
Sign up. Be inspired. Travel.
Subscribe now for hand-picked holiday deals, inspiration and the latest travel tips, straight to your inbox.
We won't pass your details on to anyone else. By clicking the sign up button you agree to our Terms of Use and Privacy Policy.