One trip to New York City would never be enough to see it all – you could spend weeks there and barely scratch the surface.
Astoria, Queens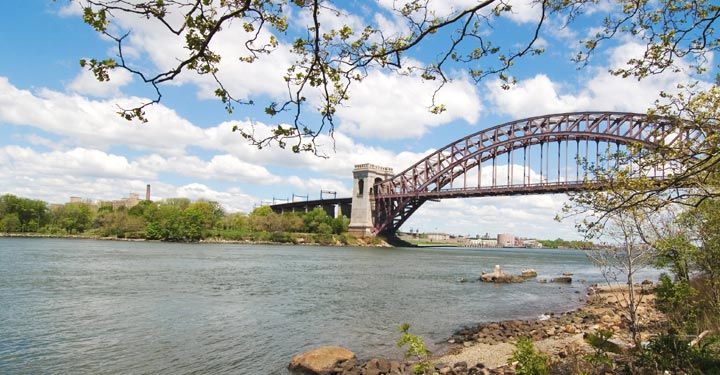 Queens often gets overlooked, but it's one of the best places to stay in New York and definitely shouldn't be missed. Astoria, just across the river from mid-town Manhattan, is one of the most colourful, thanks to the influence of its mainly-Greek immigrants – don't be surprised to hear Greek spoken on the streets as much as English.
Here you'll find great restaurants (try Ovelia for limitless mimosa brunch and Taverna Kyclades for the most authentic Greek food this side of Athens) as well as top-notch museums such as the Museum of the Moving Image, one of the best of its kind in the world (where else can you see an exhibition on The Muppet Show?), and the Noguchi Museum, which features many works by the famed Japanese sculptor.
After a bite to eat, meander through nearby Fort Trotten, an abandoned Civil War fort, or take the kids to Flushing Meadows Corona Park, the site of two World's Fairs. My favorite spot in Queens: Houdini's grave site at Machpelah Cemetery. It's spooky enough to appeal to fans of the macabre, but solemn enough to offer a moment of reflection.


Kensington, Brooklyn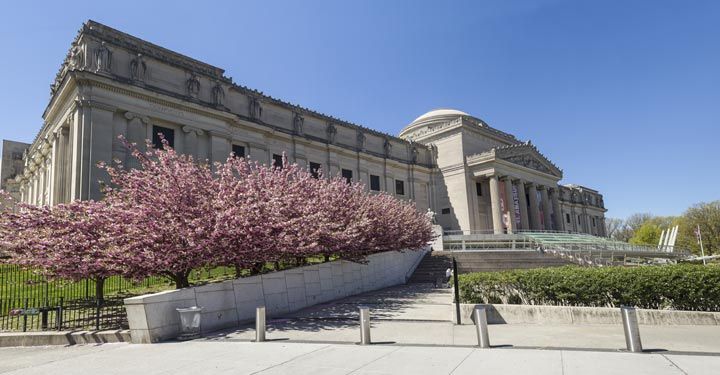 You might have heard of Park Slope and Brooklyn Heights, but further afield in Brooklyn lies an up-and-coming neighborhood that's filled with beautiful Victorian homes and friendly people – Kensington in Brooklyn lies on the southern end of Prospect Park and is worth staying in for its cosy establishments as well as access to some key sites.
You can spend all day in nearby Prospect Park, relaxing and watching locals play a quick game of soccer or baseball, but I'd suggest touring the grounds of Green-wood Cemetery. Here you can pay your respects at the graves of painter Jean-Michel Basquiat and conductor Leonard Bernstein, then afterwards enjoy a pint or two at hot spot Hamilton's, a gastropub teeming with locals willing to regale you with stories of New York's past.
If Italian food is more your thing, try Della on Prospect Avenue. This intimate restaurant has a limited menu but offers a well curated list of wine by the glass that will surely quench your thirst. Spend the evening walking through tree-lined streets featuring one Victorian after another – the locals are usually friendly, so don't be afraid to say hello, and with an influx of immigrants in recent years, don't be surprised to hear Bengali, Urdu, Russian or Polish on the same corner.


South Street Seaport, Manhattan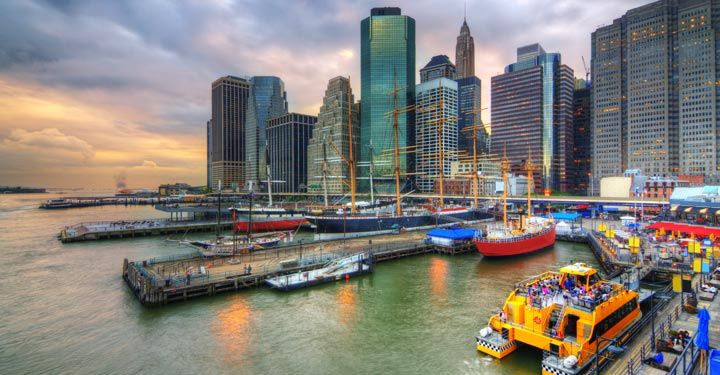 Although it may seem like a tourist trap, the South Street Seaport is worth a stay for its water views alone and yes, many locals choose to live here. It's lovely to stand under the fabled Brooklyn Bridge and gaze upon the East River on a warm summer day, but there's much more to see and do here than just that.
You can shop to your heart's content at many of the local businesses lining the streets, but you'll be jostling for space with the other tourists. I would head to the South Street Seaport Museum for some maritime history instead – this 30,000-square-foot gallery features nautical paintings as well as a lighthouse erected as a memorial to those lost on the Titanic.
Grab an inexpensive cheap Caribbean bite from Veronica's Kitchen on Water Street, then wash down your grub with a pint from fabled Fraunces Tavern, once a site for meetings between then General Washington and his troops during the Revolutionary War.


Prospect Heights, Brooklyn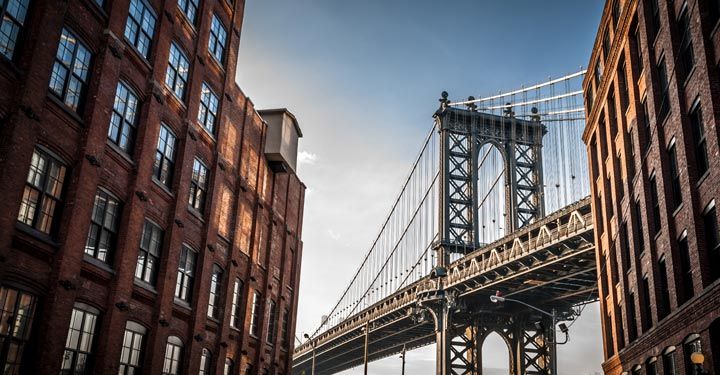 Brooklyn has become almost as popular as Manhattan in recent years – and rents have certainly reflected that! One of the trendiest areas in the neighbourhood is Prospect Heights. This once-overlooked area, filled with Neo-Grec brownstones is now a great place to stay in New York and is teeming with restaurants, bars and shops doing a brisk business – it recently earned historic status, too, thanks to locals who wanted to preserve its original flavour.
Vanderbilt Avenue is the main thoroughfare and you could easily spend the day gazing in shop windows or eating your way through a plethora of good restaurants. I recommend starting the day at the Brooklyn Botanic Garden. It's the spot to go to in April during the annual Cherry Blossom Festival but is worth a trip any time of year – the Japanese Hill-and-Pond Garden and Lily Pool Terrace appeal to horticulturalists of all ages.
After a day of sightseeing you'll have worked up a healthy appetite, so head to The Islands, a busy Caribbean restaurant that often has a line out the door thanks to its delicious jerk chicken and friendly service. If American food is more your thing, The Vanderbilt offers the requisite fare but the cocktails and beer are the real draw – there are more than 20 microbrews on tap and locals often swing by after a late dinner for some good conversation.
If you're not out too late, grab the kids and head to Ample Hills Creamery. This locally-owned ice cream shop is one of the best in the entire United States and offers colourful and interesting flavours often inspired by popular culture.


West Village, Manhattan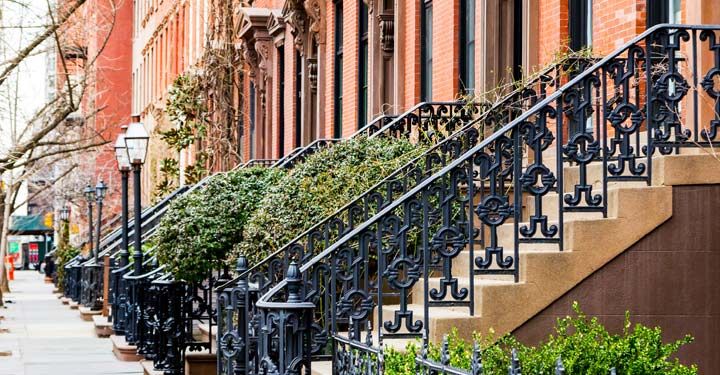 No write-up would be complete without mentioning the most European of all New York neighborhoods. The West Village in downtown Manhattan has it all: cosy restaurants, celebrity residents and cobblestone streets featuring brick homes and fabled brownstones.
Start your morning with a solid cup of coffee and an egg dish at the Bus Stop diner. One of the few remaining traditional diners that won't deplete your wallet, locals (even celebrities) head here for a great morning meal.
Just down the street lies the Whitney Museum of Art, which moved from its uptown location in 2015 – here you can gaze at masterful works of modern art while also enjoying a glass of wine or staring at a Hudson River sunset. Afterwards, take a stroll on The Highline. These old railroad tracks have been transformed to an urban oasis that's ideal for anyone looking for a bit of greenery in the urban jungle.
If burgers are your thing, then head to the fabled Corner Bistro for some of the best burgers in town. They won't set you back much (still under $10) but they'll fill you up. Wash it all down with a pint of McSorely's ale and remember to tip your bartender Greg, and tell him I sent you! If cocktails are more your thing, head to Employee's Only for classic cocktails with a modern twist – their steak tartare isn't too shabby, either.


Have a comment or question about this article? You can contact us on Twitter or Facebook.