How to do Budapest on a budget

September 5, 2019
By Caroline Howley
With a turbulent recent history, endless cultural attractions, and painfully cool nightlife, Budapest is an irresistible city break destination.
What's more, with Eastern European prices and a fantastic public transport network, it's super easy to enjoy the Hungarian capital on even the tightest of budgets.

Where to stay in Budapest on a budget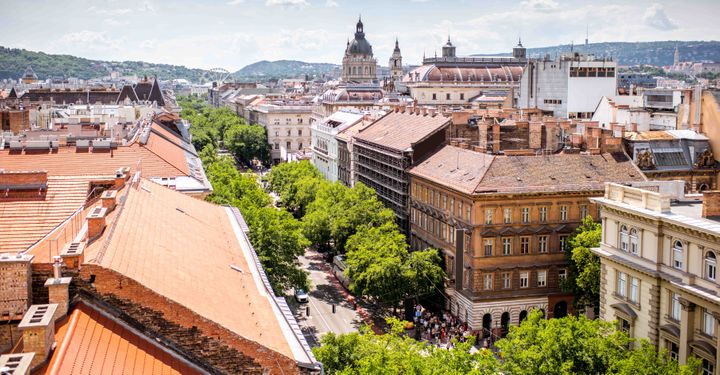 The mighty Danube slices Budapest cleanly into two halves, each radiating its own distinct character. To the west of the vast river sits Buda: a leafy, residential district, peppered with resplendent historical monuments, magnificent architecture, upscale restaurants, and topped with Buda Castle. Across the water lounges its cooler sister, Pest. This half of the city is vibrant and gritty: think imposing architecture adorned with bold street art, and hip bars tucked away within bombed out buildings. While Buda is a must-visit, Pest is the place to stay if you really want to get under the skin of the city – especially if you're on a budget.
Accommodation across Pest is generally cheaper than the swanky hotels you'll find in Buda, but it can still be pricey. Pest's cool Jewish Quarter is Budapest's most popular tourist district thanks to its famous nightlife and shabby chic aesthetic, and, unless you're staying in a hostel, accommodation here is suitably expensive. However, there are some neighbourhoods bordering the Jewish Quarter where you can find spacious apartments in stunning historical buildings on the cheap.
Józsefváros – Budapest's eighth district – is a fantastic option, offering plenty of beautiful, budget apartments within walking distance from the Jewish Quarter and the Palace District.
It has plenty of its own trendy bars and restaurants, too. A little further away from the inner city, the Corvin Quarter – at the border of Józsefváros and the increasingly gentrified Ferencváros – is a bustling district with an authentic Budapest feel; plenty of locals head this way to shop and party. There are lots of cheaper accommodation options, and it's very well connected to the rest of the city by metro and tram.

Where to eat in Budapest on a budget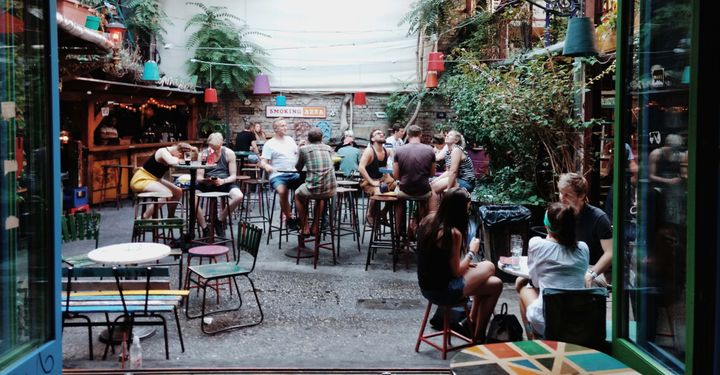 Pest is the place to head for budget food and drink. To eat on a budget in Pest, avoid chain restaurants and eat local: even in the Jewish Quarter you'll find your money goes a really long way. Order a bowl of goulash at a locally-run establishment and you'll be shocked at the excellent value for money.
For lunch, try Mazel Tov – a gourmet Middle Eastern place set in spellbinding fairy-lit surroundings. In the evening, head to super hip Vicky Barcelona, an inexpensive tapas restaurant/bar with a dancefloor. Opt for one of the brilliant tasting menus.
As the sun goes down, make your way to the Jewish Quarter's iconic ruin bars. These bars originally sprung up in abandoned bombed-out buildings as a meeting place for intellectuals and artists to escape Communist oppression.
Szimpla Kert is the most famous: this huge warren-like establishment is eclectically decorated and boasts a number of different spaces, including dedicated wine, spirits, and beer bars. Often dubbed 'the original ruin bar', this watering hole attracts a party crowd at night, so for a quieter experience try relatively chilled ruin bars such as Kőleves Kert, Grandio (Nagy Diófa u. 8, 1072), or Ellato Kert (Kazinczy u. 48, 1075).


What to do in Budapest on a budget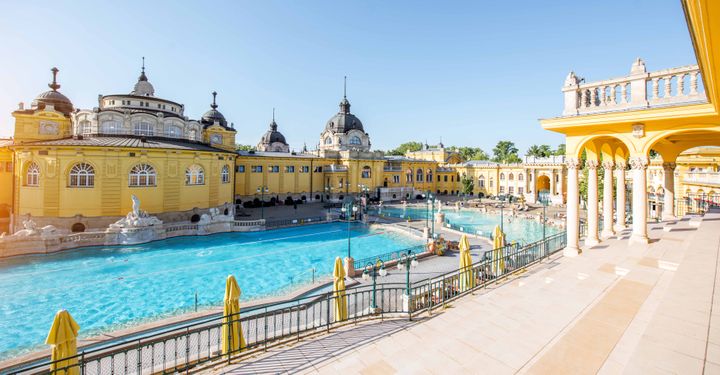 Hop on the Metro to head to Buda's most iconic sites. Here you'll find the emblematic Buda Castle, Fisherman's Bastion, and the jaw-dropping Matthias Church. Cross the green-girdered Liberty Bridge to Pest, where you'll see the awe-inspiring Hungarian Parliament Building, the wonderfully vintage Central Market Hall, the glittering Hungarian State Opera, and Heroes' Square with its surrounding park, which is part of a UNESCO World Heritage Site. While you can pay to explore the inside of most of these attractions, if you're on a budget just laying your eyes on their exteriors is well worth the effort.
The House of Terror is a truly unmissable Budapest museum that tells the heartbreaking story of the country's oppression at the hands of two brutal 20th-century regimes – first the fascists, then the communists. It gives you a terrifying glimpse of life in Budapest during the Communist era, when secret police roamed the street and imposing statues towered over every corner. Adults pay 3,000 HUF (£8.26).
If you like your history a bit weird, descend to the eerie Hospital in the Rock Nuclear Bunker Museum, housed in Buda's vast underground tunnel system. Here you'll see the historic makeshift hospital used during World War II and the Hungarian Revolution of 1956 - complete with the terrifying medical implements used at the time, as well as a cast of grotesque mannequins.
Visiting in the summer? Budapest is home to a number of thermal bathhouses, set in stunning Art Deco surrounds. The two most popular are Gellert Baths in Buda, and Pest's Széchenyi Thermal Baths. These are two of the city's most expensive attractions, with basic tickets exceeding £15, so pick your favourite and spend a whole day there to get your money's worth.

How to get around Budapest on a budget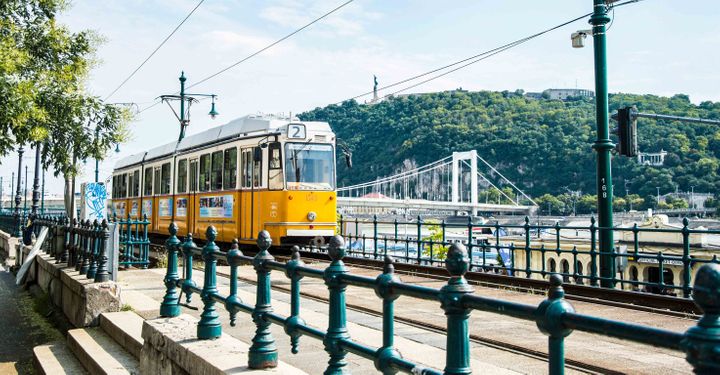 Budapest's various districts and attractions are extremely well-connected thanks to a comprehensive public transport network that includes the Metro, tramline, trolleybuses, buses, and boats, as well as a funicular up to Buda Castle and a chairlift that leads up János Hill, the city's highest peak. It's easy to navigate too: there are two major tram lines that loop around the city, while a vintage Metro runs up and down the riverfront.
Best of all, it's cheap: a 24-hour public transport card gets you on the Metro, tram, trolleybus service, buses and boats for a full day and night, and costs just 1,650 Hungarian Forints (HUF), or £4.54. Alternatively, buy a 3,300 HUF (£9.09) group travel card, which covers up to five people. Meanwhile, a single journey ticket comes in at just 350 HUF (£0.96).
Insider tips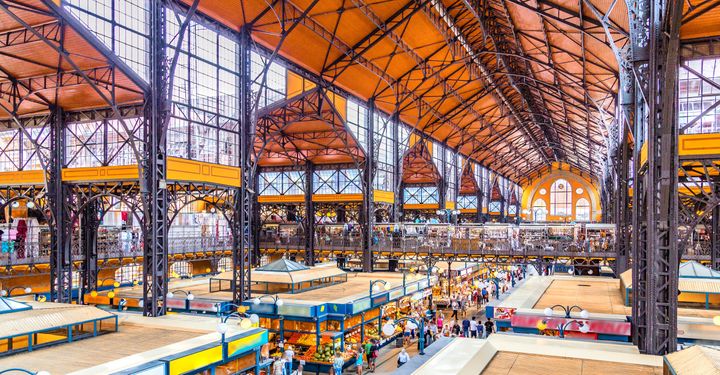 Stick to local beer and wine and you'll be able to enjoy a big night out on little more than £10 – but bear in mind that the local wine, in particular, can be something of an acquired taste. Approaching the bar, you'll be asked if you prefer a "quality wine" – a standard Sauvignon Blanc or Chardonnay. These cost a little more than the local stuff but are still much cheaper than in the UK.
While taxis aren't super pricey in Budapest, those you'll find idling around tourist hotspots are likely to switch their meter off and overcharge. For the cheapest cab trips, download Bolt - the Hungarian version of Uber - on your phone ahead of your holiday.
For a cheap day out spent in nature, grab a picnic and hike up János Hill for a picnic. It's not a difficult climb, but if you're feeling lazy, there's a chairlift that will take you all the way to the peak. And if you're up for an offbeat train ride, a surprisingly stern cohort of children run a railway up on the hill – a quirky hangover from a Soviet youth scheme.
Have a comment or question about this article? You can contact us on Twitter or Facebook.