December 6, 2019
By Katie McGonagle
The city of a hundred spires is that rare weekend-break beast, attracting visitors as much for its medieval history and intricate architecture as its cheap beer and budget-friendly reputation. And while recent years have seen some steep price rises in the Czech Republic's number-one city, it still ranks higher than most European capitals on value for money – and it's every bit as rich in cultural and historic treasures as Paris, Rome or Berlin.
Sure, if you spend all your time shopping for souvenirs on the Charles Bridge or eating out in Wenceslas Square, those precious pounds won't go far. But with a bit of know-how to avoid the tourist traps, city breaks to Prague can be an incredibly affordable escape worth every penny.


Where to stay in Prague on a budget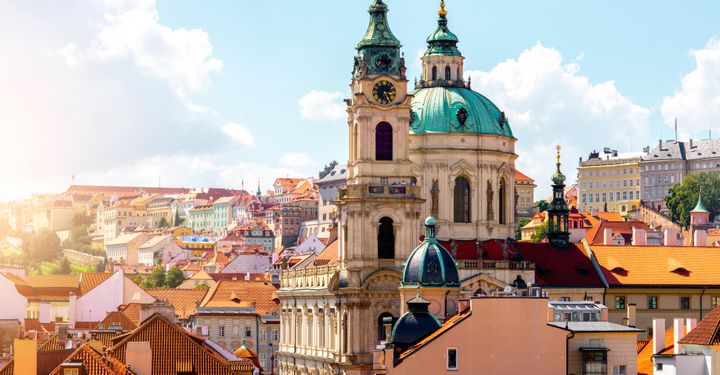 Prague is divided up into districts – confusingly, there are three different systems at work, but the simplest splits the city into 10 major areas in a spiral working from the Old Town (Praha 1) outwards.
The Old Town is home to the majority of tourist spots and consequently, the highest prices, but there are good deals to be had, with three and four-star efforts offering quality accommodation for less than £100 a night. If you're short on time, it's worth it to be within easy walking distance of key sights.
That said, you'll definitely get better value outside the centre – and with Prague's excellent public transport system, it's not that much of a hassle.
Just across the river from the Old Town, Mala Strana is in the shadow of the ninth century Prague Castle, and has a few budget-friendly hostels and B&Bs in between the elaborate five-star affairs. To the south, residential area Andel isn't quite as exciting, but you get a lot more bang for your buck – around £50 to £80 a night as a starting point.
Alternatively, back across the river to the east, Karlin is home to a host of trendy restaurants and cafes and only a few metro stops from the city centre, while Vinohrady attracts a younger crowd and has a livelier atmosphere after dark.
Where to eat on a budget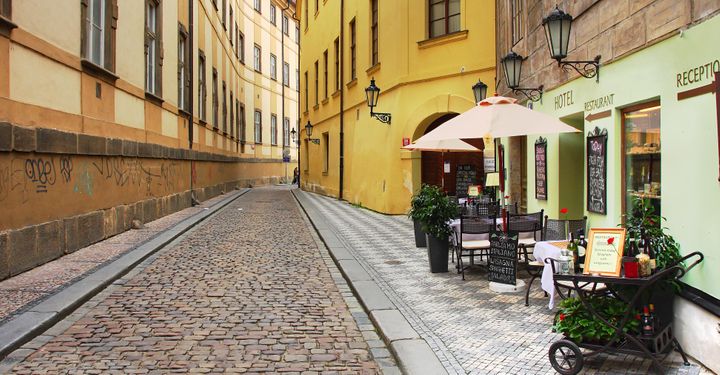 Prague is every bit as international as any other European city so you'll find food from every country here, but if you're watching the pennies, eating in local restaurants will definitely help them stretch further.
Czech cuisine is a hearty affair – think potato soup followed by goulash and dumplings or sausage and sauerkraut – and since lunch is often a bigger meal than dinner, it's great value, too.
U Houdku is a bit out of the way, but a main course and a beer will set you back about £9, and its pretty beer garden and buzzy atmosphere make it worth the effort.
If that's too far off-track, then U Sadlu (main course and a beer about £12) is a tasty spot to refuel between sightseeing stops. It's not much to look at from outside, but head downstairs to this basement restaurant and you'll find a menu packed with old-school Czech dishes and local beers to boot.
On the subject of local brews, not only are Czech beers some of the finest around, but they're a lot cheaper than their imported equivalents. Pilsner Urquell and Budweiser Budvar are everywhere, but it's not uncommon to come across Staropramen (brewed in Prague), Kozel and Gambrinus in abundance.
Microbreweries are also gathering steam here: have a taste at pubs like U Fleku and the ever-popular Pivovarsky Dum which serves classics alongside more experimental flavours such as coffee, cherry and banana. Well, when in Prague…
What to see in Prague on a budget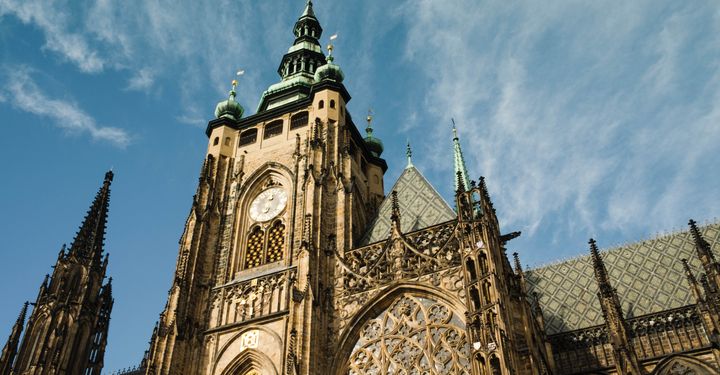 If it's your first time in Prague, some must-sees simply have to be ticked off: medieval Prague Castle is worth its £12 entry, offering an introduction to Bohemian history with a side of city views. The stained-glass windows of 14th century Saint Vitus Cathedral are a treat too (especially as they're free!) and a stroll across the Charles Bridge is an absolute essential – just close your eyes to the souvenir-selling street vendors lining each side.
One of the best things about Prague is how walkable it is. Wandering through its twisting, cobbled streets is not only the easiest way to get a feel for the many layers of history that have moulded this Bohemian city, but it's also free – save for the cost of the odd coffee kick en route.
The Jewish Quarter (Josefov) is right in the heart of the Old Town and one of the best-preserved Jewish ghettoes in eastern Europe. It's as much a thrill for fans of history, who will enjoy the Old New Synagogue (the oldest on the Continent), the moving holocaust memorial in the Pinkas Synagogue and the ornate Spanish Synagogue, as it is for literary buffs, who will find the birthplace of and monument to Czech writer Franz Kafka here.
The panoramic views from the summit of Petrin Hill are Instagram gold too, stretching high above the Vltava River – walk up or take the funicular railway for about £1 if you want to save your feet for sightseeing.
For those who fancy soaking up some culture, Prague's rich array of museums often have free or reduced entry on public holidays – dates vary, so it's best to check online beforehand – or if you're there in June, entrance fees are waived across the board on Prague Museum Night.

How to get around Prague on a budget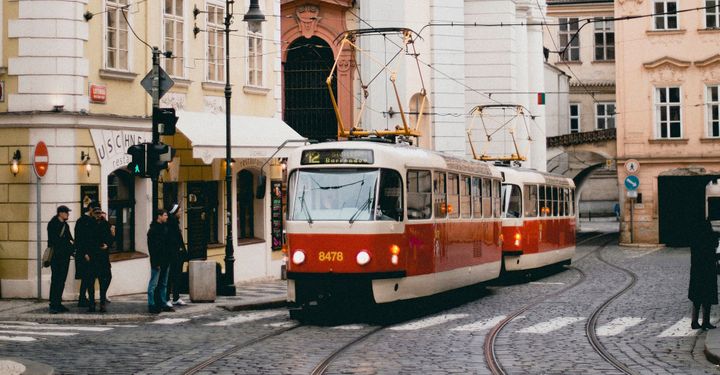 Public transport is remarkably easy and cheap, with a mix of metro, tram and bus making up a comprehensive network. There are three metro lines, operating from 5am until midnight, while some tram lines run all night. It's worth noting buses aren't allowed in the centre, so tourists need to transfer to a tram or metro to get to the heart of the action.
A single journey starts at around 81p, with a 24-hour pass from £3.70 and a three-day option for about £10.50. They can be bought from yellow ticket-vending machines, ticket offices, newsagents and tourist information offices, and tickets must be validated at the start of the first journey to avoid a fine.

If you fancy seeing the city from a saddle, bikes and e-bikes are increasingly well catered-for, and can be hired from the likes of Praha Bike.
Taxis are also affordable, though it's wise to order by phone or app (Uber is available in Prague) as cabs flagged down in the street can be unlicensed and are known for charging rip-off fares. Check if the cab has a meter or agree a price beforehand to avoid any nasty surprises.
Insider tips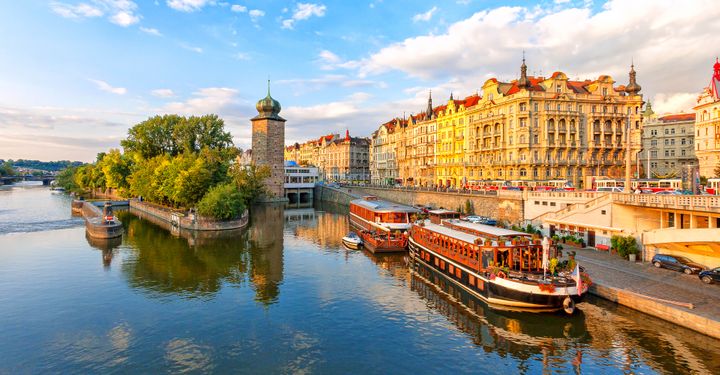 Always pay in the local currency of koruna (crowns): Some restaurants and attractions allow payment in euros, but the exchange rate is poor and you'll get change in crowns anyway.
Leave the heels at home: Prague's historic centre is full of cobbled streets and tiny laneways, so comfortable walking shoes will work in your favour.
Get to Prague Castle early: The city's most famous attraction is perennially packed, so it's worth getting there well before it opens to be among the first through the gates.
Have a comment or question about this article? You can contact us on Twitter or Facebook.