8 of the world's dreamiest long-haul beaches

October 9, 2019

With autumn setting in – and winter peeking around the corner – it'll soon be time for that trusty cold-season cure: a beach holiday. But for the next few months, you'll have to travel a bit of a distance for sun and swimmable sea.
To give you a steer, we've rounded up some of the most heavenly stretches of sand across the planet…
1. Whitehaven Beach, Whitsunday Islands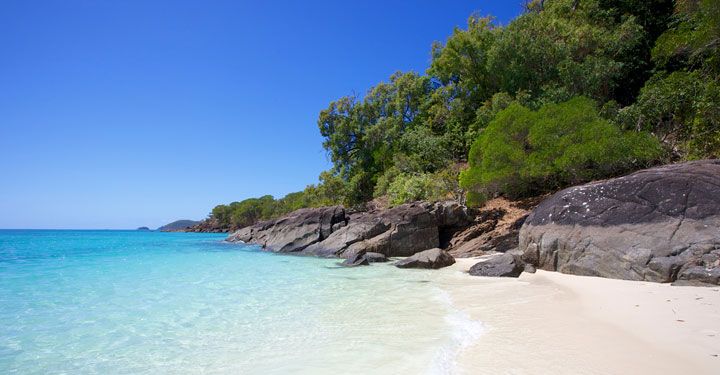 Whitehaven doesn't make TripAdvisor's Traveller's Choice Awards every year on looks alone. A mineral content of 98% pure silica makes the sand here super-fine and soft. The stuff doesn't heat up too much in the sun, either, saving you that tip-toe dance on the way back to your sun-lounger.
2. Muizenberg Beach, Cape Town, South Africa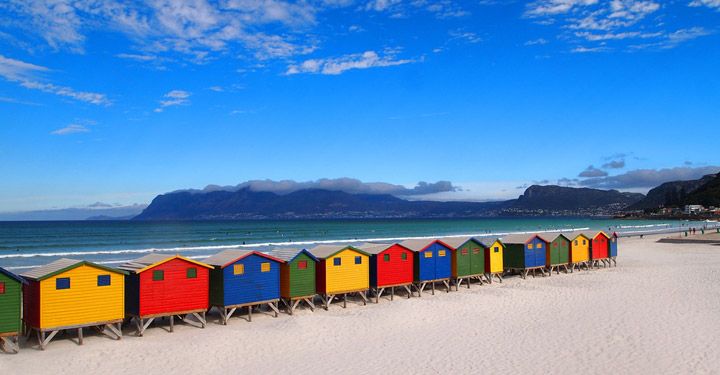 Surf's up at clean and colourful Muizenberg Beach in Cape Town, South Africa.
It;s birthplace of surfing in the country but don't be misled by the surfing angle – it just adds to the laidback vibe. The waves aren't enormous here; the gentle swell is suited to longboarders and beginner surfers. The broad stretches of flat, notably warm water also make it a great, safe beach for kids.
If not surfing or flopping on the sand, the surrounding mountains are full of exciting trails.
3. Kelingking Beach, Nusa Penida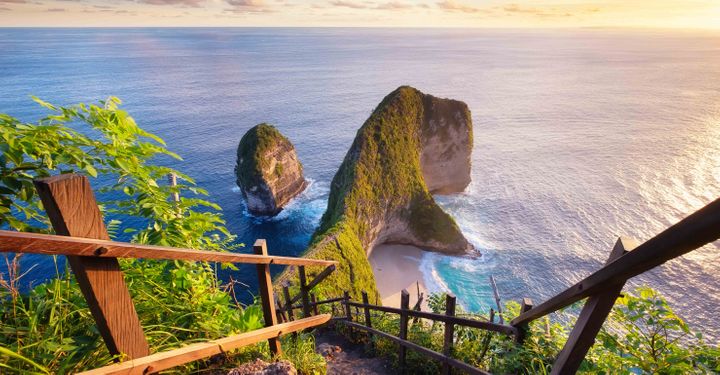 Kelingking Beach will make your work for it - the steep scramble down is nearly more difficult than the hike back up - but the trek is worth it.
Though it's still a far cry from the bustle of Bali's Kuta beach, these stunning sands are hardly secret. Get there early for the people-free snap.

4. The Baths, Virgin Gorda, British Virgin Islands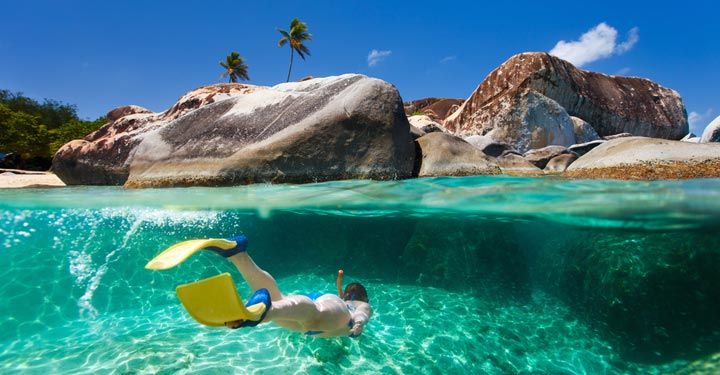 This may not be your typical lounging beach but that doesn't make The Baths any less gorgeous. Located on Virgin Gorda, one of the British Virgin Islands, in the Caribbean, the superb scuba-diving spot is a collection of sea pools bordered by enormous granite boulders thrown up by volcanic eruptions.
"God was having an amazing day when he created this place," as one awe-struck reviewer put it on Trip Advisor.
5. Clearwater Beach, Florida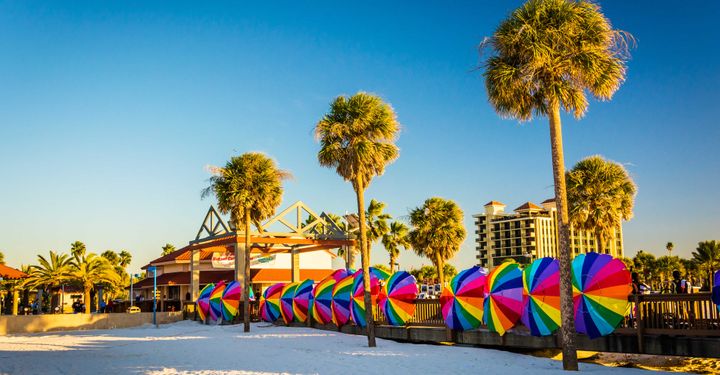 Cited by the Travel Channel as one of Florida's best beaches, Clearwater is also America's most visited stretches of sand. If relaxing on the wide white-sand shores isn't enough, you could try your hand at beach volleyball or parasailing, plus there's dolphin watching and fishing on offer.
Round off your day – drink in hand, perhaps – watching the perfect sunset from the top vantage point Pier 60.
6. Anse Source d'Argent, La Digue, Seychelles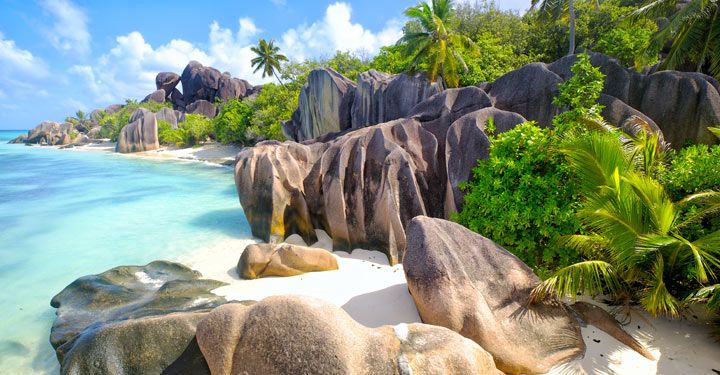 Located on one of the largest Seychelles islands, La Digue, Anse Source d'Argent ("Golden-Spring Bay") was named one of the best beaches in the world by men's lifestyle site Thrillist. It's not hard to see why. The striking soft-pink sand backed by granite boulders makes for breathtaking beach good looks – it's no surprise this is also one of the most photographed beaches in the world.
7. Seven Mile Beach, Jamaica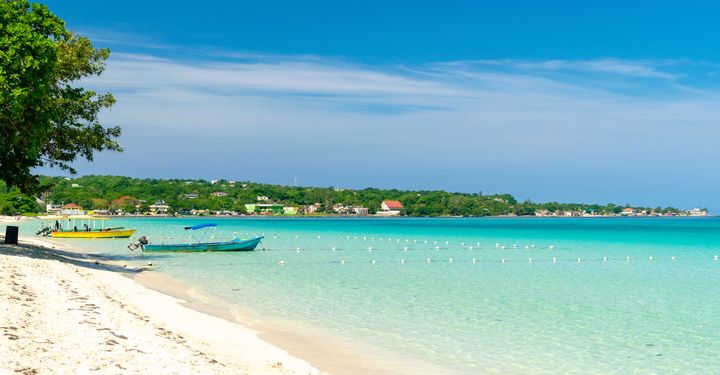 A hippie hangout in the 1950s, Seven Mile Beach has hung on to its laid back vibe. Be aware: that's also why, on some stretches, swimsuits are optional.
But not everyone comes here to let it all hang out, so to speak. Cliff-jumping is popular: join in this dare-devil sport (although check your travel insurance beforehand, to see if you're covered) or simply watch open-mouthed from the ground.

As darkness falls on the beach, reggae bands strike up – so start practising those jivey moves.
8. Baia do Sancho, Brazil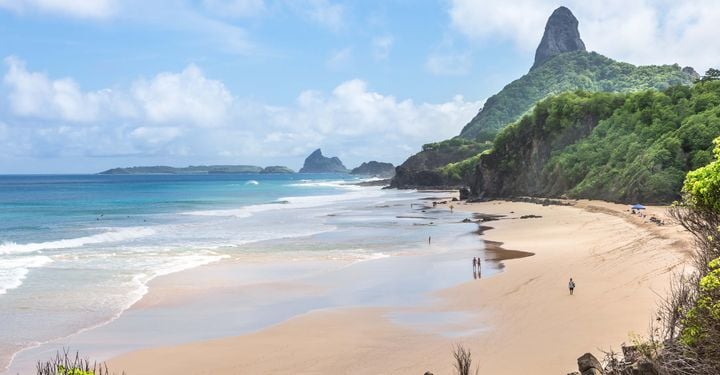 Taking home the trophy for Best Beach in TripAdvisor's Travellers' Choice Awards is no mean feat - and Baia do Sancho has done it four times.

Like most of the world's top sands, Baia do Sancho is remote, but making the effort to find it is worth it: "The heavenly view seems like a mirage," says one TripAdvisor reviewer.
Have a comment or question about this article? You can contact us on Twitter or Facebook.