10 of the best beaches in Malta
August 27, 2021
Malta has some seriously spectacular beaches, ranging from golden curves of sand perfect for sun-lounger lovers to isolated coves fringed by fragrant forests. To help you narrow down where to lay out your towel, we've taken a closer look at Malta's best spots to swim, sprawl and sunbathe.


1. Ghajn Tuffieha Bay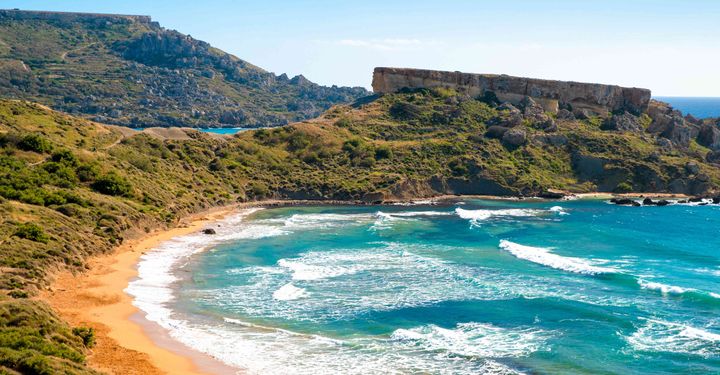 Regarded as one of Malta's most beautiful beaches, Blue Flag Ghajn Tuffieha Bay (which translates as Apple's Eye) is on Malta's northwest coast, near the pretty village of Manikata. Although it's less accessible than many of Malta's beaches (you'll need to scramble down a flight of over 100 steps), a visit is well worth the effort. Its glass-clear waters are framed by steep cliffs, and the sand is famous for its rust-red hue. There are sun-loungers and umbrellas to rent for a small fee, and a snack bar for when hunger strikes.
If you're feeling energetic, you can hike over to nearby Gnejna Bay. Otherwise, stay put and soak up the views – not just of the water, but of the dramatic coastline, too. Look to the north and you'll see the ancient Ghajn Tuffieha Tower, a former coastal watch tower.


2. Ghar Lapsi Bay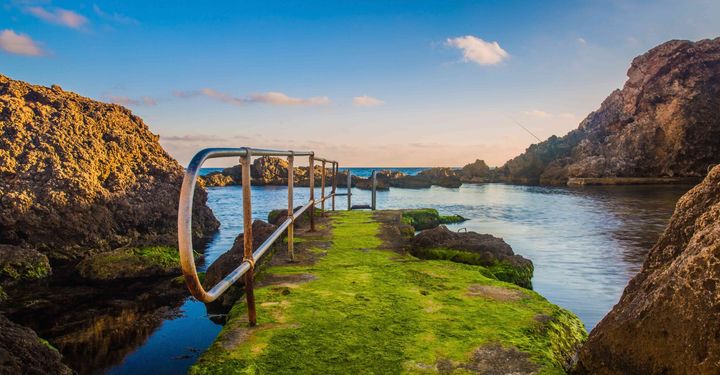 Full disclosure: this is definitely more of a bay than a beach, but it's too beautiful not to leave out. Just a short drive from Malta's legendary Blue Grotto, this bay is often considered Malta's finest natural swimming pool, and with good reason – head to the bottom of the steps carved into the rock and you'll find some of the clearest water in Malta.
The lack of space on land (there are only a few slightly rocky places to lay out a sun towel) means it rarely gets crowded, and the other upside is that you can doggy paddle to your heart's content without a crowd of sun-lounger sprawlers appraising your progress. Feeling adventurous? Bring a snorkel or book a lesson with one of the local dive schools – this is one of Malta's most popular diving spots.


3. Ramla Beach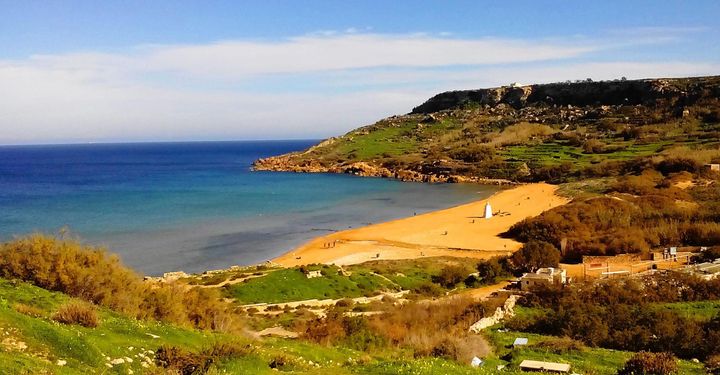 Famous for its golden sands (or reddish-brown, depending on the time of day), Ramla Beach is one of the best beaches in Gozo, a small island 45 minutes by ferry from Valletta. Bring a good book for your sunbathing session before dragging yourself off the sun-lounger to explore. The nearby area is dotted with Roman ruins (a Roman villa once stood just a few metres from the beach) and a twisting path leads from the beach's eastern end to Calypso Cave, which many believe to be the cave referred to in Homer's Odyssey.


4. Paradise Bay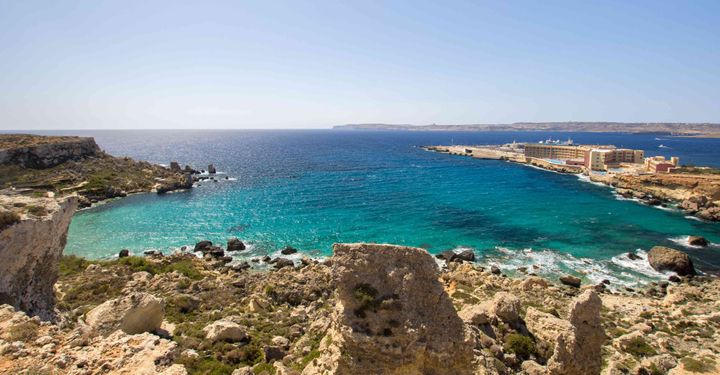 Bright turquoise water and a wide, if slightly short, curve of soft white sand earned this beach its name. You'll find it close to Malta's northern tip, just a short walk from Cirkewwa, one of the departure points for Gozo. Its calm waters make it a hit with families (it's sheltered by cliffs at either end), and you'll enjoy great views from the beach – both Comino and Gozo are clearly visible.
It's also easily accessible – a short flight of stairs leads down to the sand from the car park – and there's a small restaurant and bar. A word of warning though: during peak season, get here early. Its close proximity to the ferry terminal means it can quickly become crowded. If you need some alone time, consider hiking to the cliffs above the beach to soak up the spectacular views.


5. San Blas Bay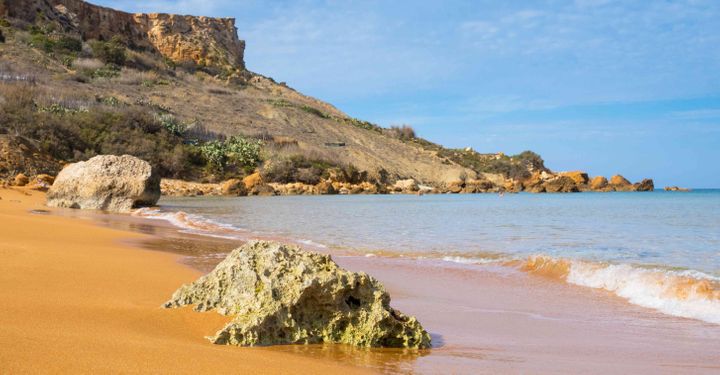 This beach rarely gets crowded, largely because it's not the easiest one to access – it's located just to the north of the pretty town of Nadur, and to get there you'll need to navigate a rather steep, rough road leading to the beach's car park, before picking your way down an equally steep, lemon tree-lined footpath.
But we promise it's worth the effort. The water is incredibly clear and a backdrop of cliffs protects it from breezes making it a great snorkelling and diving spot. Its protected position means this is one of the few places you're likely to spot nude sunbathers, although a word of warning – Malta is a relatively conservative country, and naked sunbathing is illegal.


6. Golden Bay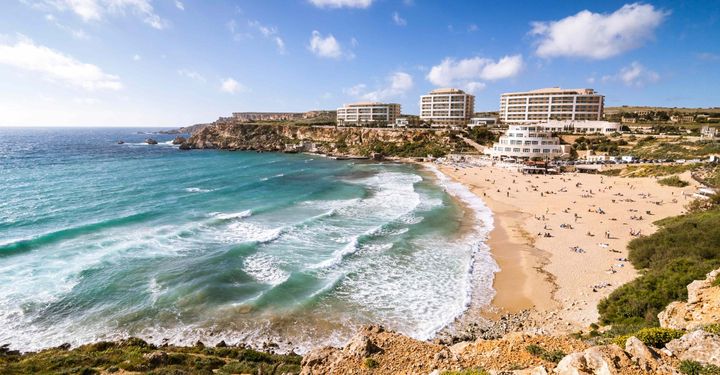 One look at this beach explains how it got its name – it's a long, wide crescent of beautiful golden sand. It's one of Malta's most spectacular beaches, with a stunning backdrop of rambling dunes and jagged cliffs, one of which is topped by a seventeenth-century watchtower. You'll find it on Malta's west coast, just a short walk from Ghajn Tuffieha bay.
Golden Bay is one of Malta's largest beaches, and the facilities are fantastic – there are jet-skis and boats to hire, and lifeguards on duty during peak season. You'll also be just a short walk from some of the best things to do in Malta, including Il-Majjistral Nature & History Park, which is the island's only national park, and the Parish Church of Our Lady of Victory, famous for its beautiful dome and belfries. It's also the starting point for the annual September Mellieha Village Festa, when The Statue of Our Lady is carried through the streets.


7. Mellieha Bay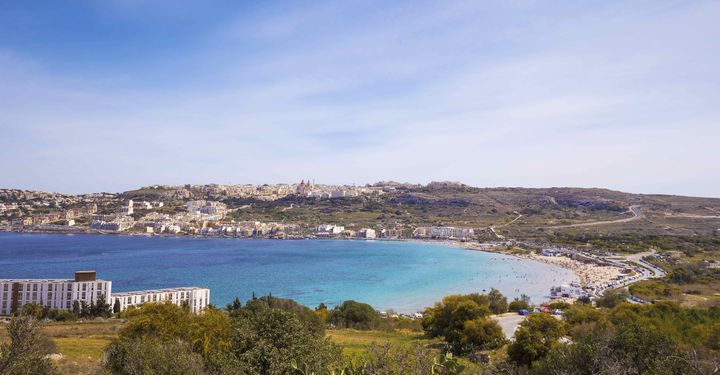 Named after the hilltop village of Mellieha, this large beach is popular with families thanks to shallow clear water and affordable sun-loungers from just a few euros a day. It's also within walking distance of several other beautiful beaches, including Paradise Bay, a sandy beach with great views of Gozo, and Slugs Bay, a secluded beach that is another of the island's popular diving spots.
If you want to stay in the area, the village is a great base for holidaymakers who want to experience local life while still having easy access to its best bits. It's just a short walk from the departure point for ferries to Gozo and Comino, and close to the Sanctuary of Our Lady of Mellieħa, famous for its 17th-century oil paintings.


8. Armier Bay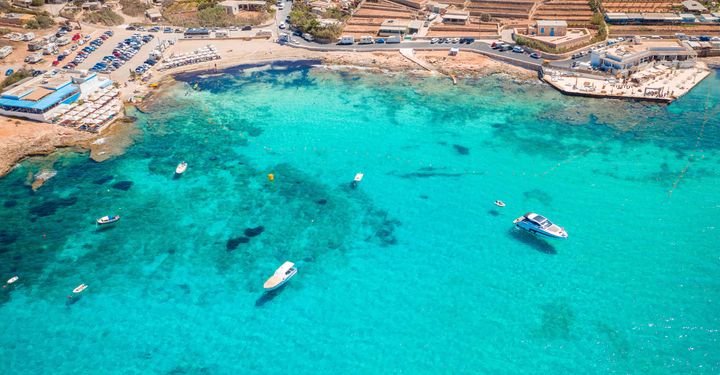 Head to this beautiful beach, in Malta's far north, for unbeatable views of Comino and Gozo, and crowd-free sunbathing – because it's some way away from the main tourist drags, it rarely gets crowded, and is a hit more so with locals than tourists. Although it's possible to get here via bus, you'll ideally need your own transport. That said, it's definitely worth the effort.
Comprising two beaches (Armier Beach and Little Armier Beach), it's a superb family-friendly stretch of sand – the water's not just beautifully calm but fantastically clear, too – and the facilities, although basic, are adequate. There are banana boat rides to sign up for, and jet-skis and sun-loungers to rent. But if you're visiting Malta on a budget, Little Armier has more space to lay out your own sun towel.


9. St George's Bay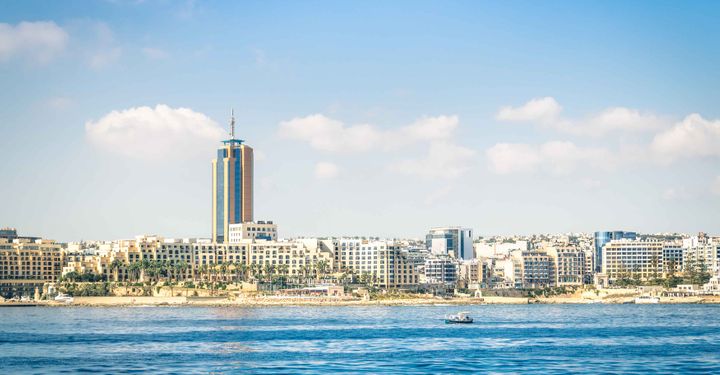 One of Malta's most popular beaches, St George's Bay can quickly become crowded during the height of summer, although it's still worthy of a spot on your radar. You'll find this Blue Flag beach in the lively Paceville area of St Julian's, next to a promenade lined with ice cream parlours, bars and seafood restaurants.
It's also one of Malta's most accessible beaches, and is wheelchair friendly, with several ramps leading from the promenade to the sand. Overdone the ice cream? Once you've soaked up the rays, consider a hike to nearby Ta' Xbiex, a small town with a beautiful harbour.


10. Buġibba Beach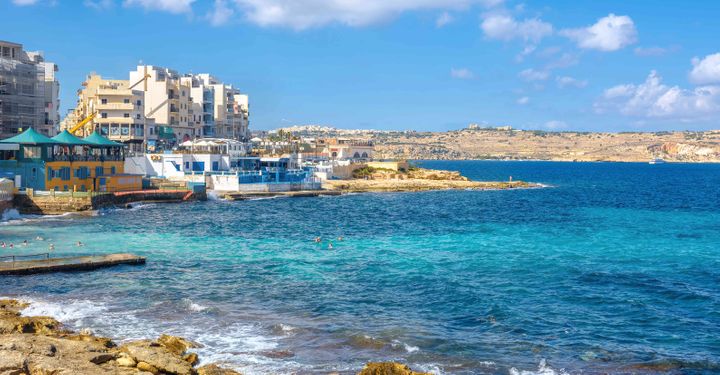 A pretty beach connected to other nearby stretches of sand by a promenade, Buġibba Beach was a vast expanse of rocky boulders until 2006, when the Ministry of Tourism transformed it into a gorgeous stretch of sun towel-worthy sand.
It's easily accessible (there's plenty of parking nearby and it's just across the road from a large public bus terminal) and well maintained – it's incredibly clean, which is why it's such a hit with families. Nearby must-sees include the nearby Malta National Aquarium.


Have a comment or question about this article? You can contact us on Twitter or Facebook.