How to do Santorini on a budget

There are some places on Earth that a picture simply can't do justice to, and Santorini is one of them.
No matter how beautiful the photo, nothing compares to actually being there for an uninterrupted view over the caldera to the volcanic peak that breaks the inky Aegean waters. And while holidays to Santorini can cost a little more than Greek island stalwarts such as Corfu, Zante and Crete, the breathtaking views alone make it worth it.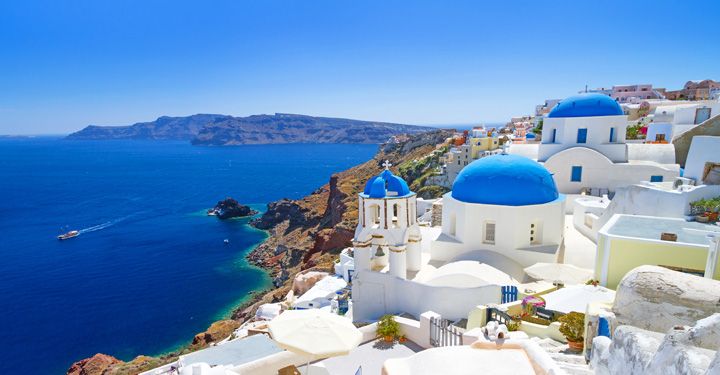 Add impossibly pretty villages stacked up the craggy cliffsides in a jumble of white and blue, and a quiet, unspoilt charm, and you've got a truly unique and unforgettable Greek island experience.
Roxanne Wells offers some advice on how to experience the beauty of Santorini, without breaking the bank.
Where to stay on a budget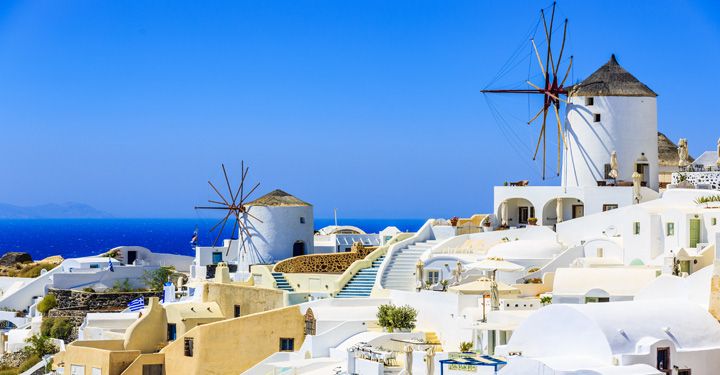 Despite its reputation as one of the swankier Greek islands (with a price tag to match), there are bargains to be found in Santorini, especially if you avoid the island's busiest months of May to August. April, September and October all offer warm, sunny, dry days that are perfect for the sightseeing and hiking that will no doubt fill your time. It may not be the weather for sunbathing and sea-swimming, but if you're looking for that kind of holiday you'd be better looking somewhere other than this largely beach-less island.
You'll also find cheaper accommodation if you're happy to go without a caldera view, with east coast villages Kamari and Perissa holding some appeal for their small black sand beaches and the dramatic clifftop ruins at Ancient Thira that sit between them. Plus, this island is so small that you can drive from one end to the other in under an hour.
On the picturesque west coast of the island, lively capital Fira and romantic Oia – famed for the most magnificent sunsets – are the most popular places to stay. You'll pay less if you choose a hotel set back from the cliffside; however, you simply can't beat being able to take in that famous view from your own private terrace.
I found a great April deal for the wonderful Cocoon Suites in Imerovigli – a quiet, postcard-perfect village within walking distance of Fira – and being able to have breakfast, drinks or dinner overlooking the caldera was well worth the extra cost, and saved paying over the odds for a shared experience in a crowded restaurant.
Where to eat on a budget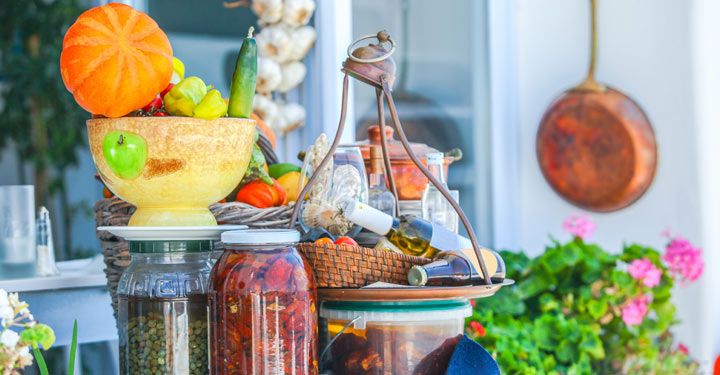 You'll find endless horror stories online about how expensive eating and drinking in Santorini can be. But do your research and you'll find plenty of good value places to sample the freshest fish and delicious Greek cuisine – preferably washed down with a glass of local white wine or an ice cold Mythos.
In Fira's maze of charming cobbled streets you'll find many affordable places to eat, including Parea, a traditional Greek taverna offering excellent value for money on moussaka, seafood and other classic dishes, together with friendly service. If you don't order dessert, you may find yourself presented with the chef's special mini cheesecake to finish your meal anyway (no guarantees, though!).
Pelican Kipos, which sits hidden away in a beautiful garden oasis mere steps from Fira's busy central square, is also a great find. The food is delicious and the Greek beer is served in iced tankards and, at €5 for a half-litre, is cheap for such a prime position.
The main road running between Fira and pretty neighbouring village Firostefani boasts some out-of-the-way gems. Seek out Salt and Pepper (booking is recommended for this tiny place), and Kokkalo, where the steaks are so big they come with a mini meat cleaver for carving!
Over in honeymooners' paradise Oia, the bargains are harder to come by. If you love a kebab, however, Pito Gyros is well worth veering off the tourist track for. Grab a mouthwatering gyros special and a beer for around €5 – just don't expect the sunset views that Oia is famous for, as this backstreet hole-in-the-wall overlooks a car park!
What to do on a budget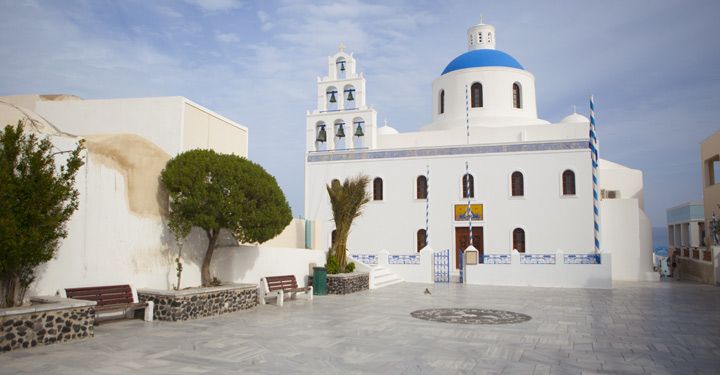 If you're sold on Santorini but are finding the hotel prices a hurdle, the good news is that, once you're on the island, there's not a great deal to do that's going to cost you money. Holidays here are all about exploring this beautiful island, so you're likely to spend your days hiking or wandering the traditional villages and towns that remain – incredibly – largely unspoilt by tourism.
The hiking path between Fira (or Imerovigli) and Oia is an absolute must-do – although expect the 12km walk to take you a good three to four hours as you stop on every corner to capture yet another breathtaking view. At one point you can see the sparkling sea on both sides as you walk along the pinnacle of the cliff! The public bus will take you back from Oia (or visa versa) for a couple of euros.
Over on the island's east coast, the mountainous trail between Kamari and Perissa is shorter, and takes in Ancient Thira (€4 entry) and the black sand beaches. There's also a cheap water taxi which makes the journey between the two towns, roughly every 40 minutes – although you might have to wade out into the water a little to catch it!
If you want to hike up the actual crater of the volcano then you'll find boat trips leaving the old port in Fira, with ticket prices from around the €15 mark (with an additional entry fee of €2.50 to the volcano). Don't feel bad about missing out on the expensive luxury catamaran trips around the island – Santorini's strong winds mean they're often not quite as relaxing as you might hope!
Scenic walks aside, wine is another of Santorini's big passions, and you'll find numerous guided 'wine tours' advertised. In reality, it's easy to get to the wineries and arrange a tour yourself. The Santo Wineryoffers expert tours followed by wine tasting overlooking the caldera, with prices ranging from €15 for a simple tour with three wines to €55 for a full tour with 18 wines and a platter of nibbles. Get the best value for money by sharing the 18-wine package between two (simply adding a cheaper tour for the second person).
How to get around on a budget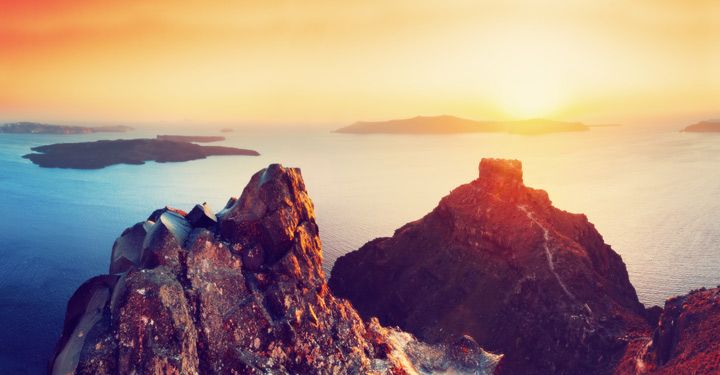 For general exploring, walking is usually the most enjoyable (and obviously the cheapest!) way to get around. And, of course, the hiking trails are a scenic way from A to B.
A regular and cheap bus service runs island-wide – although you might have to change at Fira for some journeys. At around €2 per trip, it's a really cost-effective way of seeing more than one part of Santorini during your stay. Taxis are also reasonably priced and plentiful. As always, take an official taxi (the taxi rank in Fira is by the bus station).
The preferred mode of transport for many visitors to the island, however, is the quad bike, which you can hire from as little as €20 for 24 hours. It's a great choice for zipping around the island and taking in the views – although the cliffside roads, cobbled streets and perhaps not-quite-so-careful other road users make it a test for the nerves! You'll also need to be confident at driving on the opposite side of the road to the UK, and make sure you swot up on local driving laws.
Insider Tips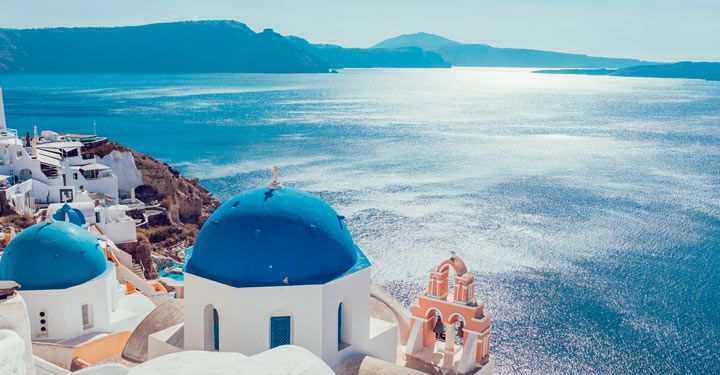 Skaros Rock in Imerovigli often goes under the radar, as many visitors skip this gorgeous little village and head straight for beautiful but busy Oia. The hike up the rock is pretty challenging, especially at the very top, but the views make it well worth the effort.
Don't forget to pack suitable walking shoes in your Santorini suitcase. The hiking trails call for sturdy boots, walking sandals or trainers, and the cobbled streets are best suited to flats – leave the high heels at home!
If you've got children then you might want to consider leaving them at home too! There's not a great deal for young children to enjoy on the island – and the sheer cliffside drop-offs and hilly villages are less than child-friendly.
Ensure that you're prepared for the strong winds that Santorini is notorious for. Evenings can be especially cool and breezy, so pack some warmer outfit options. On the other hand, the wind can also mean that the sun catches you unawares. Wear sunscreen, even if you don't feel like you need to.
Expect to do battle with the cruise ship crowds, especially if you're heading to Oia to see the sunset. Alternatively, look at nearby Imerovigli and Firostefani to escape the swarms – it's usually much easier to bag a seat in a sea-view restaurant or café, or a space on a viewing spot, in these overlooked villages.
Once on the hiking path from Imerovigli to Oia, places to stop for water are few and far between – so go prepared!
Unless taking a boat trip, skip the cable car ride down to Fira port. There's not much to see and you really don't want to get caught down there when a cruise ship unloads its passengers. Locals offer the backs of tired-looking donkeys as an alternative to the cable cars, but anyone concerned about animal welfare will avoid this option.
Have a comment or question about this article? You can contact us on Twitter or Facebook.