Update July 5, 2023
Published June 12, 2019
Deep in Italy's south – from the heel (Puglia) and instep (Basilicata) to the toe (Calabria) – you'll find some of Italy's most beautiful beaches. Picture a long, craggy coastline, countless beaches squeezed beneath towering cliffs, intimate coves, and long stretches of sand.
Who needs the expensive beaches of the Amalfi Coast when you've got so much choice and variety – minus the crowds – further south? To help whittle down the selection, here are ten of the best beaches (spiagge) in southern Italy.


1. Gargano National Park, Puglia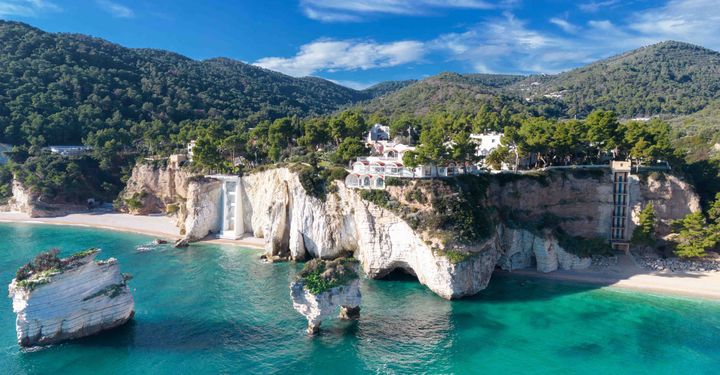 Sticking out on Puglia's Adriatic coast like a spur, this national park harbours many beaches beneath its chalk cliffs. Pull up a sun-lounger at Spiaggia dei Faraglioni in the Baia delle Zagare and gaze at the giant rock formations marooned in the sea.
If you're on a boat or in a kayak, head to the secluded little Cala dei Morti under the cliffs. And just a bit along the coast is Spiaggia di Vignanotica, which also has a dramatic backdrop of a rugged limestone cliff.


2. Polignano a Mare, Puglia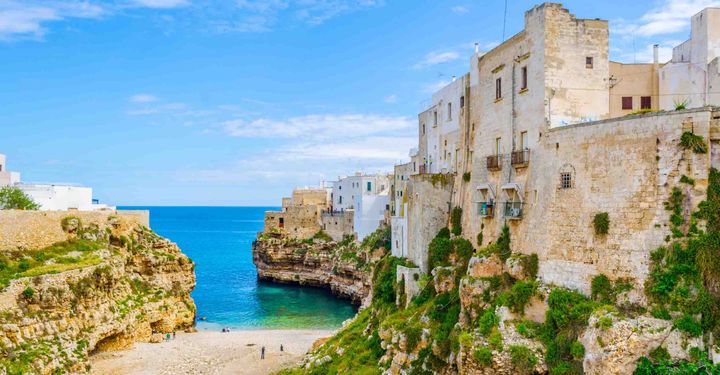 Looking like something carved out by the gods, Polignano a Mare is a pebbly cove surrounded by 20m-high (65ft) limestone cliffs with whitewashed houses clinging to the top. Once you've had your swim, you can have a lazy stroll through the streets of the upper town.
You'll soon find yourself on one of the three panoramic terraces that give sweeping views of the Adriatic Sea. The cliffs overlooking the sea are a favourite location for cliff-divers, something the people at Red Bull have cottoned on to and have added the location to its World Series.


3. Melendugno, Puglia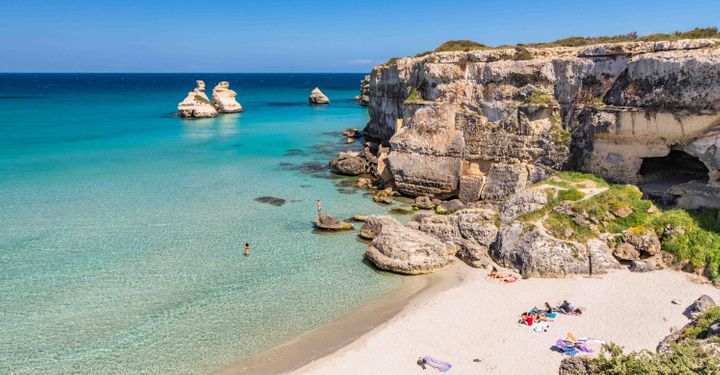 There's high drama all along the Adriatic coast near the inland town of Melendugno. Start at the Roca Vecchia, where giant rocky outcrops frame small inlets, before carrying on to the wonderfully named Grotta della Poesia (Poetry Cave).
Then there's the beach at Torre dell'Orso, which sweeps along to Le Due Sorelle – the rocky towers known as the two sisters. Amid all these marvels are long sandy stretches filled with sun-loungers and beach cafés.


4. Torre Lapillo Bay, Porto Cesareo, Puglia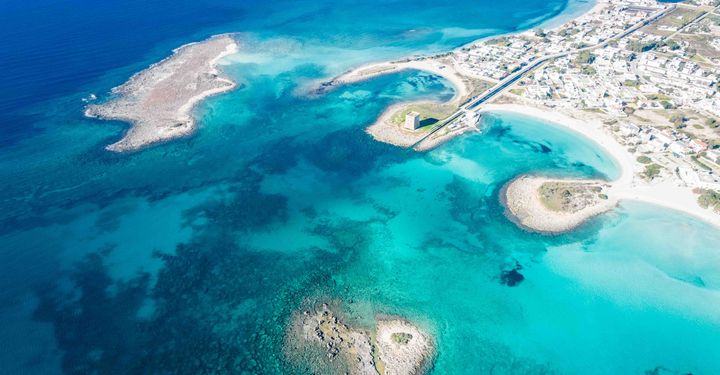 Tucked into the western side of Puglia's heel, the broad sweep of Torre Lapillo Bay (and its smaller neighbours) runs between two hulking stone lighthouses dating from the 16th century.
Here the sands are soft and the water glisteningly clear, with a long shallow section that kids will love. Head down towards Porto Cesareo and you'll find even more sandy coves as well as the warm waters of a lagoon that fronts the town itself.


5. Acquafredda, Basilicata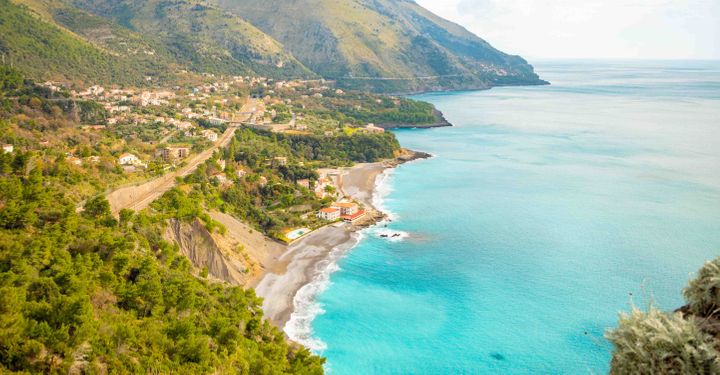 An unusual phenomenon gives Acquafredda (meaning 'cold water') its name: right in front of the beach at Marizza, a freshwater spring flows directly into the sea.
Curving around the village are heavily wooded cliffs, adding the scent of pine to the sea air. If you're an experienced caver, head to the Cave of the Dragon at Porticello beach. Kayakers and boaters can explore the hidden coves of Basilicata's Tyrrhenian Coast, but there's plenty of space to relax on the gravelly beaches that make up this jagged shoreline.


6. Tropea, Calabria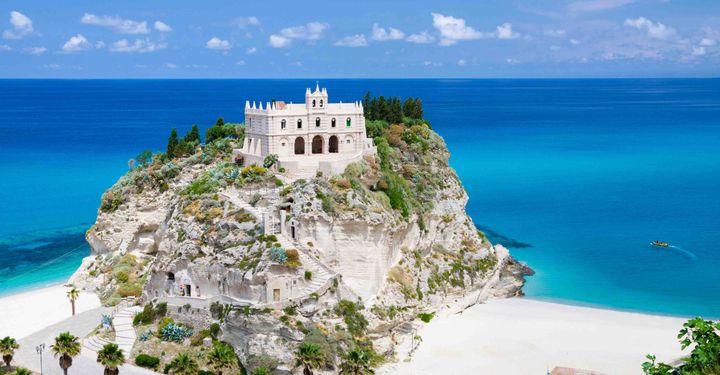 The chicest town in Calabria – one of the highlights of Italy's Tyrrhenian Coast – also has one of its most dramatic beaches. Looming over Tropea's central sandy beach is a huge rock face covered with gravity-defying houses; on the western side, there's a promontory with the church of Santa Maria dell'Isola commanding attention.
Take some time to wander through the church's peaceful gardens of prickly pear and olive groves for broad views of the sea. There are more beaches on the western side of the promontory, if you fancy a change of scenery, and be sure to make time for Tropea's delightful pedestrianised old town.


7. Scilla, Calabria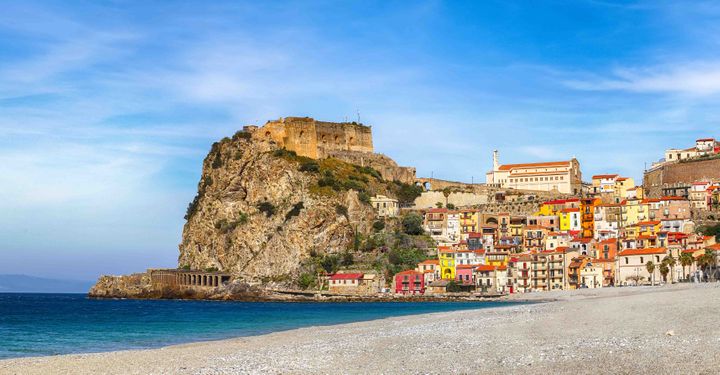 Looking at the wide curve of Scilla's bay, you wouldn't know it had such a lurid part in Greek mythology. In Homer's Odyssey, where the village is known as Scylla, it was here that members of Odysseus' crew met a tragic end.
Nowadays, it's a laidback place that's partly sheltered by a high promontory. At the top you'll find the sedate Castello Ruffo, which is well worth a visit for its panoramic views. A long sandy beach is backed by pretty, pastel-coloured houses and stud a hillside that rises gently towards the upper village.


8. Capo Vaticano, Calabria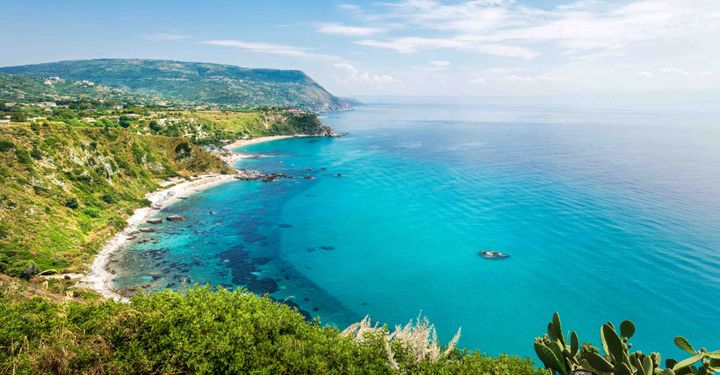 One of Calabria's most attractive beaches offers several places to pitch up for the day: picture a series of sandy coves overlooked by imposing granite cliffs. The further along the cape you go, the fewer people you'll have around you – and you can plunge into clear blue-green waters all by yourself.
Choose between family-friendly sands with all the facilities you would expect – cafés, sun-loungers, pedalos, banana boats – and the wilder coves separated by rocky spurs that need a bit of wading to reach.


9. Pizzo, Calabria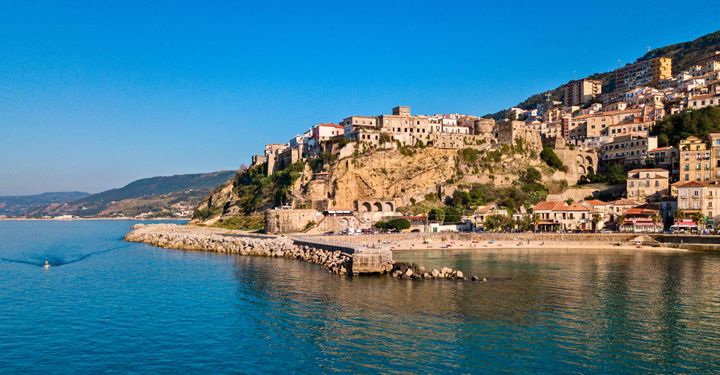 Further east from Tropea along the Tyrrhenian Coast you'll find Pizzo, an appealing little port with a sheltered sandy beach in front of a hillside of houses.
History buffs will know it as the place where the King of Naples – Napoleon's brother-in-law – was executed, but there's a much cheerier reason to visit this beach: Pizzo is home to tartufo, a giant ice cream version of a truffle, with gorgeous gelato covering a chocolate syrupy core. Not to be missed.


10. Caminia, Calabria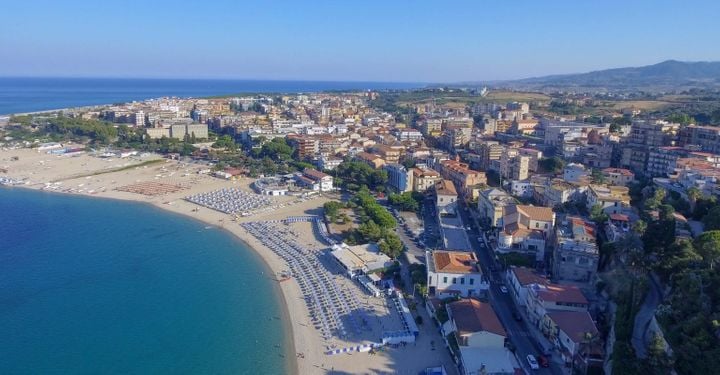 Over on Calabria's Ionian coast, Caminia is a chilled-out little spot where you're unlikely to find non-Italians on its beach of soft crushed gravel. Some of the beaches further north on this stretch of coast can be a bit bland, but Caminia has more character.
Above are the cliffs of Pietra Grande, while on the beach is a nicely scruffy collection of cafés and bamboo-covered areas where you can rent a sun-lounger. If you've got a kayak, paddle over to the little San Giorgio grotto on the easternmost side, tucked in among the rocks.


Have a comment or question about this article? You can contact us on Twitter or Facebook.