Updated July 13, 2022
Published October 4, 2021

The UK's coastline has beaches for days. We're talking far-off white sand straight out of the Caribbean, classic seaside spots with deckchairs and donkey rides, and cliff-backed coves that plunge into every shade of blue you can imagine. Wild ones and well-known ones, family favourites and hidden secrets – whatever you're looking for, wherever you're looking for it, you'll find a brilliant British beach to suit.

With that in mind, we've scoured these fair shores in search of the ultimate British beach experience. From North Yorkshire to Norfolk, the Scottish Highlands to the southern coast, we've rounded up 20 of the best beaches in the UK.


1. Robin Hood's Bay, North Yorkshire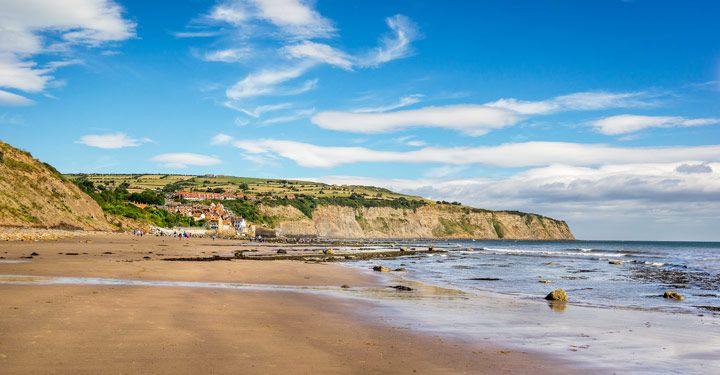 Caught in a time warp, the quaint fishing village of Robin Hood's Bay is the perfect place to escape modern life. Sheltered from the rest of the world by steep, craggy cliffs, the beach itself delivers a slice of Yorkshire's coastline at its dramatic best all year round.
Robin Hood's Bay is great for families, with hundreds of rockpools dotting the beach when the tide's out. And when you're done scrambling through the rocks looking for critters, retire to the pub for some legendary North Yorkshire scampi.


2. Bamburgh Beach, Northumberland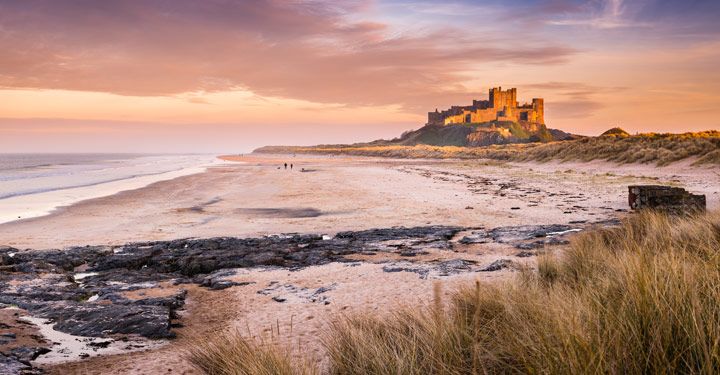 Natives of Northumberland will tell you (or perhaps they won't – they might want to keep you away) that this stretch of coastline is the best in Britain. Perhaps the most popular spot is Bamburgh, a diamond of a beach watched over by a brooding castle. Perfect for a spot of sunbathing (when the weather's right), this beach is also ideal for surfers, windsurfers and walkers.
The historic village of Bamburgh, with its quaint pubs and cafes, is worth stopping in while you're here.


3. Durdle Door, Dorset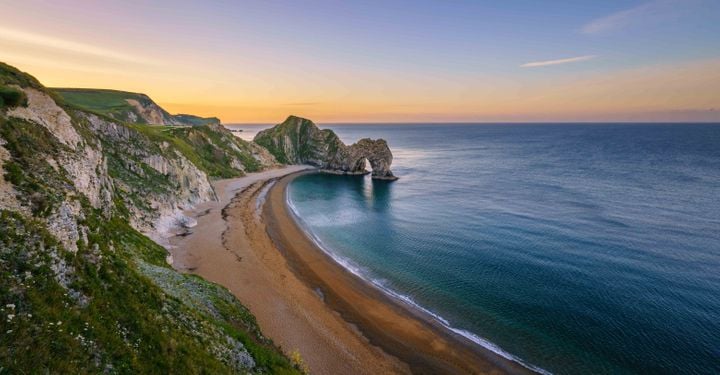 Probably one of Britain's most recognisable beaches, Durdle Door, with its iconic limestone arch, has more than a hint of the Algarve about it. Surrounded by miles and miles of glorious countryside, this picturesque cove has become the poster child for the Jurassic Coast. Due to a natural offshore reef, the bay is protected from tidal swells so it's ideal for swimming, snorkelling and diving.
From here, you can also head over to nearby Lulworth Cove and Man O' War beach for more of Dorset's best beaches – there must be something in the water round these parts.


4. Sandwood Bay, Scotland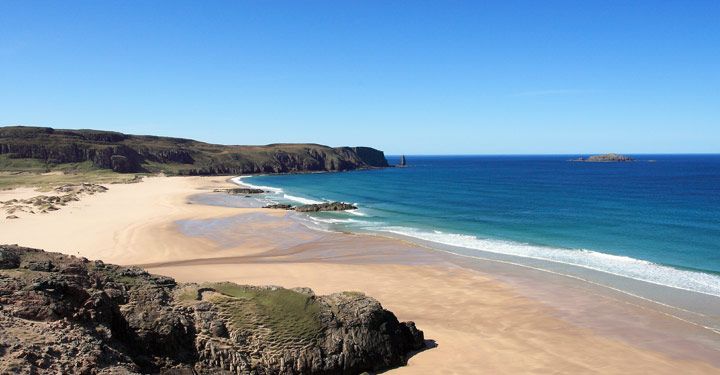 An isolated spot in northern Scotland, only the most dedicated beach bums reap the remote rewards of Sandwood Bay. The beach lies at the end of a bleak moorland track that runs for 6.5km (4 miles) from the nearby hamlet of Blairmore.
Sandwood Bay's remoteness might just be its finest quality: on any given day you could have the entire 2km (1.5-mile) beach to yourself. Some call it the best beach in the UK. One look, and it's hard to disagree.


5. Holkham, Norfolk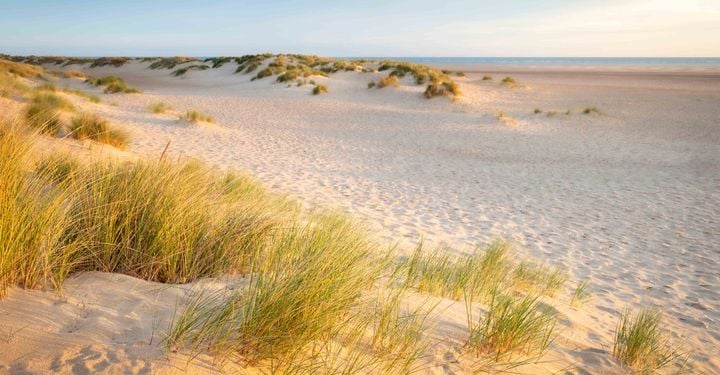 This is a real no-frills beach, one truly worthy of the tag "unspoiled". Wild, vast, and beautiful, you'll find Holkham tucked into the North Norfolk coastline, an Area of Outstanding Natural Beauty, and a blissfully underrated stretch of Britain's long shoreline. It's big and sandy, and when the tide is out, the wet sand is ideal for sandcastle building.
As it makes up a part of the Norfolk Coast Path, it's also tremendously popular with walkers. Another thing to note: Holkham is just as nature intended it to be, so there are no facilities here.


6. Porthcurno, Cornwall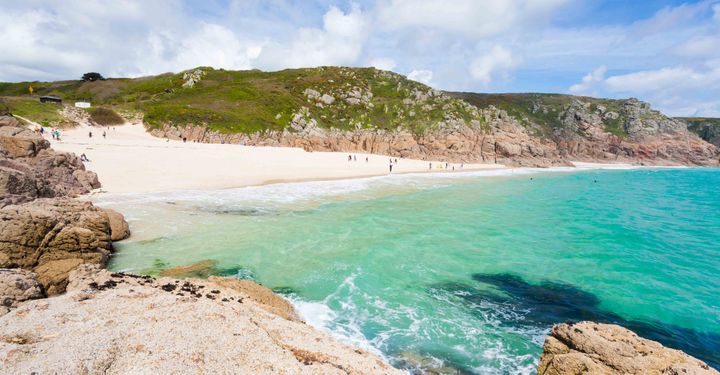 Would you travel to the ends of the earth for the perfect beach (or the end of Britain, at least)? You may well have to for the pristine sands of Porthcurno in Cornwall. One of Cornwall's best beaches, Porthcurno is famed for its Caribbean-clear waters, fine, golden sand and the craggy surrounding cliffs that shelter the bay perfectly from the elements.
But it's not all about good looks. Porthcurno has something that no other beach in Britain can boast: its own open-air theatre. The Minack, carved into the rock and perched on a cliff top, overlooks the beach and the crashing waves of the Atlantic. How's that for drama.


7. Huisinis, Outer Hebrides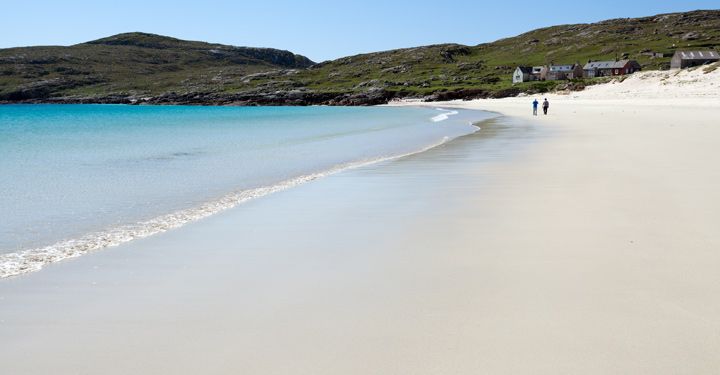 A little further afield than some of the others mentioned here, you'll find the remote beach of Huisinis on the west coast of Harris in the Outer Hebrides. Get the weather right here and, with the clear blue waters and golden sands, you could be forgiven for thinking you're in the Med – all that's missing are the palm trees.
Along with many beaches in this part of Scotland, the appeal of Huisinis lies partly in what you won't find here. No fish and chip shops, no gaudy amusement arcades and no entertainment, apart from what nature provides – eagles, deer, cormorants and sometimes even seals, dolphins and whales are among the attractions. A ferry operates from the mainland to and between the islands of the Outer Hebrides.


8. Downhill Strand, Northern Ireland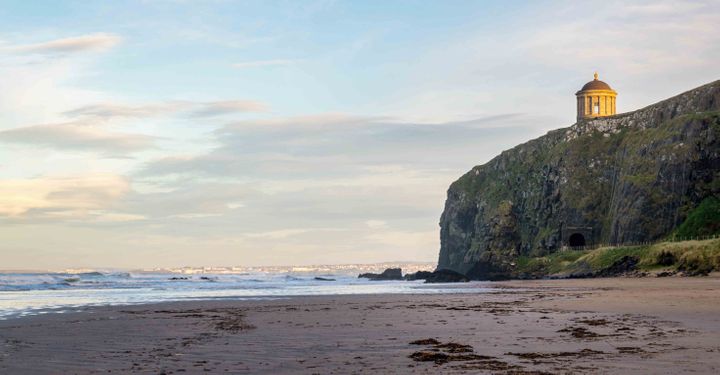 One of the most scenic coastal stretches in Northern Ireland, it's a wonder that Downhill Strand isn't better known beyond the borders of the Emerald Isle. Instantly recognisable from the Mussenden Temple, a clifftop monument that overlooks the bay, this beach is one of the longest in the country.
Wild and windswept, the beach is popular for watersports, such as windsurfing and surfing, and it's also a great spot for birdwatching. For the best chance of spotting some birdlife, take stroll along the imposing cliffs that back the beach – just remember to bring your binoculars!


9. Marloes Sands, Pembrokeshire, Wales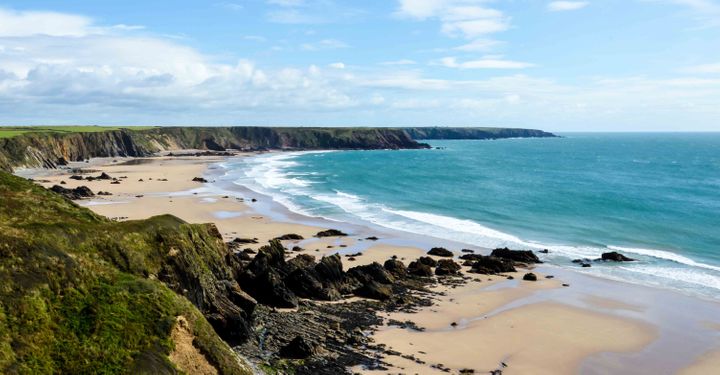 Pembrokeshire's Barafundle Bay might hog the spotlight – and we're inclined to let it. Because while visitors crowd its busy shores, you'll be exploring the craggy cliffs and secluded bays of the alluring Marloes Sands in south Wales.
After scrambling over washed-up rocks at the beach's entrance, a sweeping expanse of golden sand, dotted with dramatic stony outcrops, rewards you for all that effort. When the tide is out, the shallow waters are perfect for paddling, while the wide beach is ideal for games. Even in high summer there's plenty of space available.
Of course, anyone who's ever been to this beautiful part of the world knows that stunning, out-of-the-way beaches are the norm – the best one is all a matter of opinion.


10. Brighton, England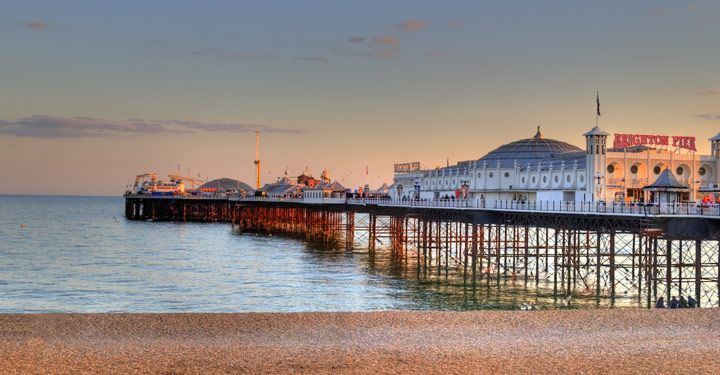 This fun-time south coast city is one of the originals. Today, it's just as much a piece of London by the sea as it is a beach resort, with many treating it as a stylish but more laidback escape from the big city.
You can explore the pier and shingle beach, swim in the Channel or head into town for a whirl around the quirky and decadent Royal Pavilion, built as a seaside home for George, Prince of Wales. The Lanes area is packed with cute boutiques, cool bars and great places to eat out, and the alternative vibe that pervades the town means there's always something cultural going on in the local pubs and theatres.


11. Blackpool, Lancashire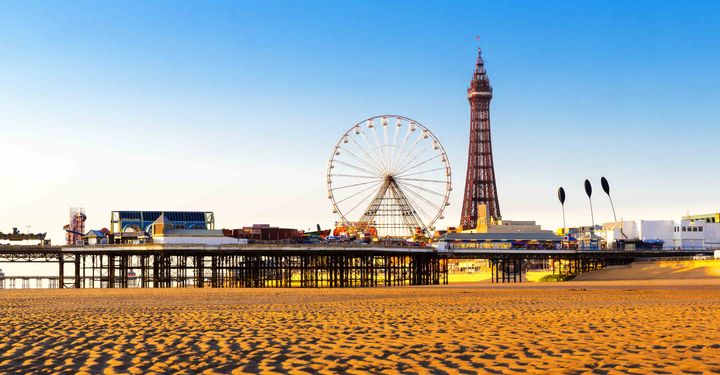 Blackpool is the place to go for a classic UK seaside break. There's ice-cream, candy floss, kiss-me-quick hats and rock candy to get stuck into. There are also world-class theme park rides at Blackpool Pleasure Beach, a long sand beach, three piers and wall-to-wall entertainment such as the immense Comedy Carpet – a concrete artwork incorporating jokes and music hall catchphrases – at the foot of Blackpool Tower.
Add in seafront trams, donkey rides, horse and trap trips, a superb zoo, fortune tellers, and the Illuminations light show in early autumn, and you have a strong contender for Britain's top traditional seaside resort.


12. Bournemouth, Dorset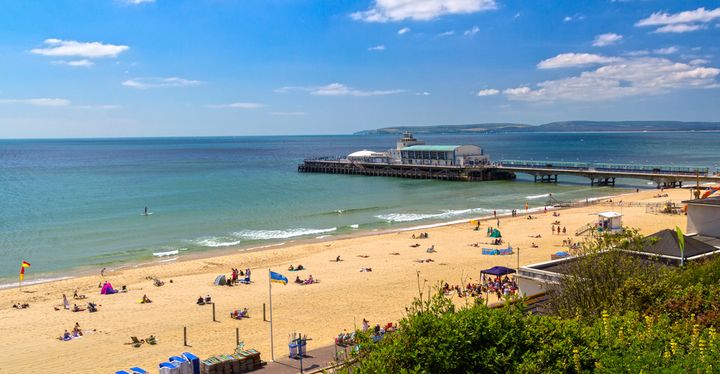 With 11km (7 miles) of sand, two classic piers, a magnificent cliff backdrop and Blue Flag status to boot, we can see why Bournemouth is a perpetual crowd-pleaser.
Its prime spot, sheltered beneath impressive cliffs in Dorset, also means that the bay has its own micro-climate. In fact, Bournemouth is one of the warmest beaches in the UK in terms of sea temperatures – who needs the Med?


13. Blackpool Sands, Devon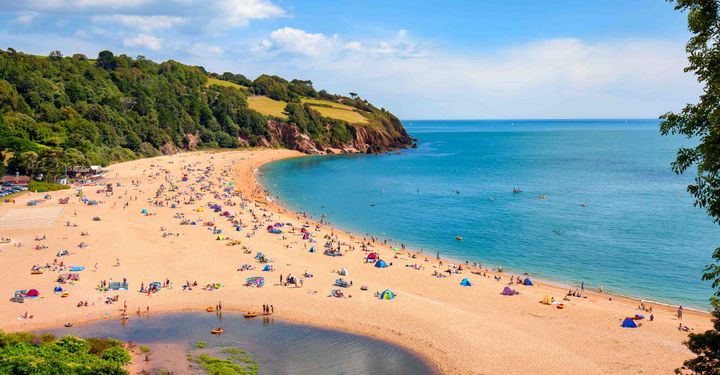 A wonderfully underdeveloped beach, Blackpool Sands is nowhere near its iconic namesake. Instead, you'll find this Blue Flag beauty on Devon's south coast, tucked away in a pretty cove, and backed by plenty of greenery.
Safe and clean, it's one of the best beaches in the UK for families, with a beachside café, and loads of watersports on the go, including stand-up paddle boarding and kayaking. The beach sits on the South West Coast Path and can be reached easily on foot as part of a long hike along the Devon coastline.


14. Luskentyre Beach, Scotland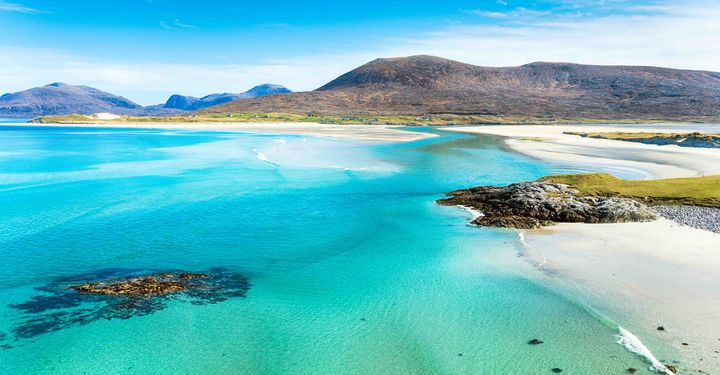 Luskentyre Beach's white sand and super clear water is pure Bahamas. Sadly, the weather in northern Scotland rarely is. That said, during the summer months, it's hard to argue against the beaches of the Isle of Harris – they are among the best sandy beaches in the UK and really do look as if they've sailed here from the Caribbean.
On top of Luskentyre, you'll find jaw-droppers Seilebost, Borve and Scarista. If you've made it up this far, be sure to take a sea safari in search of an orca pod.


15. Rhossili Bay, Wales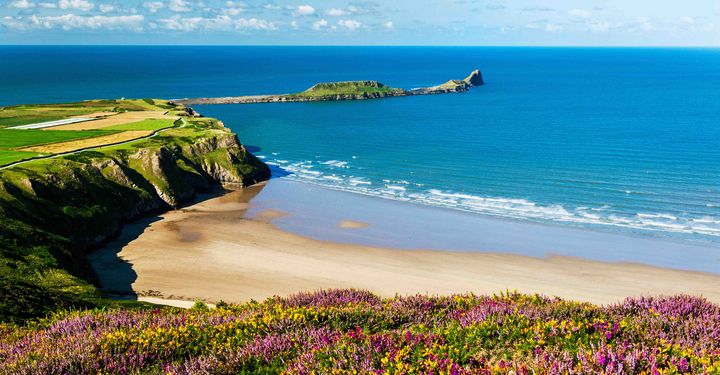 Regularly ranked as one of the best beaches in the UK, Rhossili Bay on Wales' Gower Peninsula is a 5km (3-mile) stretch of dreamy golden sand. Whether you're into surfing, sunbathing or sandcastle building, Rhossili ticks all the boxes – and then some.
Backed by rugged cliffs, there are a number of walking routes around the beach with spectacular views out over the sea. Take the dramatic hike up to the Old Coastguard Lookout, walking clifftops above the beach for views out over Worm's Head. Run by the National Trust, there's a car park and a shop close to the beach.


16. West Wittering, West Sussex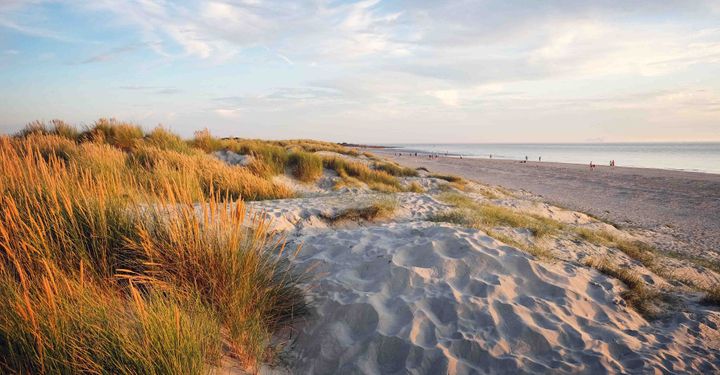 Long, flat and sandy, West Wittering in West Sussex is one of the south coast's most popular beaches. Another good one for families, the water is clean and safe, with lots of watersports action on offer, too.
The multi-coloured wooden beach huts backing the sand give West Wittering a proper retro feel, while the dunes and long grass ensure there's plenty of wildlife nearby. In fact, it's a great place for birdwatching, with egrets, herons and other waders regular visitors to the beach. Nearby Pagham Harbour is another top spot for keen birders.


17. Pentle Beach, Tresco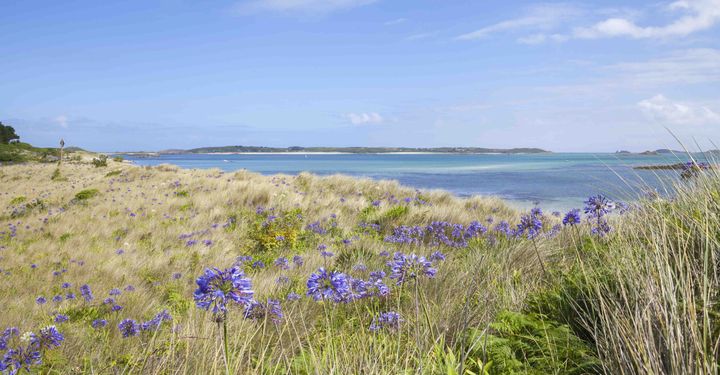 No, you haven't landed in the Indian Ocean. Yes, the beaches of the Scilly Isles really do look this good – and Pentle Beach is one of the best.
A wild, unspoiled arch of white sand backed by gentle dunes, you'll find Pentle on Tresco island, the second largest of the Scillies. Despite its natural beauty, the beach has somehow managed to remain uncrowded and undeveloped.
Sitting off the far tip of Cornwall, this little cluster of islands feels like another country entirely. To get to there, take the Scillonian III ferry from Penzance Harbour to St Mary's, the archipelago's main island. From here, it's just a short boat transfer to Tresco.


18. Compton Beach, Isle of Wight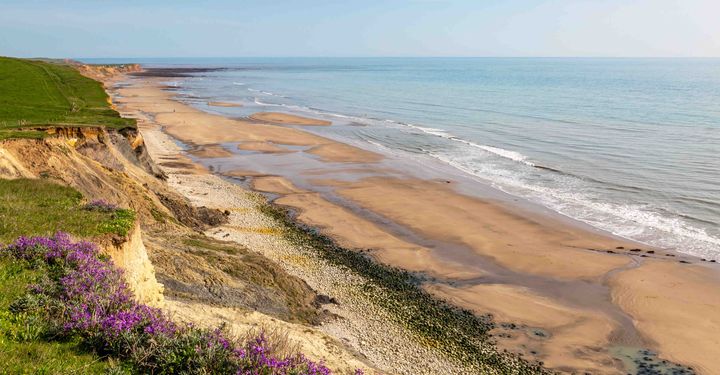 This 3.2km (2-mile) stretch of golden sand, located on the Isle of Wight's west coast, is wonderfully untouched. Besides the odd ice-cream van, all you'll find here is sand, sea, and not much else.
The bay is surrounded by tall, dramatic cliffs, sheltering it from the worst of the weather. As a result, it's incredibly popular with families seeking safer seas. Given its proximity to the Jurassic Coast, the beach is also a great spot for fossil hunting – at low tide, you might even see the odd dinosaur footprint or two!


19. Studland Bay, Dorset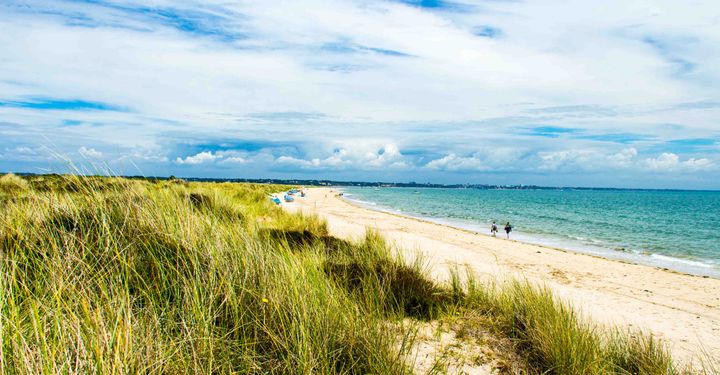 A vast stretch of gold sand surrounded by wild heathland and rolling sand dunes, Studland Bay is British seaside at its most pared back and natural. Go hunting for wildlife on the Studland Beach sand dunes trail, a circular walk leading through the dunes behind the beach. Keep an eye out for birdlife, such as the Dartford warbler, and one of the six native British reptiles that live here.
From the highest dunes, you'll be able to see out over the Dorset coast, and the white, towering chalk cliffs of the Studland Peninsula.


20. Porthminster, Cornwall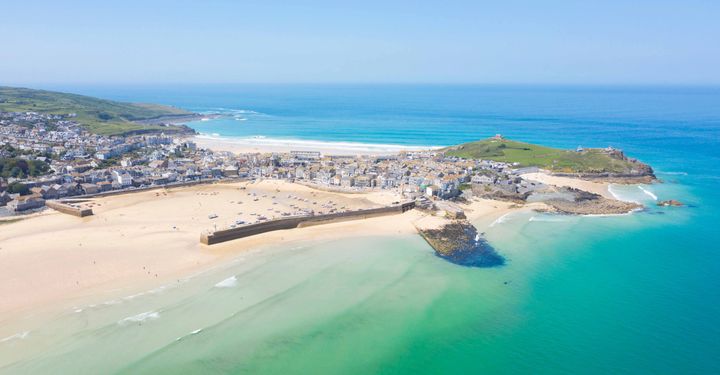 St Ives stunner Porthminster Beach recently came in at number 11 on TripAdvisor's list of best European beaches – and it's not difficult to see why.
A safe, sheltered spot, just a few metres from boho St Ives town, the beach is famous for its pale, powdery sand and shimmering aquamarine water. Make your beach day extra special, with a bite at Porthminster Beach Café, an acclaimed seafood restaurant right on the beach.
It does tend to get quite busy here in the summer, but, if you don't mind sharing, it's still well worth a visit.


Have a comment or question about this article? You can contact us on Twitter or Facebook.