10 of the best places to spend Christmas
Updated October 28, 2022
Published November 11, 2019
Can't find the magic of Christmas at home? Well, you're in luck! There are many places that celebrate the festive season wonderfully, with the perfect combination of atmosphere, food, over-the-top decorations and – sometimes – snow. Here's ten of the best.


1. Ljubljana, Slovenia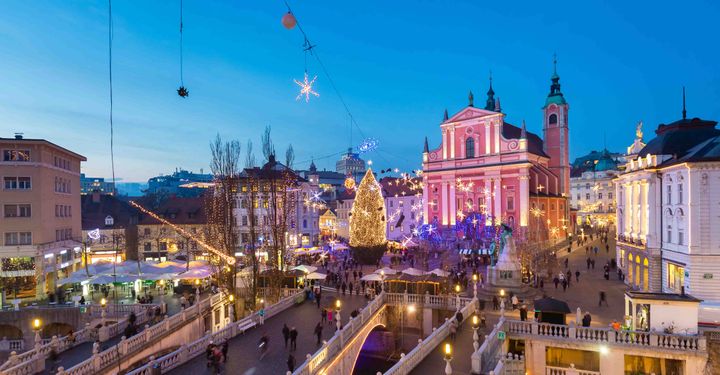 Slovenia's jewel-like capital – already the stuff of fairytales throughout the year – goes into serious overdrive in December. Ljubljana's baroque and art nouveau streets are smothered in twinkling lights, and Christmas market stalls line the banks of the Ljubljanica River until January 2.
Throughout the season, classical musicians serenade you in the main squares of the old town, adding to the warm atmosphere. To cool things down, check out the extraordinary ice sculptures on display at the 'Land of Ice'.
If that's not fairytale enough for you, take a day trip to Lake Bled, whose island castle would have made Walt Disney swoon.


2. Prague, Czech Republic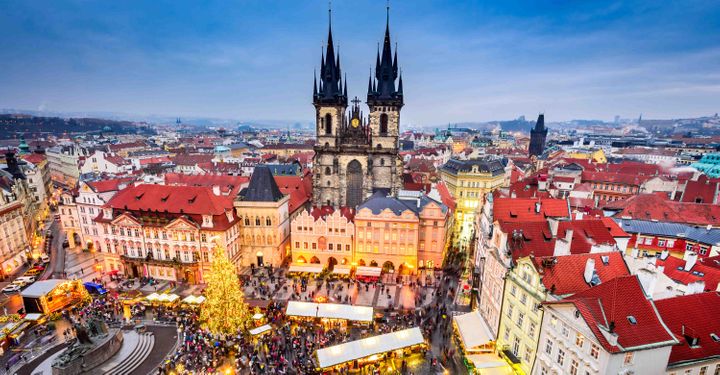 Can you get more Christmassy than Wenceslas Square lit up by lanterns and festooned with lights? Between here and the Old Town Square, you'll have plenty of Christmas market stalls to browse and snack from, all to a heart-warming soundtrack of choral singing. You'll find even more markets in front of St George's Basilica and Republic Square, and the festivities carry on until January 6.
Christmastime in Prague also heralds a unique – though fairly new – tradition: the lighting of the gas lamps on Charles Bridge. Rug up for a romantic stroll and watch the lamp-lighter illuminate the bridge each day shortly after 4pm between November 28 and December 23.


3. Megève, France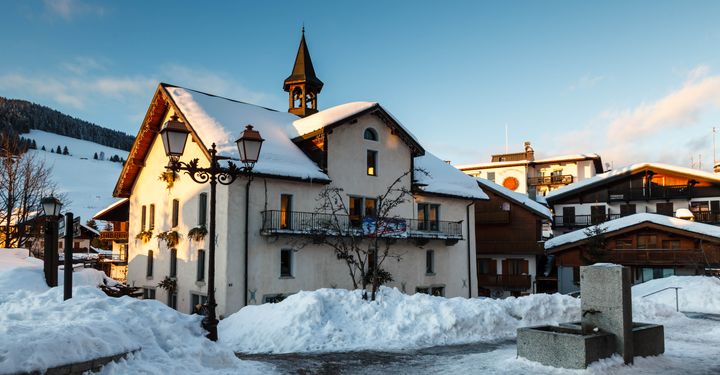 One of France's most elegant ski resorts is also one of the prettiest. All during the ski season, a giant Christmas tree dominates the main square in the village, which is made only more charming by the sight of horse-drawn carriages going past.
If you're not a skier, there's plenty to do in and around the village – and even more if you appreciate French fine dining and superior shopping. Go ice-skating in the village centre, hit the tobogganing trails or try the indoor-outdoor spa at Le Palais Megève, where you can soak in thermal pools under gently falling snow.


4. Zagreb, Croatia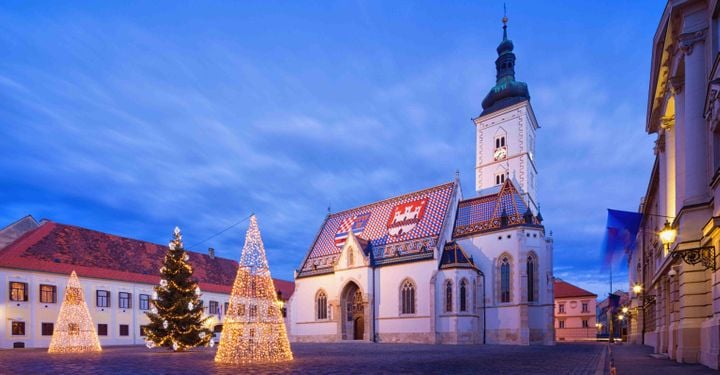 If you think Germany and France have the best Christmas markets in Europe, think again. Zagreb's Advent Market spreads across the Croatian capital in more than two dozen places, each more glittering than the last. They're squeezed into squares, on the side of hills, down in tunnels and tucked into pedestrianised streets.
As you might guess (this is Croatia, after all), the focus is on the food rather than the trinkets, though you'll also find outdoor ice-skating as well as open-air concerts. And while the markets steal the spotlight this time of year, it doesn't end there: Zagreb's baroque streets overflow with cafés, restaurants and underrated museums and galleries, all just waiting to be discovered.


5. New York City, USA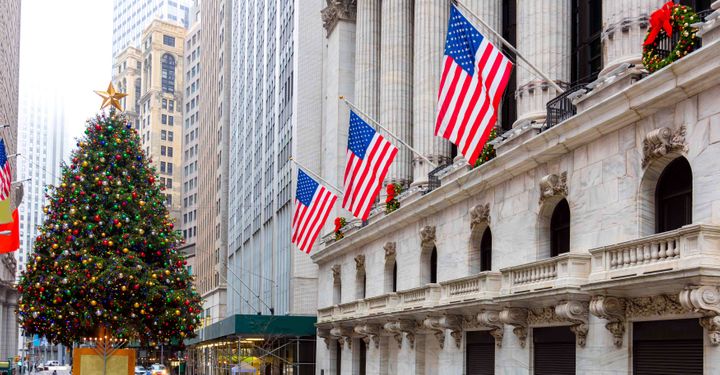 Ice-skaters whizzing around Rockefeller Center, gorgeous window displays in Bloomingdale's, Central Park draped in snow, Frank Sinatra crooning on the radio... New York just gets Christmas.
You'll find festivities at the Christmas markets in Columbus Circle and Union Square, but for the full-on Christmas lights experience, head over to Brooklyn for the Dyker Heights display. It's truly spectacular in all its blinding kitsch.


6. Budapest, Hungary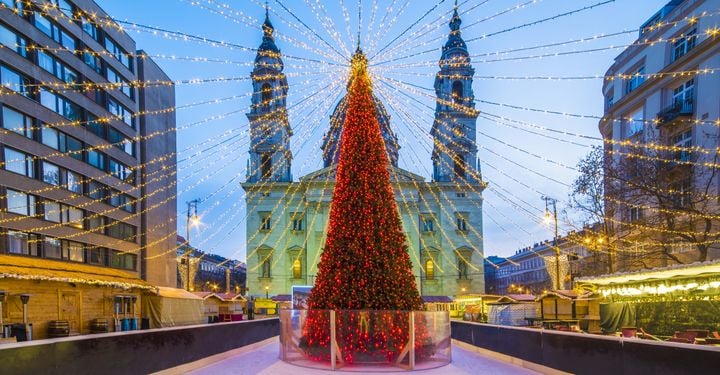 Budapest is romantic enough without the festive fanfare, but Christmas takes it to another level. A promise of snow hangs over the city, expertly draped Christmas lights illuminate the town and there are more markets than you'll manage in a day.
Walk across the Chain Bridge to Buda Castle for the marvellous view of Pest and the magnificent parliament building. It lights up by night year-round, but somehow adopts a festive vibe this time of year. After you've feasted on chimney cake and bowls of goulash, wallow in the warm thermal waters of Budapest's outdoor spas and watch the steam rise into the cold air.


7. Quebec City, Canada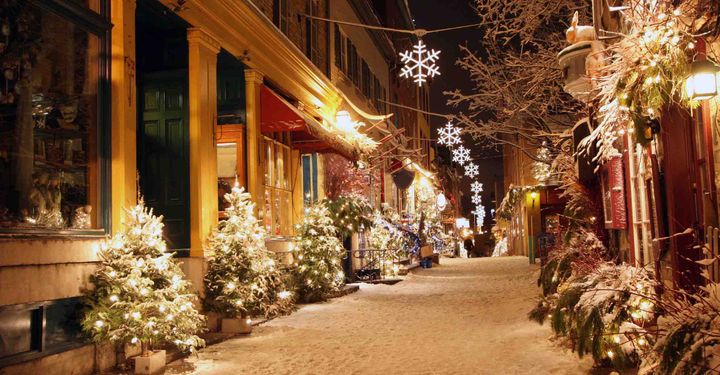 The old world meets the new in Quebec City – its old town dates back to the 17th century. At Christmas, this venerable city on Canada's St Lawrence River turns into a winter wonderland of fairy lights and German-style markets. When you're not being swept away by the romance of the Christmas village and pretty Place Royale, nip over to Mont Sainte-Anne further up the river for a spot of skiing.


8. Rome, Italy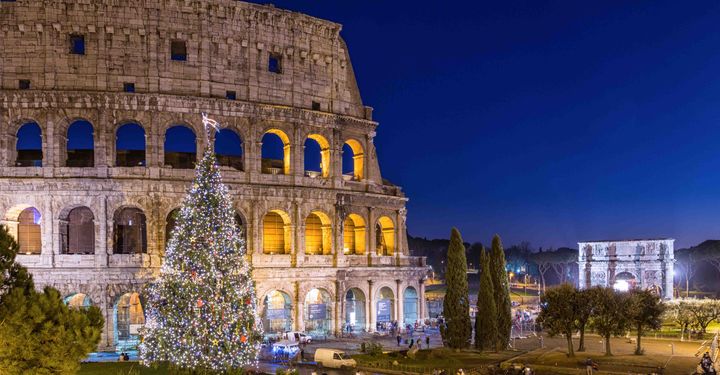 Rome at Christmas has all the seasonal charm you could wish for: a giant Christmas tree adds sparkle to St Peter's Square, a dusting of snow seems seconds away and a life-size nativity scene springs up on Christmas Eve. You'll also see these nativity scenes – called presepi – all over Rome's churches and squares throughout December up until the end of the twelve days of Christmas on January 6.
Elegant Piazza Navona becomes the setting of a sprawling Christmas market, with stalls, food and entertainment for the kids. Get your skates on for a twirl round the ice-skating rink near the hulking Castel Sant'Angelo on the other side of the Tiber River.


9. Munich, Germany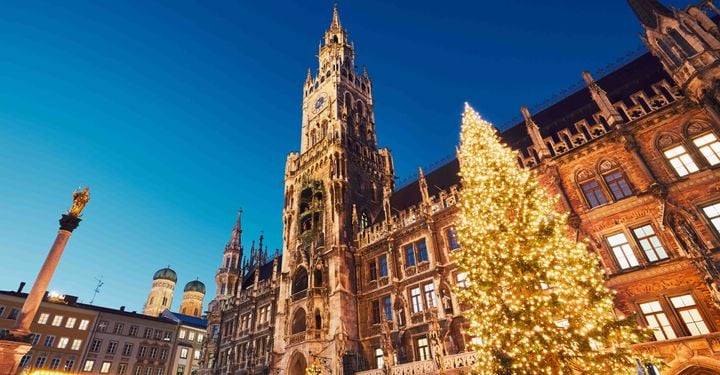 German Christmas markets are so popular that they're replicated around the world. So, why not see the original concept in action in Munich?
The market in Marienplatz – Munich's most famous – has been casting its spell for centuries, but you can find smaller and more intimate markets in nearby squares. Check out the festive farming village, called Christmas Village, at the Munich Residenz or step back in time at the Middle Ages Market at Wittelsbacherplatz. For a spot of ice-skating, head to Karlsplatz for a loop around the rink.


10. Bruges, Belgium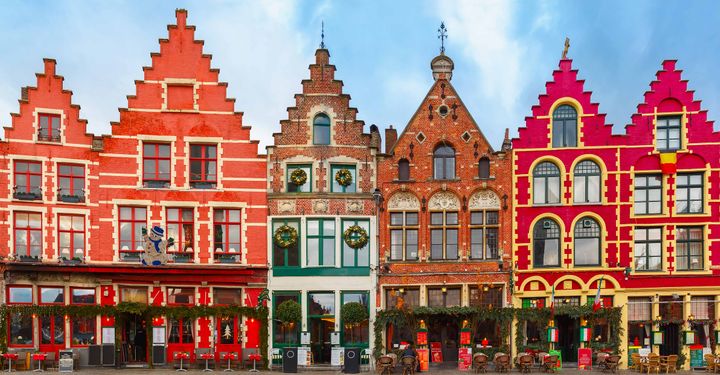 With beer, chocolate, canals, exquisitely beautiful Flemish architecture, Bruges is appealing at any time of the year. But add the seasonal bonus of absurdly pretty Christmas markets and it goes up a few notches. To see it at its best, block out a weekend between late November and early January when the markets come to town.
The larger of the two takes over the main square, Markt, and is accompanied by an outdoor ice-skating rink. Climb to the top of the belfry to get a wonderful view of it all. A few minutes away, the smaller market at Simon Stevinplein offers not only Christmas gifts but also convivial pop-up bars where you can alternate between warming glasses of mulled wine and Belgian beer.
Follow the 'Winter Glow' light experience trail to see light installations that make the city's medieval gables glow.


Have a comment or question about this article? You can contact us on Twitter or Facebook.