9 of the best road trips in Europe
June 2, 2023
By Anna Hardy
Some places were just made to be explored by road and these European road trips top the charts for their incredible driving routes and showstopping scenery.
From the windswept coastal climbs of Ireland's Wild Atlantic Way to the iconic hairpin turns of Romania's Transfagarasan Highway, here's nine of the best road trips in Europe that will have you reaching for those car keys and gearing up to hit the road.


1. Andalusia Circuit, Spain
Length: Approx 753 miles | Allow 12 - 14 days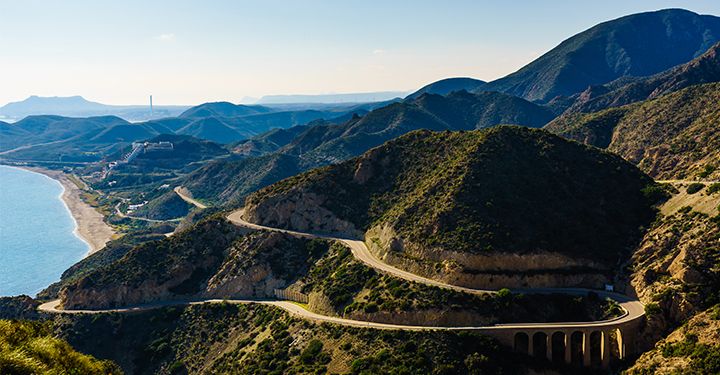 From rugged mountain valleys and classic cities to grandiose fortresses and sweeping beaches, roll all of Andalucía's top spots into one with this epic road trip circuiting southern Spain.
Pick up your hire car in the home of flamenco, Seville, and travel via seaside Cadiz before looping inland to take in the rambling A372 road through the famous Pueblos Blancos. Pause in Ronda for jaw-dropping views of the Puente Nuevo bridge.
From here, coastal highlights include Malaga (stop to visit the Moorish hilltop fortress, Alcazaba), sun-bleached Almeria and the undulating hillsides of the Cabo de Gata Natural Park. Granada, with its Alhambra Moorish Palace, is the next big stop on this road trip – skirt the edge of the Sierra Nevada National Park on the A92 to get there.
Olive grove central Jaen, and cathedral-icon Cordoba are your final stops, then amble back to Seville when you're ready.


2. Ring Road, Iceland
Length: Approx 820 miles | Allow 7 - 10 days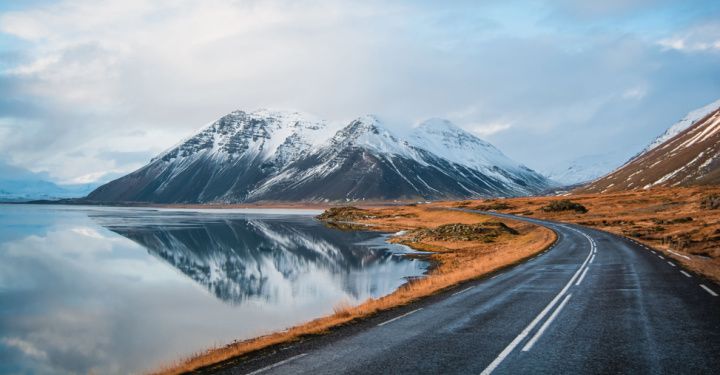 Iceland is a road-trippers paradise and its renowned Ring Road (Route 1), which encircles much of the island, is one of the most majestic drives in the world.
Best tackled in summer before the roads get icy, the Ring Road starts in capital Reykjavik before easing you into the drive ahead with a dip in the bucket list Blue Lagoon. The next highlights include the tumbling Seljalandsfoss Waterfall; Vik, Iceland's southernmost village and home of the dramatic black-sand Reynisfjara Beach; and the phenomenal Fjadrargljufur Canyon. Rest your engine in the cute fishing town of Hofn, full of sea views and seafood.
Next, make your way into Iceland's lesser visited north. Break up your drive with a dip in the Myvatn Nature Baths, a hike to Dettifoss Waterfall and a stay in postcard-perfect Husavik - the whale capital of Iceland.
Breeze over untouched grasslands to Hvammstangi, then finish back in the capital, passing the outstanding Hvalfjordur Fjord on your way.


3. Southern peaks, Switzerland
Length: Approx 167 miles | Allow 5 - 8 days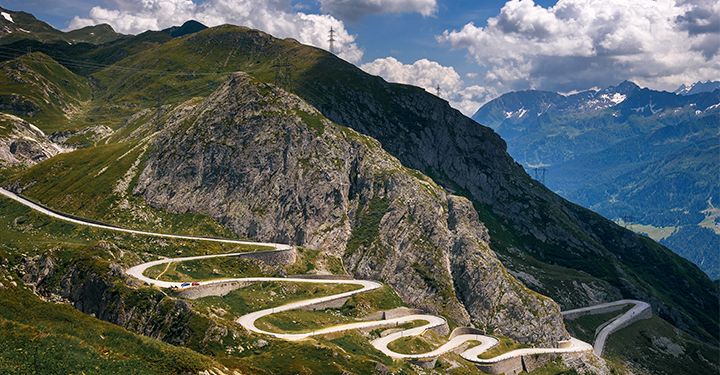 Combining breathtaking Alpine scenery with slalom-style mountain passes, this road trip through the Swiss southern peaks is truly memorable.
Begin in Lugano – known as Switzerland's 'Little Italy' – and head north to lakeside Locarno before powering into the Alps to Airolo, the gateway to the spectacular Gotthard Pass. Take time to admire the views from your 2,100m-high (6,889 feet) vantage point. The sweeping, twisting road ahead is a fun challenge that's rewarded with stark-but-stunning mountain landscapes.
Now you're warmed up, prepare to take things up a gear with the steep, swerving switchbacks of the Furka Pass. This adrenaline-pumping road was the location of Goldfinger's iconic car chase and its hair-raising bends are sure to have you feeling like 007 behind the wheel.
Cruise on to complete your trip in Zermatt, where the almighty Matterhorn awaits. Do note that the passes are weather dependent, usually opening between June to October.


4. Southern France and Côte d'Azur, France
Length: Approx 430 miles | Allow 10 - 14 days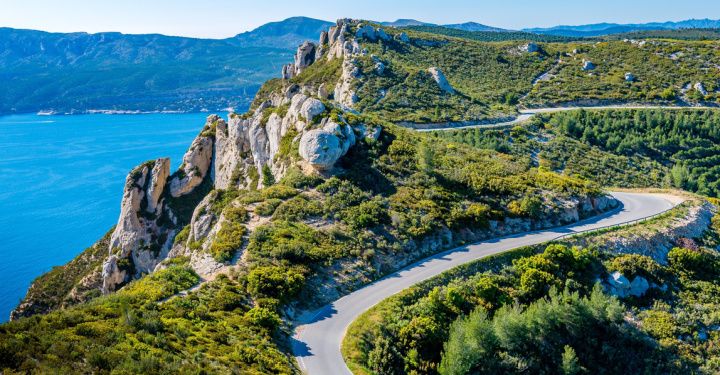 Enchanting countryside, chateau-fringed cities and charming seaside towns come as standard on this idyllic journey through France's southern regions of Occitanie, Provence and the Côte d'Azur.
Have your fill of magnificent museums and mansions in Toulouse, then hire a car and set off to Narbonne for Gothic cathedrals and quaint canals. Next up is glamorous Montpellier and ancient Nîmes, followed by riverside Arles. Detour to Camargue to see its exceptional Natural Park.
Roll down the windows and enjoy the leisurely drive inland to Aix-en-Provence where you'll find romantic cafe-lined squares and elegant architecture. Head down to the coast to spend some time in colourful Cassis, then hit the gas to cross verdant rural landscapes to reach coastal Cannes.
Last but not least, soak up the sea views on the last stretch of road to Nice.


5. North Coast 500, Scotland
Length: Approx 500 miles | Allow 5 - 7 days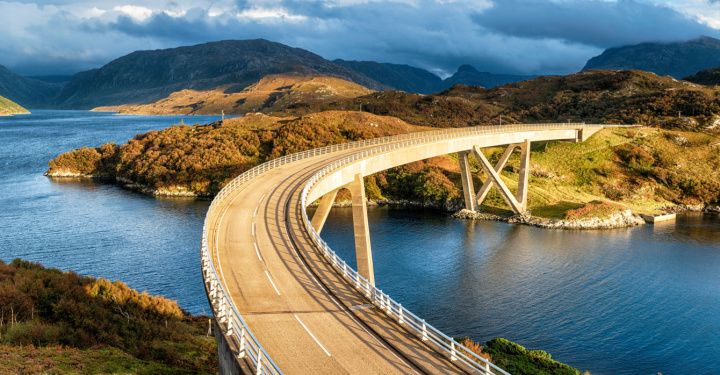 Scotland's NC500 needs no introduction – its gorgeous coastal circuit is one of the country's greatest icons.
Kick start your journey in Inverness, heading west across the wilderness to reach the undulating criss-cross roads of the Bealach na Ba mountain pass, snaking your way up and over to the Applecross Peninsula. Skirting the west coastline, pass the inky shores of Loch Maree to rest up in the whitewashed fishing village of Ullapool.
The untouched beauty of Durness' sweeping beaches and Sutherland's heather-covered moors await you in the north, leading you along the craggy back roads all the way to Britain's northeastern tip, John O' Groats.
Hug the eastern coastline travelling south, taking your pick of Highland castles, dramatic glens and whisky distilleries as you go. Historic little Dornoch is your final seaside stopover, then its homeward to Inverness to complete the loop.


6. The Transfagarasan Highway and beyond, Romania
Length: Approx 372 miles | Allow 4 - 5 days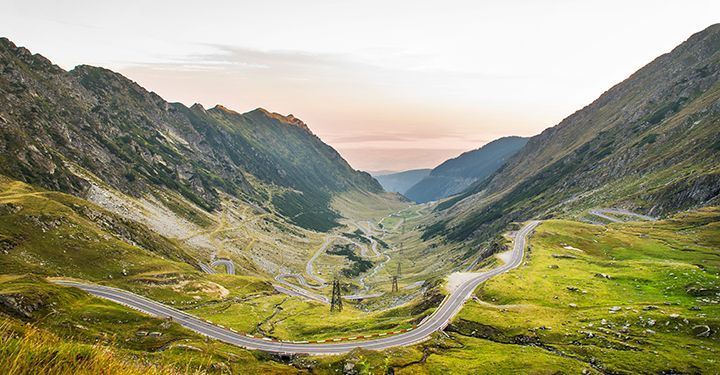 Named as 'the best road in the world' by Top Gear's Jeremy Clarkson, Romania's Transfagarasan Highway has a big reputation to live up to. But it doesn't disappoint. Twisting and turning through the Carpathian Mountains, its hairpin bends and swooping stretches are as spectacular as road trips get.
Settle into your surroundings in lively Brasov, then fuel up and make haste for Cartisoara, the gateway to the highway. First up is the northern section, leading to the stunning glacier lake, Balea Lac. Expect mountain-edge turns and steep s-bends traversing through dense forest and vast valleys.
Cross the tunnel from Balea Lake to reach the southern section, where the road's steep winding bends only amplify, passing waterfalls en route. Pause at Vidraru Dam for panoramic views.
Complete the highway in Curtea de Arges, freewheeling your way to Bucharest to finish up in Romania's metropolitan capital.


7. The Amalfi Coast, Italy
Length: Approx 73 miles | Allow 4 - 6 days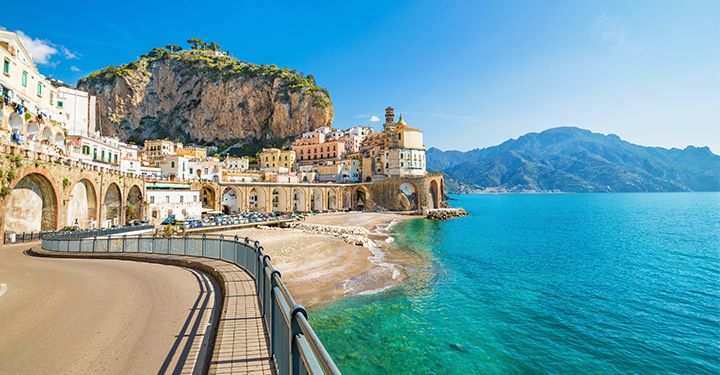 The Amalfi Coast is no stranger to sublime scenery, dotted with colourful paint-palette towns perched on seafront hillsides. Savour all its star-studded spots on this road trip from Naples to Salerno.
Ancient Pompeii is your first pit stop from Naples. Meander on, skimming the coastline of the Sorrento Peninsula to reach the lemon-loving town itself. From here, the SS163 begins the classic Amalfi Drive, known as the 'Blue Highway' because it follows the sparkling Mediterranean shore – all 1,001 turns of it.
Positano is undoubtedly the crown jewel of this drive, and the postcard moment comes as you approach the multicoloured houses that spill down from the cliffside. Amalfi's narrow streets have their own charm while vibrant Salerno hums with al fresco cafes and waterfront shops. In between it all? A whole load of beaches, limoncello and sea views that you'll want to write home about.


8. The Wild Atlantic Way, Ireland
Length: Approx 1,600 miles | Allow 14 - 16 days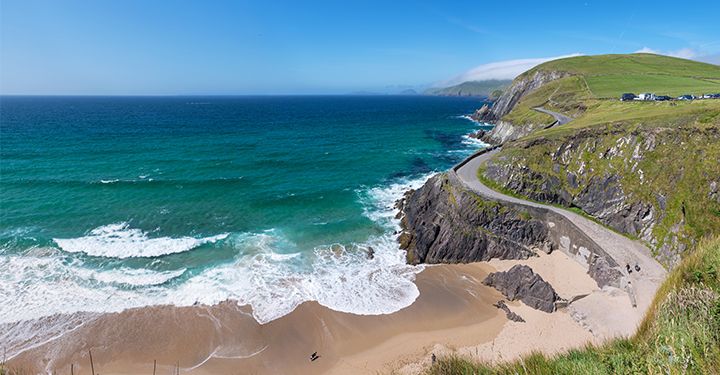 Tracing the whole western coast of Ireland from Derry down to Cork, the Wild Atlantic Way is indeed a wild road trip, both in scale and style with beautifully raw roads that stretch 2,600km (1,600 miles). Allow at least two weeks to do the whole route justice.
Highlights in the north include Donegal's sand dune beaches, Sligo's literary-loving streets and the tiny coves and scenic trails of Connemara. Give your engine a rest in the spirited harbour city of Galway, where traditional Irish pubs and live music bars spill from every corner.
Up ahead are the staggering Cliffs of Moher, a must-stop for photos and horizon views. Amble on south, dipping into the rugged port town of Dingle, cutting through wonderful Killarney National Park and pausing in the cute fishing town of Kinsale. Conclude your epic adventure in Cork where you can enjoy a welcome refuel in Ireland's foodie capital.


9. Croatian Coast, Croatia
Length: Approx 427 miles | Allow 6 - 8 days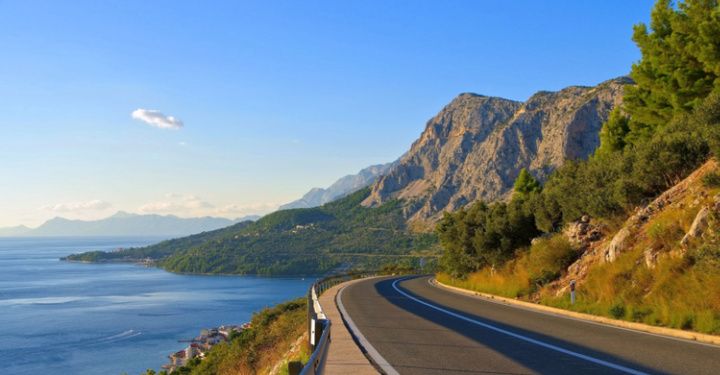 There's no need to rely on a boat to see the best of Croatia's remarkable coastline when this incredible road trip ticks off all the top spots.
Spend some time in Pula, known for its Roman arena and pristine harbour, then hop in your car and hug the shore to Rijeka, home to hilltop Trsat Castle and plenty of pretty beaches. Cruise all the way down the coastal E65 to reach Zadar, full of delightful old town squares and waterfront walkways. The Plitvice Lakes National Park is a worthy detour if you have the time.
Stick to the paradisiacal Dalmatian coastline down to Split, stopping in Trogir to admire its Renaissance architecture. You'll want to put the car keys away for a day of seafront restaurants, crystal-clear beaches and historic ruins in Split.
Finally, snake your way along the southern coast to Dubrovnik for a city stay in its famous terracotta-coloured old town.


Have a comment or question about this article? You can contact us on Twitter or Facebook.