9 of the best things to do in Antalya
September 8, 2023
It's oh-so-tempting to simply linger by the pool or on the beach on a holiday to Antalya, venturing no further than the bar for a cooling drink. But this brilliant Turkish resort has so many experiences and sights for those willing to venture just a few minutes beyond the poolside.
Ancient ruins, a picturesque old city centre, quirky museums and family-friendly attractions all lie within minutes of Antalya's beaches. For those with an interest in deeper history, Antalya is also home to one of Turkey's most absorbing archaeological museums.
So, when you're ready to swap the sun-lounger for some sightseeing, put these nine things on your to-do list.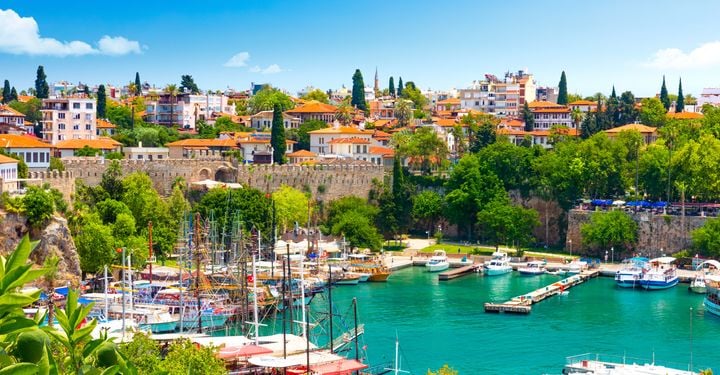 1. Discover old Kaleiçi
To discover the cobbled streets of Antalya's oldest heart, start at Kaleiçi Yat Limanı, Antalya's rejuvenated old harbour where smart yachts and day-cruise schooners jostle for space with traditional fishing boats.
Then stroll into Kaleiçi through the triple-arched Hadrian's Gate (Üç Kapılar), built by the Romans in 130 AD, or take the lazy way by riding the panoramic elevator from sea level to the old town's highest point.
Finish your exploration by wandering back down to the quayside past minarets, mosques and restored Ottoman-era townhouses. Two of these are now home to the Kaleiçi Museum, with rooms decorated and furnished as they would have been back in the city's 19th-century heyday, complete with life-sized figures in contemporary costume.


2. Unwind in a hammam
Lose the aches and pains from a long day's travel (or a long night out on the town) in the echoing surroundings of a traditional hammam.
Here, in accordance with centuries of tradition, you'll be ritualistically steamed, sluiced, scrubbed, lathered, shampooed and finally laid on a marble slab and thoroughly pummelled by a muscular masseur (or masseuse) to emerge deep-cleansed, revived and ready for anything.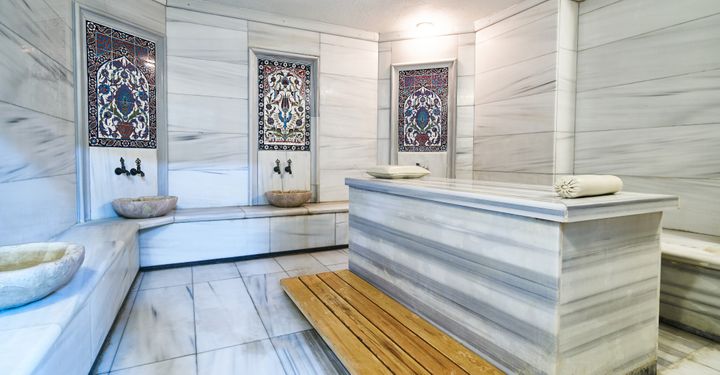 3. Party like Barbie at the Toy Museum
At Antalya's Toy Museum, a giggle of saucy Barbies shares the limelight with more modestly attired Turkish dollies in traditional wedding costumes and a collection of wooden puppets, tin trains and a collection of other toys amassed by the museum's founder over more than 30 years. For younger kids, it makes a cheerful change from the dusty marble antiquities that dominate other museums.


4. Visit an ancient city at Perge
Turkey's vast hinterlands are littered with the relics of ancient civilisations stretching back over 4,000 years. If you're looking for a quick hit of ancient history without spending too much time getting there, you'll find the spectacular remains of ancient Perge only 16km (10 miles) from central Antalya and the sands of Lara Beach.
Two massive towers – the remains of the mighty city gates – mark the entrance to a walled city where you can wander around the foundations of huge Roman theatres and an eerie necropolis.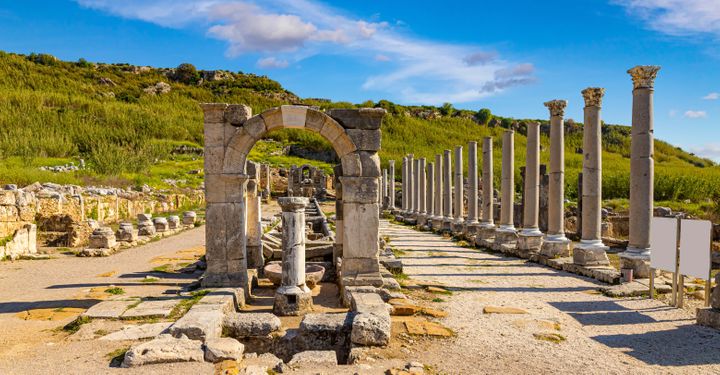 5. Hunt for bazaar bargains
Just outside the walls of the old town, Antalya's traditional market area is where locals did their daily shopping for centuries. These days, its labyrinth of lanes is crammed with small shops eager to promise you bargain prices for artisan ceramics, gold and silver jewellery, shows and sandals and cotton and linen beachwear.
If you're carrying a wad of sterling (or still better, euros) you may be able to drive a harder bargain than if paying in Turkish liras.


6. Get digging at Sandland
Kids can bring their buckets and spades to Lara Beach's Sandland, where they'll be amazed and inspired by enormous effigies of heroes, villains, monsters and wonders of the world. Created by skilled sculptors who use thousands of tons of river sand to carve out sand statues, they last for just one season – just like all proper sandcastles, they're fated to vanish forever when their time is up.
There's a different theme each year – for 2023-24 it's 'Space Adventure', so look out for Yuri Gagarin (Russia's first cosmonaut), Darth Vader and other icons. Best of all, there are workshops where young visitors can learn how to sculpt their own sandy masterpieces.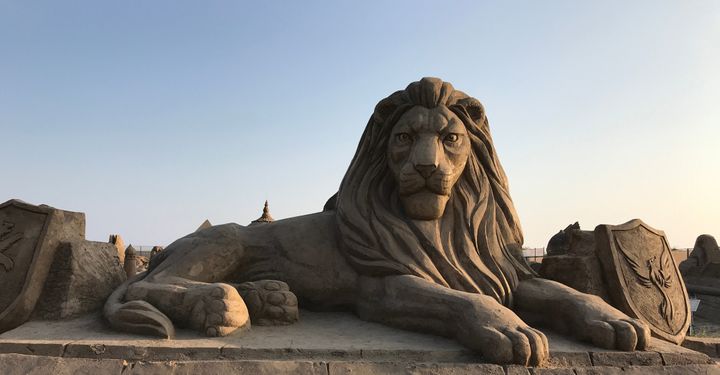 7. Go underwater without getting wet
The clear seas around Antalya are a paradise for serious scuba divers and shallow-water snorkellers alike –there are sunken cities, shipwrecks, reefs and underwater grottoes to explore and a wealth of marine life to encounter.
If you're not keen on plunging into the depths, though, you can still discover the undersea world at the vast, high-tech Antalya Aquarium, where kids can feed titbits to sharks and stingrays and walk through the world's longest tunnel aquarium. And there's more: not just sea life, but a menagerie of creepie-crawlies including reptiles, giant spiders, scorpions and other mini-monsters.


8. Get on your bike
Serious off-road cyclists will find miles of challenging mountain and forest trails right on Antalya's doorstep. But if you're not up for the full-on men-in-Lycra experience, Antalya offers plenty of easy-going experiences on two wheels for all the family. Join a small-group guided electric bike tour (pick-up and drop off from your hotel) to explore the old city, its landscaped waterfront and cliff-side waterfalls.
To discover more on your own, rent an e-bike to venture as far as the ruins of ancient Perge, an easy ride from the city centre or your resort.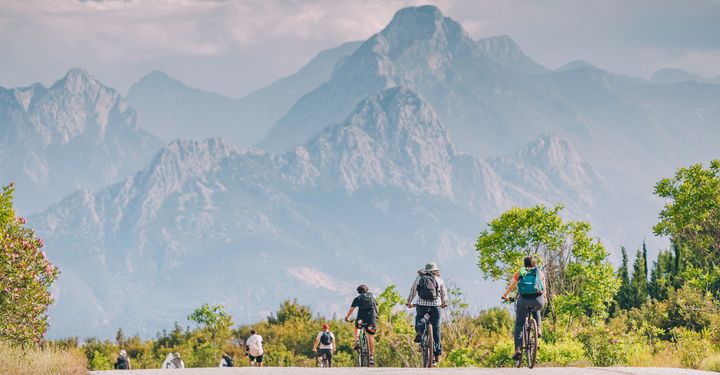 9. Discover Antalya's fascinating history
So much of Antalya is new – like, built in the last two decades – that it's easy to forget that this is a city with a millennia-deep past. Delve deep into layers of history and prehistory at the far-from-dull Antalya Archaeology Museum, rated one of the finest collections in a country that isn't short of fantastic museums.
In its well-laid-out galleries, you'll find gold, silver and ivory relics of the Bronze Age and the pre-Roman Phrygian culture, marble sculptures of mythical heroes from ancient Perge, and (tucked away from the rest) collections of coins and artworks from Christian Orthodox churches – including a silver reliquary that holds the bones of St. Nicholas of Myra, the local hero better known as Santa Claus.


Have a comment or question about this article? You can contact us on Twitter or Facebook.