October 4, 2019

By Caroline Howley

Cannoli shops and cocktail bars sit alongside truly breathtaking churches on the marble streets of Palermo. Everywhere you look, magnificent UNESCO-certified architecture enchants, and the unique hallmarks of Palermo's status as 'most invaded Mediterranean city' can be discovered at almost every corner. Meander through the narrow backstreets and you'll find spectacular neoclassical fountains, buzzing street food bazaars, and vibrant night markets where revellers dance until dawn on the cobbles.
With so much to offer, why is it that Palermo - the Sicilian capital and 2018 Italian Capital of Culture - is only now arriving on the radar of travellers seeking a European city break? Until the early 1990s, the city was in the grip of the mafia. But since then, a gargantuan effort has been made to regenerate it to its former splendour, and tourists are slowly beginning to explore one of Italy's most spellbinding hidden treasures.


It's cheap compared to other Italian cities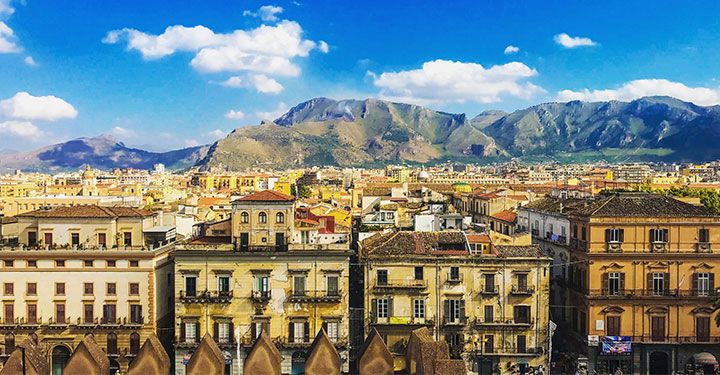 Compared to the likes of Rome, Milan and Venice, Palermo is refreshingly cheap.
A three-course meal for two comes in at around 40 euros in the Sicilian capital (mid-range restaurant), while you'd pay 50% more at the equivalent in Milan*.
Domestic beer generally costs less too and given Palermo's awesome street food scene – more on that later – eating out can be as cheap as you like.


It has unique UNESCO-certified architecture and heritage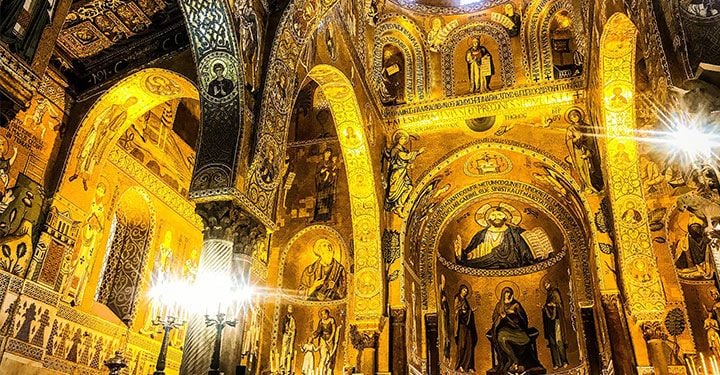 Palermo's magnificent architecture is the first thing you'll notice upon arriving in the ancient city; wandering amongst the polished marbles and exquisite plazas feels like an Italian dream. The oft-invaded city, founded by the Phoenicians in 734 BCE, has been part of numerous empires, from the Roman and Byzantine to the Arabic and Norman, and signs of this unique heritage are myriad in its stunning buildings. Indeed, the city's singular Arab-Norman heritage has earned a UNESCO crown.
The Sicilian capital and its surrounds is the only place in the world able to boast Norman-Arab-Byzantine architecture, such as the Norman Palace's dazzling Palatine Chapel. Combining Norman architecture, Byzantine mosaics, and Arabic arches and scripts to truly breathtaking effect, this gilded chapel is by far the best example of the multicultural style which dominated 12th century Sicily. Indeed, the Norman Palace itself has incredible historical credentials, being the oldest royal residence in Europe and the current seat of the Sicilian Regional Assembly. Wander through its richly-decorated rooms amidst opulent historical treasures.
Meanwhile, the striking 12th-century cathedral was built on the site of an earlier Byzantine basilica, and spectacularly blends Neoclassical architecture with Norman, Moorish, Gothic and Baroque. If you're up for a climb, ascend the winding staircase to the roof, where you can get up close to the great dome and enjoy spectacular views across Palermo.


You'll find vibrant day markets that pay homage to Palermo's port heritage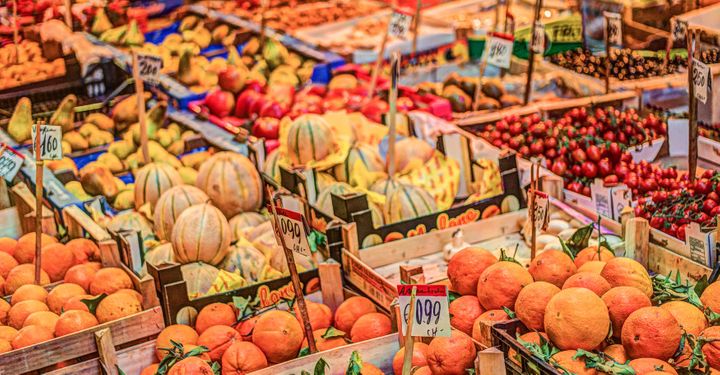 Stallholders yell from behind vast glass counters stuffed with thick cuts of meat and fresh seafood, and men with trays push cups of juicy pineapple into your hands. An abundance of gargantuan aubergines - five for one euro - take pride of place on the colourful fruit and veg stalls. Overhead, a multi-coloured canopy of awnings and umbrellas shades patrons from the scorching Sicilian sun, every now and then breaking to reveal a spectacular dome from one of the many magnificent churches nearby. Knock-off underwear and T-shirts spill from shops lining the winding path through the labyrinthine market; diners sit in the sweltering shade at the busy cafes, feasting on fresh seafood and traditional Sicilian street dishes. This assault on the senses is Ballaro: one of Palermo's many street markets.
Palermo's markets are more than a social hub where locals congregate to shop; a hallmark of the city's legacy as a commercial port, they are a piece of noisy, living history. The atmosphere is less elegant European street market, more vibrant North African bazaar - a tell-tale sign of Sicily's place in the Arabic and Byzantine empires.
As well as Ballaro - a food and clothing market - you can try your hand at haggling for herbs and handicrafts at the famed La Vucciria (translated as 'hubbub'), a 700-year old market which flows through Centro Storico and side streets surrounding Piazza San Domenico. Meanwhile, Mercato di Capo is renowned for its local delicacies, and the lesser-known mini-casbah of Borgo Vecchio attracts younger shoppers with its variety of stalls. Most markets run from dawn, when the fishermen arrive with their catches, until mid-afternoon. Arrive early for the freshest ingredients and the best deals.


It has an intriguing mafia history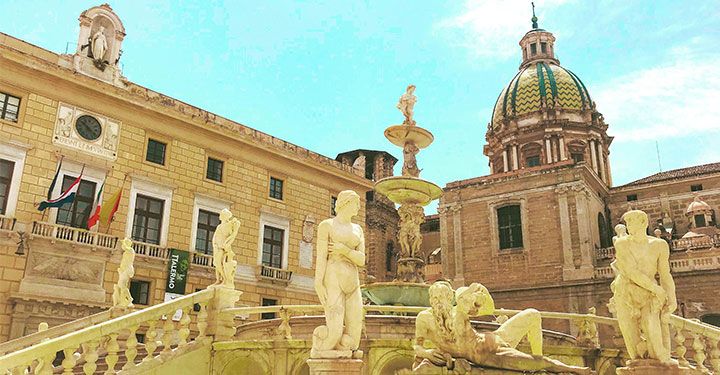 There's a reason Palermo - despite its myriad cultural treasures - is only now coming to the fore as a destination. For decades, the city was in the grip of the mafiosi, who infiltrated its politics and ran its streets, making it a dangerous place to visit, never mind live. However, in 1992, Mayor Leoluca Orlando led a crackdown on crime, arresting mafiosi and seizing mafia money, using it to elevate the inner city back to its former splendor.
Those interested in this dark chapter of Palermo's recent history will find plenty to explore. Anti-mafia monuments and art installations have sprung up around the city, reflecting the prevailing sentiment of its residents, and anti-mafia tours provide an easy way to delve into the subject, providing an intriguing new perspective on this stunning city.


It has traditional cuisine and the lively night markets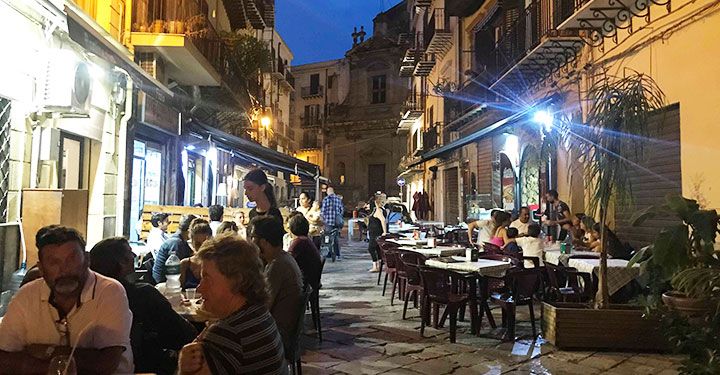 Traditional restaurants serving Sicilian delicacies, from pasta with sardines to arancine (rice balls), line the streets, while you'll find a gelateria serving sweet cannoli every few steps. Contemporary upmarket restaurants dot the magnificent plazas, with guests feasting on pastas and gourmet seafood under the welcome shade of large umbrellas. Start the day like a Sicilian with a triplo sandwich (a delicacy containing potato, fried chickpeas, and - of course - aubergine), and later head to the backstreets for classic pizza at startlingly economical prices. Street food is a particular specialty – Palermo ranks fifth in the world for it, according to Virtual Tourist.
You'll also find a large range of hip bars, where you can sit out on the unendingly picturesque streets and enjoy happy hour cocktails or wines. After the bars close at around midnight, the street markets explode into life and locals flock to the back streets to party. Here, the bars fling their doors open, and revellers dance on the cobbles; providing an intoxicatingly authentic experience for travellers. If you choose to join in this most Sicilian of parties, keep your wits about you; motorbikes and mopeds commonly drive through the crowds, and these markets are known for pickpockets.


There are Roman ruins and beaches nearby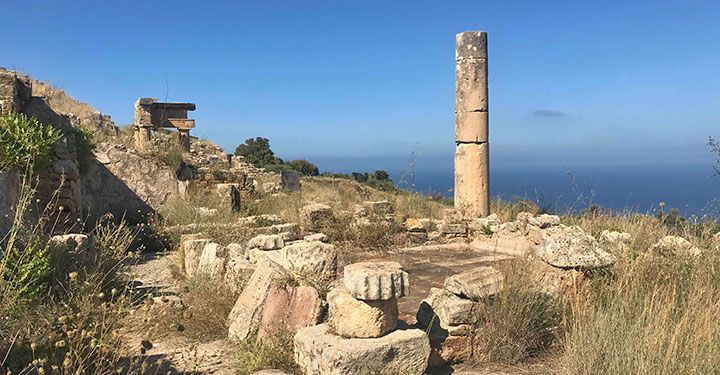 If you can tear yourself away from the glorious streets of Palermo, there are a number of attractions just a short drive or train ride away.
Spend a day or two relaxing on the famous Mondello beach - a half-hour drive from Palermo - or opt for beautiful Cefalu, an hour and 15 minutes away by car. The beaches attract many tourists and locals, but the sand is lined with beach bars, dotted with sun loungers, and the sea is beautifully warm. Visiting the beaches is a perfect way to add an element of relaxation to your city break.
If you're in the mood for an uphill hike, take the 20-minute train ride to Santa Flavia and walk up to the Roman ruins of Solunto. The hike takes around 30 minutes in the heat, but it's worth it. Standing amongst the ancient ruins, you're privy to a breathtaking 360-degree view of the peninsula, taking in the sparkling turquoise waters, the surrounding greenery and mountains, and pretty Santa Flavia itself.

*Prices taken from Numbeo and accurate as of 01/10/19

Have a comment or question about this article? You can contact us on Twitter or Facebook.