Updated July 19, 2023
Published April 21, 2022
With nearly 5,000km of coastline – plus all those islands – it's not surprising that France has a dizzying range of beaches. Whether you're on the Mediterranean, Atlantic or English Channel coasts – and don't forget Corsica – you're within reach of some of the country's most beautiful places to swim, sunbathe and enjoy watersports. Some beaches are among the most popular in France, while others need a little effort to reach, but they're worth it. Here are some of the best beaches in France to discover on your next holiday.


1. Dune du Pilat, Aquitaine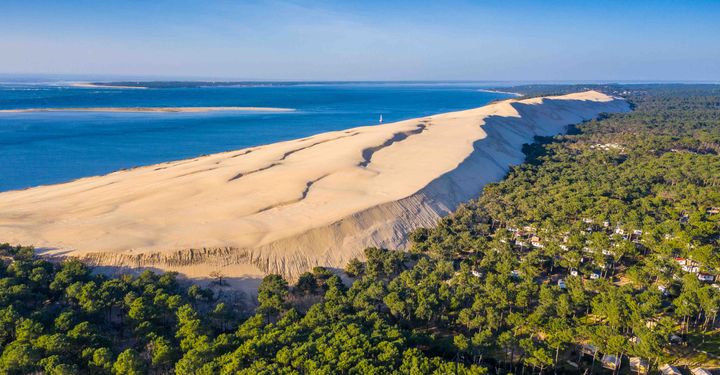 Dune du Pilat looks like something from another world. Europe's tallest sand dune soars to over 100m (328ft) above sea level in front of the Atlantic, with dense pine forests forming a fragrant green backdrop. With the Arguin sandbank as a natural barrier facing these endless sands, you're protected from the wild waves crashing along other parts of France's Atlantic coast.
Most visitors park at the northern carpark and work their way southwards, but if you're into paragliding, head south to Petit Nice beach and rent a parapente for an unforgettable adventure over the sands.


2. Deauville and Trouville, Normandy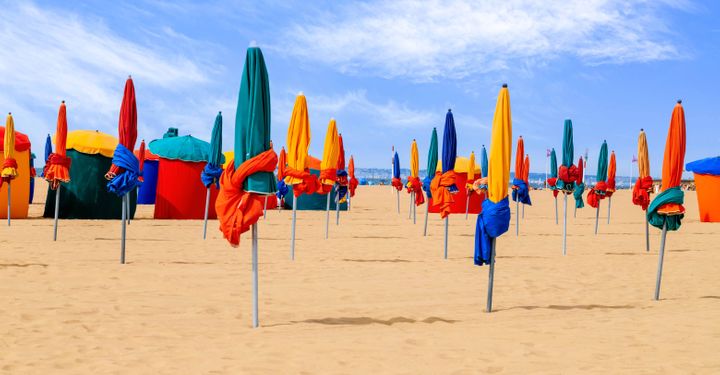 Between elegant Deauville and its family-friendly neighbour Trouville, this stretch of the Normandy coast offers a fabulous beach experience. Stroll along Les Planches, Deauville's boardwalk of bathing cabins decked with names of Hollywood stars who have attended the town's annual film festival over the decades. Then rent one of the colourful beach umbrellas that create Deauville's most enduring image. Head across to Trouville's sandy Grande Plage to let kids loose on the beach playground and enjoy a swim in the outdoor pool.


3. Morgat, Brittany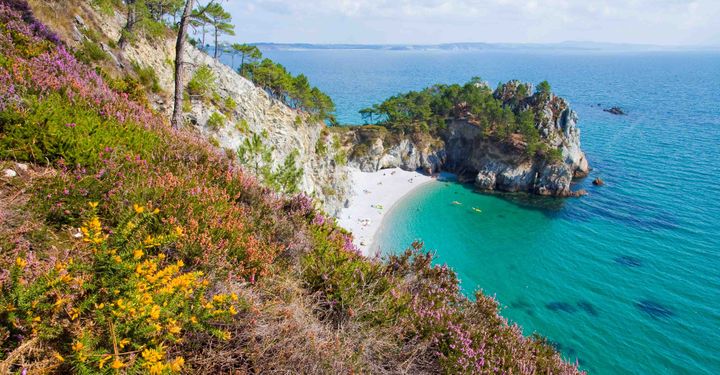 Brittany's Crozon peninsula harbours several gorgeous beaches, including the lovely sands in the lively village of Morgat. Keen kayakers can explore the sea caves that lurk under the rugged cliffs, but if you want someone else to do all the work, join one of the small boat excursions that amble along the peninsula for several hours.
You're also within reach of some of Morgat's tranquil neighbours, namely the little sandy coves of Plage de Postolonnec and Plage de l'île Vierge, and the larger sweep of Plage de l'Aber.


4. Espiguette, Languedoc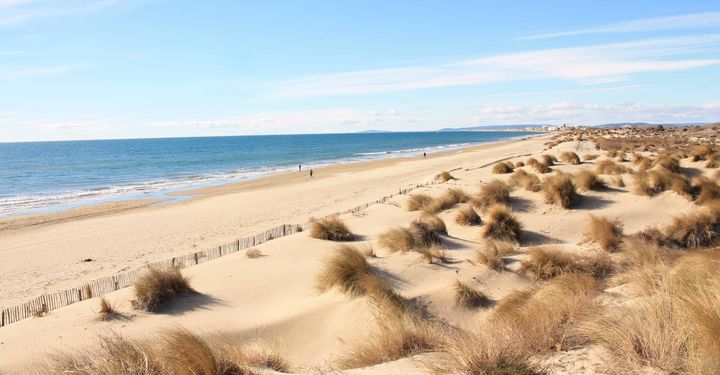 Sprawling along the western edge of the Petite Camargue, the vast dune system of Espiguette makes it one of the wildest and emptiest of Languedoc's beaches. Almost all of the beach's 18km (11 miles) are bare of beach bars – in fact, its easternmost edge is even bare of clothes, as it's a naturist section – giving the area an untouched air.
Away from the two carparks, you're likely to have these huge dunes to yourself. But if you want a taste of civilisation, rent a sun-lounger at l'Oyat Plage beach bar, where there's live music and a chance to hire a paddleboard or pedalo.


5. Plage de l'Ouille, Collioure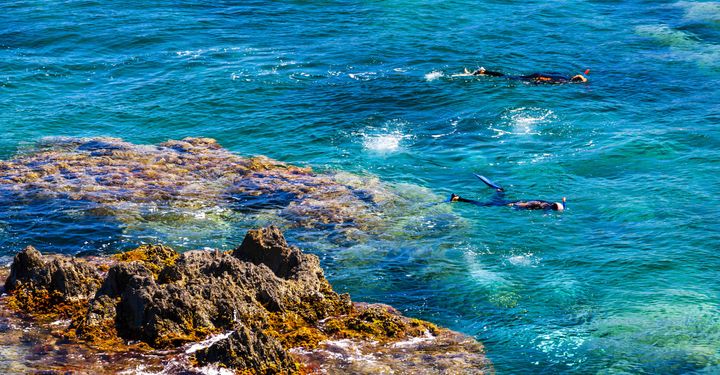 Just before the long, straight beaches of France's western Mediterranean coast hit the Spanish border, they come up against the deeply indented, rocky coastline of Côte Vermeille. Among the little coves squeezing around the lovely village of Collioure is Plage de l'Ouille, a gravelly little beach with amazingly clear water that's great for snorkelling. If you fancy a bit of a hike, follow the scenic coastal footpath from Collioure and take in views of the Pyrenees along the way.


6. Plage Marbella, Biarritz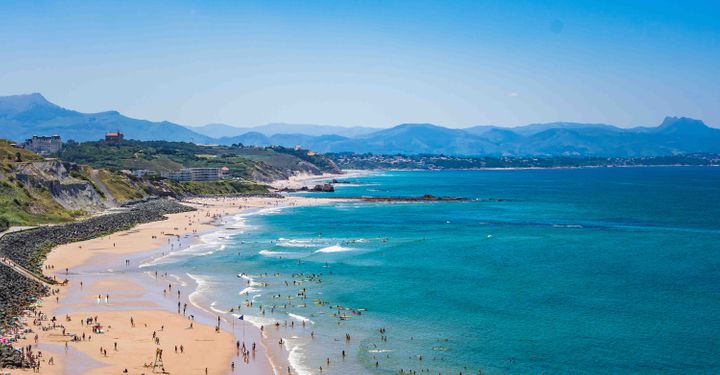 Biarritz is particularly rich in beaches, and it's obvious why this boho-chic resort on the Atlantic coast has become Europe's premier surf spot over the decades. Surfers, bodyboarders and anyone else who appreciates wide sandy beaches love the waves at Plage Marbella towards the southern edge of the town. Unlike its much bigger neighbour, surf magnet Plage de la Côte des Basques, the beach at Marbella doesn't disappear when the tide is in, giving you the chance to enjoy long, lazy days of sunshine on the Basque Coast.


7. Plage de l'Herlin, Brittany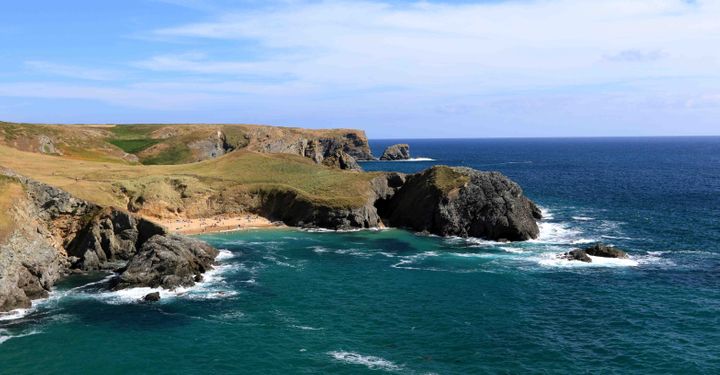 You're already spoilt for choice on Brittany's largest island, Belle-Ile-en-Mer, where about 60 beaches are dotted about and tucked into coves shadowed by towering cliffs. But one of the standout places is Plage de l'Herlin, where high cliffs curve protectively around this little estuary on the southern part of the island. During high tide, a rocky outcrop in the centre nearly cuts the beach in half.
For a change of scenery, follow the clifftop footpath to neighbouring Plage du Baluden, which is just as laidback and enchanting.


8. Plage de l'Ostriconi, Corsica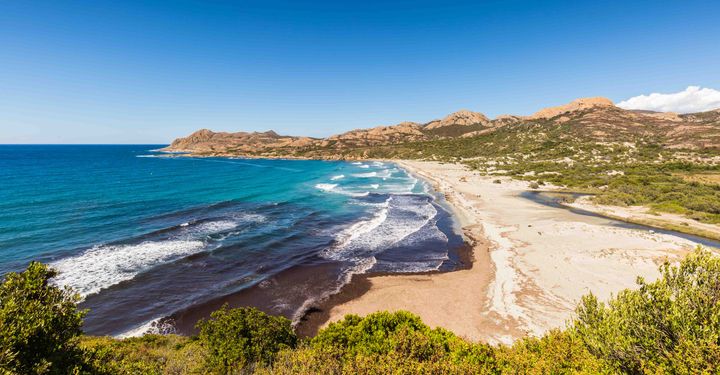 Peaceful Plage de l'Ostriconi is only about a 25-minute drive from Ile-Rousse – one of Corsica's most appealing towns – but it seems to be in its own little world. Walk about 15 minutes from the carpark and you soon reach a little pontoon bridge that stretches over a lagoon. Then you might pass a few curious cows before arriving at this 700m (0.4 miles) stretch of soft sands, with the dramatic backdrop of forested hills behind you. If you want to get further off the beaten track, go beyond the next headland to sheltered little Plage de Vana.


9. Porquerolles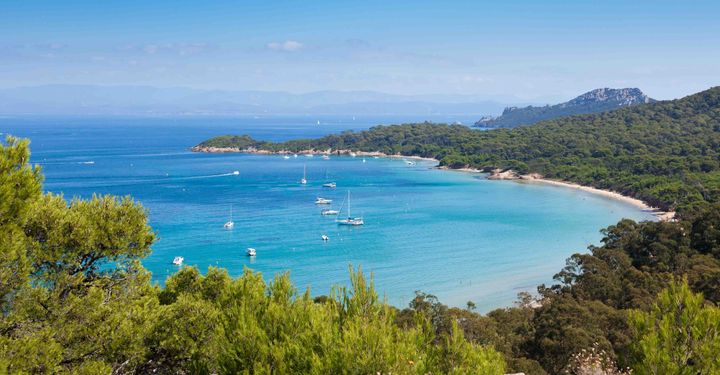 Drink in the scent of warm pine as you lounge on the sands of Plage Notre-Dame on the exquisite island of Porquerolles. One of the Hyères Islands just south of busy Hyères port, Porquerolles feels very different from the rest of the Côte d'Azur. No cars are allowed, and they've even banned smoking beyond the island's sole village. That makes the air so much cleaner and sweeter as you gaze at the impossibly clear waters of the Mediterranean. The island is small enough to explore some of the other beaches, if you can bear to tear yourself away.


10. Etretat, Normandy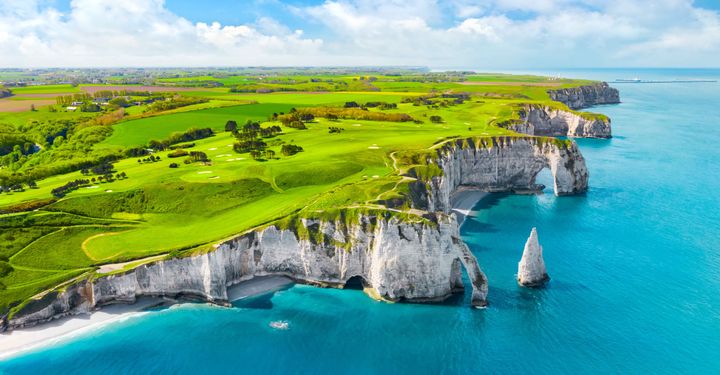 The chalk cliffs looming over Etretat beach on the Channel coast really are a jaw-dropping sight. Between the natural arches and the spiky rocky islet aptly given the French word for needle – Aiguille – you have enough wonders to keep you transfixed when you're on the beach below. It's easy to see why French Impressionist artists were so obsessed with this natural phenomenon, and captured its beauty in countless paintings. If you have a head for heights, wander along the clifftop path to soak up those extraordinary views – or have a round of golf on the coastal course.


Have a comment or question about this article? You can contact us on Twitter or Facebook.