Most come to Guernsey for its long, rugged coastline, but there's more to this island than beaches. The capital of St Peter Port, watersports, hiking, tiny seaside villages, spectacular food and drink… a staycation in Guernsey has it all.
Best things to do on a weekend break
Compact Guernsey allows you to cram in a lot over a weekend. Base yourself in island capital St Peter Port, a lovely harbour town, known for its cobblestone streets, laidback atmosphere, and brilliant dining scene. It's close to the beach at Belle Grève Bay and has great transport links to the rest of the island.
If you're looking for adventure, head to the island's rugged northern coast, where you'll find loads of options for watersports, including coasteering (a combination of climbing, swimming and jumping), surfing, paddle boarding, and kayaking.
Fancy something more sedate? Be sure to visit the German Occupation Museum, which tells the story of Guernsey's five years under Nazi rule during WWII.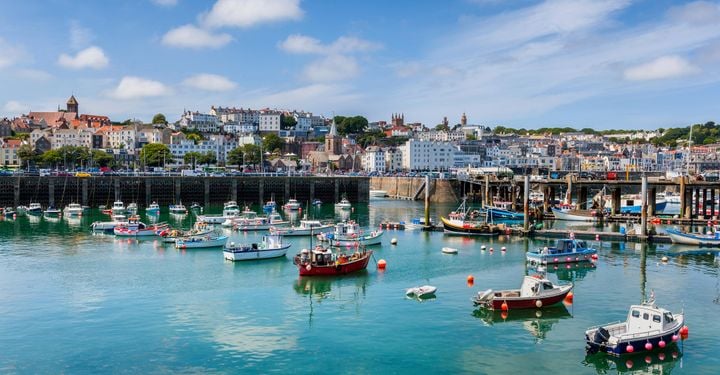 Best things to do for families
Besides the beach, Guernsey's rocky coastline is the ideal playground for adventurous kids. There are loads of watersports to choose from, including surfing, paddleboarding and coasteering. For older kids, there's also rock-climbing along the coast.
For a bit of history, make a visit to Fort Doyle, built in the 19th century to ward off a French invasion; Fort Grey, home to the Shipwreck Museum; and Castle Cornet in St Peter Port.
Over at Oatlands Village (a tourist village that combines shopping and history), you'll find kids play areas, go karts, trampolines, and mini golf. Alternatively, Pirate Bay Adventure Golf in Rohais De Haut has 12 holes to play.
Best beaches in Guernsey
From long sandy beaches to tiny pebble coves, Guernsey's coastline is dotted with beaches of all kinds. Not far from St Peter Port, Fermain Beach is a pretty pebble bay hidden by sea cliffs and lush tree cover. On the west coast, Cobo Beach draws plenty of Caribbean comparisons for its white sand and lively atmosphere. Meanwhile, Vazon Bay, a mile-long arch of sand on the west coast, is the place to go for surfing.
For families, Saline Bay, L'Eree Beach, Havelet Bay, Chouet and Ladies Bay are perfect for sandcastles and safe paddling. Port Soif, meanwhile, is great for rock pooling at low tide.