11 Of The Worlds Most Romantic Restaurants
9 of the world's most romantic restaurants

February 6, 2019
Planning on wining and dining that special someone this Valentine's Day? Look no further, because we've slung on our Cupid's bow and arrow and found the world's most romantic restaurants.
1. Kanoun, the Atlas Mountains, Morocco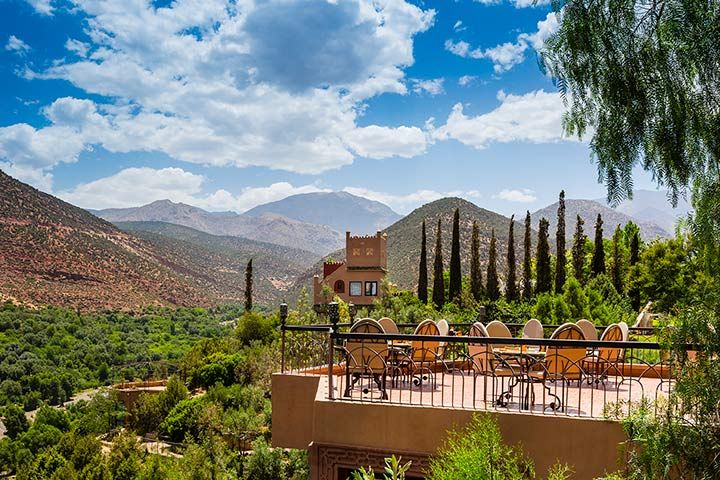 Flexibility is the name of the game at this restaurant, which can be found inside Kasbah Tamadot, Richard Branson's Moroccan mansion. Diners who make a reservation at Kanoun can enjoy their meal in a number of locations, including the rooftop terrace. If dinner under a starry sky doesn't do it for you, ask to dine by the spectacular infinity pool, or by the smaller reflecting pool.
On the menu? Everything from Berber-style, multi-course feasts to tagines made with olives and herbs grown in the on-site kitchen garden.
2. The Rock, Zanzibar, Tanzania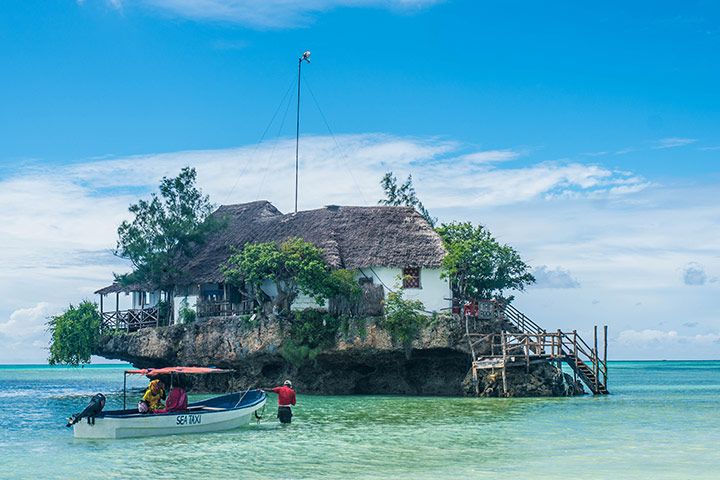 Jack Sparrow would love this place – a wave-bashed restaurant perched atop a jagged rock in the Indian Ocean, although landlubbers will be pleased to know it's actually just a few metres from dry land. Once a fisherman's post, today The Rock is home to one of the world's most beautiful restaurants, and its tiny size makes it the ideal Valentine's Day destination.
Unsurprisingly, the menu is dominated by seafood, and there's a small terrace for those all-important drinks. It's even possible to get married on The Rock – and with room for just 20 people it's the perfect excuse to strike any unwanted relatives off the guest list.
3. Clos Maggiore, London, UK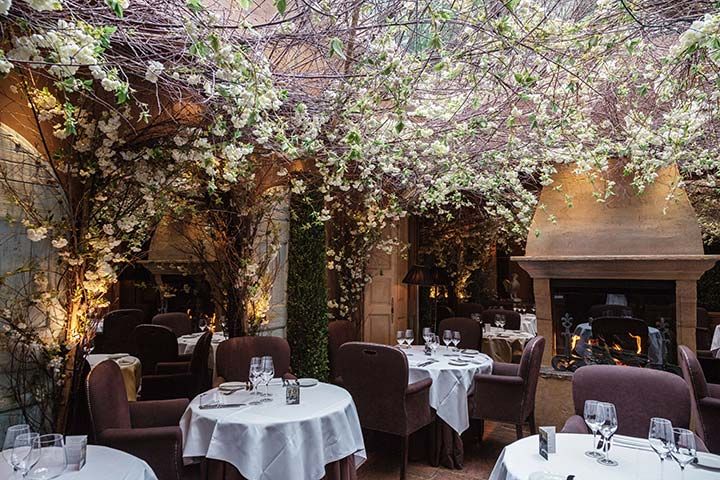 If you book a table for two at this London restaurant, you'll dine under a canopy of white apple blossoms and fairy lights, and there's a roaring log fire to keep things toasty. Equally romantic are the tables tucked into the restaurant's wonderfully snug nooks and crannies. Less snug is the enormous wine cellar, which contains more than 2,500 bottles.
The best bit (especially for hay fever sufferers)? The restaurant's amazingly realistic blooms are artificial, something which comes as a surprise to the many guests who ring to check when the blossoms will look their finest.
4. The Cliff at Cap, St Lucia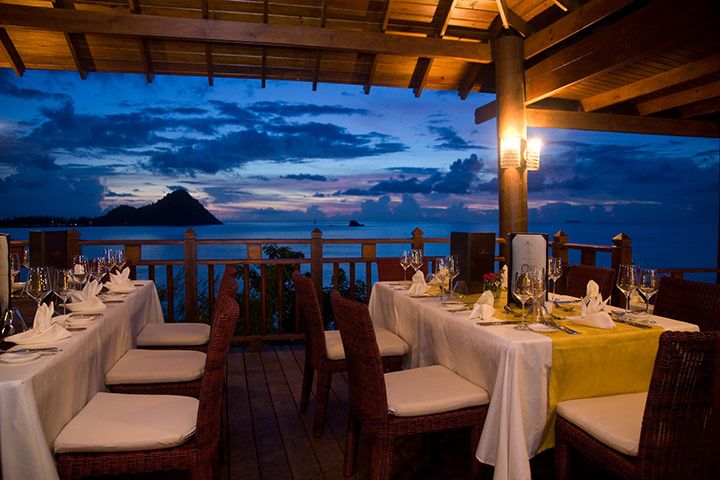 St Lucia's The Cliff at Cap restaurant is the island's most popular proposal spot, although it's hardly surprising - diners can enlist the services of a dedicated proposal concierge who can arrange everything from helicopter transfers to bottles of the world's rarest wines.
The most coveted spot is Rock Maison, just a few metres from the restaurant. This small area of wooden decking sits atop a rocky outcrop, surrounded by the sea. Dine at this coveted spot and your champagne will be delivered via a zip line, which can also be used to carry engagement rings to your table.
5. Solo Per Due, Vacone, Italy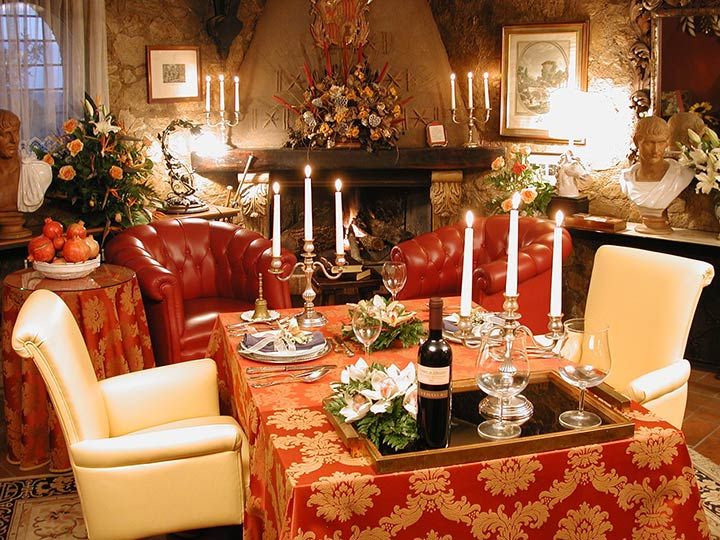 Dining in the same room as other people can be a risky business, whether it's disruption caused by loud phone calls or the cringe-inducing moment when the couple on a nearby table start having the mother of all arguments. But neither annoyance will ever happen at Solo Per Due, simply because there's only room for two people.
Nab the only table and you'll feast on the restaurant's legendary local cuisine, all served up by a waiter summoned with a ring of a silver bell.
6. Circa 1886, Charleston, USA

There's yet more flower power to be found at this South Carolina restaurant, once the carriage house of the city's historic Wentworth Mansion. The candlelit interior feels more like a cosy home, with a wood-burning fire and original pine flooring and stable doors.
The restaurant's dedicated chefs will also do their utmost to make your meal ultra special, and will happily adorn desserts with love notes, or personalise menus to suit the occasion in question.
7. White Rabbit, Singapore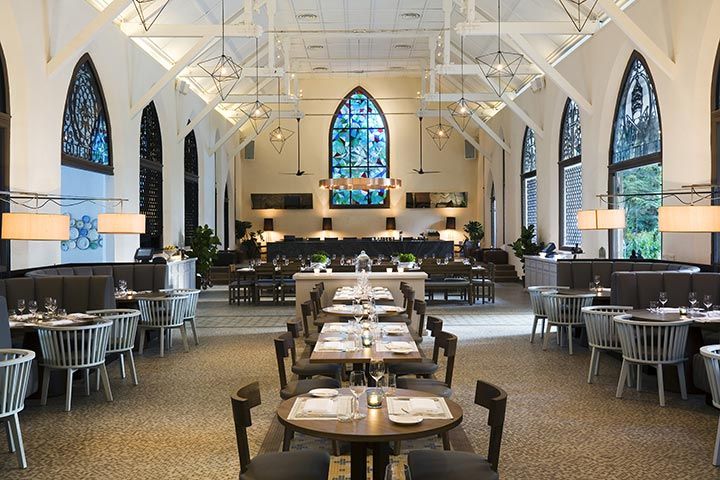 All too often, restaurants opened inside historic buildings bear little resemblance to the original structure. Not so at The White Rabbit, a restaurant inside a restored Ebenezer chapel. The original timber structure, mosaic floor and ornate window grills have all been lovingly preserved. And its location in Dempsey Hill, one of Singapore's greenest areas, means plenty of opportunity for romantic post-dinner walks.
We're particularly smitten with the drinks list, specifically the restaurant's legendary gin and tonics, garnished with herbs plucked from the restaurant's gardens.
8. Le Jules Verne, Paris, France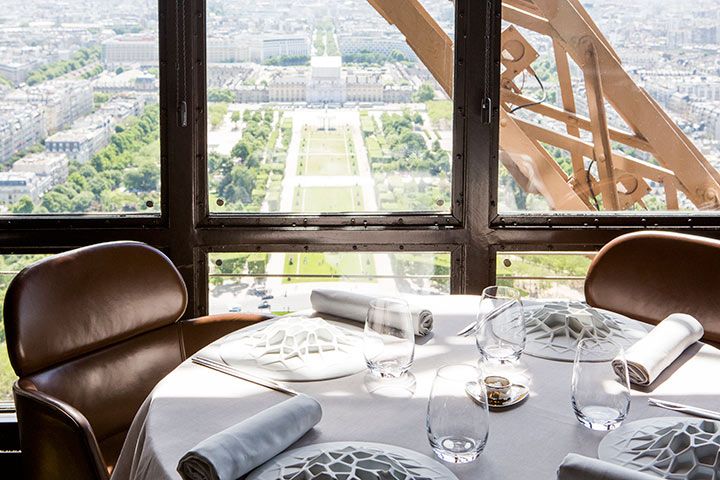 Climbing to the top of the Eiffel Tower is one thing, but there are associated risks. To start with, the biting wind, and then there's the height. Our suggestion? Forgo a frostbitten fumble at the top and book a table at Le Jules Verne, a restaurant tucked inside the tower.
And, if you're considering proposing to your other half, you won't have to go shoulder-to-shoulder with couples doing the same thing, because guests at the restaurant, which was recently taken over by Alain Ducasse, can access a second-level observation deck via a private entrance.
9. The Crystal Wagon cabin, Vienna, Austria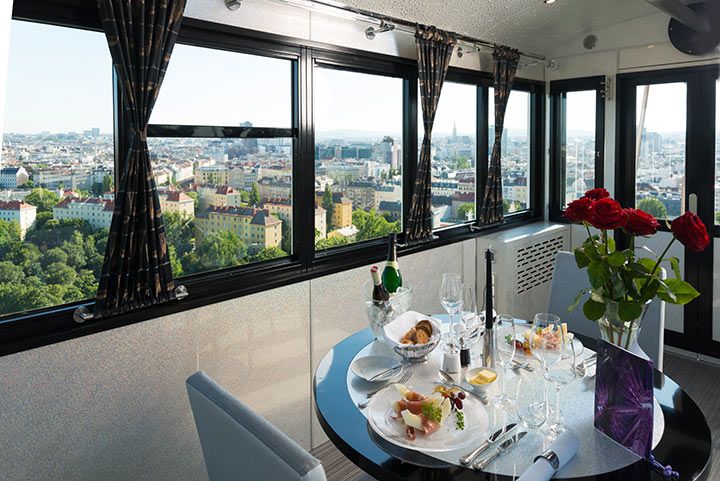 To really sweep your loved one off his or her feet, book the Crystal Wagon cabin – a souped-up gondola on the Wiener Riesenrad, Vienna's famous historic ferris wheel.
You'll enjoy a three-course, candlelit meal served on Swarovski tableware, and there'll be plenty of champagne, too. But, a word of warning – the entire dinner will last at least 90 minutes, so if you or your other half are prone to vertigo, we'd recommend something closer to ground level.
Looking for a last-minute Valentine's gift? Compare Valentine's Day hotel deals.
Have a comment or question about this article? You can contact us on Twitter or Facebook.