12 of the best places for budget winter sun holidays
January 5, 2023
Fancy fleeing grey skies and freezing temperatures but don't want to pay a fortune? We've got good news! An out-of-season escape to warmer climes doesn't have to blow out your budget – if you know where to look.
From cheap-as-chips destinations such as Morocco and Turkey to long-haul budget lovelies, we've done the research to reveal 12 of the best budget-friendly destinations where you can soak up a big dose of winter sunshine for a lot less than the cost of heating your (ice cold) lounge.


1. Egypt
Average flying time: 4 hrs 50 mins | Average high temperature: 22C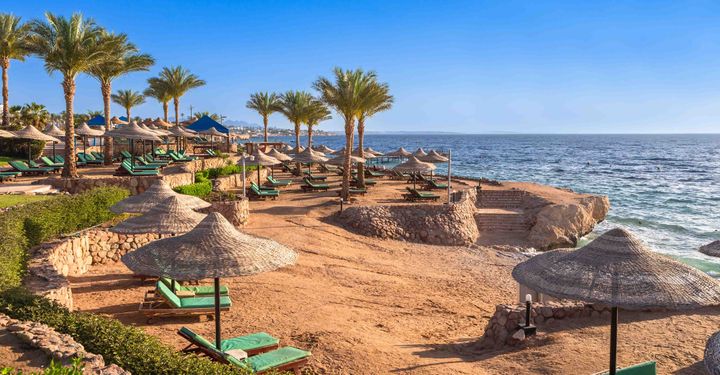 Egypt's low cost of living combined with a raft of keenly priced all-inclusive hotels and a desert climate that rarely drops below 20C in winter makes it a magnet for out-of-season sunseekers.
Cairo's pyramids and bustling bazaars are a major lure, but the streets of Egypt's capital can get chilly between December and March. Instead, head for the Sinai Peninsula. Renowned for its turquoise waters teeming with exotic marine life, it's the best place to catch some of those golden rays.
Premier Red Sea resort Sharm El Sheikh is a popular option for party lovers with its bustling bazaars and lively nightlife, while peace seekers will probably prefer the pristine waters and silk sand beaches of more tranquil resorts such as Hurghada and Dahab.
Seeing the best of the country's sights and attractions doesn't have to cost you an arm and a leg either – join a guided tour* and get a crash course in the country's iconic ancient history for less.

Best budget tip: Imported wines and beers are expensive so buy local brands such as Stella and Gianaclis.


2. Lanzarote
Average flight time: 4 hrs 20 mins | Average high temperature: 19C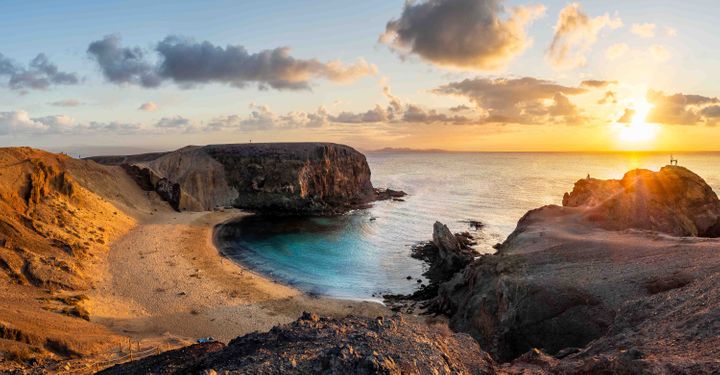 Lanzarote is starkly beautiful, instantly welcoming and blessed with an abundance of sunny winter days. That this stunning Canary Island is known for affordable holiday prices is almost just a bonus.
Holidaymakers love Lanzarote's golden beaches even during the winter months – Puerto del Carmen and Playa Blanca are the stuff of beach holiday dreams and the wild waves of Playa de Famara make it perfect for watersports.
Of course, Lanzarote is more than just its beaches. This is an island unlike any other and an easy morning or afternoon trip to the Montañas del Fuego (Fire Mountains) of Timanfaya National Park will prove it. These incredible lunar-like landscapes – accessible by tour from Lanzarote's best resorts – are the island's postcard shot. Build out your itinerary here.*
Best budget tip: Lanzarote has a good bus network, and you'll get a 10% discount on fares if you buy a travel card.


3. Cambodia
Average flying time: 14 hrs 20 mins | Average high temperature: 32C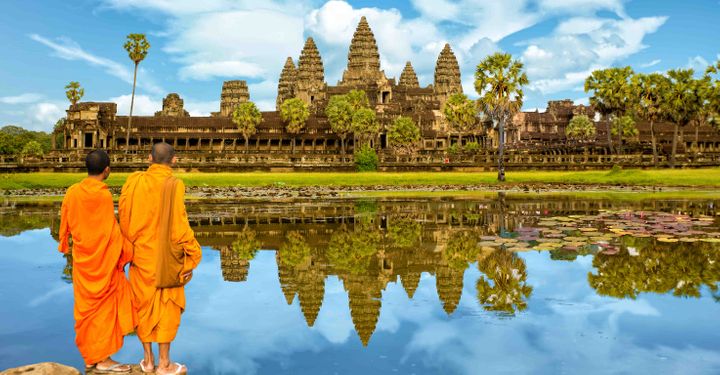 One of Southeast Asia's cheapest destinations The Kingdom, as it's known to locals, is perfect for long-haul winter sunseekers on a budget.
Whether you fancy lazing on the stunning sandy beaches of buzzing Sihanoukville or prefer to lounge in peaceful beach hideaways such as Ream National Park or Koh Rong, there are plenty of places to get a mega-dose of vitamin D.
When you tire of beach life, there's plenty to explore* - head for Siem Reap to discover the jungle-entwined temples of Angkor Wat or make a beeline for capital Phnom Penh for imposing palaces, succulent street food and bargain-packed bazaars, including the Art Deco Central Market.
Best budget tip: Tuk tuk prices can be haphazard. Skip the stress and download PassApp so you don't need to haggle over the price of every ride.


4. Andalusia
Average flying time: 2 hrs 45 mins | Average high temperature: 17C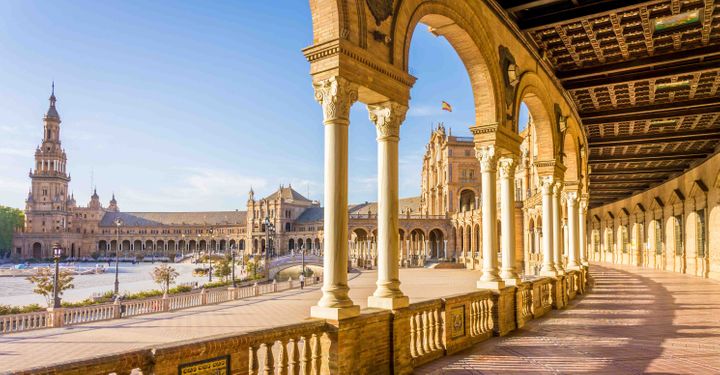 Famed for super sultry flamenco music and tasty tapas, Spain's southern province of Andalusia boasts an average 320 days of sunshine per year, so you're practically guaranteed to enjoy balmy weather in winter.
Home to Europe's only desert – where countless Spaghetti Westerns and Indian Jones epics were filmed – cactus-studded Almeria is one of the hottest spots along the coast, while seaside Malaga, with its Picasso museums and beach shack chiringuitos serving great-value tapas snacks, is packed with budget-friendly hotels.
Back from the coast, you'll find even cheaper options and – although temperatures will be lower – you'll still find orange trees blossoming and blissful blue skies in a string of sun-dazzled cities stretching from Seville to Granada.
Best budget tip: Look out for restaurants advertising a menu del dia, which generally includes a starter, main, small dessert and a drink, and can cost under £15.


5. Jordan
Average flying time: 6 hrs | Average high temperature: 19C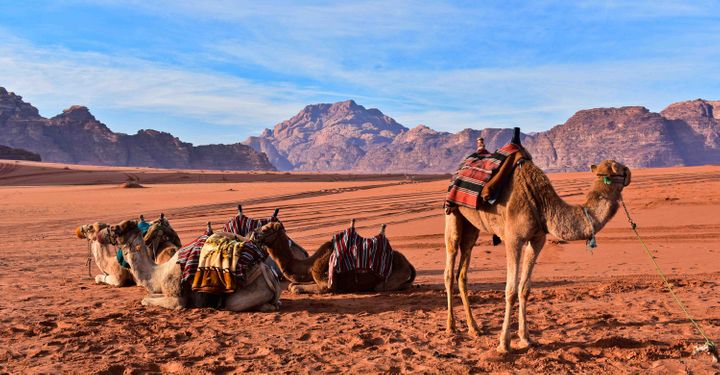 Jordan may not be known for its ultra-cheap prices but this stunning Middle Eastern country is ideal for budget travellers over winter. Low-cost airlines have return flights under £100, plus spectacular attractions* such as the rock-carved Rose City of Petra, the super-buoyant salt waters of the Dead Sea and the desert valley of Wadi Rum – known to the Bedouins as 'the Valley of the Moon' – are blissfully free of crowds.
Although hotels tend to be expensive, there are great-value backpacker hostels near most of the country's main sights and eating out can be super cheap – a look for street food stalls hawking spicy chickpea falafel and spit-roasted shawarma. Note that capital Amman is cooler than the country's southern destinations, so consider Aqaba for temperatures that can reach 21C.
Best budget tip: Save dosh with a Jordan Pass, which gives entry to more than 40 sites and includes the price of your tourist visa.


6. Tenerife
Average flight time: 4 hrs 25 mins | Average high temperature: 19C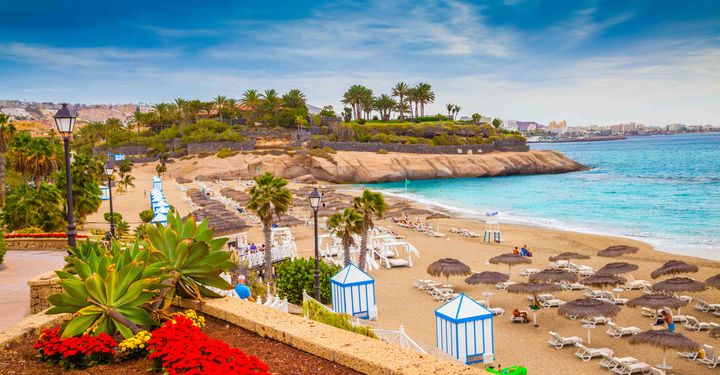 Tenerife is a classic winter sun destination, with reliably sunny weather, lots going on (such as Carnival in February) and holiday prices to suit all budgets.
Winter is quieter and milder than any other season in Tenerife, though temperatures are tantalisingly warm compared to the UK – and they remain high enough to lay out on one of the island's many beautiful beaches.
This is also a terrific time to explore Spain's highest peak, Mount Teide.* Take the cable car to the top for a magnificent panoramic vista (though at around £34, it's fairly pricey) or get your hike on to save the cash and breathe in that fresh mountain air.
Best budget tip: Visit the island's museums on Sundays when entry is free.


7. Fuerteventura
Average flight time: 4 hrs 15 mins | Average high temperature: 20C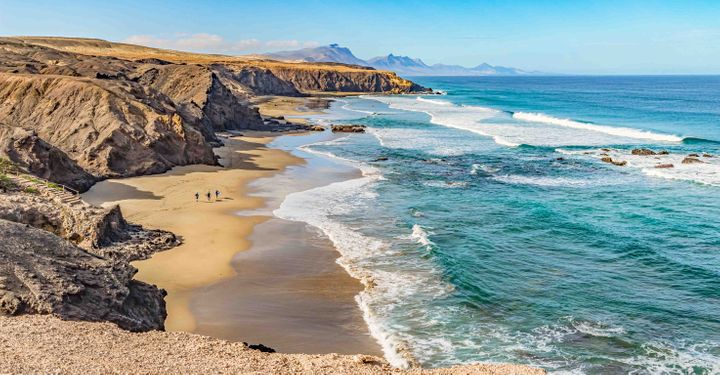 Yes, it's another Canary Island, but as the old cliché goes: if it ain't broke…
As for what you can expect, all the usual suspects are here – think great weather, good prices and plenty of sandy beaches. There's also a lively watersports scene on the island, thanks to the strong off-shore breeze. And if you're feeling adventurous, have a go at surfing*, windsurfing, kiteboarding and much more during your winter break.
As for the best places to stay in Fuerteventura, the larger resorts of Corralejo and Costa Caleta are the most popular, and if you can be flexible with travel dates, it's possible to find some fantastic deals here during the winter months.

Best budget tip: With average temperatures around 20C, winter swimming is a joy – pack a picnic and head for beaches such as sand-swept Playa la Guirra or dune-studded Playa del Moro for a great-value day out.


8. Marrakech
Average flight time: 3 hrs 35 mins | Average high temperature: 20C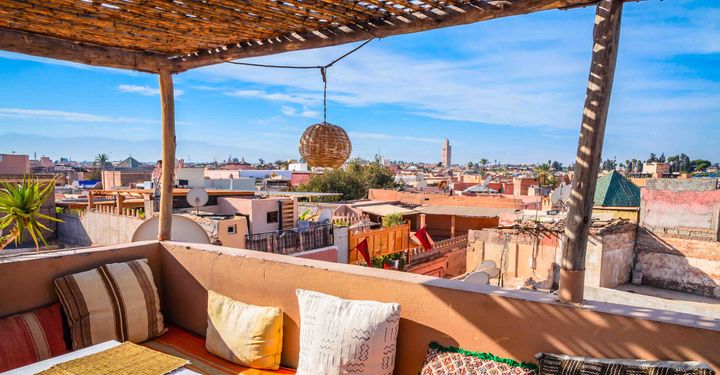 Winter is a great time to visit Marrakech. The chaotic souks and bazaars are noticeably quieter – a feat for this famously chaotic city – and the oppressive summer heat makes way for a pleasant cooler climate.
As well as hunting through the city's iconic markets, you can take a trip to see the mighty Atlas Mountains*, soak up the unique mixture of African and Arabian culture, and explore the bustling old town, all without breaking the bank.
Feeling flush after saving on your main holiday costs? Visit a Moroccan hammam to have all your stresses scrubbed, soaked and massaged away.
Best budget tip: As many of the hotels charge above-average prices for meals, dining in local restaurants is a great way to save money.


9. Cyprus
Average flight time: 4 hrs 30 mins | Average high temperature: 17C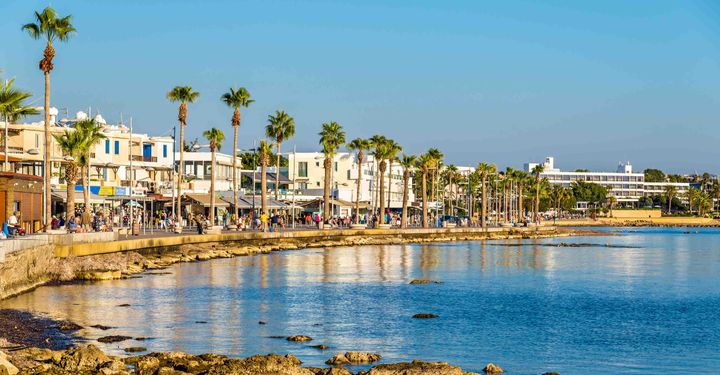 Okay, 17C is hardly red hot, but with a combination of excellent beaches, sunny skies and stunning archaeological sites, Cyprus is still an excellent option for a cheap winter getaway.
Holidaymaker favourite Paphos is classed as a UNESCO World Heritage site, with the fascinating sites of Paphos Castle and the Tomb of the Kings located nearby. On top of the history, there are plenty of bars and restaurants to hop between during your trip.
For inland adventures, a hire car is the ticket to exploring the lush Troodos Mountains. Peppered with charming villages and scribbled with trails for all hiking abilities, winter is a wonderful time to discover it all without the stifling heat of summer. Other off-the-beaten-track adventures in Cyprus include tasting wine in the Diarizos Valley and journeying through the Akamas Peninsula.
Back on the coast, top activities include boat trips to the Blue Lagoon* and sea cave excursions.

Best budget tip: With bustling markets selling fabulous fresh food, Cyprus is the perfect destination to book a self-catering apartment and save money by cooking at home.


10. Goa
Average flying time: 9 hrs 10 mins | Average high temperature: 32C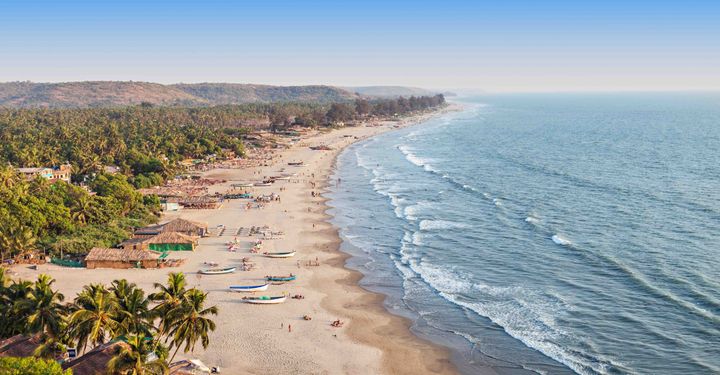 A trip to India might seem a bit extravagant, but if you're after a long-haul adventure without the price tag, Goa is a wonderful pick thanks to its laidback vibe, beautiful beaches and amazingly cheap seafood.
Once a hedonistic paradise for hippy ravers, Goa has since mellowed a little, although you will not be left wanting for a place to party if that's what you're after. Try Candolim and Anjuna for all-night beach parties.
Of course, the main draw is the guaranteed sun and hot weather that perfectly complements Goa's many beaches. And less than £1 for a local beer? Go on then.
Best budget tip: India is generally very affordable, but car hire can be expensive – hire a bike or a scooter or use public transport instead.


11. Turkey
Average flying time: 4 hrs 15 mins | Average high temperature: 15C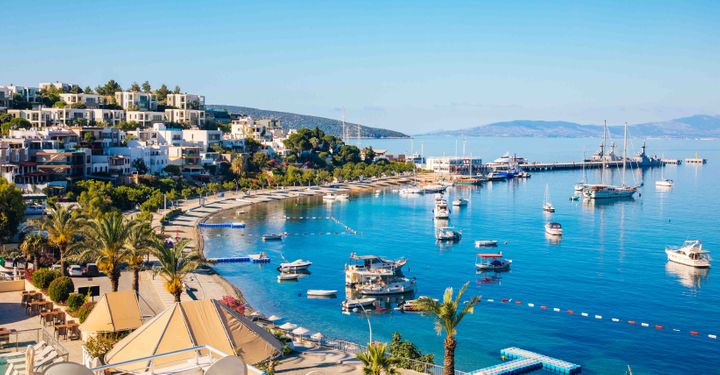 You can expect a spot of snow to cover Istanbul's magical minarets and Pammukale's postcard-pretty turquoise rock pools in the winter months, but if you head south to the Turkish Riviera, you'll find bluer skies, warmer climes and a good range of keenly priced accommodation.
Backed by its medieval castle and fronted by a marina full of bobbing yachts, Bodrum makes an ideal base for exploring. If you prefer a quieter vibe, laidback Dalyan overlooking its reed-strewn river lined with Lycian rock tombs is the perfect hop-off point for excursions to see the ancient city of Kaunos and Fethiye's lively cafes and buzzing market.
Best budget tip: Skip expensive restaurants and eat in lokantas, the neighbourhood bistros where they serve excellent homemade food for a fraction of the price.


12. Cape Verde
Average flying time: 6 hrs | Average high temperature: 25C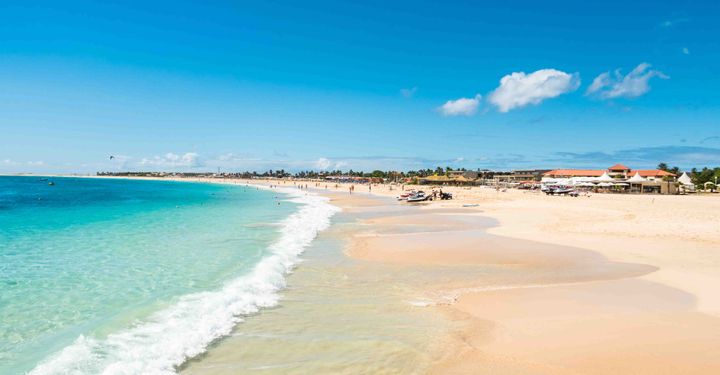 Known as the "African Caribbean", the stunning Cape Verde islands come with everything you'd expect from a holiday to Barbados – at a fraction of the price.
Besides the obvious reasons to visit this delightful archipelago – stunning beaches and turquoise waters, in case you're wondering – the islands' cultural fusion of Portuguese, Brazilian and African influences makes Cape Verde a fascinating place to visit.
The main holiday islands of Boa Vista and Sal still maintain an air of "off the beaten track" about them, especially with British holidaymakers, but there's plenty of activities to get stuck into*, such as surfing, ocean fishing and kitesurfing.
Best budget tip: This music-loving nation seems to have a fiesta for every occasion and most of them are free. You can find some of the best ones here.


* If a link has an * by it, that means it is an affiliated link. If you use these links, we may earn a small commission when you make a purchase through links on our site at no additional cost to you. For more details on how we make money at TravelSupermarket, visit our About Us page.


Have a comment or question about this article? You can contact us on Twitter or Facebook.